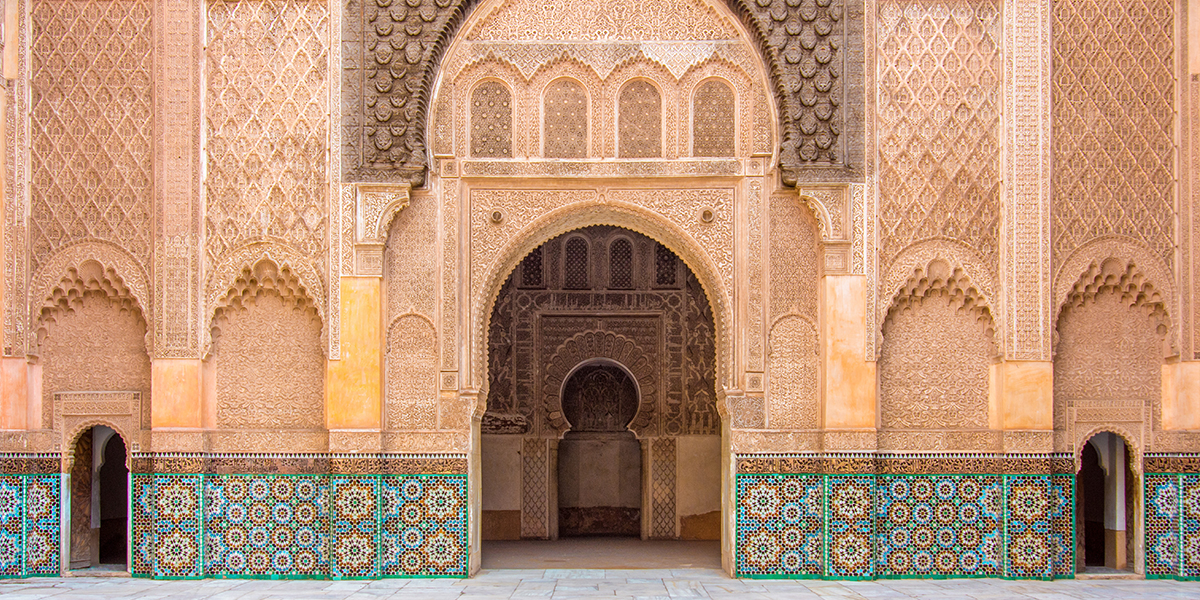 By Destination
The Ultimate Packing List for Marrakesh, Morocco
Although made up of both old and new districts, most visitors equate Marrakesh with the ancient Medina, anchored by carnival-esque Jemaa el Fna Square. It's a chaotic, exotic, undeniably colorful place where the air is filled with the scent of aromatic spices and the sound of pungi-playing snake charmers. But don't get the wrong idea from these heady surroundings. Morocco is a Muslim country, and you should conduct—and clothe—yourself accordingly. The golden rule here: Show respect by showing less skin than you normally might. (Read: Keep those upper arms and thighs under wraps in public, particularly in more traditional areas.) Luckily, as our go-to outfits show, you don't have to sacrifice style for the sake of modesty—you just have to know what cuts and fabrics to pick, the operative words being "breezy" and "breathable." Whether you're power-shopping in the souks, strolling in the Majorelle Gardens, relaxing poolside, getting scrubbed in a public bath, or even taking a Sahara daytrip, we'll tell you how to pack so you can cover all the bases—and your body.
By Sue Lee and Sophie Whitcomb
Your suitcase packing checklist
Click items to view travel editor-approved options
THE PERFECT LUGGAGE
What would a trip to Morocco be without luggage to match? These two sand-toned options hold all the necessities while remaining on-brand with that killer desert wardrobe you've planned. (If you haven't planned it yet, keep reading!). For a one week trip, go for the stylish yet durable Away Carry-On. Along with an unbreakable shell and hidden laundry bag, it boasts a phone-charging port that's sure to come in handy when mapping your way around the Medina. On longer trips, try Timberland's lightweight Reddington 29″ Expandable Spinner Suitcase. Lifting luggage may be required given Marrakesh's uneven streets, but the Reddington's multiple handles and secure buckles make carrying easy for even the heaviest packers. The best part? This bag's ample gusset means you can abandon your self-control when souvenir shopping through city souks.
THE 3 PAIRS OF SHOES YOU'LL NEED FOR EXPLORING MARRAKESH
Women's Shoes
Men's Shoes
Chances are you'll do a lot of walking here—especially since it's almost impossible not to get lost in the Old Town's labyrinthine lanes—so comfort is key when choosing footwear. In the must-see Medina, uneven sidewalks and broken cobbles are common, which makes having shoes with sturdy soles essential even in the height of summer: closed-toe leather sneakers have the added benefit of keeping your feet free from the ubiquitous dust and animal droppings, plus they'll provide some much-needed protection from the toe-crushing crowds in Jemaa el Fna Square. When it's time to retreat to the pool or hammam, Birkenstocks, flip flops, or some other type of non-slip slide are best; cute but comfy sandals and for women and chukkas for men will cover other needs by transitioning from day to night.
STYLE FOR MARRAKESH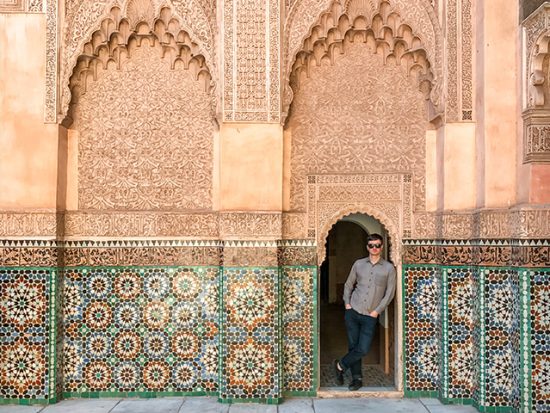 Moroccans place a high value on "respectability," and this translates into a conservative dress code for both men and women which frowns upon—though doesn't outright forbid—figure-hugging garments or ones that expose thighs, midriffs and upper arms. You'll definitely be hassled less and accepted more if you adhere to it, especially in the Old Town (the more cosmopolitan Ville Nouvelle, or "New Town," offers a bit more leeway). The question is how to dress in a respectful manner given the sometimes scorching heat. Our tip: Follow the locals' lead with respect to form and fabric. You'll quickly notice that traditional garb here is lightweight, loosely structured and made from natural materials that let residents stayed covered and cool. Picture jabadors or djellabas for the guys and gandouras for girls. Donning one of these outfits yourself frankly looks a bit costumey (to say nothing of cultural appropriation); that said, you can achieve the same end by adopting a similar flowy look—like a stylish cotton maxi dress or a classic pair of linen pants topped with a matching shirt.
Women's Street Style for Marrakesh
Men's Street Style for Marrakesh
FIVE FOOLPROOF OUTFITS FOR MARRAKESH
1. WHAT TO WEAR IN THE OLD TOWN OF MARRAKESH
Surrounded by souks and anchored by Jemaa el Fna Square, the Medina is magical. While there, the goal is to be covered and comfortable—but, as our picks prove, that doesn't mean you have to forsake fashion. If the focus is on shopping rather than sightseeing, add sunnies (so you can maintain a poker face when haggling) plus a lightweight bag to take treasures home in.
Women's Old Town in Marrakesh Outfit
Men's Old Town in Marrakesh Outfit
2. WHAT TO WEAR AT THE MAJORELLE GARDENS
This gorgeous garden complex was created by a French painter, then passed on to designer Yves Saint Laurent, so it's a place where you'll definitely want to feel fashionable. Aim for a look that's both stylish and timeless: girls can go boho in a vintage button-down dress that's flowy but not too flirty, while a classic chino-and-chambray combo will work great for the guys.
Women's Majorelle Gardens Outfit
Men's Majorelle Gardens Outfit
3. WHAT TO WEAR AT THE PUBLIC BATHS IN MARRAKESH
Visiting a hammam (or communal bath) is almost obligatory when visiting Marrakesh. The good news is that while the experience is ritualistic and deeply-rooted in Islamic tradition, the dress code is super relaxed: The only essentials are a pair of slide-style sandals with non-slip treads, as even a swimsuit is optional. But most of us will probably feel a bit more comfortable in our bathing suit with a cover-up, too.
Women's Public Baths in Marrakesh Outfit
Men's Public Baths in Marrakesh Outfit
4. WHAT TO WEAR FOR A SAHARA EXCURSION FROM MARRAKESH
Cargo pants and leather boots won't just help you achieve a vintage Indiana Jones vibe, they'll prove very practical during your desert day trip. Ditto for serious sun protection, including sunglasses and a brimmed hat. Don't forget a scarf or bandana either: in addition to making your look more Instagram-able, it can double as a sand buffer for your nose and mouth.
Women's Sahara Excursion Outfit
Men's Sahara Excursion Outfit
5. WHAT TO WEAR WHILE SHOPPING IN MARRAKESH
The Medina is a magnet for shoppers and the basic Old Town advice applies there. But if the souks seem overwhelming, fixed-price boutiques in the Ville Nouvelle's Guéliz district are a tempting alternative. Because this is a more modern area, you don't have to be so conscientious about covering shoulders, and better maintained streets mean you have more flexibility in footwear.
Women's Shopping in Marrakesh Outfit
Men's Shopping in Marrakesh Outfit
WHAT NOT TO PACK FOR MARRAKESH
Revealing clothes are a no-no when you're out and about in Marrakesh, so there's no point wasting precious suitcase space on items that show off lots of skin or are suction-cupped to your curves (and yes, ladies, that includes your favorite clingy leggings and yoga pants unless you plan to pair them with a long tunic). Remember, this rule applies to everyone—so guys, please leave the tat-baring tanks home, too. Since Morocco is a conservative country, graphic tees that might in any way be considered offensive are also best left behind. The upside of editing out some of these hot-weather staples is that your bag will be considerably lighter, which will be a huge help if you're staying at riad in the pedestrian zone and have to hoof your luggage a considerable distance. Another bonus? It lets you take a cue from Marie Kondo and leave negative space in your bag. Marrakesh is a shoppers' paradise, and you'll want that extra room for souvenirs on the return trip.
THE *ONE THING* WTP EDITORS ALWAYS BRING TO MARRAKESH
In Marrakesh, scarves are the MVP of our wardrobe. Obviously, they can dress up an outfit or add a bit of flair, as they do on any trip. But in Morocco they're pulling triple or quadruple duty: giving a bit of cover when you're visiting the more traditional parts of the city; offering up some sun protection when it's baking outside; providing a little warmth when the sun goes down and the chill factor goes up; and finally acting as a dust cover when the dust gets kicked up. This scarf on Amazon comes in an array of colors and patterns (several with a Moroccan vibe), and it's crazy-cheap at just $10. That means if you lose it in an airport taxi, you can just order another. —WTP Editors
MARRAKESH'S WEATHER AND SEASONS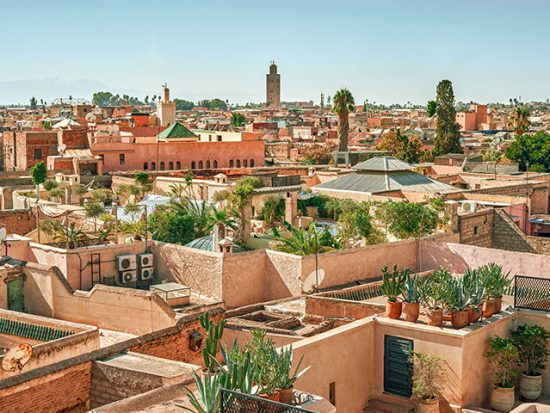 Although Marrakesh is an all-season destination that annually boasts 300-odd days of sunshine, the thermometer can swing wildly depending not only on the time of year but also on the time of day. For instance, during the summer months average temps hover near the 100° F mark at mid-day before dropping a full 30° once the sun goes down. That means you'll want to take along both sunscreen and a light sweater if you're exploring lasts into the evening hours. The other seasons, are more moderate, with top temperatures typically in the 70s in spring and fall; winter, by comparison, feels cool, with highs and lows of 64° F and 43° F respectively during the January "cold" snap. The chance of rain also rises outside of the summer months. March and November (each of which gets about an inch-and-a-half of rain) are the peak periods for precipitation—so it's smart to take a collapsible umbrella if you're traveling then.
Note: Below is a packing forecast, not a traditional forecast. A packing forecast focuses on how cold it's likely to be in the early mornings and evenings based on historical data. We recommend using this together with a traditional forecast as you get closer to your departure date. This data comes from our friends at Weather Underground.
JANUARY
Plan for day temps between 50° F and 64° F
Temps will drop near 43° F at night and into the early mornings
Expect 1.10 inches of precipitation in January
What to Wear in Marrakesh in January: January, Marrakesh's chilliest month has daytime highs that hit the mid-60s but dip into the low 40s after dark. Luckily, layers will help you make the transition easily. Stackable sweaters and a classic-cut jacket with a detachable lining are just the ticket.
Recommendations: Woman's trench coat, women's cashmere crew sweater, men's cashmere crew sweater
FEBRUARY
Plan for day temps between 52° F and 67° F
Temps will drop near 47° F at night and into the early mornings
Expect 1.20 inches of precipitation in February
What to Wear in Marrakesh in February: You should keep thinking in layers because February is still comparatively cool. That said, the light here is intense, so it's never too early to bust out some statement sunglasses. An easy-to-fold hat that does double duty in sun and rain is helpful, too.
Recommendations: Women's pullover sweater, men's sunglasses, unisex drawstring bucket hat
MARCH
Plan for day temps between 65° F and 72° F
Temps will drop near 50° F at night and into the early mornings
Expect 1.40 inches of precipitation in March
What to Wear in Marrakesh in March: March sees the arrival of spring and steadily rising temperatures, but there's more rain as well. Prepare for precipitation by bringing an umbrella and water-resistant jacket. (A disposable poncho works in a pinch, though it admittedly it's not the most stylish look for those vacation selfies.)
Recommendations: Men's water-resistant trench, collapsible umbrella, emergency poncho
APRIL
Plan for day temps between 70° F and 74° F
Temps will drop near 53° F at night and into the early mornings
Expect 1.30 inches of precipitation in April
What to Wear in Marrakesh in April: April, when daytime temps remain moderate, is prime-time for a desert daytrip. Whether you're riding camels or quads, cargo pants and a breezy top are wardrobe staples, while a brimmed hat and bandana will spare you from sun and sand respectively.
Recommendations: Men's cargo pants, women's cargo pants, cotton bandana
MAY
Plan for day temps between 72° F and 80° F
Temps will drop near 57° F at night and into the early mornings
Expect 0.70 inches of precipitation in May
What to Wear in Marrakesh in May: Though scarves are pretty much mandatory in Marrakesh year-round, the fluctuating thermometer makes them super handy now. They offer sun protection by day, warmth at night, and they help you stay covered. Pack a selection and buy more in the souks.
Recommendations: Women's cotton scarf, women's knit scarf, men's scarf
JUNE
Plan for day temps between 85° F and 87° F
Temps will drop near 62° F at night and into the early mornings
Expect 0.30 inches of precipitation in June
What to Wear in Marrakesh in June: The days warm up in earnest with highs in the upper 80s; as a result, you'll likely be spending lots of time by the pool. Swimsuits, cover-ups, and brimmed hats that bridge the gap between function and fashion are a must for both men and women.
Recommendations: Women's swimsuit, women's cover-up, floppy sunhat
JULY
Plan for day temps between 85° F and 97° F
Temps will drop near 69° F at night and into the early mornings
Expect 0.10 inches of precipitation in July
What to Wear in Marrakesh in July: July is a scorcher, which means heat-busting products matter. Along with summer fashion essentials, pack major sun protection—including reliable sunscreen that's easy to carry (and apply), SPF lip balm, plus hydration spray to help combat the dry heat.
Recommendations: Brush-on sunscreen, SPF lip balm, hydration spray
AUGUST
Plan for day temps between 76° F and 97° F
Temps will drop near 69° F at night and into the early mornings
Expect 0.10 inches of precipitation in August
What to Wear in Marrakesh in August: Beat August's sweltering heat by escaping into the mountains on a daytrip. Take full advantage of the cooler climate there by lacing up a pair of sturdy yet breathable boots—and don't forget the requisite day pack and insulated water bottle.
Recommendations: Men's hiking boots, daypack, insulated water bottle
SEPTEMBER
Plan for day temps between 78° F and 90° F
Temps will drop near 66° F at night and into the early mornings
Expect 0.30 inches of precipitation in September
What to Wear in Marrakesh in September: Summer temperatures are still in effect, so keeping cool remains a priority. Opt for loose-fitting items in natural fabrics that respect local norms—like harem pants or Bermuda shorts: the latter are the perfect length for exploring the Medina.
Recommendations: Women's harem pants, women's Bermuda shorts, men's Bermuda shorts
OCTOBER
Plan for day temps between 74° F and 80° F
Temps will drop near 59° F at night and into the early mornings
Expect 0.80 inches of precipitation in October
What to Wear in Marrakesh in October: With daytime temps reaching 80° F, you can still lounge poolside much of the month, yet evenings drop into the 50s. So you'll want a swimsuit by day, and a sweater by night. And sunglasses are always a must in this consistently bright city.
Recommendations: Men's swim shorts, women's oversized cardigan, women's sunglasses
NOVEMBER
Plan for day temps between 61° F and 72° F
Temps will drop near 52° F at night and into the early mornings
Expect 1.50 inches of precipitation in November
What to Wear in Marrakesh in November: November is cooler than October and gets almost twice as much rain, so plan accordingly. Along with a layer-able sweater, it's smart to have a travel umbrella, an easy-to-pack hooded coat and shoes with good treads for slippery cobblestones.
Recommendations: Compact umbrella, women's coat, men's Oxford shoes
DECEMBER
Plan for day temps between 60° F and 66° F
Temps will drop near 45° F at night and into the early mornings
Expect 1.10 inches of precipitation in December
What to Wear in Marrakesh in December: Temps cool down in December, but holiday shopping season heats up! Pack a bag for your purchases (plastic ones were banned in 2016), and—for security reasons—wear a crossbody purse or money belt. Pickpockets are plentiful in the Medina's souks.
Recommendations: Shopping tote, women's crossbody bag, men's money belt
FREQUENTLY ASKED QUESTIONS ABOUT PACKING FOR MARRAKESH

What type of clothing is culturally appropriate to wear in Marrakesh?
This city is a bustling tourist destination, so the locals here are hardly unaccustomed to foreign fashions. Nevertheless, it's still part of a predominately Muslim country where standards are conservative for both women and men. To show respect for Moroccan sensibilities—and avoid unwanted ogling, particularly in the Medina—opt for loose-cut garments that don't reveal too much skin.
As a woman, do I have to cover my shoulders, knees, or other body parts when I visit Marrakesh?
Technically, no: There's no law on the books that insists on it… but social norms are another thing. Remember, too, it's not just a matter of what you cover but how you cover it. Travel staples elsewhere—like form-fitting leggings—can be interpreted as being just as "provocative" as a top that bares your midriff or cleavage.
I'm visiting Marrakesh in January; do I need to bring warm clothes?
Yup. In the depths of winter, nighttime temperatures in Marrakesh are in the low 40s—which means a mid-weight jacket, layerable tops and even a pair of light gloves will come in handy. Of course, if your vacay involves a daytrip into the Atlas Mountains, you'll have to bundle up more. For example, in Moulay Bbrahim (a popular stop on tour itineraries) the mercury can dip below freezing in January.
What should I wear to visit a mosque?
Those accustomed to entering European churches or Asian temples may be surprised to learn that Moroccan mosques don't double as tourist attractions and very seldom have an open-door policy. (Casablanca's massive Hassan II Mosque, which welcomes non-Muslims, is a notable exception.) Of course, you can stand outside and admire historic ones like the Koutoubia Mosque, this city's largest.
How do I dress poolside?
Many hotels and riads have outdoor pools that open as early as March, and what you wear at one is really up to you. That's because these spots typically cater to Westerners, so they accommodate Western tastes. If you want to show off your toned abs or throw on a next-to-nothing bikini, now's the time. FYI lodging dress codes tend to be more relaxed overall, just be sure to cover up again whenever you leave the property.
Related Stories