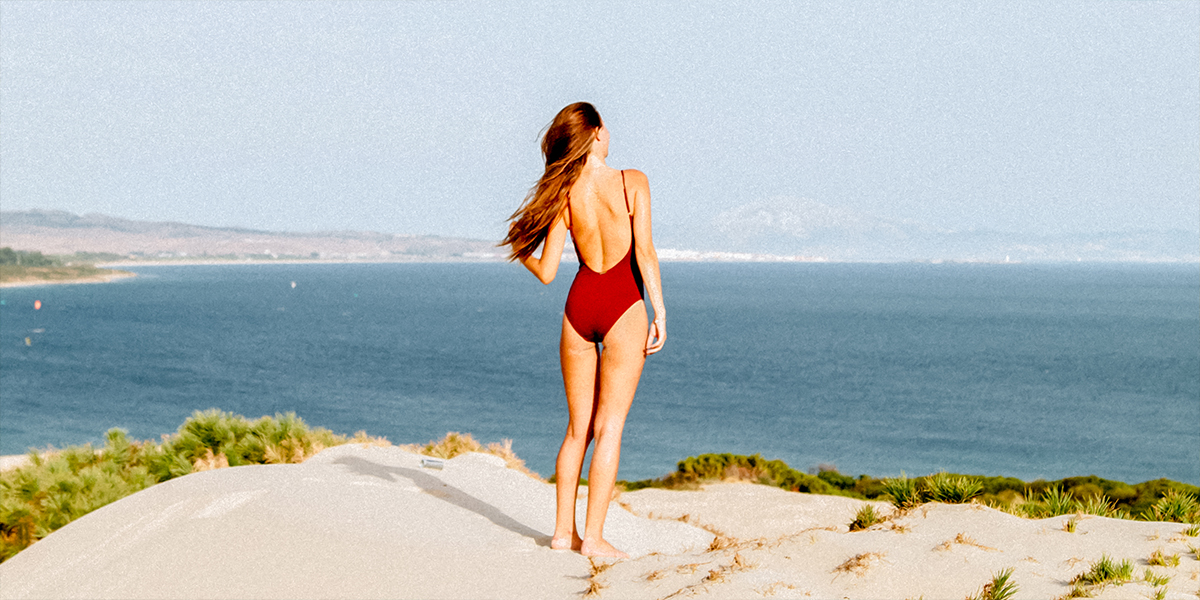 By Trip Type
The 10 Key Items to Pack for the Beach
Nothing fills us with more excitement than the prospect of a day at the beach, and we're all about making the most out of every minute spent on the sand. Which is why we never leave home without doing the proper beach prep, toting everything from speakers to straw totes. Read on for 10 essentials in any beach-day arsenal.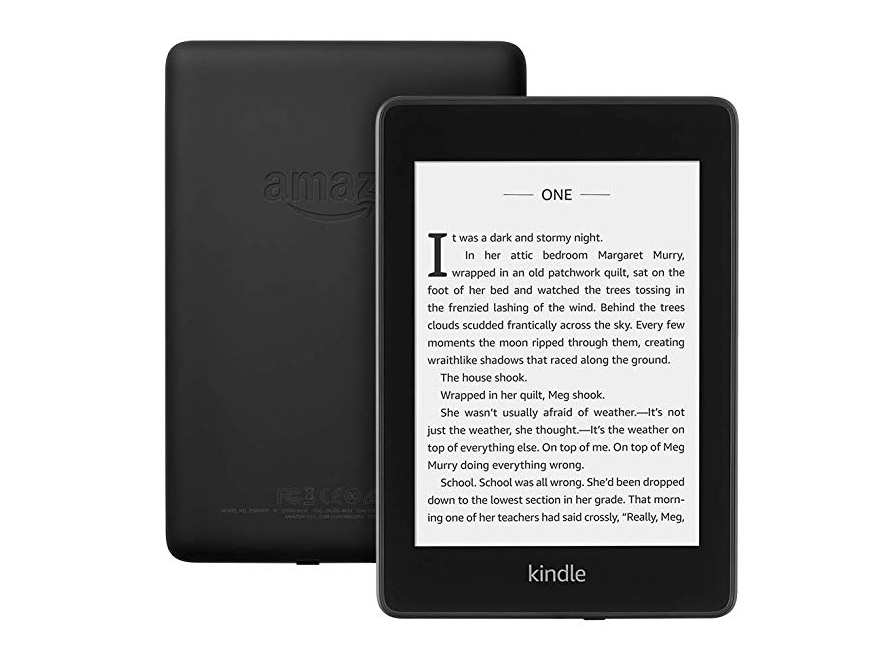 1
Kindle Paperwhite
We love our smartphones but honestly, if you're a voracious reader who can spend hours engrossed in the latest bestseller, nothing beats the Kindle Paperwhite. Why? Let's start with the fact that this latest version is the lightest ever, with a 300-DPI display that's glare-free even in the brightest sun. It also runs for weeks on a single charge and comes with up to 32GB of storage so you can take your entire library with you. But the clincher for beach-bound readers has to be that the Paperwhite is now completely waterproof, so you can read with abandon at the beach (or at home in the bath).
$130 at Amazon
2
Luxe, Lightweight Sunscreen
These days it's pretty easy to find oil-free sunscreens for the face. What's not so easy is finding formulas that are rich and moisturizing— essential if you have dry or mature skin. Fortunately, French brand Clarins has come to the rescue with an SPF 50 sunscreen that moisturizes deeply but never feels greasy or sticky. Kiwi extract and aloe vera feel soothing, and the texture—which somehow manages to be both luxurious and lightweight—makes us want to wear it every day (and we do!)
$28 at Sephora
3
Cute Straw Tote
Could there be a more darling bag to carry to and from the sand than Mercedes Salazar's pannier? We think not. Who wouldn't love the top-handle tote's intricate straw work; the clear vinyl insert that stops your stuff from falling out; and the super-cute charms suspended from the front, which lend whimsy and color. And the compact size means it'll work just as well over sunset cocktails at the beach bar.
$315 at Shopbop
4
Circular Beach Towel
What's a sure-fire way to stand out from the beach crowds—without taking off your top or cannonballing into the surf? We suggest simply sitting pretty on this round beach towel, whose leopard-and-flower print silently says "beach chic." Made of easy-care cotton, it's all you need to stylishly stake your claim to the sand. 
$30 at H&M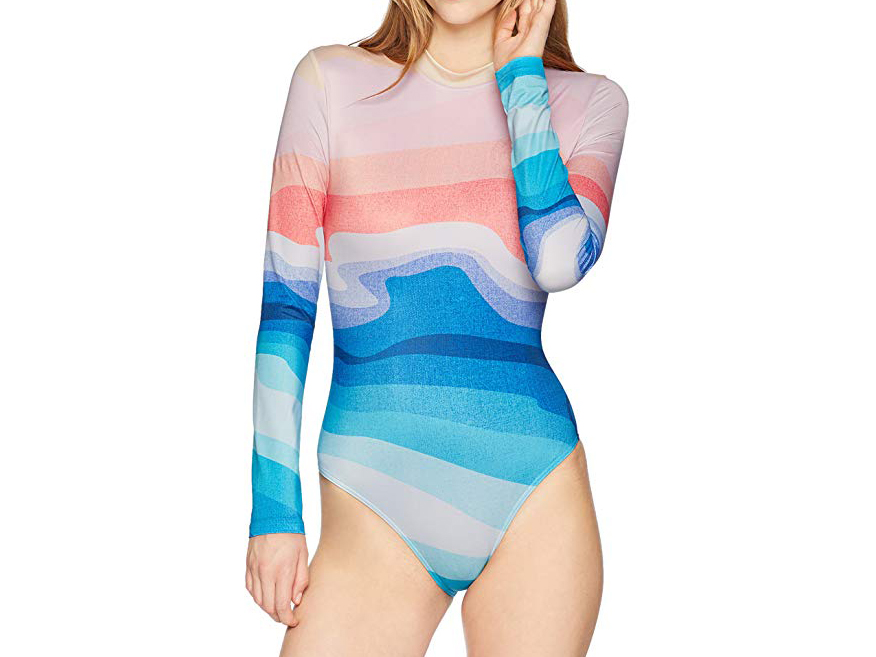 5
One-Piece Rashguard
Wearing a flowy fabric cover-up isn't the only way to protect your skin from the sun. Rashguards (which surfers wear over their suits to prevent chafing from their boards) are formfitting, quick-drying and can be worn in and out of the water, protecting your skin from the sun whenever you're outside. And Billabong, outfitters to the hang-ten crowd for decades, knows how to make them. Designed to be worn on its own or over a teeny bikini, this long-sleeved one-piece rashguard offers all-over UPF 50 protection and features a groovy all-over psychedelic print that will make you shine in a sea (ahem!) of swimmers.
$110 at Amazon
6
Portable Bluetooth Speakers
Sun, sea, and sounds are a winning combination in any beach-goers' book. And for the last of those, we're loving Sunny Life's portable Bluetooth speaker. Powered by four AAA batteries, the water-resistant rainbow-striped gadget works with any smartphone or small tablet (which you stash safely inside the clamshell case), and also has an AM/FM radio for when you're tired of playing DJ. Fun colors and crisp sound: we're sold!
$50 at Shopbop
7
Tunic-y Cover-Up
Nobody does color and pattern like Trina Turk, and her tunic-style cover-ups are living proof. Throw on this colorful V-neck and you'll look enviably elegant as you sashay between the sand and the hotel lobby. The empire-waist flatters most body types; the nylon-blend fabric dries quickly; and flowy sleeves add a touch of drama (and quash any upper-arm anxiety). We wear ours all summer, then pair it with leggings when temps drop.
$66 at Amazon
8
Baby Powder (Yes! Baby Powder)
Black-belt beach bums know that nothing gets sand off sunscreen-slick body parts like baby powder. Simply sprinkle it generously over sandy parts, follow with a quick flick of a towel and voila: you're sand-free in a jiffy. We keep a travel-sized shaker of Johnson's in our beach bag because we love that familiar scent, but any brand of talcum powder works just as well.
$6 at Amazon
9
Non-Tacky Flip-Flops
Ah, the flip-flop. Beach essentials that are inexpensive, practical, and work on almost every foot. But with their bright colors and rubber fabrication, they're a decidedly casual choice that's more suited to the sand than the streets. Unless they're Tkees (pronounced tee-keys). Available in a variety of neutral colors, these minimalist thongs almost disappear on your feet, whatever your skin tone. So just like a nude pump, they elongate the foot and won't clash with your outfit. With a cushioned leather footbed for comfort and a rubber sole for traction, they come in matte or glossy leather. Wear them to the beach now, and to your pedi appointments later.
From $30 at Zappos
10
Sunglasses
What puts the finishing touch on your beachy ensemble? Sunglasses, of course. But they needn't be $10 cheapies from the drugstore or a designer pair that costs half your rent. For sunnies that are stylish and smartly priced, we turn to Aussie brand Le Specs, who delivers on-trend styles that cost under $100 (but look like you paid much more.) Whether you favor a dramatic cat-eye, classic aviator, or fashionably oversized frames, you'll find a pair (or three) to suit.
From $27 at Zappos
Related Stories
All products have been hand-picked by our writers and editors. Items purchased through links may earn us a commission.