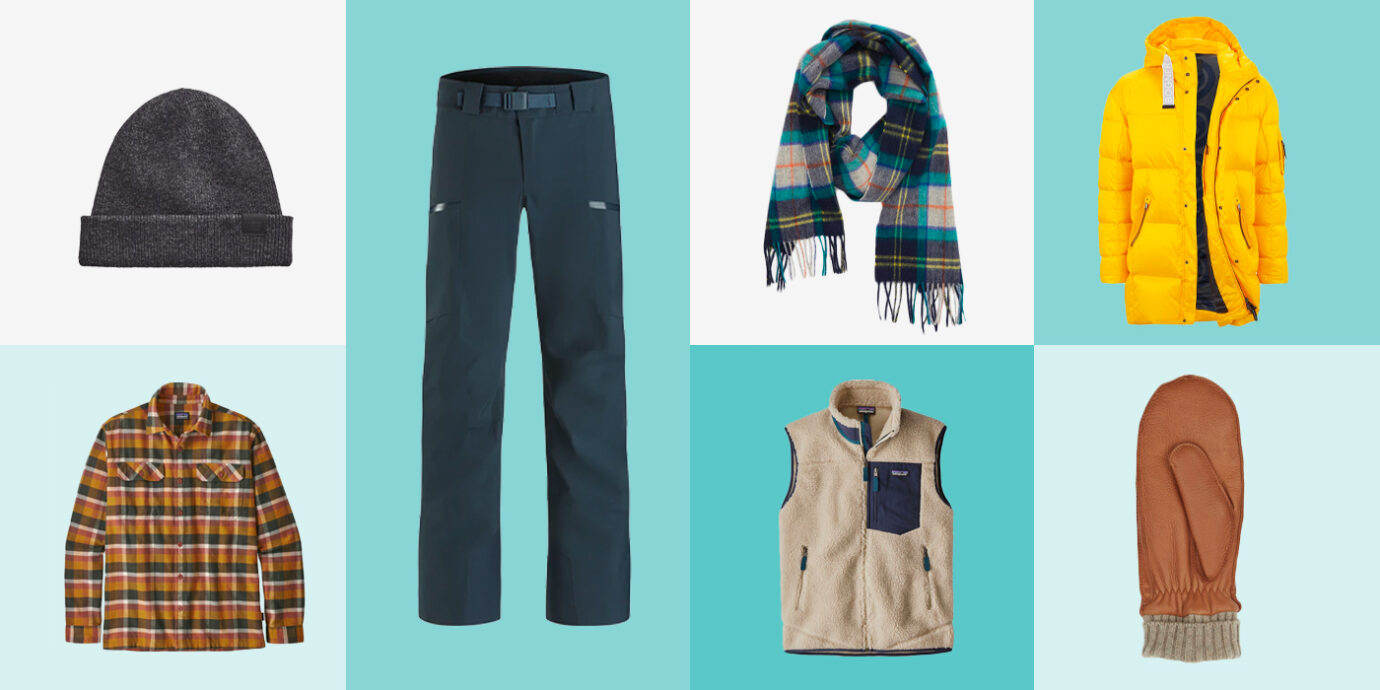 By Trip Type
The Best Winter Gear for Men
Winter is coming—in fact, as of December 21st, it's technically here. With the impending downturn in temperatures and upswing in all things snowy and icy, there's no time like the present to take stock of your winter arsenal. The thing is, it can be tricky to find winter weather men's gear that is neither too bulky and insulted nor too streamlined and insubstantial. Hitting the mark is a fine art, and that's why we've sorted it all down to 15 of the most essential pieces every guy should include in his cold weather closet. From a classic pair of winter boots, to a luxurious merino and cashmere scarf, and some of the best jackets you'll find anywhere, we've done most of the heavy lifting, so your cooler months will be less of a frozen nightmare and more of a winter wonderland. 
1
Best Men's Winter Boots
LL Bean Boot, 8" Shearling-Lined
It's hard to think of a more classic, quintessential winter boot than L.L. Bean's iconic 8" "Bean Boot." Beloved by hearty New Englanders for generations for their preppy profile and hearty waterproof durability, these boots are built to withstand the toughest winter conditions. For those of us prone to cold feet, this iteration comes with an extra dose of warmth thanks to a plush, cozy shearling lining. But don't wait, L.L. Bean makes a limited supply of these boots every year, and they often sell out.


Shop Now
2
Best Men's Winter Scarf
Barbour Merino Wool & Cashmere Scarf
If anyone knows how to fend off a chilly draft with a good scarf, it's English heritage brand Barbour. This tartan scarf will prove to be an indispensable part of any man's winter wardrobe—especially given its classic-with-a-twist color pattern and durable yet luxurious merino and cashmere blend. So warm, so stylish.


Shop Now
3
Best Men's Winter Parka
Canada Goose Langford Slim Fit Down Parka
Don't let sticker shock get the best of you—a Canada Goose jacket is an investment that will keep you warm winter after winter. The brand is known for expedition-quality parkas that keep adventurers warm in the most frigid parts of Antarctica. While your winter needs might not be quite so demanding, this Langford parka features the same toasty-warm all-natural goose down filling and coyote fur collar. The best part? A slim fit makes this jacket look less like a giant sleeping bag, and more like a sleek, ideal option for everyday life.


4
Best Men's Winter Gloves
LL Bean: Rangeley Waterproof Gloves
Just say no to frozen fingers this winter—these gloves are arguably the "Bean Boots" of the mitten world. They have a classic-looking style that delivers serious warmth thanks to a double-whammy of modern features: waterproof and breathable TEK2 inserts combined with ThermaTek insulation keeps your hands warm and dry even in the most intense of blizzards. And the red plaid details? Perfect.


Shop Now
5
Best Men's Winter Jacket
Carhartt: Quick Duck Sawtooth Parka
There's a reason Carhartt is a preferred brand for outdoorsmen of all kinds—it delivers serious protection from the elements at unbeatable value. This heavy-duty winter jacket is made from Carhartt's signature Quick Duck canvas for a waterproof yet breathable construction. Whether you're standing in a blizzard for hours on end, or just trying to stay warm on your commute to work, you're going to look (and feel) good doing it.


Shop Now
6
Best Men's Winter Fashion Jacket
When it comes to winter coats, it's so easy to get lost in the same old repertoire of boring neutrals. This year, just say no to drab winter gear with this spectacular Bogner parka, in a dazzling shade of sun yellow. It has ample padding to keep things cozy, and features water-repellant materials so it's more than just a statement piece. You'll definitely get noticed.


Shop Now
7
Best Men's Fleece-Lined Pants
Uniqlo Men Heattech Warm Lined Pants
Ever crave the warmth and winter-readiness of a snow pant but want the look and feel of your favorite khakis? We've got you. Consider these pants from Uniqlo, which incorporate a layer of their enormously popular Heattech technology. They're made from a ripstop material that's durable enough to last, but with just enough stretch to fit in all the right places. So warm, so cool.
Shop Now
8
Best Men's Ski Pants
It's all about the details with these best-in-class ski pants from Arc'teryx. They're lightweight enough to be worn for all sorts of winter activities, but durable enough to shield you from the elements. There's a lightweight flannel lining, adjustable boot cuffs to keep snow out, and thigh vents to modulate your heat—all useful features whether you're trekking in the backcountry or just taking the kids out sledding.


Shop Now
9
Best Men's Winter Hat
For a go-anywhere, do-anything winter hat that works with any and all outfits, look no further than this Mack Weldon beanie. It's made from luxuriously soft cashmere blended with water-resistant merino and nylon so it remains stretchy, soft, and warm for many winters to come.


Shop Now
10
Best Men's Long Underwear
Smartwool Men's Merino 250 Base Layer Pattern Botton
Don't mess around when it comes to base layers, because the right pair can make or break your entire winter wardrobe (and attitude). These Smartwool bottoms are made from high-quality merino wool, known for its natural warmth and wicking properties. They're the perfect weight to retain heat during cold conditions and stay temperate on those bluebird winter days—and they're so plush to the touch that you just might find yourself making excuses to lounge around in them all morning.


Shop Now
11
Best Men's Winter Socks
Smartwool Men's Premium CHUP Polar View Crew Socks
Remember as a kid when you despised receiving socks as a gift? Well, times have changed and any guy would be lucky to get their hands (and toes) on these Smartwools. They're made from a warm, moisture-wicking merino wool, with just enough nylon and elastane to stay stretchy and keep their shape all day long. Plus (admit it), the fair isle reindeer pattern is pretty sweet.


Shop Now
12
Best Men's Flannel Shirt
We love the thickness of this flannel shirt. It's perfect for long aprés-ski sessions by fire, and also substantial enough to be worn as a lightweight jacket on those sunny spring skiing days. And since it's Patagonia, it's sustainably made from some of the world's finest organic cotton. Not only will you look good—you'll feel good, and this shirt will last in your rotation for years and years of winter warmth.


Shop Now
13
Best Men's Waterproof Jacket
There are GoreTex jackets, and then there is this Arc'teryx GoreTex jacket. From the waterproof zippers, to the hood with internal collar, to the elastic waist pulls, every single detail of this jacket has been designed with performance in mind. Whether you're ice climbing in the Yukon or just trying to take your dog for a February walk, this jacket has you covered (and dry).


Shop Now
14
Best Men's Winter Mittens
The Swedes are good making many things—especially men's winter gear. Pretty much anything from Hestra's gloves and mittens lineup is a foolproof purchase, but we're especially enthusiastic about their iconic Embla mittens. They're made from a high-quality Scandinavian Elk leather, insulated with a toasty PrimaLoft Gold layer, and designed to look good whether you're on the peak of Kebnekaise, or just shoveling the driveway.


Shop Now
15
Best Men's Winter Vest
Patagonia Classic Retro-X Vest
The award for coziest vest goes to this charming Patagonia option. Not only does it come in an impossibly soft high-pile fleece, but it also has a hint of windproof protection to really amp up the warmth factor. The best part? Patagonia has somehow cracked the code on making its sherpa fleece pieces breathable, so you retain warmth without overheating. Just be warned—wearing this cuddly vest might result in numerous unsolicited hugs.


Shop Now
Related Stories
All products have been hand-picked by our writers and editors. Items purchased through links may earn us a commission.