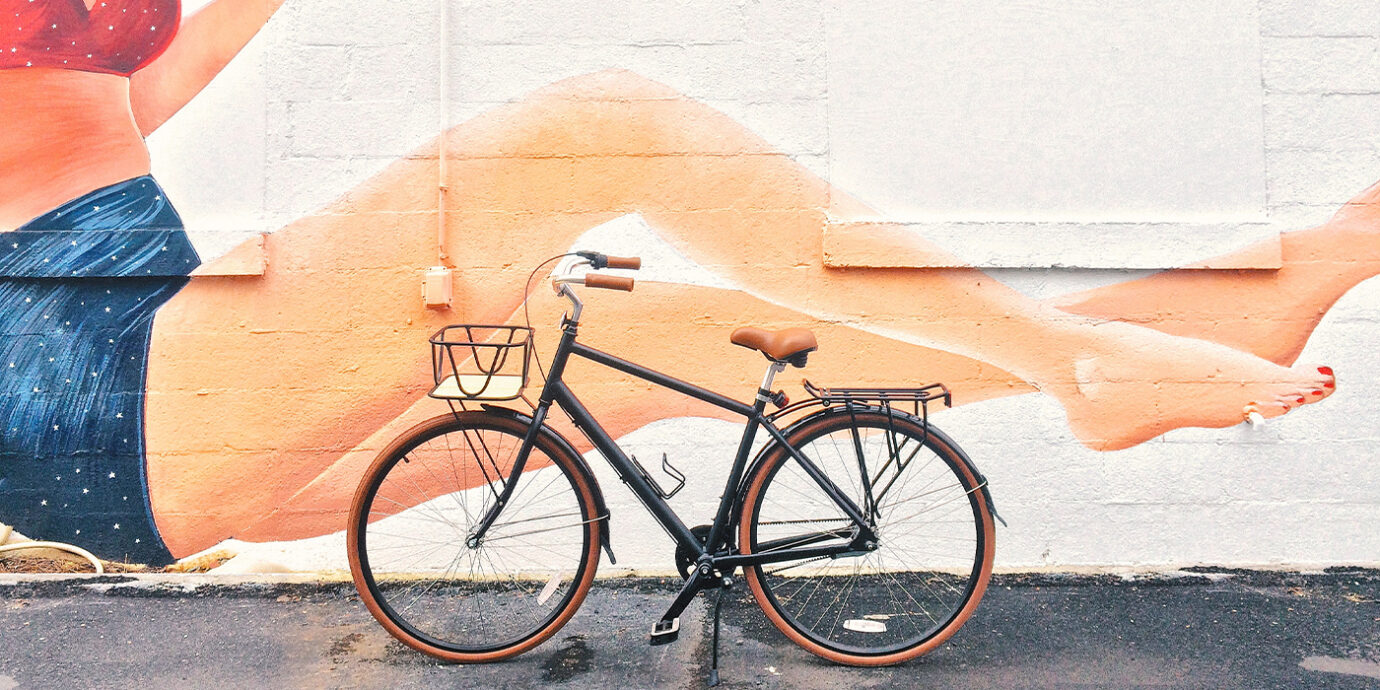 By Trip Type
The Complete Guide to Traveling with a Bike
How do you explore a new destination? Probably by foot, car, or tour bus, right? There is another way: on your own bike. Yes, we know what you're thinking: Pedaling around Portugal sounds really cool, but that's a lot of logistics! Can you even bring a bike on a plane?
It's not as difficult as it sounds. Traveling by bike can be an unforgettable and stress-free experience—all it takes is some advance planning. Once you've got the basics down, you'll hit the ground...cycling. Ahead, we tackle all the must-know questions about traveling with a bike, including prepping for its first plane ride and all the gear you'll need to bring.
Bike Travel FAQs

Can I Fly With a Bike?
Bikes are welcome on planes, but you'll want to do some pre-planning to avoid surprises at the airport, like unexpected luggage fees or worse: finding out that your two-wheeled companion can't come along because it's too big/too heavy/not packed according to policy. Airlines' baggage and case requirements, fees, and restrictions vary wildly, so research before you book a flight with a particular airline—paying more on airfare could save you hundreds in bike fees. Airlines will often require you to put your bike in a case, like the SciCon road case. Depending on the size and foldability of your bike, you might be able to check it in a regular suitcase or a (well-padded!) cardboard box. Pro tip: Seasoned cyclists prefer a dedicated bike case; they're pricey, but specifically cushioned to keep the two wheels secure.
Can I Mail My Bike?
For travelers who are staying longer in one place and don't need their bikes ASAP, it may be cheaper to send your bike via the postal or delivery service, like FedEx or the cyclist-friendly BikeFlights. Packing up a two-wheeler in a cardboard box is the most economical option, but it's also the riskiest: all that rattling during travel might have you unpacking a damaged bike. The best option is to ship your bike in a case. The soft-shelled, cyclist-favorite EVOC bike travel bag is light and padded. Want extra, extra protection? Choose a hard-exterior caddy, like the Thule travel case.

Can I Rent a Bike In My Destination?
Renting a bike after you land can save you the hassle of navigating shipping procedures and airline fees (and spare you the stress of wondering if your bike will arrive safely). Before you depart, check in with a few local bike shops to price out their rentals; many have a fleet of cycles they rent out for a day, a week, or longer.
What About a Cycling Tour?
Pedaling around your destination is a wonderful way to see a new place and connect with fellow cycling enthusiasts. Companies like Intrepid Travel, G Adventures, and DuVine Cycling + Adventure Co. offer multi-day tours—and bikes are included! Weave through the rolling vineyards of Tuscany, the volcanic landscape of the Azores, or the mountains of Northern Vietnam to get an intimate view from the seat of your bike.
What to Wear On a Bike Trip
Biking Outfit for Women
For info on these editor-selected items, click to visit the seller's site. Things you buy may earn us a commission.
A stretch-fabric top with mesh ventilation will make any ride both comfy and cooling. Wear it over bike shorts with light padding to protect your tush, like Lululemon's City-to-Summit shorts, which also have clever silicone grippers on the inside of the hem so they don't ride up as you're pedaling away. Top it all off with a waterproof, windproof jacket that can stand up to the elements—whether you're expecting them or not! And if you're cruising along but don't want to stop for a water break, consider hands-free hydration. The Camelbak Classic backpack has a 85-ounce water hydration pack and convenient spout, so you can quench your thirst without stopping. For shoes, we trust cycling brand Giro—their Techne shoes can do double, nay, triple duty! The Techne's versatile design makes them an option for both outdoor road and mountain biking, but you can also slip them on to your favorite indoor spin class.
Biking Outfit for Men
For info on these editor-selected items, click to visit the seller's site. Things you buy may earn us a commission.
Our pick for a men's biking shirt was made for trips on two wheels: L.L.Bean's ultra-breathable, quick-drying jersey is coated with an antimicrobial treatment that will keep you fresh, even during long rides. A stealthy back pouch is perfect for stashing away a phone or snacks. Pair it with Outdoor Voices' all-purpose recreation shorts, made from stretchy nylon fabric that lets you pedal freely. Keep your body temps up even when the outdoor temps go down with a thermal and moisture-wicking cycling jacket, like this windbreaker by Przewalski. Belt bags may be a runway hit, but they're also an ideal accessory for a cycling trip. Unlike a backpack that you need to take off to get your stuff, Timbuk2's bag slings around your shoulder so you can access your packed essentials during a ride. And finally, the Giro Rumble VR cycling shoes have tough outsoles that provide excellent traction when you want to climb off your bike and hit the trails.
Great Gear for Bike Travel
Helmet: A bike helmet is crucial any time you ride, whether it's in the middle of a bustling city or on a remote country road. The Prevail helmet by Specialized has a slew of safety features that will keep your noggin safe, like MIPS technology (to reduce brain impact if you hit your head) and an electric sensor that will alert your emergency contacts in the event of an accident.
Water bottle: Lululemon's squeezable water bottle has a built-in spot top and an anti-spill valve, so you won't lose any precious H20 while you're pedaling away.
Bike travel case: Get the best of both worlds: the SciCon Aerocomfort 3.0 TSA has the protection of a hard case with the light weight of a soft case. Four attached wheels on the bottom mean you can easily weave through airport traffic, too.
Bike bell: Need to alert those around you? Give the Nello magnetic ringer a tap and it'll emit a 80-decibel chime to give your fellow roadsters a fair warning.
Bike repair kit: Don't let a flat tire or loose brake spoil a cycling trip—pack a basic repair kit to quickly address common cycling snafus. This 11-in-1 collection includes tools like a screwdriver, tire patches, and a range of Allen keys.
Bike light: This waterproof head/taillight combo is a best-gear pick for both Outside and Bicycling magazines for its ride-friendly features, including power via USB and a glow that's visible from over a mile away.
The Best Travel Bikes
The Best Folding Bike for Travel
Perfect for short jaunts or city rides, the EuroMini Zizzo Via has a seven-speed cassette that helps you take on both hills and winds, no problem. When it's time to pack up, the frame folds neatly and the wheels stay together thanks to a smartly placed magnet.
The Best Travel Bike for Multi-Day Rides
Planning on getting by on two wheels for a few days? Consider a touring bike like Trek's 520, which has all the features you'll need for smooth ride: racks and built-in mounts for hauling gear, puncture-resistant tires, and a wide range of gears that will help you coast through a variety of terrains.
The Best Lightweight Travel Bike
A travel companion that won't weight you down: the 6KU comes in at just 19 pounds, so it's easy to carry and maneuver. Bonus: the flip-flop hub means you can pedal it as a fixie or free wheel bike.
Related Stories
All products have been hand-picked by our writers and editors. Items purchased through links may earn us a commission.