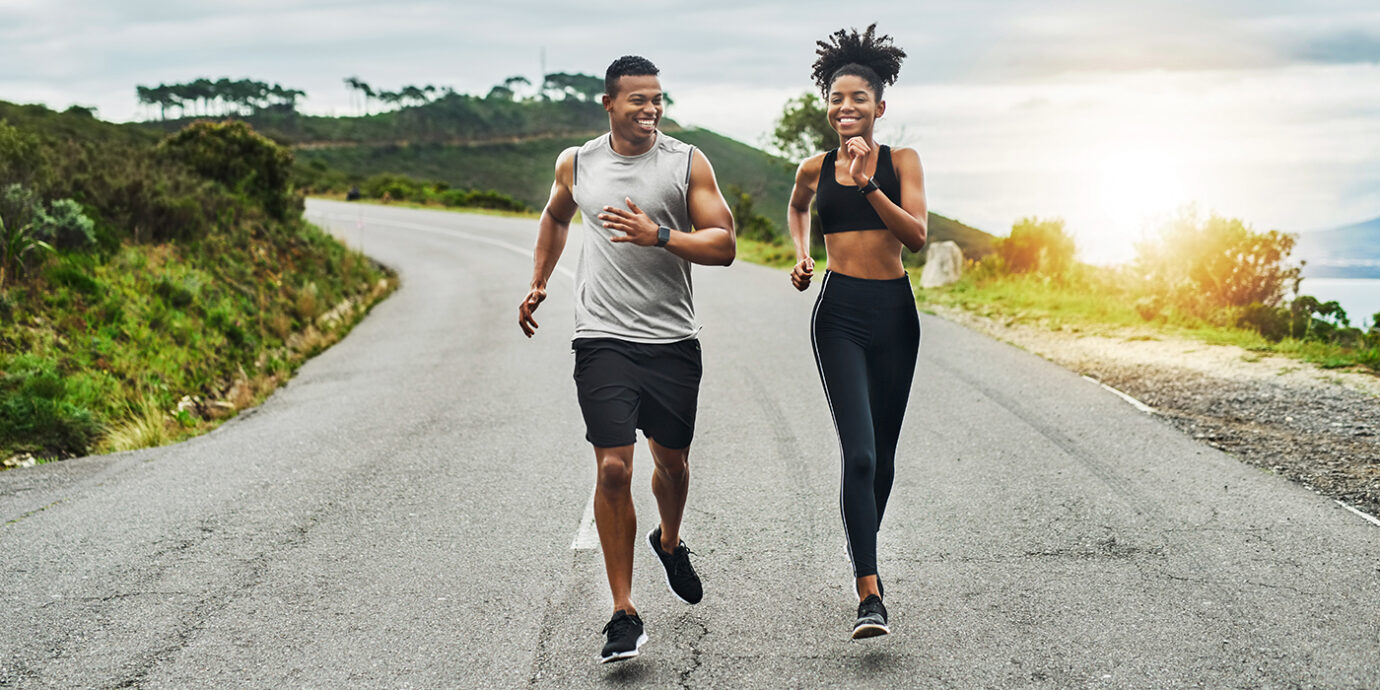 Packing Tips
The Complete Guide to Travel Fitness and Gear
Travel fitness doesn't have to be a Herculean task. The often unfamiliar turf (and time zone) makes a work out feel daunting—but it can be done and it can even be fun. It doesn't take more than a few minutes of planning to come up with an exercise regimen that works for you, whether it's mapping out a running route to explore, scoping out new studios on ClassPass, or packing a few pieces of workout gear to turn your hotel room into a mini-gym. No matter how you choose to move, travel fitness is sure to bring about mind-balancing perks. Exercise is known to boost energy, slash stress, and improve sleep—an excellent antidote to jet lag! To make travel fitness even easier on you, we've rounded up the best tips, tricks, and outfits for working out while traveling, so you can touch down and get moving.
How Do I Work Out While Traveling?
The great thing about exercise is that there are so many ways to do it. Activities like running, walking (yes, it counts!), and biking can be done in most locations, on any terrain. Another thing to keep in mind, especially if you're just getting started: how do you like to exercise at home? Know thyself. If you're typically a group-class kind of exerciser, then packing a bunch of gear to work out solo in your hotel room might just mean it sits untouched in your carry-on bag. Try out a new studio on ClassPass or scour Meetups for organized fitness, like a running group. Lots of hotels and resorts offer group fitness classes as part of their gym programs. Ask the concierge for their local recs. And pssst, some hotels offer free gym guest passes—it never hurts to ask!

Can I Use ClassPass to Work Out While Traveling?
Yes! ClassPass is available in 2,500 cities in the US and abroad. To sign up, just download the app, select how many credits you want to purchase, and enter your destination in the location tab to see what kinds of workouts are nearby. One of the best parts of a ClassPass membership is that it's available almost everywhere. It doesn't cost extra to workout in a new city and you'll find everything from restorative yoga to pole dancing to reformer Pilates to bootcamps and running clubs. We've enjoyed using ClassPass everywhere from New York to Los Angeles to Portland. Bonus: getting to a studio is a fun way to meet locals and fellow fitness enthusiasts who can point you to other activities to seek out during your stay.
Are There Video Streaming Services I Can Use While Traveling?
Staying in a location with limited-to-no workout options doesn't mean exercising is a bust—on-demand video workouts can bring the gym right to your hotel room or Airbnb. Check out Daily Burn, which has a wide range of workouts like barre, Pilates, and HIIT. Yogis will like Glo for its wide selection of yoga styles including hatha, vinyasa, and Iyengar for all levels. Streaming services typically come with a monthly fee, but if you don't want to commit just yet, many offer free trials. ClassPass members have access to ClassPass Live, on-demand workouts that you can watch on a smartphone or laptop. Sessions last anywhere from 10 to 40 minutes, so you can squeeze in a yoga or HIIT session in your hotel room, no matter what time zone (or mood) you're in.

Are Hotel Gyms And Resorts Good For Travel Fitness?
Boutique exercise studios aren't the only place to get your sweat on—you'll find that most hotels and resorts have gyms, spin studios, or yoga rooms for guests, which make getting in a sweat session for travel fitness super convenient. In fact, hotels are picking up on the fact that many travelers want to work out away from home and several chains have upped the availability of exercise-related amenities. Every room at EVEN Hotels is stocked with resistance bands, an exercise ball, yoga mat, and yoga block. The TVs have 18+ on-demand fitness videos (ranging from 5 to 30 minutes) that utilize the in-room equipment. Hilton's Five Feet to Fitness™ rooms provide an indoor spin bike, gear like a BOSU ball and resistance bands, plus post-workout helpers like muscle gel packs and hydration beverages. Hotels are making it harder and harder to find an excuse not to work out.
What Exercise Gear Is Easy To Pack For Travel Fitness?
Yes, you can turn even your budget motel room into a comfy workout space dedicated to travel fitness. By packing a few essentials, you can fit in a workout right in your room—or at the beach or nearby park. Choose gear that's compact and light, so that it won't take up much space or add lots of weight to a carry-on bag. Instead of a run or elliptical session (who can pack a treadmill anyway?), get in your cardio with a jump rope. The XYLsports jump rope is easily adjustable and comes with super soft foam handles. For toning muscles, don't pack dumbbells—try resistance bands instead. This set from Limm comes with five different levels of resistance. Add in a foldable yoga mat, like this one from Gaiam. It gives you a comfortable (and clean) foundation to do sun salutations, stretching, or core work on any flat surface. Don't forget to pack workout clothes and appropriate shoes, we've got you covered (literally) below.
WORKOUT OUTFITS FOR MEN AND WOMEN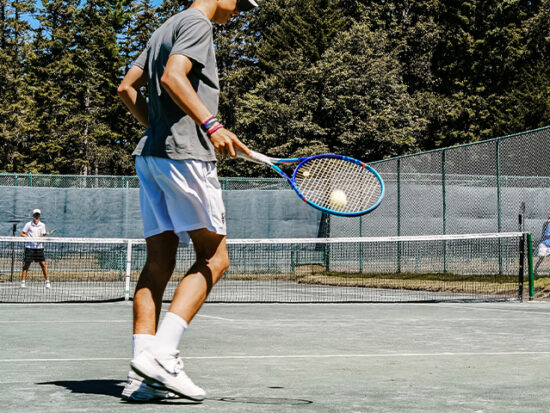 Working out in higher temps? Hack your outfit so that it does the work of keeping you as cool as possible. Choose lightweight, breathable fabrics like nylon and polyester; they're moisture-wicking, too, meaning sweat gets pulled off skin and onto fabric where it evaporates quicker. Lighter colors work wonders for keeping your body temp down, too. When the weather is nicer, it's likely you'll be working out outside, so keep sun protection in mind. Slip on a mesh-paneled hat (your noggin will thank you for the ventilation) and UV-blocking sunglasses to stay safe—and stylish. You make travel fitness look good.
Women's Warm Weather Workout Outfit
For info on these editor-selected items, click to visit the seller's site. Things you buy may earn us a commission.
Men's Warm Weather Workout Outfit
For info on these editor-selected items, click to visit the seller's site. Things you buy may earn us a commission.
It's tempting to stay in bed when the temperatures dip, but packing the right clothes can keep you cozy and motivated to workout and maintain travel fitness. Exercising in a location that's on the cooler side is all about layering. Base layers made of heat-preserving fabrics, like wool blends, keep you toasty. Add a lightweight wind- and rain-resistant jacket on top. It's a handy shield from the elements, but won't weigh you down if an outdoor workout heats up and it has to come off. Finally, sport a hat to seal in warmth if you're outside or dashing between fitness studios and your hotel—it's said that up to 10% of body heat escapes from the head.
Women's Cold Weather Workout Outfit
For info on these editor-selected items, click to visit the seller's site. Things you buy may earn us a commission.
Men's Cold Weather Workout Outfit
For info on these editor-selected items, click to visit the seller's site. Things you buy may earn us a commission.
BEST TRAVEL FITNESS SHOES FOR MEN AND WOMEN
Women's Shoes
Low impact: APL's Techloom Bliss sneakers live up to their name. The four-way stretch and springy foot bed will keep soles blissful, even after days of exploring your new destination on foot. It's no wonder that they made Oprah's Favorite Things list.
Cross-training: If your workout plan includes a lot of HIIT classes, strength training, or weight-lifting, these On Running Cloud X sneakers deliver. The molded pads secure your foot in place as you're switching up movements, and the mesh cools soles down as your session amps up.
Running: Hitting the pavement or treadmill? Slip on Brooks Ghost 11 sneakers, which nabbed an Editor's Choice award from Runner's World magazine. Their newly designed foam cushioning and padded heels will soften every landing.
Men's Shoes
Low impact: The foam foot bed of these Under Armour's HOVR SLK kicks is so springy, you could walk for hours without your soles complaining. The sleek design means they can go double duty, too. You can break a sweat in these kicks, but also dress them up for an evening out.
Cross-training: Travelers who like to switch up their exercise regimens will find that the Adidas Alphabounce shoes can keep up the comfort and support during all sorts of activities, from running to jumping to climbing.
Running: While firm shoes typically get a bad rep, the sturdiness of these Salomon Predict RA sneakers is actually an asset for runners who log long miles. But that's not to say this shoe is stuck in its ways: inside are 10 areas that adapt to how your individual foot rolls off the ground during a run, resulting in a sneaker that's essentially personalized to your foot.
BEST TRAVEL FITNESS WORKOUT ACCESSORIES
1
Water Bottle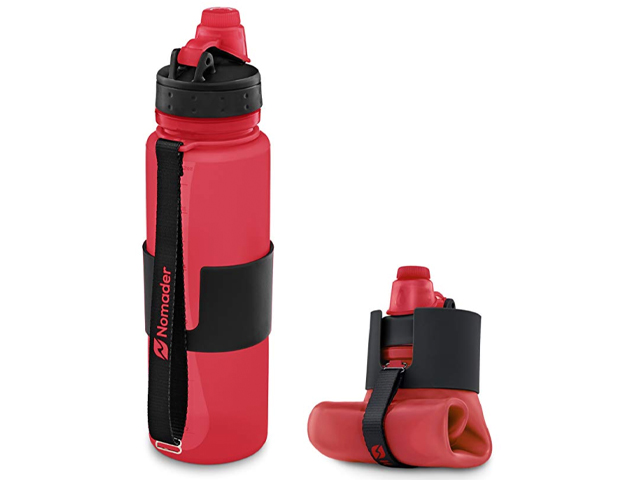 Struggling with your water bottle's cap is the last thing you want to do when you're in need of an H20 sip mid-workout. Avoid the spill and choose a water bottle that has an easily accessible, leak-proof spout, like this one from Nomander. Bonus: it's collapsible—perfect for when you're tight on packing space. 
$24.95 at Amazon
2
Face-Cleansing Wipes
These wipes from legacy skincare brand Clinique are like a portable shower. They're fragrance and paraben-free and can be used on both the face and the body, perfect for freshening up post-exercise—or even mid-flight. 
$15.50 at Clinique
3
Headphones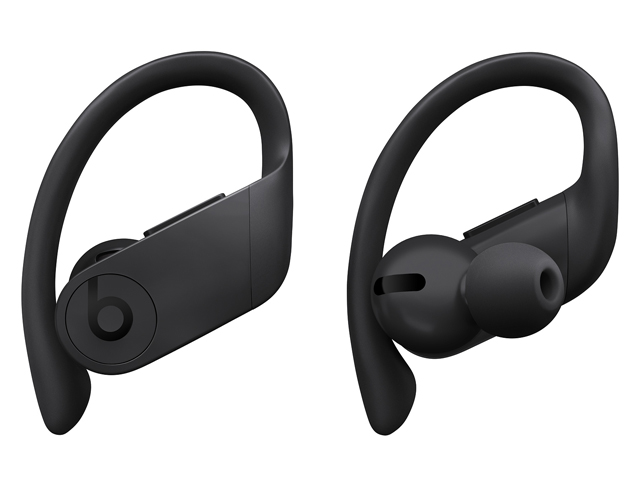 Powerbeats Pro wireless headphones are water- and sweat-proof, meaning even the toughest, rainiest workout won't cause them to slip out of your ears. A five-minute charge will give you over an hour's worth of battery life, which is great, since you didn't book this amazing trip to Paris/Bali/Rio to spend hours babysitting your charging electronics.  
$249.95 at Apple
4
Fitbit
Strap on this fitness tracker and let it do its thing. Not only does the Fitbit Inspire HR keep tabs on your steps, heart rate, and pace, it automatically recognizes the type of exercise that you're doing (from running to biking to swimming, and more) so you can devote your focus on your workout, and not fiddling with your wrist. Oh, and it also guides you through breathing sessions when it's time to chill.
$99.95 at Fitbit
5
Attachable phone case
Tribe's armband securely holds all types of smartphones and your keys, making hands-free and bag-free workouts a cinch. The touchscreen panel is also easy to see and use, so you can quickly swap from Beyonce to Prince on your workout playlist. Plus, the armband is fashioned with a special reflective strap, ensuring you'll be seen and safe when if you're hitting the pavement after dark. 
$9.98 at Amazon
6
Hair Tie
Keep hair away from your face when you're breaking a sweat—but make it fashion! This Lululemon bow-style scrunchie is stylish and exercise-friendly. It's made out of quick-drying fabric that'll hide any traces of sweat should you want to quickly transition from the gym to a night-on-the-town. 
Related Stories
All products have been hand-picked by our writers and editors. Items purchased through links may earn us a commission.