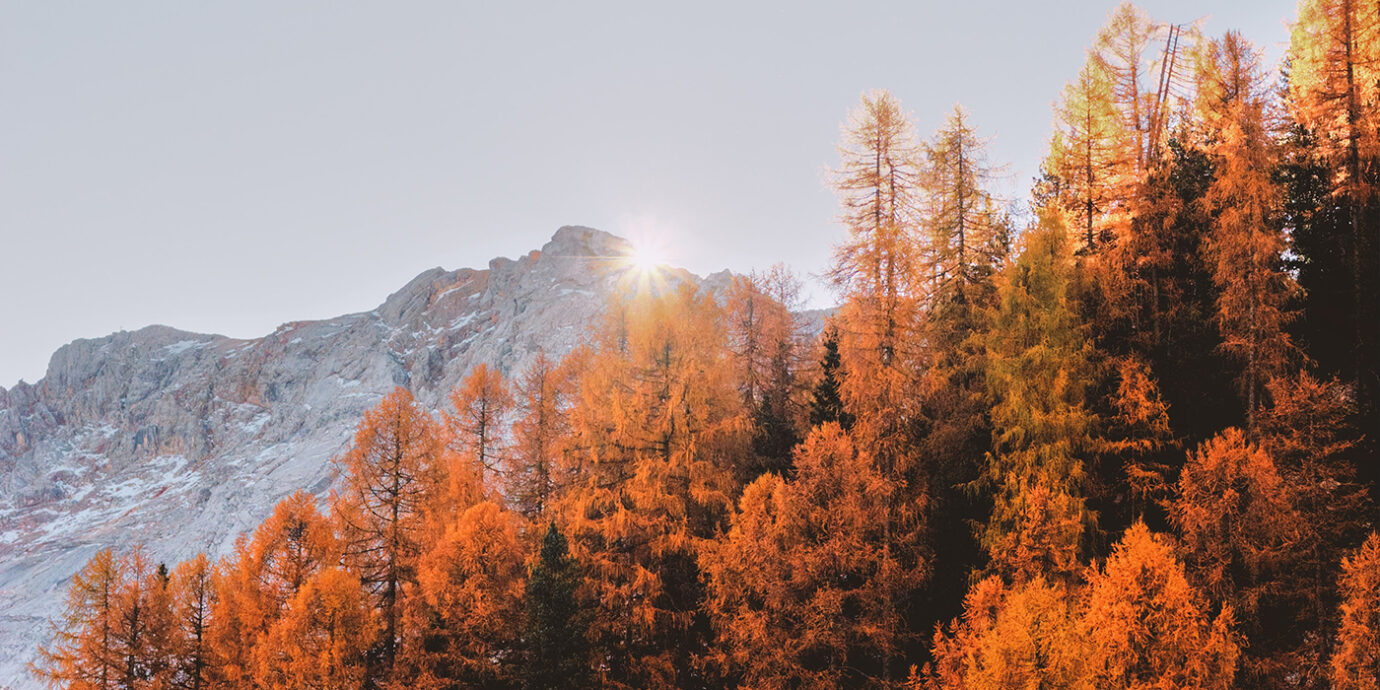 By Trip Type
A Guide to Packing for Every Season
Is it better to look fabulous or to travel lightly? This common packing dilemma hangs on the choice between fashion and function. But where there's a will, there's a way to master the art of dressing well—no matter what the weather—and packing intelligently. With the right combo of versatile, classic, and seasonally appropriate pieces, you can look chic and put together in any season. Here's our guide to packing well in spring, summer, fall, and winter.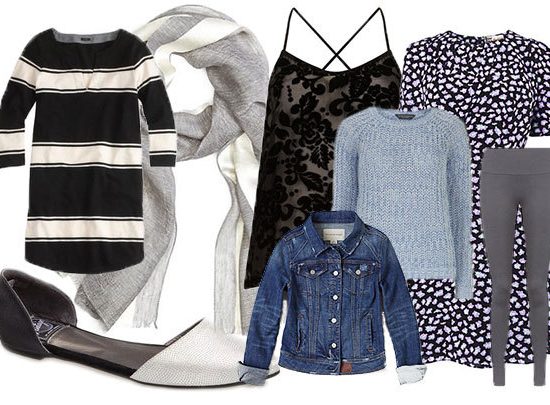 Women: What to Pack for Spring
When traveling during spring, the most important thing is to be prepared for unpredictable weather. Clothes should be multifaceted. Wear light layers such as swingy linen sweaters, featherweight cardigans, and silky camis in neutral colors. Looser-knit sweaters and cardigans layered over tees and camis will generate a sufficient mishmash of outfit possibilities. Add a classic jean jacket, which can be paired with either shorts and a tee or a simple silk dress for a more elegant appearance. The Pilcro Avie Denim Jacket from Anthropologie, with a slightly distressed look and a darker wash, is a versatile piece.
That multifaceted requisite goes for shoes and accessories, too: Loafers, slip-ons, oxfords, and ballet flats are fantastic spring shoes, especially when they can transition from day to night. These Jeffery Campbell d'Orsay flats look just as chic with shorts as they do with a more formal frock.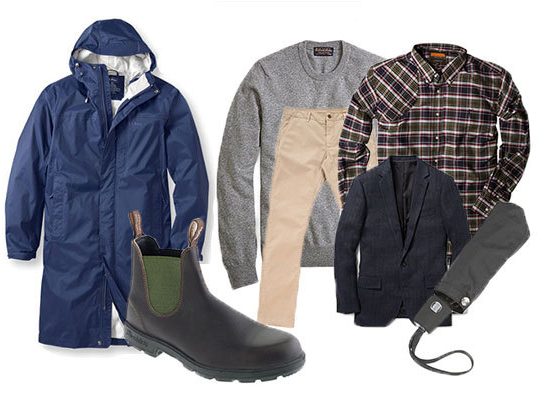 Men: What to Pack for Spring
Spring, with its unpredictable downpours and fluctuating temperatures, calls for clothing that can effortlessly accommodate everything from a balmy, sunny afternoon to a brisk, rainy morning. In terms of accessories, a good-quality, travel-friendly umbrella is essential. And you might want to pack a raincoat, too. The Trail Model Raincoat from L.L. Bean offers plenty of coverage with its longer length, and it folds up into its own pocket for seamless packing. Waterproof shoes aren't crucial, but shoes that can withstand rain are a smart choice for trips to temperate climes where spring brings unpredictable and often rainy weather.
For comfort in the midst of weather fluctuations, think layers. Pack one light sweater and one blazer, which can be worn together or separately, depending on how cold you are. Long-sleeved cotton or synthetic-blend button-down shirts with sleeves that can be kept long or rolled to the elbow will help you deal with weather changes as well.
Stylish Spring Fashion for Men and Women
For info on these editor-selected items, click to visit the seller's site. Things you buy may earn us a commission.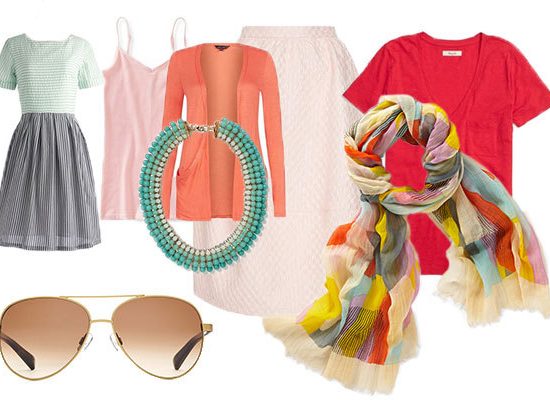 Women: What to Pack for Summer
Sun protection is key on a summer trip. We like Warby Parker's Flannery aviators, a timeless shape that can be purchased with or without prescription lenses. Lightweight scarves provide additional shielding from the sun when wrapped around your head or shoulders, and a squishable, packable hat is even better.
Yes, linen and cotton wrinkle. But we nonetheless pack these breathable, versatile fabrics for summer travel. (If wrinkles happen, take them out with a travel-sized bottle of Downy Wrinkle Releaser or use the iron in your hotel room.) This cotton two-tone dress from ModCloth in gray and green seersucker can be worn with flats or sandals or dressed up for dinner with a blazer, heels, and a statement necklace.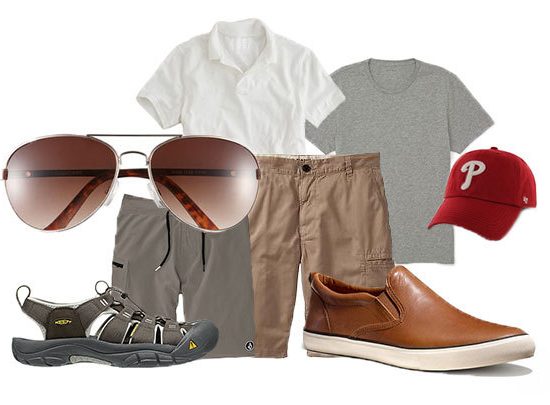 Men: What to Pack for Summer
During summer, it's all about T-shirts and polo shirts—especially if you're traveling to a tropical or beach destination. A tee can go from the beach to dinner when worn with a blazer or cardigan and cotton pants.
A pair of lightweight shorts shouldn't take up much room in your bag. During a particularly hot summer trip, you might want to forgo jeans. They're heavy to pack and they're warmer than, say, a nice lightweight pair of khakis on a sunny July day.
Let's talk shoes: Sandals are tricky. Sure, they keep your feet cool. But in some destinations, sandals aren't appropriate attire for dinner or other less casual events. A pair of sandals like these waterproof Newport shoes from Keen are ideal for hiking and long walks but would look a bit out of place in an upscale Italian restaurant. In lieu of sandals, perhaps try slip-on sneakers, like this pair from Coach. They're pretty versatile: They go equally as well with shorts as with khakis and a blazer.
Don't forget sunglasses and a hat to block the sun, both essential for summer travel.
Stylish Summer Fashion for Men and Women
For info on these editor-selected items, click to visit the seller's site. Things you buy may earn us a commission.
Women: What to Pack for Fall
One of our favorite fall tricks: Use a dress as a skirt by wearing a pull-over sweater over the dress. For example, this long-sleeved dress from Anthropologie would work well on its own on a not-so-cold fall day. But throw a cable-knit sweater over it and you've got an entirely new (and warmer) outfit.
When it comes to accessories, scarves are a very smart choice for fall travel. They can change up your look, add interest to an outfit, and add warmth on chillier days. Portolano's silk-cashmere wrap has a very lovely drape, comes in several neutral colors, and can be worn with a dress on more formal occasions.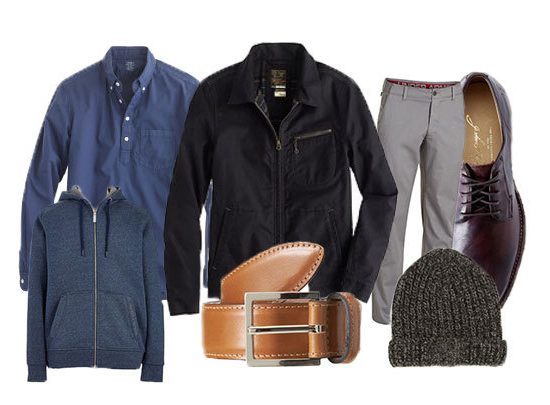 Men: What to Pack for Fall
Like spring, fall demands lots of layering, as well as some thoughtful preparation for unpredictable weather. At least one sweater or sweatshirt, in addition to a nicer jacket or blazer for less casual excursions, will afford lots of options for fall outfits.
Depending on when you're traveling, you'll want to get strategic with your coat. Early fall trips with more summerlike weather might necessitate a lighter coat, like L.L.Bean's lightweight Quilted Jacket.
Simple shoes such as brogues or loafers are perfect for fall weather. Brogues work well for business or pleasure; they're comfortable, but they look perfectly presentable worn with either a suit or jeans and a button-down. Frye's Phillip Oxford is a great choice. The shoe's classic profile and slightly distressed look help its wearer transition from casual to business.
Stylish Fall Fashion for Men and Women
For info on these editor-selected items, click to visit the seller's site. Things you buy may earn us a commission.
Women: What to Pack for Winter
A coat, a hat, gloves, and a thick wooly scarf or two can take up a lot of suitcase space. So, when it comes to winter packing, it's doubly important to get strategic with what you choose to bring. A flannel button-down shirt or a thin cashmere crew offers the warmth of a sweater without all that bulk. It's also smart to invest in a winter coat that's suitable for traveling—one that provides a high level of warmth yet isn't unwieldy.
I'm a big fan of flat, knee-high boots for winter travel. If you can find a comfortable, high-quality leather boot, it may be the only shoe you need to bring on your travels. Make sure your boots are water-resistant if you're traveling to a snowy destination. (In many places, such as European cities, streets may not be shoveled or plowed after a snowfall.) You also want a boot that isn't too tight on the calf, as you don't want to wear anything too restrictive during air travel.
Men: What to Pack for Winter
Your winter travel wardrobe should include a hat, a scarf, sunglasses (especially for snowy, high-altitude destinations), gloves or mittens, wooly socks, and, if your destination gets particularly cold in the winter, insulated undergarments like a pair of thermal pants and a thermal shirt.
Picking the right winter jacket can be daunting—you want plenty of insulation but you don't want a coat that weighs 10 lb. and takes up three-quarters of your suitcase. Look for a winter coat that features lightweight insulation, such as this running jacket from Nike.
Stylish Winter Fashion for Men and Women
For info on these editor-selected items, click to visit the seller's site. Things you buy may earn us a commission.
Related Stories
All products have been hand-picked by our writers and editors. Items purchased through links may earn us a commission.