By Trip Type
9 Fun Things to Pack for a Girls' Trip
There's something so special about taking a vacation with just the girls. Whether you're going on a bachelorette party in Vegas, heading out on a road trip through the Southwest, trekking around Europe, or simply planning a girls-only staycation at a nearby locale, don't forget that packing some surprise goodies can put a smile on everyone's face. We rounded up nine items that are easy to pack, won't break the bank, and guaranteed to make any girlfriend getaway more fun.
1
Sheet Masks
You've likely seen sheet mask selfies from celebrities and influencers all over Instagram. There's a reason the Korean skincare product is so popular. Sheet masks are fun, (mostly) inexpensive, and they provide results. The Face Shop is a reputable South Korean brand that uses pure ingredients found in nature. Each cotton mask contains a serum with nourishing properties that yield soft and healthy skin. This pack of 15 sheet masks (gift them out to your friends) includes ingredients like pomegranate, aloe, lemon, and green tea—and promises to brighten, firm, and soothe complexions.
$17 at Amazon
2
Laughably Sexy Drink Markers
Once the wine starts flowing, it can be hard to remember which glass of pinot noir belongs to you and which belongs to your friend. Enter: These cheesy, funny, and sexy drink markers. Each gentleman (and his six-pack abs) is designed to hook around the base of a wine glass. If you can't remember which underwear color your guy is wearing, check his buttocks for his name. That's right, Blake is guarding your glass. And if you prefer something a bit more buttoned up, choose the set that features men in uniform.
$11 at Amazon
3
Beach Cover-Up and Throw
If your girl gang is headed to the beach or pool, check out this stylish and practical cover-up and throw combination from the modern beach line, Tavik. The super-soft, striped accessory comes in several colors (especially convenient if you're looking for a matching, but not too matchy, gift for all your friends). It can be worn as a halter-style dress, tied around the waist, or thrown down on the sand as a beach blanket. Best of all, it's machine washable. 
$44 at Nordstrom
4
Portable Speakers
Nothing kills a party's vibe quite like putting an iPhone in a bowl to amplify the tunes. Be a party hero and come equipped with portable speakers. SoundCore by Anker speakers have a 24-hour battery life, Bluetooth connectivity, and are lightweight enough to pack in a carry-on suitcase. Plus, it comes in red, black, or blue. 
$33 at Amazon
5
A Conversation-Starting Book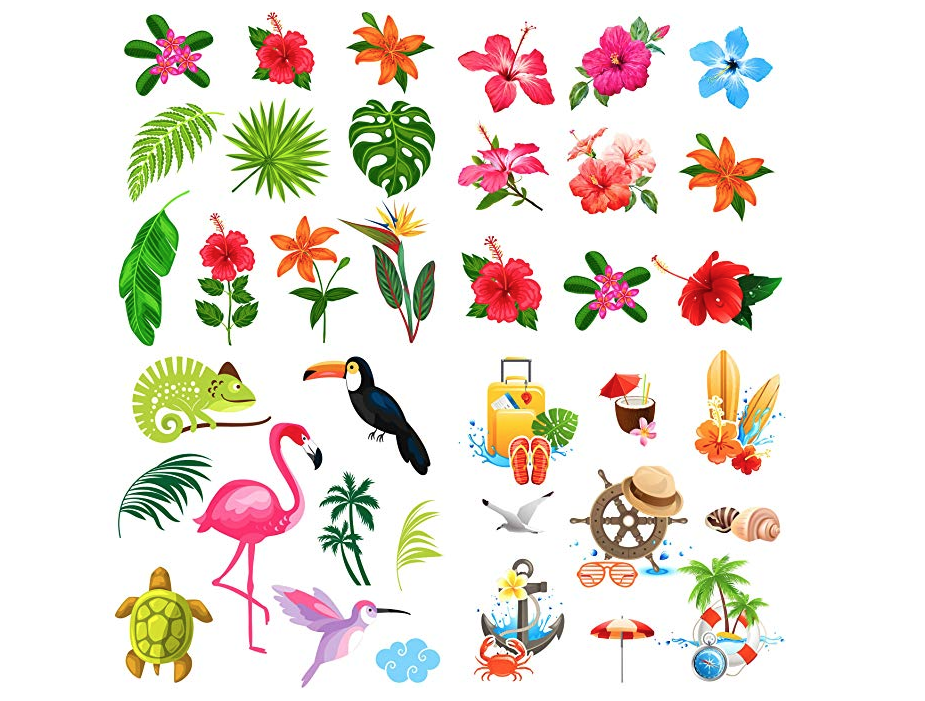 6
Floral Temporary Tattoos
It might be fun to trick your loved ones into believing you got a permanent souvenir on your girlfriend getaway. This set of temporary tattoos has a nature-heavy Hawaiian theme with vibrant colors that will look cute on vacation. There are over 100 options, so you'll have plenty to share.
$7 at Amazon
7
All the Snacks
Hanger (anger that stems from a drop in blood sugar, or being hungry) is nobody's friend. And this snack pack, which comes with 50 different treats, is guaranteed to keep everyone happy and munching. Savory snacks include Pop Chips, Goldfish, and peanuts, while sweet tooths will be satisfied with Sour Patch, Swedish Fish, Airheads, and Rice Krispies Treats. Sure, it's not the healthiest assortment, but it'll certainly make you popular among the group.
$26 at Amazon
8
A Polaroid Camera
Everyone has a camera on their phone these days, but it's much more fun to take pics of your friends using a modern, vintage-inspired digital Polaroid camera. It's an all-in-one camera and printer that comes with a microSD card slot and an app for saving and editing pictures on the road or at home. There's also a video feature for recording moments. The tiny prints can even be converted into stickers, which might come in handy for our next suggestion. 
$180 at Amazon
9
A Scrapbook
Go old-school and collect all the mementos from your trip. Keep paper menus, ticket stubs, postcards, and those Polaroid pictures, then paste them into a beautiful scrapbook. The Simple Stories scrapbook is completely customizable, right down to the cover, which is yours to decorate. After the trip is over, invite your friends to your place for a scrapbook decorating party—and relive all the fun you had. 
$24 at Amazon
Related Stories
All products have been hand-picked by our writers and editors. Items purchased through links may earn us a commission.