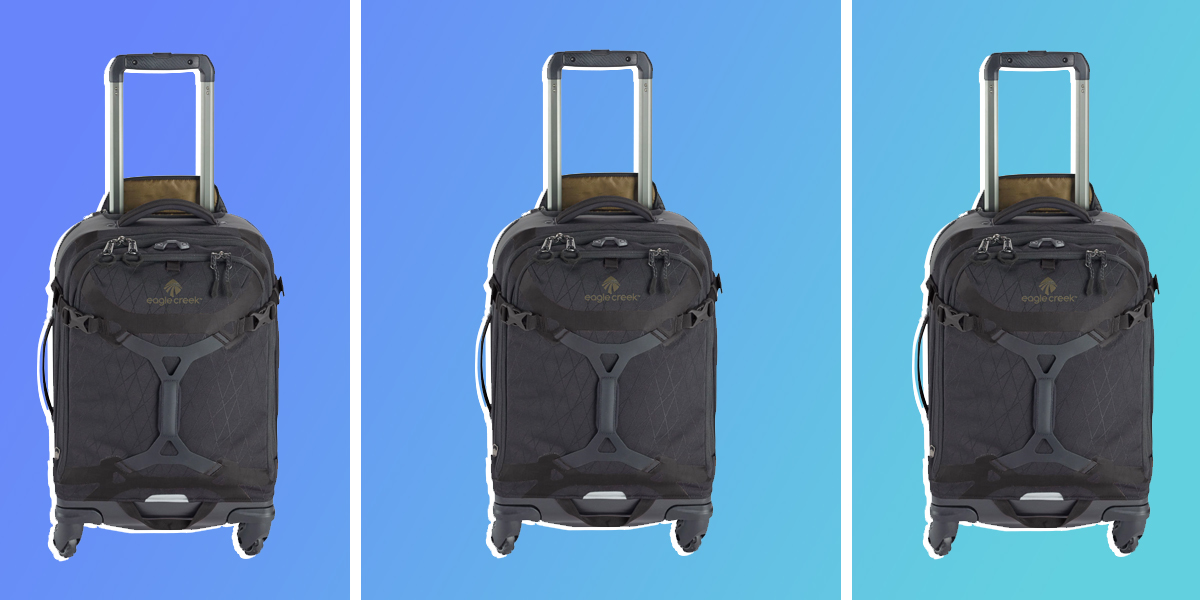 Eagle Creek
Which Eagle Creek Luggage Should You Get?
As Americans took to the woods, trails, canyons, and deserts amid the '70s craze for the great outdoors, Eagle Creek set up shop. Their aim was to provide trekkers with durable, high-quality, and smartly designed backpacks to get them from point A to point B and back again. Forty-four years later, the brand is still going strong, though the company has expanded with a full range of luggage for customers keen to get off the beaten path—whether that's the tourist trail or a far more literal interpretation. Travelers can expect rugged carry-on and checked luggage designs in modern earth tones, with construction that's so reliable that the brand stands by its "No Matter What" lifetime warranty. Read on for our Eagle Creek luggage review, then hit the trails.
Pros of Eagle Creek Luggage
"No Matter What" lifetime warranty covers repair and replacement
Smartly designed details, like a "laundry chute" that separates dirty and clean clothes
Large, treaded wheels roll easily over terrain, from pavement to cobblestones
Cons of Eagle Creek Luggage
Overtly rugged design might not appeal to all
Can be pricey for budget-minded travelers
Some rolling bags only feature two wheels, making them cumbersome for airport sprints
Those who prefer rigid internal organization (versus a large open space) will need to buy packing cubes
Eagle Creek Style Overview

Eagle Creek's rugged aesthetics cater more to the wild world of off-the-beaten-path travel than for the city dweller jetting off again to London (although, we have to say, Eagle Creek bags roll just fine down Oxford Street). There are certainly black and gray bags available in Eagle Creek's lineup, but the colorful options are far more interesting. The brand expertly pairs modern earth tones—think olive greens, plums, rusts, and sapphire—with modern stylings. Color blocking, contrast trim, and zippers with vibrant, contrasting pulls all add extra-vibrant pops of color and a dash of style. Just don't expect any sleek hard shell exteriors: These bags are all about the nylon—and built to be resilient for whatever the road throws at them.
Where to Buy Eagle Creek Luggage
For the best selection of Eagle Creek luggage, head online. You can buy straight from the source, at Eagle Creek, and their website has a lot of cool travel inspo. Amazon is a standard go-to and usually offers tempting discounts off the list price (plus Prime shipping for quick delivery). Zappos has a really great selection of the brand's luggage, too, as does eBags—and both of these extensive sites also offer useful Eagle Creek accessories for the ultra-organized, like packing cubes and shoe organizers.
Which Eagle Creek Luggage Should I Get?
The 3 Best Eagle Creek Suitcases and Duffel Bags
1
The Eagle Creek Cargo Hauler Duffel Review
Everyone needs a streamlined duffel in the back of their closet, whether it's for consistent travel or a last-minute weekend getaway. Eagle Creek's Cargo Hauler Duffel is one of the company's best-loved pieces and a classic in their lineup. It might be due to the minimalist aesthetic, or to the fact that come sleet, snow, or rain, it's got your clothes covered: It's made from fancy Bi-Tech™ Armor Lite fabric, which repels water to keep your stuff dry without adding extra ounces to the bag's construction. It's small enough to be a carry-on bag and can still hold a week's worth of clothes. The soft-sided construction folds down compactly enough to tuck inside a larger checked bag, just in case a souvenir or four are picked up along the way.
Dimensions: 22 x 8.75 x 10.25 inches
Primary materials: Bi-Tech™ Armor Lite
Size: 45 liters
Colors: Flame/asphalt, black, blue/asphalt, fern/asphalt, concord/asphalt
$89 at eBags
2
The Eagle Creek No Matter What Duffel Review
The No Matter What Duffel is one of the brand's most popular and well-loved pieces. It has a lot going for it, to be fair: The brand's Bi-Tech material keeps the water repelled and off your clothes, and the zippers are built to glide smoothly without jams or snags (each one is also lockable). Granted, there are no wheels on this bag, but you might not miss them thanks to the extremely comfortable padded shoulder strap and a carry handle that promises not to slip. Don't expect a lot of internal organization—this is, after all, a pretty standard duffel bag, but it's one that will last from college study abroad trips all the way through your bucket list destinations. It's carry-on size as well, so you can skip pricey checked baggage fees by toting this duffel instead.
Dimensions: 24" x 12" x 11 inches
Primary materials: 420D Helix-e Dual Ripstop, 420D Helix-e Double Box, 900D Astra-e
Size: 59 liters
Colors: Stone gray
$80 at eBags
3
The Eagle Creek Gear Warrior 4-Wheel Carry-On Review
When a suitcase has "Warrior" as part of its name, you know it's serious—and the rolling Eagle Creek Gear Warrior 4-Wheel Carry-On delivers. The bag's oversized wheels, complete with tread, make it easy to roll pretty much anywhere, whether you're headed up a trail to a remote lodge or across cobblestones to a quaint village inn. And while there's plenty of interior room for packing, the genius behind this bag is a smartly added exterior bonus feature. The bag's "Equipment Keeper" strap allows a few extra pieces to fit snugly to the top of the bag, plus a wonderfully innovative drop-down bottom gives you a little extra space by maximizing the otherwise unused space between the bag's wheels. If 38 liters isn't quite large enough for you, it's also available in the 29-inch size. Best of all? There's a built-in bottle opener so you can have a cold beer after a long day of travel.
Dimensions: 22 x 14 x 9 inches
Primary materials: 100-percent recycled poly neo diamond, 1000D Helix™ poly twill, 210D exo skeleton, polycarbonate
Size: 38 liters
Colors: Smoky blue, purple
$279 at Eagle Creek
Related Stories
All products have been hand-picked by our writers and editors. Items purchased through links may earn us a commission.