Luggage Expertise
MOS Organizer Pack Review: A Gadget-Charging Backpack Sleek Enough for Business Travel
Like many backpackers-turned-business-travelers, I rely on versatile backpacks as my carry-on of choice. Ever since I essentially lived out of one for months on end in Europe during a semester abroad, I'm always weighing which kind of pack will best fit an upcoming trip. In my opinion, the ease of tossing all my essentials over my shoulder will always outweigh clunky, rolling carry-ons no matter where I'm going: whether it's hopping a rickety train in rainy Sri Lanka or setting out on a solo business trip to bustling London.
The latter types of trips have been a lot more difficult to find a suitable backpack for. While business-appropriate laptop backpacks do exist, they're certainly not usually made for utility as well as style. But the MOS Organizer Pack, with a secret-gadget-worthy pocket design and an extendable multi-device charging strip, proves you can have a sleek, durable laptop backpack.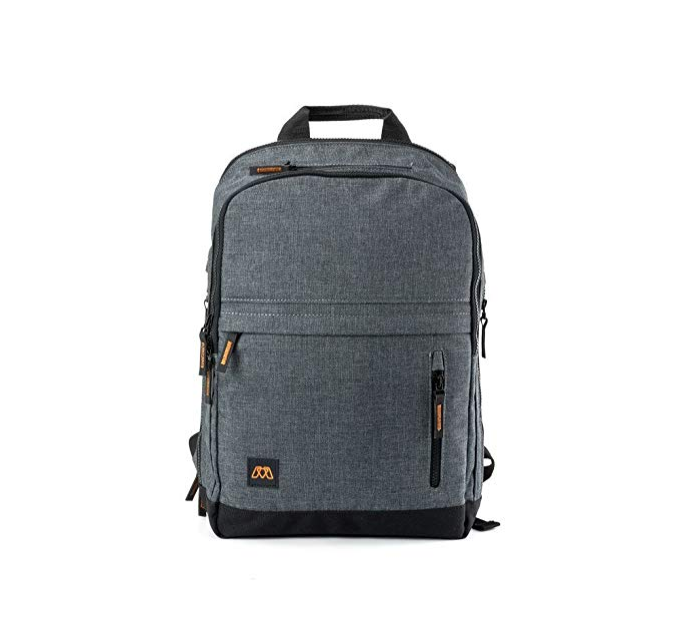 MOS Organizer Pack Review
Price and Where to Buy the MOS Organizer Pack: $69.95 on Amazon.
How the MOS Organizer Pack Rates
Usefulness
9/10. In my mind, there's no better carry-on than one that organizes all my in-flight essentials and electronics at my fingertips, let alone one that consolidates them to one charging cord. The MOS Pack comes with a hidden power strip with a cord that extends out from the bag to plug into a power source. That means you can charge your laptop, table, phone, e-reader, etc. all by plugging in your backpack's one cord. The inner power strip's three-prong plug extends from a hidden zipper-closure compartment at the bag's bottom. MOS also separately sells indestructible charging cords perfect for using with the internal power station. But for those who use carry-on bag space for clothes or souvenirs, MOS doesn't have too much to offer in terms of black-hole packing ability. The pack is just 5 inches thick, and works best for stacking flat gadgets, documents, your laptop, and small items. It's not going to be much help in making space in your checked bag.
Value
7/10. The original price tag of $155 is pretty steep for a bag with only one major attachment included. It seems the manufacturers figured this out, since the bag is currently available for 35 percent off directly through MOS. Still, a plethora of large inner pockets for not only your gadgets but also a passport, water bottle, and glasses makes it much more organized than most backpacks. Added features like a rain cover or spare charging banks and cords will cost extra, but it seems smart to sell them separately to make the power-extendable bag itself available at lower-cost. This bag would be a digital nature journalist's dream.
Portability
10/10. The MOS Pack has designated pockets for all your necessities and will slide easily under the seat in front of you. At 18 inches tall, 12 inches wide, and 5 inches thick, its shape isn't clunky and you won't take out any passersby in transit while wearing it since it's mostly flat. Thickly padded shoulder straps distribute weight well. Just don't rely on it for non-essential packing.
Durability
9/10. The water-resistant nylon, padded electronic sleeves, and tons of easy-zip pouches were built to last, and the bag comes with a one-year warranty. My only concern with durability is a heat warning associated with keeping the extendable charger's pocket unzipped while charging devices—the bag did get reasonably warm while charging larger devices even with the compartment open. People with charging needs for many devices at once should be wary of temperature problems and possible effects on your electronics.
Cool Factor
10/10. Available in black and two sleek shades of gray with minor neon details that will separate it from a sea of neutral-colored bags, the minimal-looking MOS Pack is ultra-utilitarian on the inside.
Final Verdict
If you're a backpack-loving business traveler, MOS Packs are about as organized as a sleek electronics bag gets. Just be sure to read the informational handout that comes with the bag to ensure you use the charging cord and padded compartments correctly once they're packed with everything you need.
Related Stories
All products have been hand-picked by our writers and editors. Items purchased through links may earn us a commission.