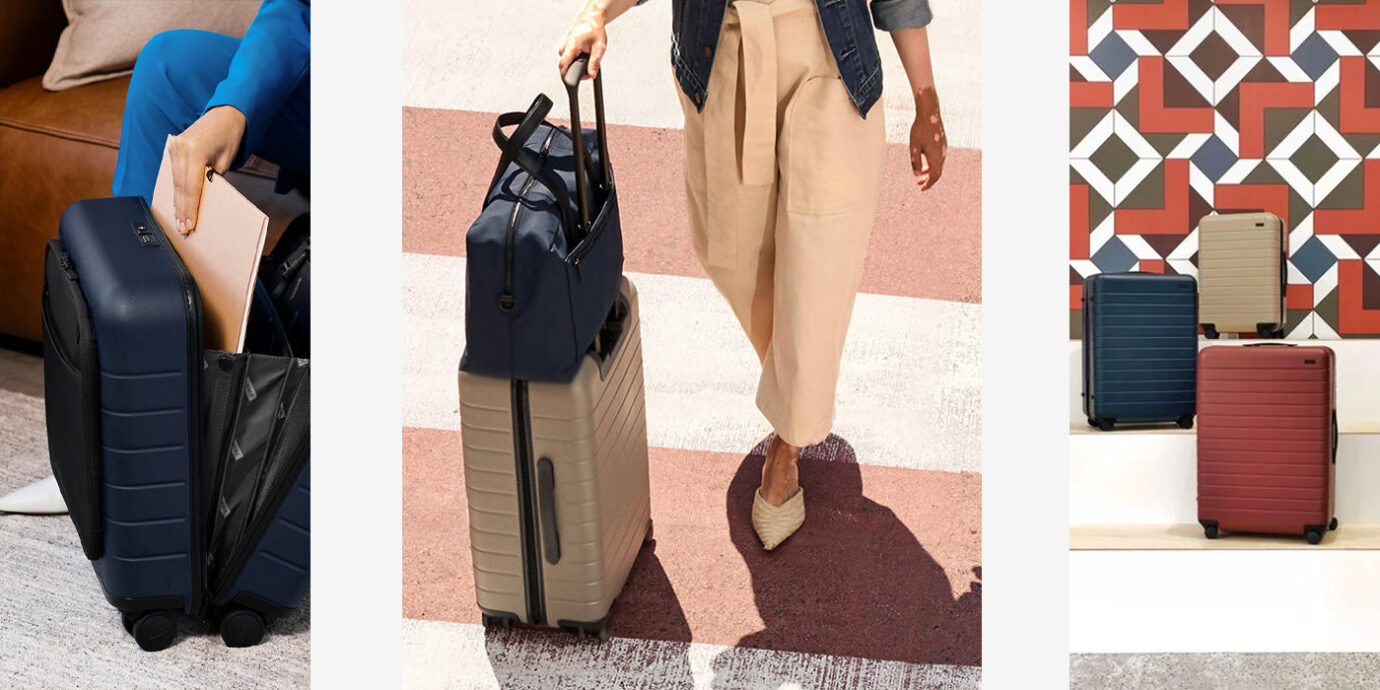 Luggage Expertise
Which Away Carry-On Luggage Should You Get?
Beloved by stylish urbanites for their sleek suitcases and hella cool branding, Away luggage is the "it bag" of travel. The company disrupted the industry back in 2015 with their first carry-on. Today, it offers a full line of luggage, totes, storage cubes, dopp kits, and other travel accessories, along with producing a glossy magazine and a podcast (because of course). While similar startup luggage brands Raden and Bluesmart have folded, Away has kept going strong, showing plenty of substance behind their eye-candy style.
Pros of Away Luggage
Trendy and affordable, with oodles of options to monogram and customize bags
Built-in ejectable battery (optional) that meets TSA regulations, plus two USB ports
Durable construction and high-end designer spinner wheels on all suitcases
Interior compression bag and removable laundry bag that keeps dirty clothes separate
100-day trial and lifetime guarantee to fix or replace anything that breaks
Cons of Away Luggage
Heavier than hard-shell styles from some competitors
Polycarbonate advertised as scratch-resistant, but it does get scuffed
Some customers complain that handles are a bit wobbly
Away Style Overview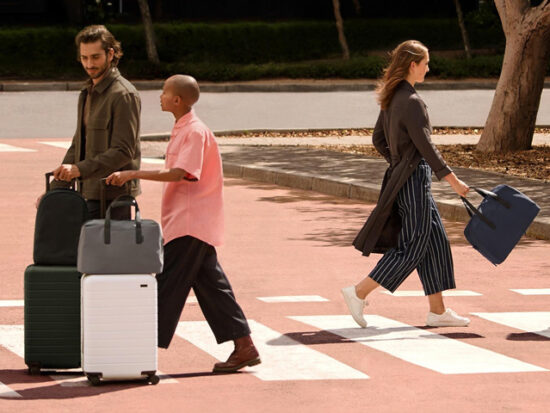 Let's get real, if you're shopping Away luggage, it's largely because of the way they look—glossy, streamlined, Instagram-worthy. Curved corners and the minimalist Away logo give a luxe vibe. Their ribbed, hard-shell carry-on is the original trendsetter, and strutting around with one wheeling behind you can make the airport terminal feel like a runway.
Deciding on a color will be a total time-suck, if a fun one. There are nine core colors to choose from for most bags—a range of on-trend neutrals like deep green and crisp white—plus limited-edition options, often in wild-card shades. Then there are the monogramming options to nail down (hand-painted by an in-store studio artist) and special-edition stickers to consider. Expect to lose more time playing with the custom-design mock-up tool on their website.
All suitcases have spinner wheels made by Japanese designer Hinomoto, which are typically featured on bags that cost well over $1,000.
Where to Buy Away Luggage
Away is a boutique brand, so you won't find their suitcases for sale on Amazon or or other big-box superstores. It's mainly available for purchase on the Away site. A handful of urban destinations (New York, L.A., San Francisco, Austin, Chicago, Boston, and London) have a physical shop where you can take a twirl with a spinner and get a feel for them.
Which Away Carry-On Should I Get?
The Three Best Away Carry-On Suitcases
1
The Away Carry-On Review
This is it—the O.G.—Away's original carry-on. The hard-shell polycarbonate suitcase glides around on four spinner wheels. It opens up clam-shell style with two main packing compartments. On one side, there's a zip-around mesh section for bulky objects like shoes. On the other, there are pull-down straps with built-in compression to squeeze in clothes. Sandwiched between the two is a pocket big enough to hold a laptop. A hidden laundry bag folded into the rim of the interior can keep funky dirty clothes separate and an ejectable battery for phone charging (which meets current TSA regulations) pops out behind the telescopic handle. (Like all Away bags, skipping the battery is always an option.) Those who like extra security will appreciate the TSA-approved combination lock. (Just don't set it to 1-2-3-4.)
Exterior dimensions (including wheels): 21.7 x 13.7 x 9 inches
Interior dimensions: 20 x 13.5 inches
Weight: 8.1 lbs.
Primary material: Polycarbonate
Available colors: Black, Navy, Green, Asphalt (gray), Coast (blue), White, Sand, Blush, Brick, plus limited-edition options
Shop Now
2
The Daily Carry-On with Pocket Review
Business travelers and weekenders who are fans of Away's Carry-on With Pocket will love the brand's new mini suitcase-work bag combo: The Daily Carry-On with Pocket. It can go straight from the plane to a conference room, and it won't be cumbersome to wheel around town if you have time to kill before a flight or check-in at your hotel. The bag opens from the top for easy access to its removable three-pocket accordion file—a brilliantly thought-out feature that saves your from awkwardly rummaging around for items pre-meeting. Its two surprisingly roomy packing compartments have outer mesh zippered pockets, handy for stashing things like charging cables, keys, and sunglasses. Aside from size, the two major differences from its big sister are that the outer pocket holds a 13-inch laptop, not a 15-inch, and it doesn't have the option to add an ejectable battery for charging small devices. Less major is that it only comes in black and navy. Otherwise, it has the same TSA-approved zipper, Hinomoto spinner wheels (usually found on much more expensive luggage), compression packing system, and hidden laundry bag, plus nice extras, like a black leather luggage tag and a slot inside the outer pocket for your passport and phone.
Exterior dimensions (including wheels and pocket): 16.5 x 17 x 9 inches
Interior dimensions: 16.1 x 15 x 7.5 inches
Pocket dimensions: 13 x 11 x 1 inches
Weight: 8.1 lbs.
Primary material: Polycarbonate
Available colors: Black, Navy
Shop Now
3
The Away Everywhere Bag Review
Away's carry-ons hog the spotlight, but we think this handy shoulder bag deserves its own shout-out. Sized to perch perfectly on top of the brand's suitcases, this bag gives an easy, accessible place to stuff all your in-flight doodads, from magazines to laptops (up to 15 inches) to gum. The dimensions here are small enough to count as an airplane's personal item, yet large enough to hold a change of clothes for an overnight jaunt. But it's the smart little extras that really make us swoon, like the waterproof pocket for umbrellas or the exterior pocket that slips over carry-on handles, locking it in for the ride.
Dimensions: 16.3 x 7.3 x 10.2 inches
Weight: 2.6 lbs.
Primary material: Nylon or leather
Available colors: Black nylon, Navy nylon, Green nylon, Asphalt (gray) nylon, Coast (blue) nylon, Sand nylon, Black leather, and Blush leather, plus limited-edition colors
Shop Now
Related Stories
All products have been hand-picked by our writers and editors. Items purchased through links may earn us a commission.