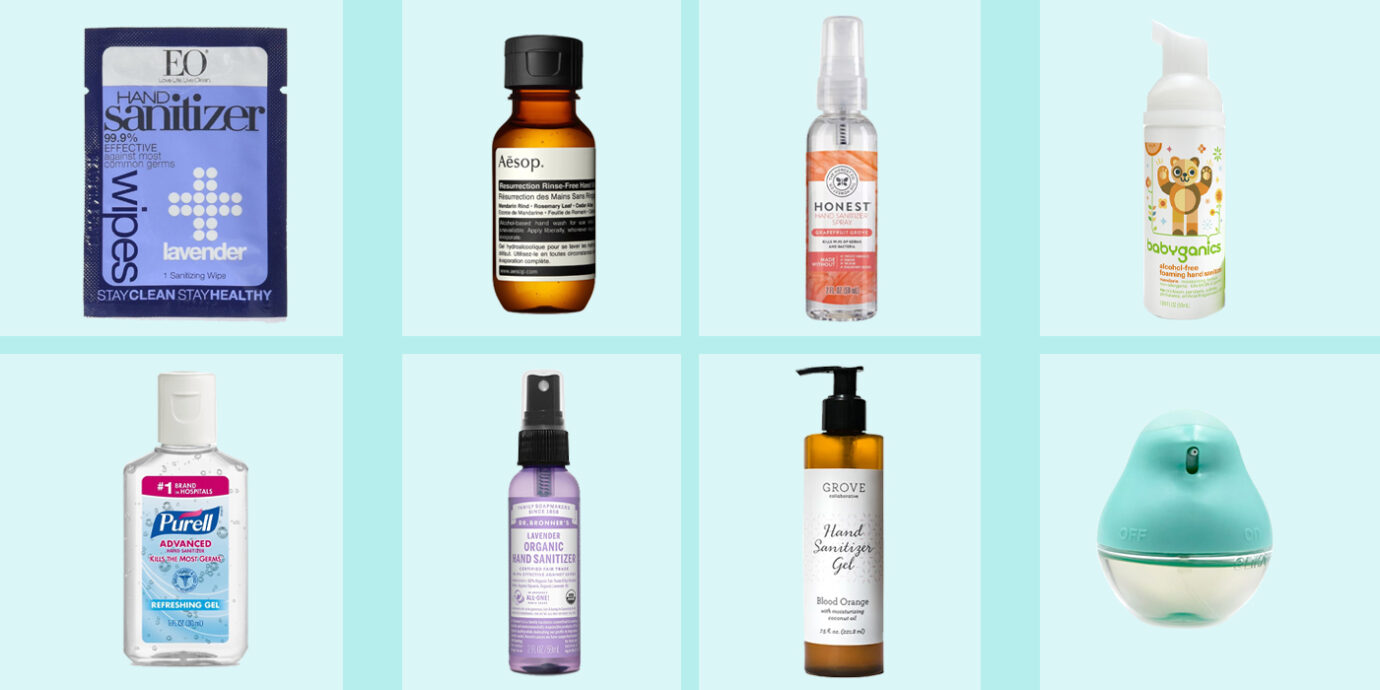 Packing Tips
The Best Hand Sanitizers and Other Easy Ways to Avoid Germs While Traveling
On any given day your hands shake with others, open doors, and swipe screens. But all that touching comes with a cost, namely exposure to bacteria, fungi, and viruses, many of which conspire to make us sick. This risk of sickness intensifies when we travel, particularly during flu season (that would be fall and winter in the United States). The World Health Organization estimates that influenza causes between 3 and 5 million cases of severe illness annually. And flu viruses can be spread up to six feet from an infected individual, so you could come down with something thanks to the cougher sitting a few rows over in 11B. But that doesn't mean you have to stay home to stay healthy. We've got the best tips and best hand sanitizers to keep you in tiptop health while you're on the road. This year, send flu season packing.
How do I use hand sanitizer?
Start by squirting a healthy dollop—think dime- or quarter-sized—of hand sanitizer into your paws. You want to use enough to thoroughly coat your hands, front and back, as well as between your fingers. After squirting, start rubbing. Rub your hands together vigorously until they feel dry (the CDC recommends rubbing for about 20 seconds). For maximum effectiveness, don't wipe off any excess product; continue massaging it into your hands instead. And make sure your hands aren't super-greasy or dirty, as the grease and dirt will cut down on the hand sanitizer's effectiveness. If that's the case, get yourself to a sink with soap.

Is hand sanitizer dangerous?
No. In 2019, the FDA banned the use of certain ingredients, including triclosan, in hand sanitizers, meaning those currently on the market are safe and approved. In fact, the FDA recommends hand sanitizers in circumstances in which soap and water aren't available. That said, hand sanitizers, especially those made with ethyl alcohol, pose a significant health hazard when swallowed. Kids, in particular, tend to be most at risk for alcohol poisoning, but anyone can get sick if hand sanitizer is ingested. The presence of ethyl alcohol also means hand sanitizer is flammable, so be careful when using hand sanitizer around an open flame.
How else can I stay healthy while traveling?
While traveling means encountering legions of unfamiliar germs, it doesn't mean you have to get sick—even during flu season. Keep yourself healthy and happy by frequently using hand sanitizer and/or washing your hands with soap and water. Speaking of water, you'll want to drink a bunch to stay hydrated, before, during, and after your trip. A dose of Emergen-C or ProBoost Immune Support can help boost your immune system and stave off flu and cold symptoms on the fly.
On planes and trains, consider cleaning your tray tables, seat belt buckle, and arm rests with antibacterial wipes. You'll be unpleasantly surprised by what you pick up, alas. Tissues can work in a pinch, and of course they protect those around you in the event of the sneezes or sniffles. If you want to be even more cautious, think about wearing a face mask when out in public—a very common practice in parts of Asia. Donning a mask has been found to decrease a person's chance of getting sick by 60 to 80%, according to the New York Times.
The 10 Best Hand Sanitizers
1
Grove Collaborative Hydrating Hand Sanitizer
Both anti-bacterial and anti-fungal, Grove Collaborative Hand Sanitizer relies on natural oils for its blood orange aroma as well as the magic of coconut oil for softness. Imagine if a spa treatment for your hands could also be sanitizing, and you've got Grove.
$6.95 at Grove Collaborative
2
EO Products Hand Sanitizer Wipes
Ideal for anyone looking to stay healthy and go green, EO's Hand Sanitizer Wipes are not only made with organic natural alcohol fashioned from sugar cane, but they're also biodegradable. And the lavender scent calms any travel jitters. #bliss
$16.49 for 24 at CVS
3
Aesop Resurrection Rinse-Free Hand Wash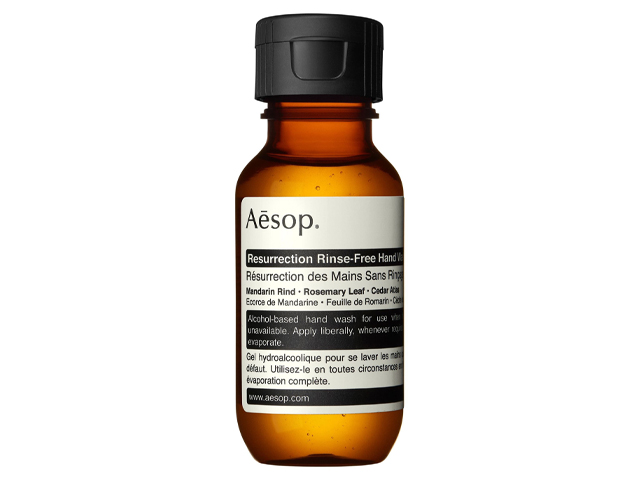 Blending the best of nature with cutting-edge science, Aesop Resurrection Rinse-Free Hand Wash adds much-needed moisture via botanicals and fruit oils to your hands while making sure they stay free of germs and gunk. If you've always coveted the brand's status hand soap, you'll love the $10 price tag on the hand sanitizer.
$10 at Neiman Marcus
4
Babyganics Alcohol-Free Foaming Hand Sanitizer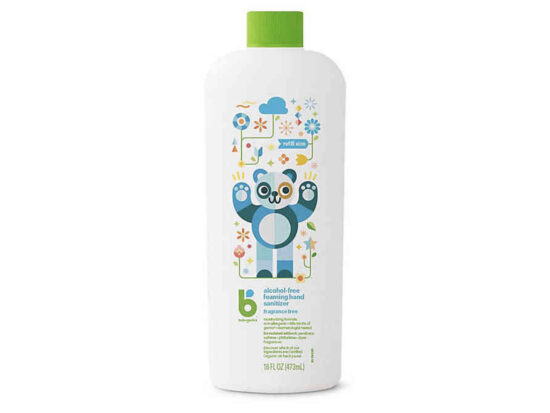 Developed to use safely around babies, Babyganics Alcohol-Free Foaming Hand Sanitizer is an excellent choice for grownups (and little ones) with sensitive skin. No harsh stuff—just fun-to-use cleansing foam.
$6.99 at Bed Bath & Beyond
6
Touchland Power Mist Watermelon
Containing aloe vera and other essential oils, this dewey hand sanitizer will not only keep your hands clean, but also incredibly hydrated. Touchland prides itself on a non-sticky formula without without the goopiness, and we love how it smells.
$12 at Ulta
7
The Honest Company Hand Sanitizer Spray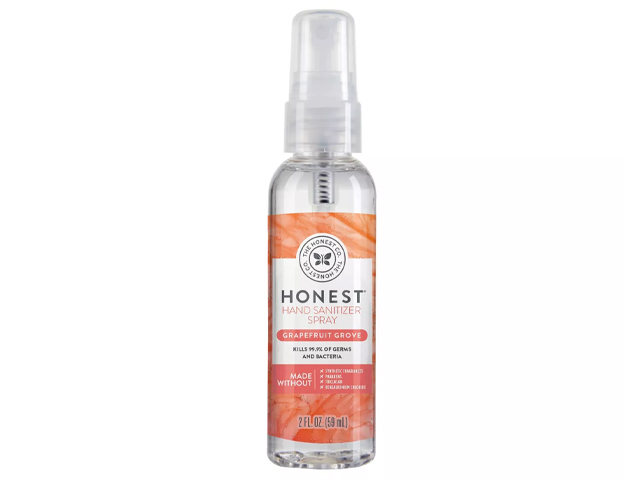 The Honest Company gets two ginormous pluses: it lets you spritz a mist, and it leaves a smooth, crisp finish—totally in line with its botanical-based ingredients.
$2.95 at Honest.com
8
Bath & Body Works Japanese Cherry Blossom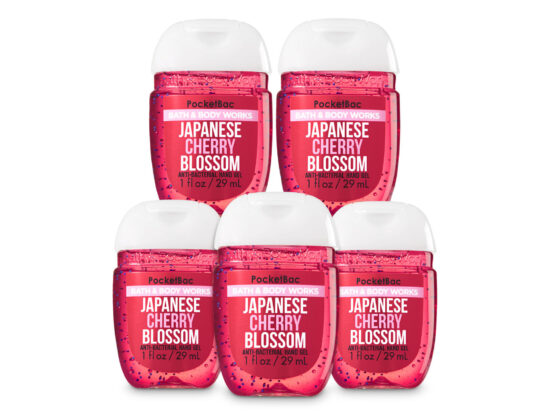 Diminutive enough to carry in your pocket (hence the name), the Bath & Body Works Fresh Picks Pocketbac Bundle features fragrances like black cherry merlot and cucumber melon. With so many options, you'll be prepared with hand sanitizer on hand in all your bags.
$8 for 5 at Bath & Body Works
9
Purell Advanced Hand Sanitizer Gel
Much like Kleenex and tissues, Purell is pretty much synonymous with hand sanitizer. The aloe in the Purell Advanced version soothes hands while the other ingredients eradicate 99.99% of illness-causing microbes. Take that, flu season.
$10.25 for 6-pack at Amazon
AND DON'T FORGET…
Hand sanitizer is a vital first defense against germs, but there are additional ways to stave off illness while you travel. Clorox Disinfecting Wipes are both cleaners and killers, for sure—and their thickness means they won't tear or split while doing so. Whether you're feeling the tickle of an impending cold or shared a house with someone in the full throes of a sore throat, reach for a packet of ProBoost. Thymic Protein A works to support to the immune system and ward off the sniffles. Staying hydrated is also key to staying well, and size matters. Takeya's original stainless steel water bottle has a wide mouth for easy cleaning (please don't forget to thoroughly wash your water bottle!) and refilling. Its 40-ounce body means you'll have enough hot tea with lemon or raspberry-infused iced-water wherever you need to go. Take vacation days, not sick days.
Looking for Our Favorite Footwear for the Season? Check Out Allbirds
For info on these editor-selected items, click to visit the seller's site. Things you buy may earn us a commission.
Related Stories
All products have been hand-picked by our writers and editors. Items purchased through links may earn us a commission.