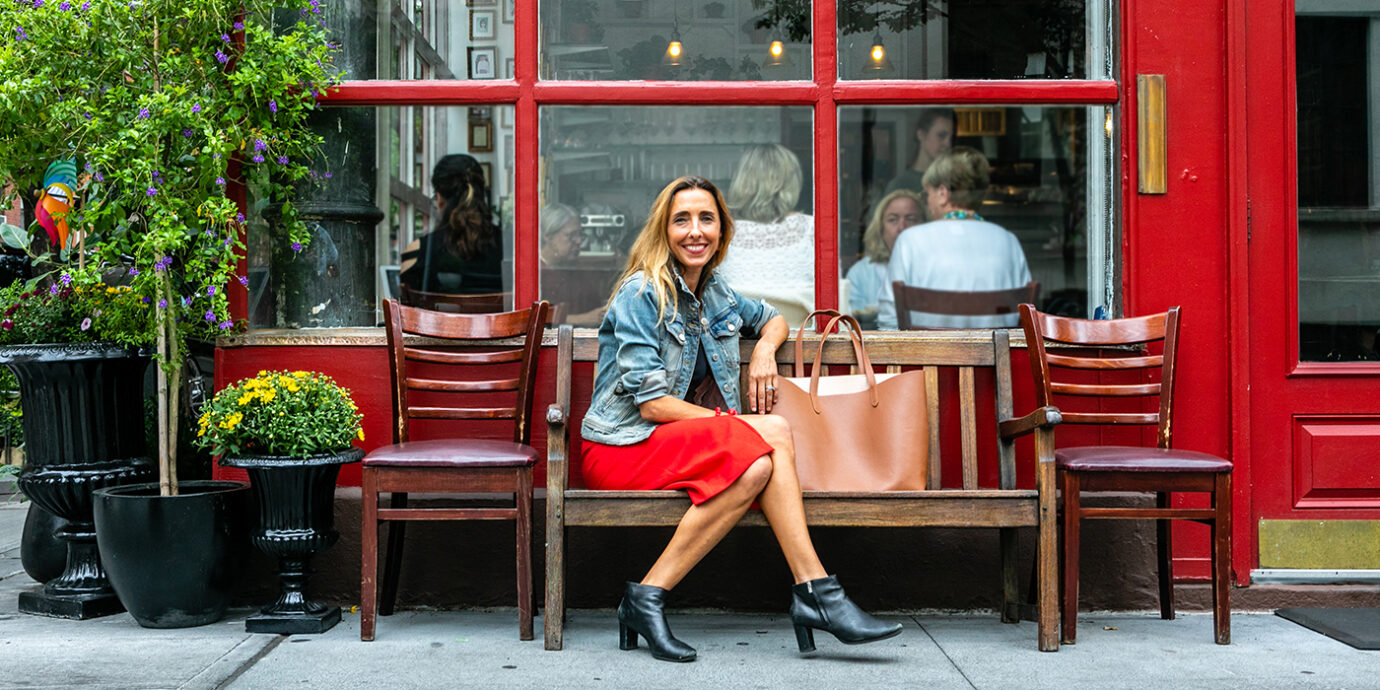 Shop
What's In Your Carry-On Bag? Clara Sedlak, Executive Editor at Jetsetter
Clara Sedlak is one of the most glamorous women we know. She's crisscrossed the globe as the Executive Editor at Jetsetter, and is always perfectly turned out—whether she's relaxing on the beaches in Maremma or heading to upstate New York to spend time with her family. Did we mention she's Italian? I mean, c'mon! Of course, we were dying to know: What are the must-have items in her carry-on bag? She was nice enough to let us poke around inside her Cuyana tote, and we gotta say—her travel taste puts most of us to shame. Read on for the beauty, tech, and wellness products and accessories that the world's chicest Jetsetter always brings in her carry-on bag. Grazie, Clara!
Clara Sedlak, What's In Your Carry-On Bag?
1
Cuyana Leather Tote
I love everything about my Cuyana tote—especially its buttery leather caramel color, its roomy interior, and its micro-suede insert, which keeps all my small accessories organized and accessible. Plus, the price is right!
$195 at Cuyana
2
White + Warren Cashmere Eye Mask
Okay, I have literally tried every type of eye mask out there because sleep is so important to me when I fly. This one by White + Warren is hands-down the best I've ever used. I mean, you can't go wrong with cashmere. It's so soft and cozy. 
$75 at White + Warren
3
Bio-Oil
I was spending a fortune on all types of luxury serums and oils for my face with no results before my friend suggested I try Bio-Oil. You can order the travel-size from Amazon for under $9, and I swear to you my skin has never looked better.
$8.92 at Amazon
4
Revlon Love That Red Lipstick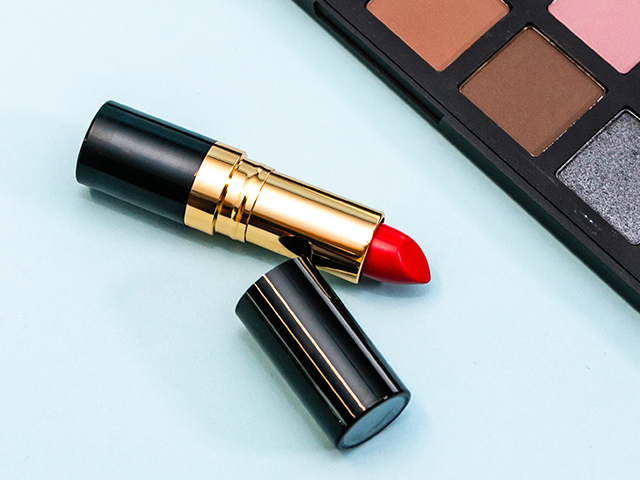 I love a solid red lipstick, and you don't have to pay a ridiculous amount for a good one. This Revlon Love That Red shade is my favorite. I wear it during the day, at night, and sometimes to bed when I forget to take it off. 
$4.97 at Amazon
5
Apple EarPods
There is nothing I enjoy more than listening to music while exploring a city, so I always have my Apple EarPods on hand. I even develop my own playlists for particular destinations. I usually listen to a mix of indie rock/alternative/post punk music. 
$20.99 at Amazon
6
Ray-Ban Wayfarer Ease Sunglasses
My black Ray-Bans go everywhere with me. They're so classic and probably the only shades in the world that look good on anyone—including me (according to my husband, at least).
$153 at Ray-Ban
7
Blue Lizard Sunscreen
I never go anywhere without sunscreen with an SPF of 30 or higher (even though my moisturizer has SPF). I'm a huge fan of the Australian brand Blue Lizard thanks to my kids' pediatrician, who recommended it for my boys. It's mineral-based, which means no nasty chemicals; it's paraben and fragrance free; and it has both UVA and UVB protection. You know Australians know what they're talking about when it comes to battling the sun's rays.
$10.99 at Amazon
8
Goody Hair Ties
I have the longest, craziest hair in the world, and sometimes it gets everywhere, so Goody hair ties are a must for when I just don't want to deal.
$5.93 at Amazon
9
Sephora Pro Eyeshadow Palette
I've become a little obsessed with eyeshadow ever since seeing the HBO series Euphoria, so I went out and bought Sephora's professional palette—it has every color under the sun. I've never had so much fun with makeup. Some days it's purple, other days blue—and if I'm really feeling it, I'll go with a fiery orange. Travel begs for experimentation. 
$68 at Sephora
10
Kindle Paperwhite E-Reader
When I'm not listening to music, I'm reading—and the Kindle Paperwhite E-reader is my go-to. It's super lightweight and thin, fits perfectly into my bag, and has zero glare in the sun, so I have no problems on the beach. Right now, I'm reading the Overstory—a bestselling novel about trees. (Check out WTP's summer favorite reads, here.)
$89.99 at Amazon
11
Macbook Pro
As a travel editor, I'm always on the road and always working, so my Macbook Pro is with me at all times. You'd think by now I'd have back problems from lugging it everywhere, but it's so light (just over three pounds) that I barely notice it in my bag.
Shop Now at Apple
12
Altoids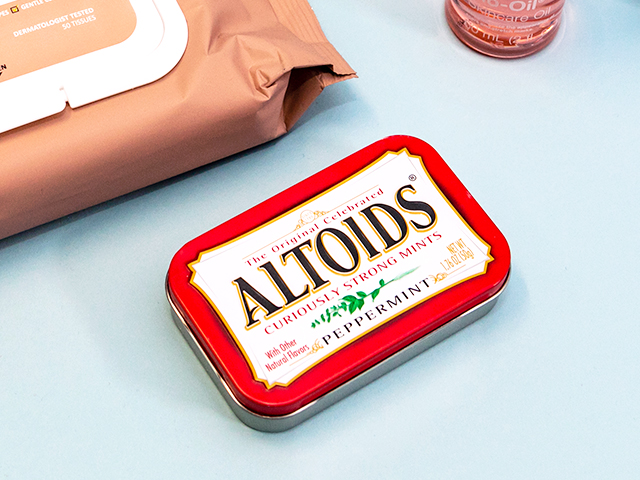 I would love to be able to claim that I'm the type of person who brushes her teeth after every meal—but I'm just not, so an Altoid is the next best thing—especially on a flight. Who wants bad breath? I don't for sure!
$16.48 (for a 12-pack) at Amazon
13
EO Organic Hand Sanitizer
I'm not usually a germaphobe but planes freak me out, so I always carry hand sanitizer with me. This all-natural lavender spray from EO is made with alcohol derived from non-GMO sugar cane and is super-soft on the skin. It comes in a spray, gel, wipe, and tons of different scents. I like the lavender best. 
$11.94 (for a 2-pack) at Amazon
14
Labotica Argan Oil Deep Cleansing Tissues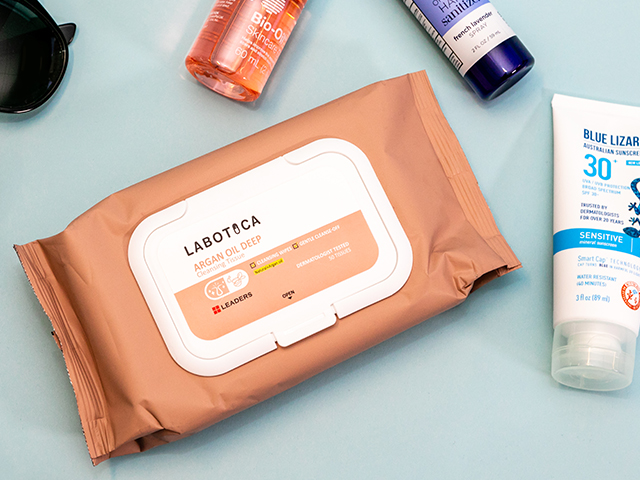 With all the eyeshadow I'm wearing now, cleansing wipes are essential! These by Labotica use argan oil to softly remove makeup and hydrate my skin at the same time. Plus, they're super effective—all it takes is one wipe, and I'm ready for my eye mask and some sleep. 
$8.59 at Soko Glam
Related Stories
All products have been hand-picked by our writers and editors. Items purchased through links may earn us a commission.