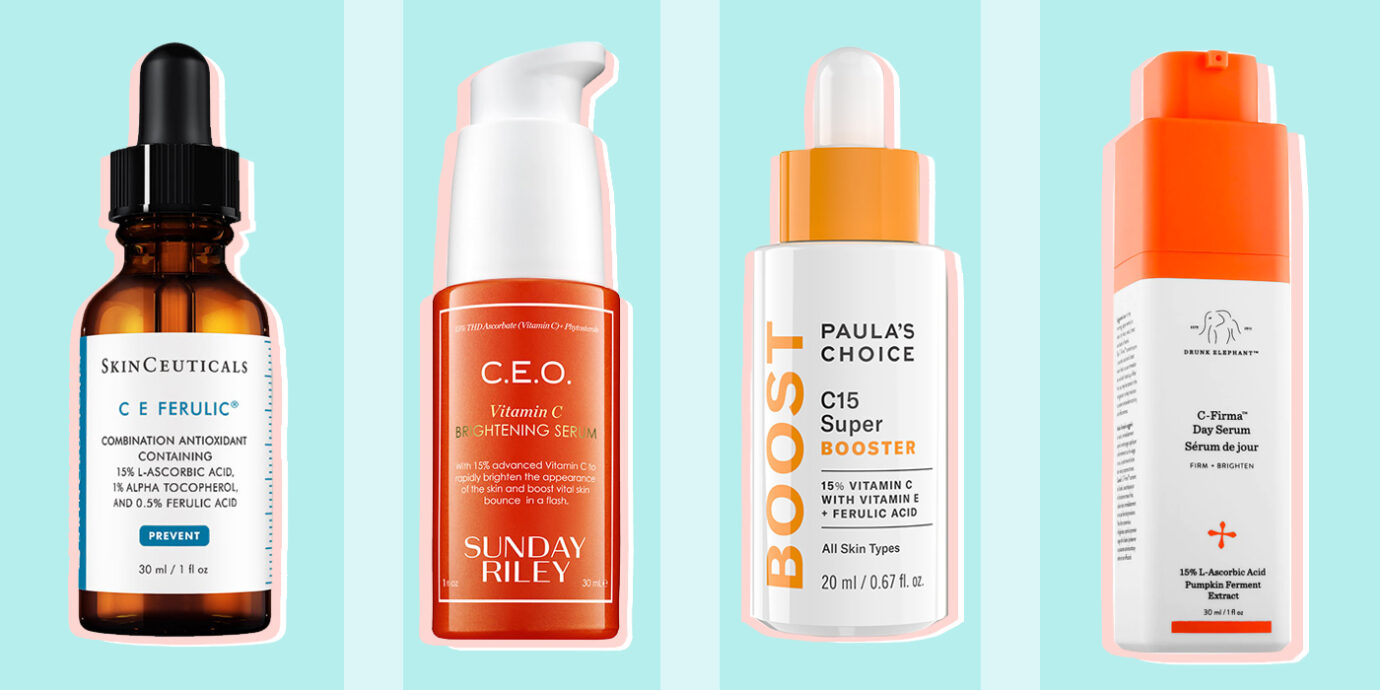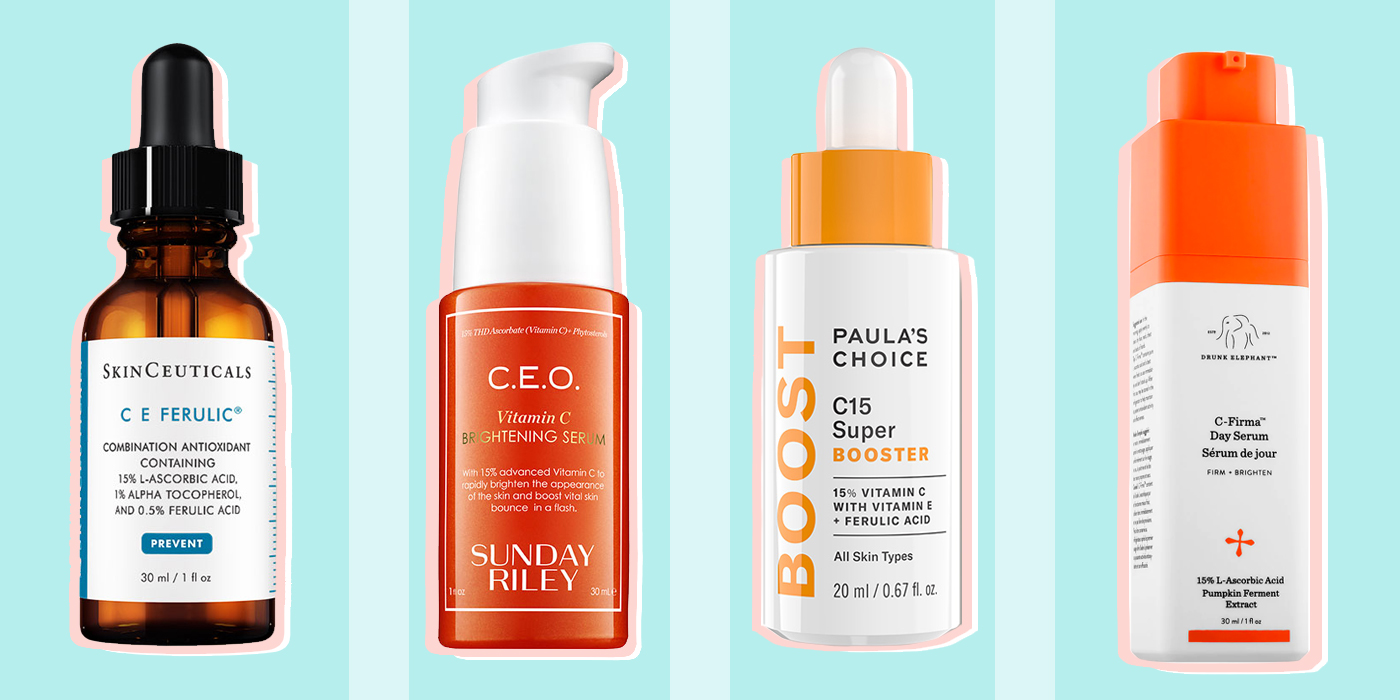 Beauty
The Best Vitamin C Serums for Brighter Skin, Backed by Science
The world of skincare often falls into two camps: "decent" and "overrated." But vitamin C serums go in the "supercalifragilistic" column. They're miracle multitaskers that brighten, boost collagen, knock out fine lines, diminish acne scars, even protect from sun damage (a must for any beach vacation). And unlike other beauty fads (CBD face wash?), vitamin C is backed by loads of scientific proof that supports these claims. That said, there's a huge range of vitamin C serums on the market, and not all are created equal (or even use the same type of vitamin C). For the best of the bunch—and the lowdown on what to look for, read on.
VITAMIN C SERUM FAQ
Do vitamin C serums really work?
Believe it. According to Michelle Wong, science educator and founder of the site Lab Muffin, "vitamin C is one of the more evidence-backed skincare ingredients, with multiple independent clinical trials." Leading dermatologist Doris Day MD, author of "Beyond Beautiful," also praises vitamin C, calling it a "free radical quencher" and listing off all of its virtues, from evening skin tone and brightening to boosting collagen synthesis. "It's truly a multitasker molecule and the research data behind it is enormous and consistent," Day says.

How often should I apply vitamin C serum?
Wong points out that most studies on vitamin C have used once-daily application, so aim to use your serum daily, even during your travels. That said, Day is a fan of doubling up that application, and putting it on "twice daily, every day, rain or shine." The reason? "During the day it helps prevent damage, while at night it helps repair any damage from the day," Day says. (Keep in mind that sensitive-skin types might have to dial it back.)
Should you use a vitamin C serum overnight?
Nighttime use is totally recommended. "At night your body undergoes its natural repair process while you're asleep, and the vitamin C will make its strongest impact on your skin during this time," Day says. However, using it in the AM is hardly wrong. "During the day, vitamin C can add some sun protection," Wong says.

What are the different types of vitamin C?
You might be surprised that your serum doesn't have "vitamin C" in the ingredients list. Instead you'll see names like ascorbyl-6-palmitate, magnesium ascorbyl phosphate, and sodium ascorbyl phosphate. The gold standard for vitamin C is ascorbic acid (aka L-ascorbic acid). "This molecule holds the most research and more clinical data than any of the derivatives of vitamin C," Day says. But this version of vitamin C is not without its drawbacks. As Wong puts it, ascorbic acid is the most effective but least stable of the bunch, meaning it's sensitive to light, heat, and air exposure. It's also potent at a low (acidic) pH level, according to Day, which could make it irritating. Those with sensitive skin may prefer using one of the other versions of vitamin C. They may not be as efficient, Day says, but they offer "a good option for those with high sensitivity."
Can you use other antioxidants with vitamin C?
Certainly! Our experts were big fans of buddying up their C with other antioxidants, either in the serum's own formulation or by layering other products. "The most thoroughly tested ones are vitamin E and ferulic acid," Wong says. Day also likes vitamin E and is a fan of green tea extract, noting that grouping antioxidants together makes them more effective as they maintain and enhance each other.
That said, there has been some online debate around combining vitamin C with niacinamide, a form of vitamin B3, but Wong dismisses this chatter. "They don't make each other ineffective," she insists. However, Day adds that while these two don't cancel each other out, niacinamide added to a serum as an ingredient could raise its pH, so it pays to consider the overall formulation of a serum.

What order should your skincare routine be? When do you layer in a vitamin C serum?
Day offers up this general rule: Skincare should go from thinnest to thickest. That means after cleansing, you move from a "thin" fluid C serum to "thicker" moisturizer or sunscreen (if it's morning). Wong sums it up simply, too, saying vitamin C "should go on closest to your skin, right after cleansing or toning."
THE BEST VITAMIN C SERUMS OF 2019
1
The Best Overall Vitamin C Serum

This is the O.G. vitamin C serum, the one that started it all. Here the hero ingredient—15% ascorbic acid, aka the gold standard of vitamin C—is paired with vitamin E and ferulic acid for an unbeatable antioxidant combo. Both our experts mentioned it by name as a star serum. And on the Dermstore website, a chorus of five-star reviews sing its praises (even if a few harp on the price).
Buy It Here
2
The Best Vitamin C Serum for Sensitive Skin

Sensitive skin people, no need to sit out the vitamin C party. Mad Hippie's formula uses sodium ascorbyl phosphate—a milder alternative to pure vitamin C (aka ascorbic acid). Even better, it's buffered with moisturizing hyaluronic acid and calming chamomile extract. Nearly 600 Amazon reviews rave about this winning combo, many with the headline "best serum ever."   
Buy It Here
3
The Best Vitamin C Serum for Mature Skin

Creaky joints and fuzzy recall aren't the only downsides to getting older. As we age, our skin cells turn over less, too, giving a dull complexion. Vitamin C already goes a ways toward addressing a lack of brightness and fine lines, but Sunday Riley's formula puts in glycolic acid, too, for bonus exfoliation and moisture retention. It's also stuffed with antioxidant oils like jojoba, giving mature skin more hydration. Just keep in mind: This serum does have fragrance. If that's a deal-breaker, opt for our sensitive-skin pick instead.
Buy It Here
4
The Best Vitamin C Serum for Dry Skin

Peeling, flaking, tight skin—these are the results you don't want from your serum. But some skin types have a harder time avoiding the potentially drying downsides of vitamin C. Thankfully, Drunk Elephant's serum balances its ascorbic acid (vitamin C) with softening hyaluronic acid and marula oil. Extra antioxidants from pumpkin and pomegranate round out this dry-skin-saving champ.  
Buy It Here
5
The Best Vitamin C Serum for Acne Scars

In truth, any vitamin C serum on this list is going to lighten up acne scars, but our vote for "best" goes to Clinique. Apart from vitamin C in the form of 10% ascorbic acid, this formula also includes pimple-clearing salicylic acid, nipping future breakouts in the bud. And the genius packaging—mixing a measured dose of powdered C with an emulsion—means the serum stays fresh.
Buy It Here
6
The Best Vitamin C Serum on Amazon

Yes, the site where you buy bulk toothpaste and luggage scales also has some solid picks when it comes to vitamin C serums. This serum by Timeless has a cult following among YouTube beauty vloggers as the perfect dupe for pricier products. Its tried-and-true formula of 20% vitamin C (ascorbic acid) paired with vitamin E and ferulic acid is backed by all kinds of research. And it's cheap enough, you can spring for two bottles, perfect if you need a double for your toiletry bag.
Buy It Here
7
The Best Korean (K-Beauty) Vitamin C Serum

The golden thunderbolt here is the tipoff that this serum is brightening in a bottle. A hefty 20% of pure vitamin C (ascorbic acid) is joined with chokeberry (another antioxidant) and skin-soothing licorice for a serum triple-threat. K-Beauty vendor Soko Glam is super serious about their skincare, proudly trumpeting the product's pH level (three) and its fragrance-free status along with an average four-star rating from over 1,000 reviewers.
Buy It Now
8
The Best Drugstore Vitamin C Serum

Our dermatologist expert pointed us toward this drugstore score, which happens to share the same parent company as SkinCeuticals. Here 10% vitamin C in the form of ascorbic acid is combined with moisturizing hyaluronic acid in a soft gel-like cream. Even better, the metal tube packaging minimizes exposure to air and light, keeping the contents reliably fresh and viable.  
Buy It Here
9
The Best Vitamin C Serum According to Reddit

Reddit's Skincare Addiction (ScA for those in the know) and its related subreddits are a corner of the internet where skincare fanatics geek out over ingredients, swap "holy grail" product recommendations, and break down the science behind products. And among this bunch, Paula's Choice C15 gets called out repeatedly as the real deal. It's easy to see why: Vitamin C in the form of ascorbic acid is joined with ferulic acid, vitamin E, and peptides to deliver a powerful, science-backed punch with scientific journal citations listed proudly on the bottom of their product page.
Buy It Here
Related Stories
All products have been hand-picked by our writers and editors. Items purchased through links may earn us a commission.