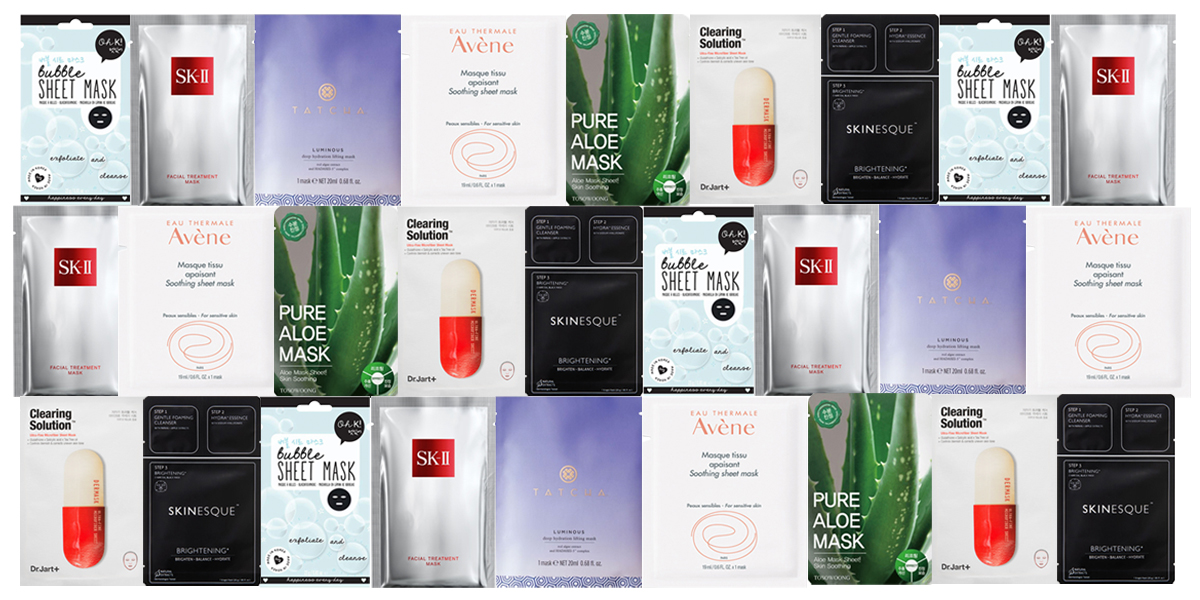 Shop
The Sheet Masks You Need for Radiant Skin on Every Trip
Gone are the days where you could only pick up strange-looking sheet masks on a trip to Korea (or Koreatowns in U.S. cities like New York and L.A.). Now pharmacies from Seoul to Seattle dedicate shelf space to these single-use, often whimsically packaged masks. For just a few bucks, sheet masks can help every skin condition from puffiness to acne, all of which are aggravated by the demands of travel. Whether they're helping to soothe your jet-lagged skin or repair the damage done by too many hours soaking up the sun, face masks are fun, easy, effective, and often super-affordable for use on a getaway. Slip some into your suitcase next time you head out. And make sure they're all under the liquid requirement before you throw them in your carry on.
1
Best Moisturizing Face Mask

La Pure Snail Regeneration Facial Mask
Dehydrating plane cabins, tropical sun rays, windy ski slopes...sometimes it seems like travel is determined to dry out our skin every step of the way. Sheet masks are a slam-drunk way to drive moisture back into your complexion, as they not only saturate your skin with hydrating nutrients, but also work as a physical barrier to make sure those nutrients have time to be absorbed, rather than evaporate. These 100 percent cotton masks from cruelty-free brand La Pure feature high concentrations of snail secretion filtrate, a superstar natural ingredient in the world of K-beauty, thought to promote cell renewal and collagen production. A few minutes with the moisture-laden mask gives your face a perky, plump brightness.
$18.97 (for 10) at Amazon
2
Best Exfoliating Face Mask

Bubble Beauty Face Sheet Mask
If you want true exfoliation, you might want to start with a leave-on scrub mask like cult favorite Skinfood's Black Sugar Wash-Off Face Mask, which digs deep to get gunk out of pores and leaves skin absurdly soft. But a tub of oily sugar isn't exactly travel-friendly. For on-the-go exfoliation, use a charcoal sheet mask instead. We like the Bubble Beauty Face Sheet Mask; the portable exfoliator bubbles when it hits the skin, ridding the surface of excess sebum and dead skin cells.
$11.95 (for 2) at Amazon
3
Best Face Mask for Oily Skin

Klairs Midnight Blue Calming Sheet Mask
Travel comes with a lot of potential stressors for your skin: exploring a new city or relaxing on a beach comes with the possibility of sunburn, using beauty products that aren't your usuals, and, if you have oily skin, then days of travel—particularly in humid climates—that can confuse your skin into producing even more oil than usual. An easy solution is this bamboo charcoal mask from Klairs, a soothing thick mask that addresses all these issues. Anti-inflammatory and anti-microbial willow bark extract soothes and calms skin, while bamboo draws out impurities out of your pores (without stripping it of any of the good stuff). Centella asiatica helps stimulate collagen production.
$3 at Soko Glam
4
Best Face Mask for Jet Lag

My Skin Mentor Dr. G Aqua Collagen Mask
Jet-lagged skin needs moisture, stat. It could also use a little aloe and collagen, ingredients that help to heal and soothe (aloe) and firm and strengthen (collagen). Those skin saviors join omega-rich, fast-absorbing macadamia seed oil and hyaluronic acid—both potent moisturizers—in this super-gentle cellulose mask. Get ahead of the plane-parched skin altogether by wearing it right in your seat. Own it, don't worry about side-eye from aisle-mates, and post a #sheetmaskselfie from 30,000 feet.
$30 (for 10) at Soko Glam
5
Best Face Mask for Acne

Dr. Jart+ Dermask Microjet Clearing Solution
If you're susceptible to acne, check with your dermatologist before regular sheet mask use. The glut of moisturizing ingredients in sheet masks can get trapped under the physical mask, creating unwanted sebum buildups in acne-prone skin. But if you get the thumbs up from your derm, experiment with masks with anti-inflammatory and exfoliating properties, like this one from Dr. Jart. Armed with niacinamide (a class of vitamin B3 that helps calm irritation), tea tree oil (an antibacterial), and salicylic acid (an acne-busting acid), the mask presents a three-pronged attack against breakouts and the redness and soreness that comes along with them.
$9 at Sephora
6
Best Face Mask for Puffiness

Tosowoong Pure Aloe Mask Pack
Jet lag, sunburn, and/or a few too many beachside cocktails can all lead to a puffy face—not the exactly the look you want to capture in all your vacay pics. But travel-induced puffiness has a worthy opponent in this wildly affordable aloe sheet mask. Dripping with glycerin, niacinamide, castor oil, aloe, and other skin-soothers, the mask brings relief to dry skin. Pro tip: coolness also helps reduce puffiness, so stick your mask in the fridge before using it, if possible.
$13.83 (for 10) at Amazon
7
Best Face Mask for Tired Eyes
In certain K-beauty-loving circles, Shangpree is considered the industry leader for under-eye patches that work to eliminate dark circles, de-puff, and boost collagen and elasticity. Most important for weary travelers, the vitamin-rich, cooling formula of Shangpree's eye masks provide serious revitalization. Need a break between an activity-packed day and the night's adventures? Give yourself a 10-minute rest with these under your eyes and you'll feel (and look!) ready for whatever's next.
$24.35 at Amazon
8
Best Face Mask for Relaxation/Stress

Avene Soothing Sheet Mask
Maybe you're packing a sheet mask to help bring a hotel staycation to the next level, or maybe you know you'll want to escape under one between meetings on a busy work trip. For either scenario, this pick from Avene starring thermal spring water from France is as relaxing as they come. Free of fragrances and gentle enough for even super-sensitive skin, it will calm your nerves as much as it will your skin.
$9.50 at Dermstore
9
Best Face Mask for Deep Cleaning

Skinesque 3-Step Brightening Charcoal Mask
Since sheet masks are usually soaked in serums aimed at providing extra brightening and tightening, they are generally designed to be applied to skin that's already been cleansed. But many mask packages come with a few extra goodies, including a cleanser. They're travel lifesavers, especially for short getaways when you don't feel like packing up your multi-step skin-care routine. Our favorite of these is this three-step kit from K-beauty brand Skinesque. Here, a gentle cleanser, a super-detoxifying charcoal mask, and a vitamin-packed essence work together to clean, detoxify, and calm tired or sun-damaged skin—and give you a head-turning glow.
$35 (for 5) at Dermstore
10
Best Korean Face Mask
Korean beauty companies are way ahead of the curve on skin-care; in fact, we have the K-beauty industry to thank for introducing the world to the joy that is sheet-masking. Picking an all-around favorite is tough, but if we have to narrow it down, Papa Recipe is certainly a frontrunner. It coddles the skin while on and leaves a glow worthy of a big reveal when it comes off, all at an affordable price tag.
$19.20 (for 5) at Amazon
11
Best Sheet Mask on Amazon
Amazon is a veritable treasure trove for beauty-product lovers—especially now that it launched its new in-house skin-care line, Belei. The behemoth site is a repository of hard-to-find masks that might not be available at retailers in the U.S., budget picks, and luxury splurges. This coconut-based sheet mask from Tatcha falls into that last bucket, but it's worth the higher price tag: this is the rare mask that can lift, moisturize, and brighten. Its plush serum is made from moisturizing glycerin and propanediol, antioxidant green tea and ginseng, and peptide-rich rice extract.
$22.99 at Amazon
12
Best Status Face Mask

SK-II Facial Treatment Mask
If you've got deep pockets and want to glow like a star, get your hands on this award-winner from SK-II. It's chock-full of the brand's patented Pitera, a fermented bio-ingredient developed by SK-II once their scientists realized that sake brewers' hands were always soft and supple despite the wrinkles in their faces, a result of their constant contact with the yeast within their brew. The price is steep on this one, but the radiant glow it leaves behind is lasting and real.
$95.00 (for 6) at Nordstrom
13
Best Budget Face Mask
If you want in on all the fun but don't have a big beauty budget, fear not. There are tons of affordable sheet mask options, and many retailers like The Mask Bar and Memebox have frequent sale. In our opinion, the best bang-for-your-buck route is a box set from Innisfree. One of the first Korean brands to embrace the notion of clean beauty, Innisfree makes masks starring natural ingredients like aloe, bamboo, fig extract, and cucumber juice. At just over $1 per mask, they're perfect for sharing on a group trip—but we won't tell if you decide to keep them all for yourself.
$20.50 (for 16) at Amazon
Related Stories
All products have been hand-picked by our writers and editors. Items purchased through links may earn us a commission.