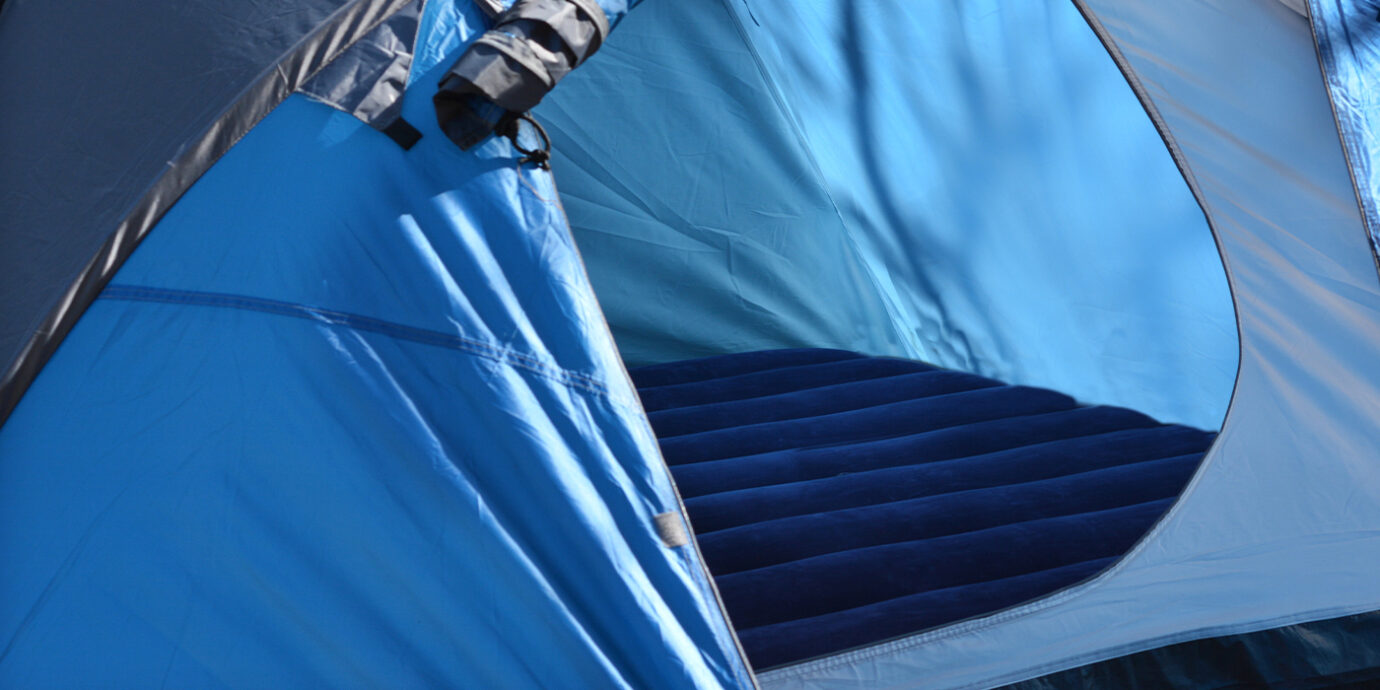 Shop
The Best Air Mattresses for Every Kind of Trip
Traveling can mean crashing in unusual—and uncomfortable—places (a spare room, a friend's couch, the cold, hard ground). While nothing will ever beat your own bed, you can make the best of any spot you sleep. A good air mattress can ensure you don't wake up in worse shape than when you turned in. Here, we've put together a quick guide to finding the right air mattress for you, whether you're planning a camping trip, need a spare bed for your kids, or are expecting houseguests for the weekend.
FREQUENTLY ASKED QUESTIONS ABOUT AIR MATTRESSES
What makes a good air mattress?
What makes a good air mattress all depends on what you're using it for. In general, you want to consider price, durability, comfort, and how quickly or easily it inflates. If you need a spare sleeper for guests, a double-height mattress is your best bet—it's closest to a regular bed and easier to get on and off of. However, it's also the biggest, heaviest option. If you're looking for something more portable—say, for camping—choose a smaller, lightweight model that packs easily.
Can you explain the features on an air mattress?
One of the biggest differences between air mattresses is how they inflate. The inexpensive ones usually require a separate pump, while pricier options often come with built-in pumps, frequently with bells and whistles like auto shut-off, one-click inflation/deflation, firmness settings, and even secondary pumps that top off your mattress while you sleep. Most air mattresses have a plush top (to secure bedding) or bottom (to prevent slipping), and some even have raised edges to keep kids—and, um, adults—from rolling off. Inside, the number of air coils and vertical walls determine how much support they offer.
Is sleeping on an air mattress bad for you?
As long as it properly supports your spine, an air mattress can be perfectly fine to sleep on, especially short-term. However, if you have neck or back problems, check with your doctor first. In some cases, an air mattress may be able to offer more support than a regular one that's past its prime, but, ultimately, it needs to work for your body.
How much air should I put in my air mattress?
It's tempting to want to fill your air mattress to the max the first time you hit the hay, but manufacturers actually recommend filling it to 90 percent capacity at least once before you sleep on it. That way the plastic can get used to expanding without the extra stress of your body weight. After that, feel free to fill 'er up—or to whatever feels comfortable to you. Many air mattress models also have pumps that allow you to choose the exact level of firmness you want—or a valve that can adjust the amount of air with the push of a button.
Why does my air bed deflate overnight?
All air mattresses lose some air as you sleep, but if you've ever camped on one in the cold, you know what it's like to wake up in a significantly floppier bed. Cooler temps cause the air inside the mattress to condense, making it look like the mattress has deflated, when in actuality, the air inside has just changed. Once the weather heats up, it'll go back to normal, but if you want to ensure a firm sleeping surface all night long, try placing it in a warmer area.
How can I fix a hole in my air mattress?
First, find your hole by inflating the mattress and running a soapy sponge over it, until you see an area that bubbles. Circle the hole with a pen, then wash and allow the area to dry completely. If you can't find the patch kit that came with the mattress, use a bike tire repair kit or DIY a patch from a shower curtain or pool liner. Trim the material to more than cover the hole, then use super glue, rubber cement, or epoxy to affix the patch. Let it dry completely, and voila! You're back in business.
THE BEST AIR MATTRESSES OF 2020
1
Best Overall Air Mattress

Pros: Comfortable, solid quality
Cons: Heavy, more expensive
This souped-up, double-height model is the Cadillac of air mattresses. It doesn't come cheap, but it also doesn't have the notorious dip that gives other air mattresses a bad rap. The magic is in the coils: It has 40 (40!) individual air coils that help reinforce the shape, no matter how much you toss and turn. The built-in air pump is quieter than most and takes only four minutes to inflate or deflate the mattress. Other extras we love: the integrated cord storage, carrying bag, and sure-grip bottom that prevents sliding.
Dimensions (inflated): 78" x 58" x 19"
Height (inflated): 19"
Pump type: Electric, built-in
Weight: 20 lbs.
Warranty: 1-year
Buy It Here
2
Best Budget Air Mattress

Pros: Affordable, lightweight, compact
Cons: No warranty, no pump
This single-height blow-up bed is a great, lightweight pick for home, hotels, or camping. As you'd expect from a basic budget model, it isn't as durable as other, pricier air mattresses, and extra features are scarce. It also sits just a few inches off the ground, so hauling yourself up can be a challenge. Still, it's sturdy enough to hold an impressive 600 pounds and packs down to a compact, easy-to-tote and-store size. An extra-wide valve also makes inflation and deflation a breeze.
Dimensions (inflated): 80" x 60" x 8.75"
Height (inflated): 8.75"
Pump type: Manual hand pump
Weight: 10 lbs.
Warranty: None
Buy It Here
3
Best Air Mattress for Long-Term Use

Pros: Main pump with auto shut-off, secondary pump keeps mattress topped up
Cons: Heavy, secondary pump may keep you awake
It's no Sleep Number bed, but you can choose your ideal level of firmness (plush, medium, or firm), hit a button, and a secondary pump maintains it. This "NeverFlat" two-pump system will hold strong after several uses, and it's your best bet to avoid ending up on the ground by the end of the night. The secondary pump continuously monitors air pressure and kicks in to prevent sagging, even if there's a pinhole leak. This model features welded construction for an airtight seal and nearly as many air coils as the Sound Asleep model but costs less. It gets our vote for longer trips or house guests overstaying their welcome.
Dimensions (inflated): 80" x 60" x 19"
Height (inflated): 19"
Pump type: Electric, built-in
Weight: 22 lbs.
Warranty: 1 year
Buy It Here
4
Best Air Mattress for Camping

Pros: Durable, supportive, high-quality, added carrying case
Cons: Foot pump is slow to inflate
The KingCamp Light Outdoor Camping Air Mattress proves you don't have to spend a fortune to get a durable camping air mattress. At four inches thick, it's thinner and more portable than the others on our list, but it's also comfortable, reliable, and supportive enough that your hips won't hit the ground. Though too bulky for backpacking, it's a great option if you can drive right up to your campsite. Inflation takes about eight minutes with the foot pump, but you can cut it to two by plugging a 12-volt air pump into your car. (A single size is also available.)
Dimensions (inflated): 79" × 55" × 5"
Height (inflated): 5"
Pump type: Manual foot pump, built-in
Weight: 6 lbs.
Warranty: 180-day return policy
Buy It Here
5
Best Air Mattress for Kids

Pros: Raised edge keeps kids from rolling off
Cons: Less durable; for sleeping only, not playtime
With the AeroBed Mattress, you can rest easy knowing your kiddos won't fall out of bed in the middle of the night. It has a four-inch raised edge bumper, plus packs down for easy travel, whether you're headed for a sleepover at Grandma's or need another bed in your hotel room. Another great kid-friendly feature: the cozy fitted sheet covered in a moon-and-stars pattern. Just don't let your little monkeys jump on the bed—while it's pretty durable, reviewers say repeated bouncing can cause it to spring leaks.
Dimensions (inflated): 50" x 25" x 10"
Height (inflated): 10"
Pump type: Electric
Weight: 11 lbs.
Warranty: Limited 1-year
Buy It Here
6
Best Quick-Inflating Air Mattress

Pros: Two-minute inflation, two-year warranty, coil-beam construction
Cons: Can't fill with external pump if car camping
When you're ready to collapse into bed, the last thing you need is an air mattress that takes forever to set up. The EnerPlex Premium Luxury Air Mattress (almost double height) features the fastest inflating pump on the market and fills in only two minutes. It's ideal for quick set up as long as you've got a power outlet nearby. Car campers: You'll need a converter that can handle 1.7 amps. When you're ready to pack up, the pump cord tucks away inside a snap-open compartment and the mattress stows well in the carrying case.
Dimensions (inflated): 78" x 60" x 13"
Height (inflated): 13"
Pump type: Electric, built-in
Weight: 17 lbs.
Warranty: 2 years
Buy It Here
7
Best Air Mattress for Portability

Pros: Lightweight, packable, no plasticky smell
Cons: Battery-run pump is heavy and bulky
If you're traveling light, it's hard to beat the Lightspeed Outdoors PVC-Free Air Bed Mattress. A sleeping pad-air mattress hybrid, it's the most portable, packable inflatable on our list. Part of that is because it's so thin, but the material also plays a role. Unlike most air mattresses, which are made with PVC, this guy uses high-quality TPU (thermoplastic polyurethane), which is lighter than PVC and PVC alternatives—and doesn't smell nearly as bad.
Dimensions (inflated): 80" x 55" x 7"
Height (inflated): 7"
Pump type: Battery
Weight: 6 lbs.
Warranty: Limited 1-year
Buy It Here
8
Most Durable Air Mattress

Pros: Extra heavy capacity, sturdy, hands-free pump
Cons: Standard fitted sheets slip off
Most air mattresses are built to support 500 or 600 pounds. The Simmons Beautyrest Hi Loft Raised Air Mattress trumps them all with a 700-pound capacity, making it great for guest rooms or vacation rentals. Inside the mattress, vertical beams and built-in edge support add stability and prevent the mattress from swaying and rocking. Though the double-height mattress is pretty substantial, the hands-free electric pump fills it up in the blink of an eye.
Dimensions (inflated): 80" x 60" x 17"
Height (inflated): 17"
Pump type: Electric
Weight: 11 lbs.
Warranty: Limited 90-day
Buy It Here
Related Stories
All products have been hand-picked by our writers and editors. Items purchased through links may earn us a commission.