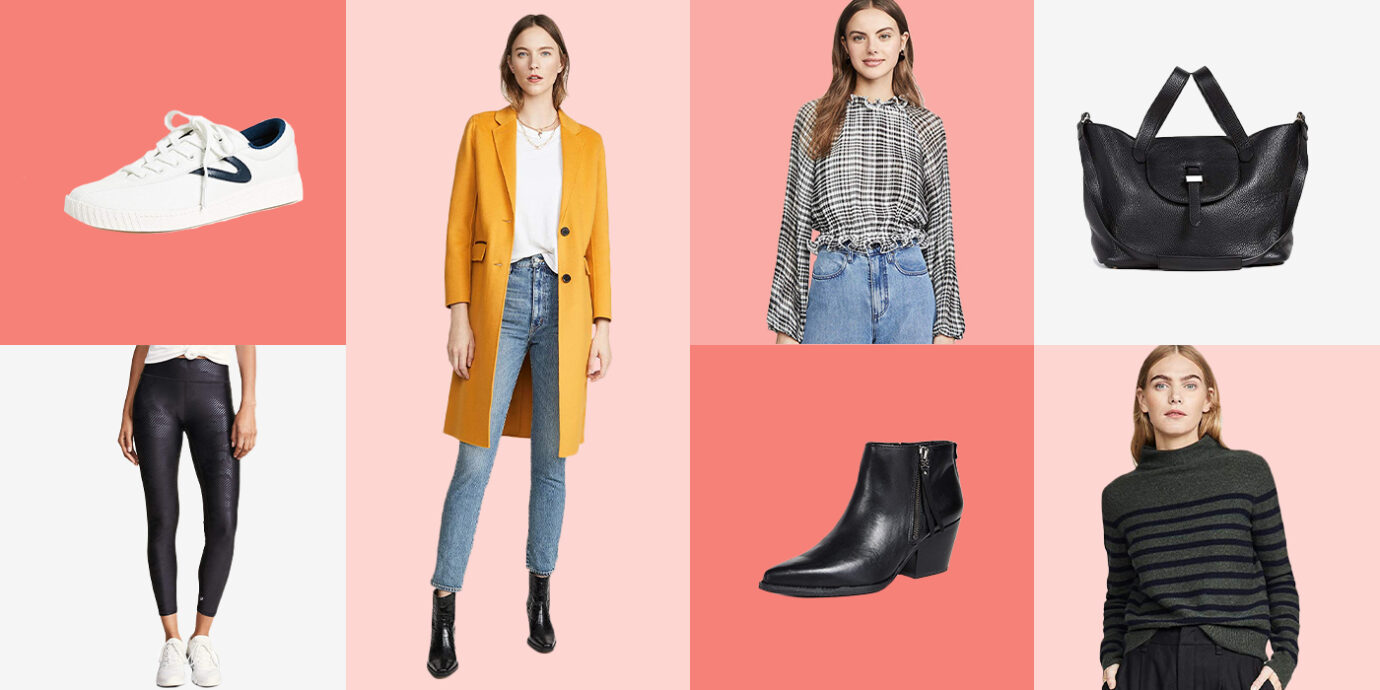 Shop
Our Favorite Things From The Shop by Shopbop on Amazon
Even hard-core Amazon lovers know that searching for cute clothes on the e-commerce giant can be an exercise in madness. Sifting through Amazon's results on is a far cry from the shopping experience on Shopbop—a site filled with of-the-moment, high-end clothing, shoes, and accessories. The two brands have recently partnered to launch a new mini boutique—The Shop by Shopbop on Amazon—that offers a curated collection of covet-worthy items. We've rounded up our favorite pieces across categories to get you started, but we're sure you'll be back for more. 
1
Favorite Jeans

If we could pick one style of jeans that are perfect for all seasons, they'd be straight-leg and cropped. They look equally amazing worn with boots in cold weather, sandals in summer, and sneakers year-round. This mid-weight pair from Frame fits the bill, with a semi-stretch fabric and a medium rise. Pair them with everything from blazer and cami for work to an oversized sweater for weekend outings.
Shop Now
2
Favorite Dress

Still looking for that one multipurpose maxi dress? Meet this breezy frock from DD Dakota. Its fit-and-flare shape is easy to wear and flatters most figures. Pack it for vacation along with sandals and a straw hat; throw it on with heels or ankle boots for a meeting to look instantly pulled together.
Shop Now
3
Favorite Sweater

A Breton stripe T-shirt is a staple for travel wardrobes, and we'll argue that a knit version is just as versatile. This black-and-gray, 100% cashmere turtleneck is a piece that's sure to stay in rotation year after year, trip after trip.
Shop Now
RELATED: Cashmere Sweaters, Scarves, and Hats for the Coziest of Travel Days
4
Favorite Boots

Booties are the best—they look equally adorable with skirts, dresses, jeans, and even leggings, and they're also great for travel since they slip on and off easily (read: no nasty looks from people behind you in line at security). Customers rightfully love this pair from Sam Edelman—they get 4.5 stars—for comfort and quality at a reasonable price. They have a low block heel and a squared-off pointed toe, and come in leather, suede, and snakeskin-embossed options.
Shop Now
5
Favorite Sneakers

Looking for a cool pair of kicks under $100? Check out Tretorns, a Swedish brand adored by chic men and women since the beginning of the 20th century. Available in a rainbow of colors and styles, the canvas lace-up sneakers get a 4.6 rating—with about 80% of buyers giving them five stars. Nyliteplus sneakers are sleek and narrow at the toe, and look fab with everything from travel dresses to leggings and hoodies for the airplane.
Shop Now
RELATED: The Best Women's Sneakers That Won't Eat Up Suitcase Space
6
Favorite Coat

There's nothing like a coat in an eye-popping color to overcome the winter blues—or dreary weather on the road. This bright felt-wool coat is as high quality as it is incredibly stylish. (We love the attention-grabbing jet-black piping above the front pockets.) Whether you go for fuchsia or ochre, you can't go wrong.
Shop Now
7
Favorite Blouse

This sweet and sexy checkered-print blouse will look amazing with high-waisted jeans or a pencil skirt. Throw on a blazer for the office or a conference, and slip it off during happy hour to reveal the blouse's deep back slit.
Shop Now
8
Favorite Skirt

This silky, sapphire blue zebra-print skirt from Rebecca Minkoff is a total head-turner. Along with loads of on-trend appeal, it goes just as well with a T-shirt and sneakers as with a fitted top and heels. Made from lightweight non-stretch polyester twill, the skirt has a high waistline and a midi-length hem.
Shop Now
9
Favorite Bag

Your ongoing search for the perfect bag is over. This chic, pebble-textured leather bag is slouchy and unfussy, yet structured enough to give you a polished appearance. Lined in suede, it's spacious and will fit your 11-inch Macbook with room to spare, and it has a removable zip pouch. Metal feet protect the bottom so you don't have to fret too much about where you drop it.
Shop Now
RELATED: The 14 Best Cross-Body Bags That Are as Stylish as They Are Practical
10
Favorite Activewear

If you're bringing one pair of leggings on vacation, a black pair is the most practical choice—so you might as well pick ones with some panache. This tone-on-tone black camo pair will do the trick. They're slightly cropped and hit just below the belly button for maximum comfort, and from a distance they almost look like sleek, black metallic jeans. They'll double as part of an out-for-brunch outfit and add style to your workout ensemble.
Shop Now
Related Stories
All products have been hand-picked by our writers and editors. Items purchased through links may earn us a commission.