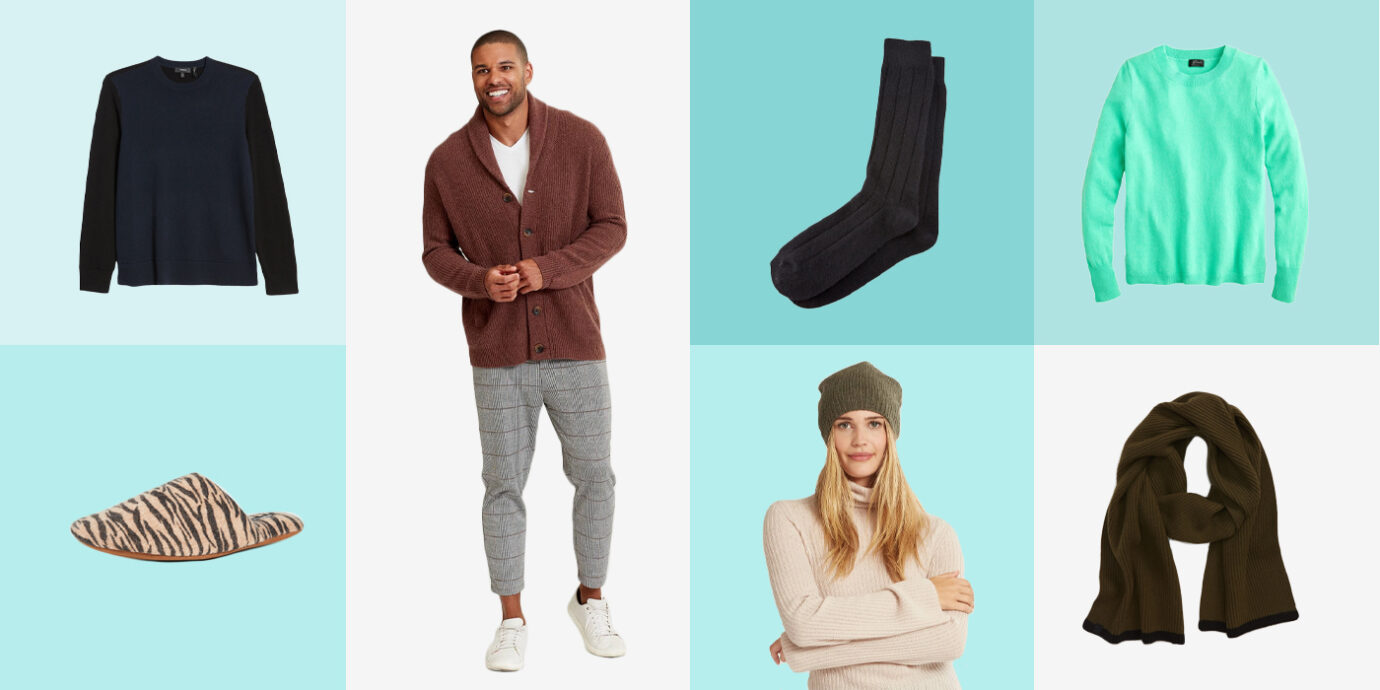 Shop
Cashmere Sweaters, Scarves, and Hats for the Coziest of Travel Days
Fleecy jackets and pile-lined leggings will certainly keep you warm for winter travel, but for the ultra-stylish jetsetter, there's no match for a cashmere capsule wardrobe. Sweaters of every shape and length; wraps, scarves, and hats; and extras like slippers and socks can make even the most exhausting trips feel more luxurious. We've rounded up the softest knits across every category to keep you cozy on all your cold-weather journeys. 
Best Cashmere Finds for Women
1
Best Cashmere Sweater Overall

You can't do better than an Everlane cashmere crewneck, which checks boxes for high quality, great cut, reasonable price point, and multiple color options. Plus, the brand generally does a stellar job of maintaining complete size runs during the season—meaning your pick is less likely to go out of stock. The slightly relaxed fit of this sweater allows for pairing with a skirt or jeans, and is roomy enough to comfortably wear a button-down underneath.
Shop Now
2
Best Long Cashmere Cardigan

This incredibly versatile sweater—with pockets!—is an excellent choice for travel days. Wear it from the office straight to the airport, then on the plane for an extra layer underneath your cashmere blanket or wrap. It's made from Mongolian cashmere by L.L.Bean, the legendary Maine brand known for top-notch customer service and for standing by their products. Pro tip: Long open cashmere cardigans are genius for doubling as a robe—especially useful if you're a carry-on-only traveler, or if bulky terry hotel bathrobes aren't your jam.
Shop Now
3
Best Cashmere Sweater Under $100

J.Crew is another go-to for quality cashmere at a reasonable price. Like Everlane, J.Crew's cashmere also comes in poppy colors in addition to tried-and-true neutrals. This cashmere sweater's wide-rib collar and slit sides elevate it beyond a just-jeans staple. It's a smart pick if you're traveling for work or an event. Bring along a statement necklace and cigarette pants and you're good to go for everything from a bridal shower brunch to dinner with colleagues.
Shop Now
4
Best Cashmere Wrap/Scarf

Hands down, this is one of the best travel pieces out there. Bloomies' soft, brilliant wrap comes in more than a dozen shades. The cut isn't too skimpy, bulky, or voluminous, so you won't constantly pull it over exposed shoulders, get twisted in it, or fight to keep it off the floor. For easy access, rather than stashing it inside your suitcase, loop it through the handle of your roller bag or the straps of your purse. If you get stuck in a frigid airplane cabin or train car, unfurl it to use as an extra blanket.
Shop Now
RELATED: The Best Sweater Dresses to Live in All Fall and Winter
5
Best Cashmere Hat

This cashmere hat is the ultimate boho-chic winter accessory—and super practical to boot. With just the right amount of slouch, the three-gauge knit beanie has a wide-rib band to frame your face. It comes in four lovely shades to perfectly flatter every skin tone. Bonus for being hand-washable as an alternative to dry cleaning.
Shop Now
6
Best Cashmere Slippers

Make a statement as you glide down the aisle on a red-eye or jazz up your ski weekend loungewear with these animal print slippers. The cushioned footbed and faux suede sole add comfort, and the deep slide, with an edge that hits close the ankle, will keep your tootsies extra toasty. They're also ultra lightweight and pack flat, so you'll have more room for other cozy clothing and accessories.
Shop Now
Best Cashmere Finds for Men
7
Best Cashmere Sweater Overall

You can't beat Theory for classic sportswear that's on trend, but not trendy. Look to the brand for investment pieces—like this sporty, color-blocked cashmere crewneck—to build wardrobe basics that'll hang in your closet for years to come. It's a must-pack piece, ideal for casual dinners, weekend brunches, or date nights. It comes in a navy-black or a navy-gray combo.
Shop Now
8
Best Cashmere Sweater Under $100

A cashmere sweater for $75? This isn't a misprint—it's for reals. Naadam produces unisex cashmere crewnecks and V-necks for an almost unheard-of price. But, unlike other low-price cashmere sweaters on the market, it's unlikely you'll punch a hole through one of their knits while slipping it over your head. Naadam customers give the Mongolian cashmere an average five-star rating for quality and softness.
Shop Now
9
Best Cashmere Cardigan

Dad chic is not dead, and stylish gents are still in search of the perfect men's cashmere cardigan. Another pick from Naked Cashmere (one of our faves!), this shawl-collar button-down in a seven-gauge knit, with cool zig-zag details on the shoulders, is posh enough to pack for business trip outings. But we bet that you'll also want to pair it with your flannel PJ pants at breakfast. You can never go wrong with black, but the pecan also looks dashing.
Shop Now
RELATED: The Best Winter-Staple Thermals for Women and Men
10
Best Cashmere Scarf

If you don't have an unlimited wardrobe budget and want to own a luxurious item from a designer brand, your best bet is to go for an accessory. This super-soft cashmere rib-knit scarf from Rag & Bone will give your old wool coat an update, and add cool-kid appeal to your bundled-up look. It comes in three neutral shades—dark taupe, jet black, or a black-and-white marled knit—with contrasting color-tipped ends.
Shop Now
11
Best Cashmere Hat

Same rule as above applies to this cashmere beanie from Zurich-based label Frenckenberger, maker of sleek and high-end loungewear for men and women. For fashion-conscious men, a hat isn't simply a utilitarian accessory for keeping your head warm; it's an opportunity to add extra polish and style to an ensemble. This slouchy cap keeps things casual and cool, but certainly makes a statement.
Shop Now
12
Best Cashmere Socks

Gifting cashmere socks is always a win. It's an accessory that people love to have, but hate to splurge on. This soft, wide-rib-knit pair of socks from Neiman Marcus have nylon added to prevent slipping. Customers say that they hit at the perfect height on the leg and also hold up well in the wash. They come in six attractive shades, including sky blue and bright red. A real treat for your toes!
Shop Now
Related Stories
All products have been hand-picked by our writers and editors. Items purchased through links may earn us a commission.