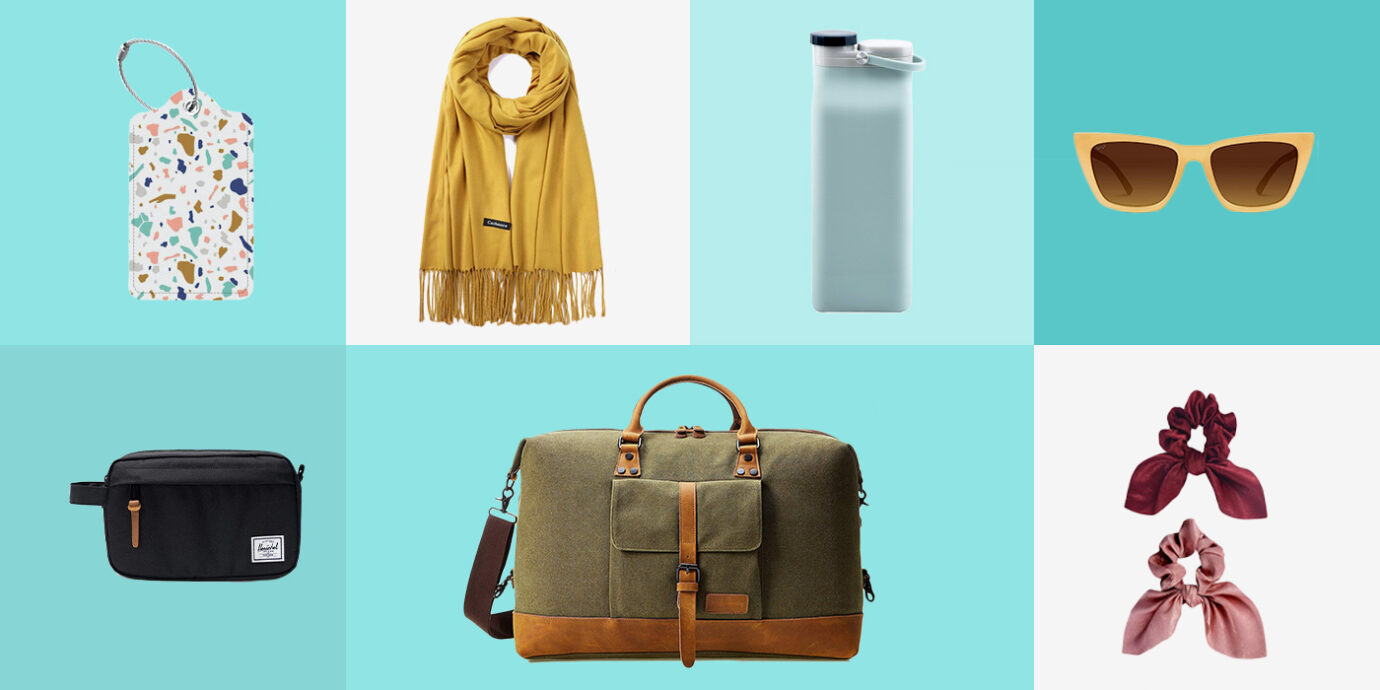 Shop
14 Cheap Amazon Travel Items That Look Expensive
Between flights, hotel stays, activities, and meals, travel is no cheap endeavor. One place you can definitely save? In your choice of travel accessories. We love trendy, high-quality products as much as the next person, but if we can find them on Amazon and under budget? Well, that's even better. Below, we've rounded up 14 travel items—from noise-cancelling headphones and canvas weekenders to satin hair scrunchies and collapsible water bottles—that are cost effective and surprisingly stylish.
1
TaoTronics Active Noise Cancelling Headphones
Noise-cancelling headphones are an absolute must for long-haul flights and rowdy subway rides. While we're always quick to recommend the Bose QuietComfort 35 II, they don't come cheap. If you're shopping for travel accessories on a budget, save yourself $300 and go with TaoTronics' Active Noise-Cancelling Headphones instead. The headphones far outperform their $50 price tag with 30 hours of playtime, steady Bluetooth 5.0 connection, and a foldable, travel-friendly design with 90-degree-rotatable ear cups.
Shop Now
2
WearMe Pro Pointed Cat Eye Sunglasses
Ray-Ban, Illesteva, Oliver Peoples—they're brands we know, love, and sadly can't always swing. If you're not interested in taking out a micro-loan to buy a new pair of sunnies, give WearMe Pro's Pointed Cat Eyes a go. The $20 shades look like they could go for well over $200 with a thick, fashion-forward polycarbonate frame. We love the beige shade, but they also come in matte black, clear, and white.
Shop Now
3
Mighty Patch Original
Between red-eye flights, sudden climate changes, and hotel bar soap, our skin contends with a lot when we travel. Every stressful moment—be it a missed connection or an unexpected expense—can also cause our body to release more cortisol, a hormone that often precedes pimples. If this sounds all too familiar, try traveling with Mighty Patch. The drug-free stickers—which come in packs of 36 for $12.50—promote healing with a hydrocolloid mixture that keeps you from picking and draws out pus and impurities. Slap them on overnight and see the results by morning.
Shop Now
4
Lavemi RFID-Blocking Mini Bifold Wallet
We're very type-A when it comes to organizing our travel documents. To make sure there's no airport panic, we keep our passport, state ID, credit card, boarding pass, and insurance card all in one easily accessible place. If you're ready to straighten out your purse, check out Lavemi's RFID-Blocking Bifold. The $17 wallet—which is made of real leather—has six card slots, an ID slot, and a pocket for good ol' fashioned paper money. If you're worried about your info being skimmed, the RFID-blocking technology will also give you peace of mind.
Shop Now
5
Aileam Satin Hair Scrunchies
If you like to keep your vacation hair as low maintenance as possible, a pack of satin hair scrunchies will come in handy. Throw your hair up in a messy bun or ponytail (like actually messy—don't fuss over it), slap on a bow scrunchie, and you'll be out the door in minutes flat. We love Aileam's six-piece set—which goes for just $9—as it comes with bold hues and neutral earth tones like mauve and olive green.
Shop Now
6
E-Senior Collapsible Water Bottle
Flights, long days on your feet, boozy nights out…it's easy to get dehydrated on the road. Pack this collapsible water bottle, though, and you'll have no excuse. The 20-ounce bottle is leak-proof and constructed from safe, non-leaching silicone that allows you to roll it up when not in use. The bottle folds up so small you can even tuck it in a pants pocket—no purse or tote necessary.
Shop Now
RELATED: The 10 Best Water Bottles for Travel
7
JJ Power Packing Cubes
Packing cubes aren't the sexiest travel accessory, but they don't have to be hideous, either. Case in point: JJ Power's space-savers, which come in a handful of fun patterns from geometric shapes to pink and yellow florals. Each $18 set comes with five pieces: a large cube, medium cube, small cube, laundry bag, shoe bag, and bundle bag. Use all five to organize your checked bag or just a few in your carry-on; either way, you'll thank yourself when it's time to come home and your bag is already neat and tidy.
Shop Now
8
Herschel Chapter Travel Kit
If you still pack all of your travel toiletries in a Ziploc bag, it's time for an upgrade. Herschel's five-liter Chapter Travel Kit features a waterproof main compartment with an internal mesh storage sleeve and the brand's signature striped lining as well as a front zippered pocket. Not only is the carry case stylish (oh, and it comes in 34 different colors/patterns), but it can fit all of your essentials from miniature shampoos and conditioners to hair gels, toothpastes, and lip balms.
Shop Now
9
AmazonBasics Leather and Canvas Duffle Bag
Every traveler needs a solid weekend bag in their arsenal, but high-end options from brands like Frye, Cole Haan, and Away can go for hundreds of dollars. AmazonBasics' Leather and Canvas Duffle Bag is an attractive and ultra-affordable option that can fit enough clothes for a two- to three-day trip. The casual bag—which is available in olive, khaki, and grey—is equipped with a heavy-duty shoulder strap and two leather handles which make it easy to grab and go.
Shop Now
10
Simply Yours Terrazzo Luggage Tags
We don't trust the paper luggage tags handed out at airport check in—they can rip, smudge, or fall off completely. Instead of wondering if the tag makes it to baggage claim, get your own set instead. Simply Yours' on-trend Terrazzo Luggage Tags go for just $8 for a pack of two. The faux-leather tags attach to your bag via durable steel loops, so you don't have to worry about them breaking off, either.
Shop Now
11
Jasgood Fanny Pack/Shoulder Bag
Fanny packs are cool now, guys. If you're sick of adjusting (and readjusting) your tote bag straps and you don't carry enough stuff to merit a backpack, try Jasgood's multi-use fanny pack/shoulder bag/clutch. The $12 accessory can be worn like a belt, slung over your shoulder, or carried by hand depending on your mood and occasion. While it's small, you'll have no trouble fitting your smartphone, AirPods, lip balm, and random receipts.
Shop Now
12
Ethique Eco-Friendly Solid Shampoo
While we can snag most of our favorite toiletries in mini, travel-friendly sizes, it's not the best option for our wallet or the environment. Lately we've decided to go the solid shampoo route instead. Ethique offers eight different eco-friendly shampoo bars with formulas that are suitable for dry, frizzy, and oily hair (among many others). Each is made from 100% natural and sustainable ingredients like kiwifruit oil, coconut oil, and oatmeal. Better yet, each tiny 3.8-ounce bar gets you the same amount of washes as three bottles of liquid shampoo—so you'll save money and keep plastic out of our landfills.
Shop Now
RELATED: The Best Shampoo Bars That Simplify All Your Travels
13
Arctic Penguin Pashmina
A pashmina is like the Swiss Army knife of accessories. Depending on the situation, you can fashion it as a scarf, a blanket, a pillow—you name it. While a cashmere version can set you back a couple hundred dollars, Arctic Penguin's pashmina goes for just $13. The pashmina, which has 500 five-star Amazon reviews, is also available in nearly 20 colors from camel to royal blue so you can pick up a couple to suit every outfit.
Shop Now
Related Stories
All products have been hand-picked by our writers and editors. Items purchased through links may earn us a commission.