Shop
The Very Best Beauty Gifts for Frequent Travelers
Traveling with beauty products is never simple. Do you painstakingly pour your favorites into 3-ounce bottles, knowing you'll lose half of them in the process? Splurge on the travel-size versions? Risk it and hope the hotel's toiletries will suffice? No strategy is perfect, and you pretty much always have to leave something behind. That's why beauty gifts are one of the best things you can buy for the frequent traveler on your list—it's the gift of self-care, in TSA-friendly form. From multipurpose products to holiday gift sets to mini sizes of cult products, we've rounded up the best beauty gifts for globetrotters.
The Best Beauty Gifts for Frequent Travelers Under $10
1
Pure Aura Paper Cloud Cleansing Foam and Makeup Remover
These cute, face-shaped cleansing sheets are a jet-setter's dream. They're a liquid-free foam cleanser and makeup remover in one, and they activate with water, saving your recipient precious room in their 3-1-1 toiletry bag. The little guys are about the size of a cotton round and packaged in a resealable bag. They're great for getting rid of grime mid-flight or freshening up before you land. 
Buy at Anthropologie
2
Dr. Singha Mustard Bath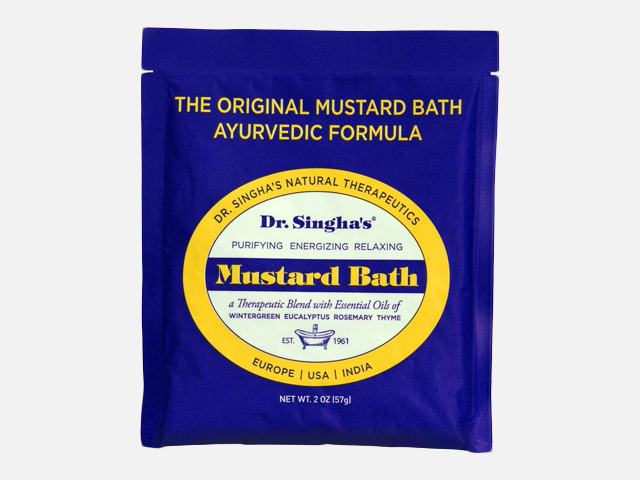 If a mustard bath sounds weird, trust us on this. Your giftee will love soaking in these therapeutic salts after a long day of travel or sightseeing. Made by an acupuncturist, the mustard seed-essential oil blend relieves stress, detoxifies skin, and eases tight muscles. And since they aren't liquid, these two-ounce packets are perfect for throwing in a carry-on. Don't worry, the mustard bath smells like essential oils and wintergreen, not a hot dog. 
Buy at Amazon
3
Cocokind Mymatcha All-Over Moisture Stick
This do-it-all stick is a solid (pun intended) alternative to bulky creams and spill-prone lotions. It looks like a simple chapstick, but while it is awesome on lips, it can also be used in a million different ways: to hydrate dry spots, moisturize cuticles, minimize dark circles, highlight cheekbones, even keep unruly brows in check. Though matcha may seem like a trendy ingredient, it's actually rich in antioxidants to brighten skin and ward off damage. 
Buy at Free People
The Best Beauty Gifts for Frequent Travelers Under $20
4
Esarora Ice Roller
Frequent flyers will get a lot of mileage out of this nifty ice roller, which soothes redness, revitalizes tired skin, and depuffs under-eyes (or really any spot that feels a little swollen). They can freeze it before traveling for in-flight relief or store in the hotel mini-fridge to combat the effects of jet lag or late-night bar hopping. It's also a delight on sunburned skin, for anyone headed on a beach vacation. 
Buy at Amazon
5
Goopglow Morning Skin Superpowder
Topically applied travel-size beauty products aren't the only way to get glowing skin on the go. These single-dose powders contain six protective antioxidants (vitamins C and E, CoQ10, lutein, zeaxanthin, and grape-seed extract) which are especially necessary when you're going to be in the sun or a busy (read: polluted) city. An easy swap for room-service OJ, the mix tastes like oranges and lemon verbena. Who knew beauty could taste so good?
Buy at Goop
6
Tarte Flawless on the Fly Color Collection
Buying makeup for someone else can be tricky, but this neutral eyeshadow palette is a safe bet. Ideal for carry-on-only minimalists who don't like to travel with their full beauty arsenal, the Tarte palette comes with eight super-flattering shades (ranging from pinky peach to matte vanilla)—plus Tarte's best-selling vegan mascara: Lights, Camera, Lashes. That's a lot of looks for not a lot of dollars. 
Buy at Tarte
The Best Beauty Gifts for Frequent Travelers Under $25
7
KNC Beauty All Natural Collagen Infused Lip Mask
Since lips don't have oil glands (weird but true), they can be especially vulnerable to dry cabin air. These lip masks from KNC Beauty rehydrate parched, chapped kissers through a mix of hyaluronic acid, plant extracts, and vitamin E. Bright pink and shaped like oversize lips, they also make for a really fun beauty gift. Airplane selfie, anyone?
Buy at Violet Grey
8
Fenty Beauty by Rihanna Bomb Baby Mini Lip and Face Set
Rihanna fans and beauty junkies alike will appreciate this Fenty duo. It includes travel-size versions of two of the brand's most popular products: the Killawatt highlighter and a rose-nude Gloss Bomb lip gloss—exactly what your giftee needs to hit the ground running as soon as they get to their destination. We think Rihanna sums it up best, "You look at it and think, 'Is it going to deliver?...Is it going to deliver?' Then—BAM!—it delivers!"
Buy at Sephora
9
Harper + Ari Sugar Scrub Cubes
When you have limited room in your carry-on Ziploc, body exfoliators often get tossed to the side for more "important" products like cleansers or shampoo. But with this sweet gift, your recipient won't have to choose. Packaged in a giftable glass bottle, each sugar cube contains a powerful exfoliating and moisturizing punch. Pro tip: They'll last longer if you split them in half. Put that hotel soaking bathtub to very good use. 
Buy at Dermstore
The Best Beauty Gifts for Frequent Travelers Under $50
10
Eva NYC Mini Flat Iron
Hair dryers may be ubiquitous in most hotel rooms, but flat irons are not, making them a packing necessity for those who want straight hair on the go. A mini flat iron is something they'd probably never buy themselves but will be thankful for every time they go to pack their carry-on or touch up their bangs. This bold ceramic option from Eva NYC feels especially gifty since it comes with a cool reflective travel pouch. Give the gift of good hair.
Buy at Target
11
Sephora Favorites Soko to Tokyo Set
K-beauty lovers will flip for this incredible skin-care set, which is loaded with all-stars from some of the most beloved Korean and Japanese brands. And if your recipient doesn't know an essence from an ampoule, this is a great way to introduce them to must-have products like Dr. Jart+ Cicapair Tiger Grass, SK-II Facial Treatment Essence, and Laneige Lip Sleeping Mask. Give the gift of glowing skin. 
Buy at Sephora
12
Milk Makeup MVPs Set
This limited-edition set of Milk best-sellers is sure to light your giftee up. They'll get Watermelon Brightening Serum and Cooling Water to destress and rehydrate after a long day of travel, Hydro Grip Primer to keep makeup Instagram ready; a highlighter and bronzer for a natural glow; a two-in-one cheek and lip tint; and hemp-infused Deluxe Kush Mascara. Best of all: Almost every product is in solid form for easy traveling. 
Buy at Sephora
Related Stories
All products have been hand-picked by our writers and editors. Items purchased through links may earn us a commission.