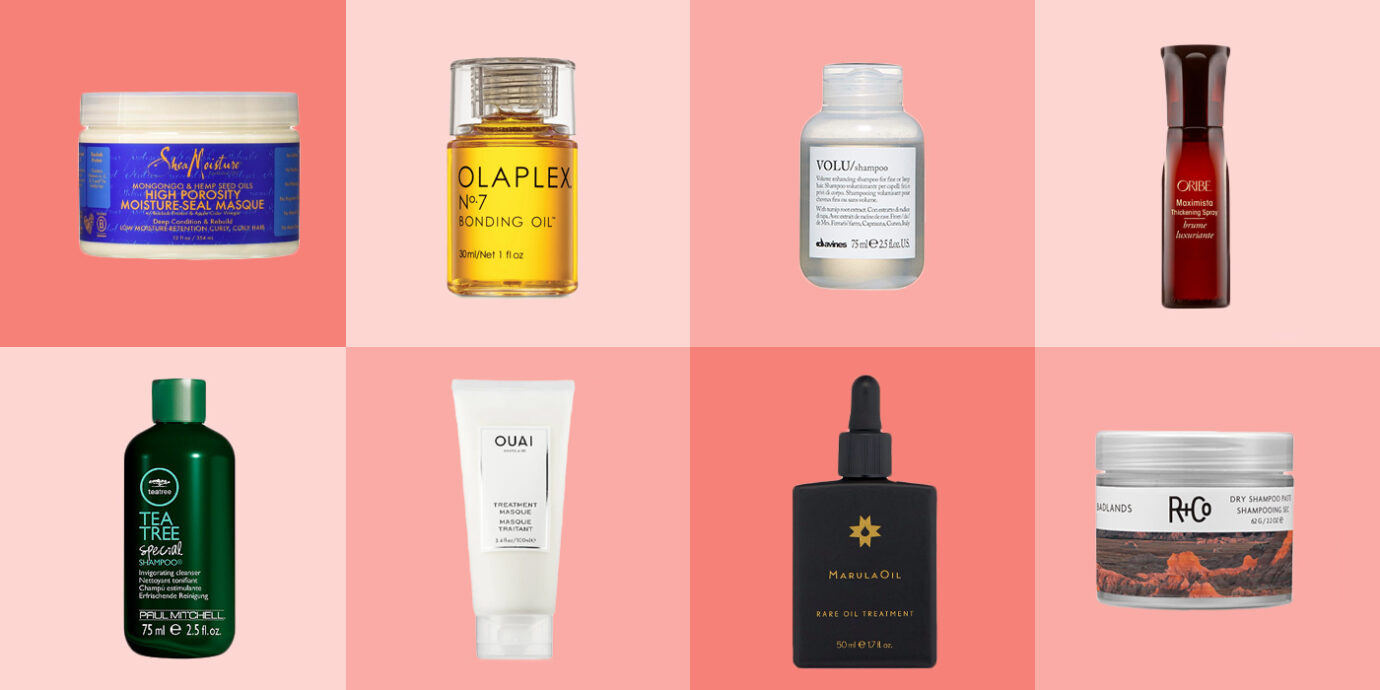 Shop
The Best TSA-Approved Hair Products for Every Hair Type
Good hair days are elusive even when you're home, with your full arsenal of products and tools at your fingertips. Head on vacation, and good hair becomes all the more difficult to nail. Between trying to pack light and adjusting to new water or climates, the temptation to hide under a baseball cap for the duration of your trip can be very strong. But it doesn't have to be that way! We've gathered the best hair products for every hair type—all are small enough for a carry-on but mighty enough to dial your vacation hair up to a 10.
Best Travel Hair Products for Curly Hair
Curls can be tricky, home or away, but with the right products, they turn into the most enviable style around. Start with Cantu's leave in conditioner: the buttery goo repairs and protects hair from anything from further styling to an outdoor trek or a dip in the pool. Next, scrunch some DevaCurl SuperCream into your curls. It's similar to a mousse in that it adds texture and eliminates flyaways, but without the tacky dryness you may associate with mousse. When your hair could use a touch-up, reach for DevaCurl again, this time with their Set It Free finishing spray. It's a pick-me-up for curls, giving flyaway, frizzy, or dull waves and ringlets some oomph for up to 48 hours. If you typically use a diffuser but yours is too clunky to pack, consider this collapsible diffuser attachment designed to fit on almost any size hair dryer. It cuts down on dry time, gives curls a whole lotta life, and leaves room for souvenirs in your bag.
Best Travel Hair Products for Straight Hair
Treat your straight ends to Virtue's indulgent and restorative hair mask after sun, sweat, or the demands of travel have them frayed. It's jammed with algae, baobab seed oil, and plant-based proteins that protect against heat, enhance shine, and juice your tresses with antioxidants and hydration. For a burst of shine and strength, indulge with a few drops of Olaplex's No. 7 bonding oil. The vitamin-packed product repairs your hair's broken hydrogen bonds to give you the kind of straight blowout you thought was only possible from the salon. When it comes time for the finishing touch, reach for the Lunata Cordless straightener. Hair tools don't get more travel-friendly than this—it comes in a hard case with a world adaptor and two USB ports, and unlike some travel tools, doesn't compromise on quality to achieve its slim, light size.
Best Travel Hair Products for Damaged Hair
Travel is rough on any hair, so it's important to pump hair that's already damaged with extra nutrients and strengtheners during your trip. Redken's All Soft Mega line does just that, injecting hydrators like cactus extract and aloe vera to even the most damaged of hair. With just a drop or two of this ultra-hydrating but somehow non-greasy marula oil, you can prep hair for a blow dry, supply it with much-needed antioxidants, and add luster. Lastly, keep your Tangle Teezer close while you're traveling. Detangling damaged hair without doing any more harm is critical for restoring your hair's strength, and this palm-sized brush does just that. Ready for use on wet or dry, it's perfect for stuffing in your carry-on, toiletry kit, or beach bag.
Best Travel Hair Products for Dry Hair
Ouai's velvety treatment mask acts fast and stays on even during a sweat, meaning you can work in a hotel gym sesh like the multitasker you are. (The heat from from working out will help it penetrate further.) Once rinsed out, it will leave dry hair not just feeling softer, but also better suited to hold up against future dryness and damage. And don't forget to protect dry hair if you're going to blow it dry; prep with this blow-dry spray from Kenra. Spray it on while your hair is still wet, then watch in awe as it not only helps your hair resist breakage and frizz, but also whittles away drying time. For touch-ups throughout the day or the mornings you forgo a wash, swap mattifying dry shampoos for Wander Beauty's liquid refresher, which uses natural plant extracts and vitamin E to add volume and texture.
Best Travel Hair Products for Fine Hair
Limp-haired travelers rejoiced when Davines started selling their Volu shampoo in TSA-friendly sizes. Make sure to really work this one into your scalp; turnip extract works to boost your hair by its roots and deliver buoyancy and volume. Afterwards, spritz it with Oribe's thickening spray, a real time- and space-saver on vacation: First, copolymers latch on to hair shafts to serve Texas-worthy volume, and also prevent your hair from absorbing too much moisture, thereby locking your style in place. Then, with the power of keratin amino acids and fruit and flower extracts, the product moisturizes and conditions. Finally, it protects hair from harmful UV rays. And at any point in your journey when you're sporting a pony—on the flight, on the streets, in the hotel bathroom and bed—tie it up with Slipsilk's silk scrunchies. They're great for all hair types, but especially fine hair, since anything from a tight rubber band to a scratchy airplane seat can break delicate hairs.
Best Travel Hair Products for Black Hair
Slather your hair in what one online reviewer called "pure butter!"—Shea Moisture High Porosity Moisture Correct Masque—for everything from a quick hydration jolt after a long flight to a detangling deep condition after a salty, sandy day at the beach. It doesn't come in a travel size, but it's an easy one to transfer to TSA-friendly travel tubs. If you want to don some natural curls after your mask, shine and define them with Aunt Jackie's Curl La Custard. Shea butter and olive oil make curls coil and bounce, without any flakes or residue. If you're working with relaxed hair, then pack It's A 10 leave-in product. An extremely versatile little godsend, It's A 10 stops hair from breaking, protects hair from heat, or just gives hair overall shine and levity. Protect and quickly dry your hair under this Aquis turban. Easier to wash or dry during travel than some silk scarves, it helps to lock in essential oils and maintain shine so you don't have to waste time doing your hair every day of your trip.
Best Travel Hair Products for Short Hair
Unless you're rocking a harsh dye job, your short hair probably doesn't need the same extreme hydration or protein infusion that longer hair does. That means you can stick to two types of products when you're traveling: ones that keep your scalp clean and fresh and fun styling products to guarantee that your playful bob or teeny tiny curls look fab in every vacation selfie. After a day of sun or sweating, work this Mielle oil into your scalp. The oil's soothing rosemary mint scent will help you unwind, while also strengthening your hair and taming the flyaways that are common with short hair. Continue the scalp treatment in the shower with Paul Mitchell's tea tree line, which is tough on scalp impurities while still being light enough not to weigh down short hair. When it comes time for styling, a little Oribe's finish cream goes a long way. It adds just the right amount of shine and bounce to short hair without giving you an overly slicked-back look. And on the days between washes, give your hair a quick dusting of Schwarzkopf's super-mattifying dry shampoo. Especially killer for fine hair, this adds playful volume and body to even the shortest of cuts.
Best Travel Hair Products for Color-Treated Hair
Maintaining a great dye job while you're traveling is a two-pronged approach. First, you want to keep treated hair from splitting, breaking, or drying out, which it's much more prone to do thanks to the color treatment. Start by washing and conditioning with R+Co's Gemstone line. It's not just safe for color, but also works overtime to protect that color by providing intense hydration and fortification against breakage. Second, you want to be sure that factors like hard water, chlorine in swimming pools, or sun exposure don't ruin your color. For that, grab a color-maintenance mask. If you've gone blonde, look no further than the handy travel-sized version of Pravana's purple toning mask, which will prevent your golden locks from turning too yellow or brassy. Other colors can snag Pureology's Colour Fanatic deep conditioning mask, which only take five minutes to work its magic and now comes in to-go packs designed for travel.
Best Travel Hair Products for Men
You never know what kind of hair you might want on vacation. Is it a tousled kind of day, or one where you've got to put on a professional look for the boss during a big work trip? You can get both—and everything in between—with Smooth Viking, a super-versatile, easy-to-use cream that doesn't leave behind any shine. And once you've got the style you want, keep it going strong for a few vacation days with R+Co's dry shampoo paste, which is easier to run through a wide variety of styles, cuts, and lengths than other aerosol dry shampoos. Got facial hair? Don't pack your travel bag without including Redken's beard and skin oil. Specifically formulated to soften and smooth your beard with soothing ingredients like apricot kernel, avocado, and eucalyptus oils, this also provides extra hydration to skin that might be tired, dry, or sunburnt after days of travel.
Related Stories
All products have been hand-picked by our writers and editors. Items purchased through links may earn us a commission.