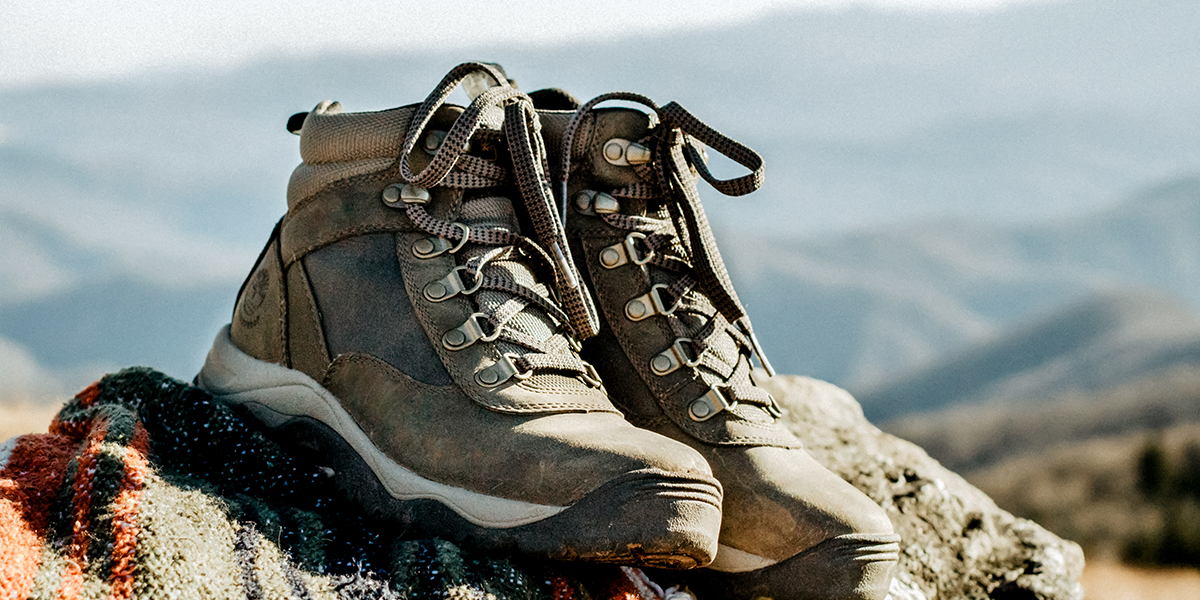 Shop
The Best Hiking Shoes for Any Adventure
Hiking shoes are serious business. Whether you're a hardcore trail runner, are planning on trekking the winding and picturesque trails of Cinque Terre on a bucket-list Italian vacation, or just enjoy the occasional nearby nature hike, the right pair of hiking shoes can make the difference between becoming one with nature or becoming one with painful feet dotted with throbbing blisters. Instead of buying the wrong pair of uncomfortable hiking boots and throwing them dramatically over a cliff mid-hike, check out our guide to the best hiking shoes of 2019. We have everything you need to know about picking out the perfect pair of hiking shoes, along with a selection of our favorites for men and women. Then, you can get to the very fun business of hiking.
HIKING SHOES FAQ

What Should I Look for in Hiking Shoes?
There's no such thing as the perfect pair of multipurpose hiking boots or shoes, one size simply does not fit all. Different hiking needs and different hiking feet have different requirements, so it's important to do your research before you make a decision on hiking shoes. If you live in a rainy climate or don't want to restrict your hiking to perfect weather days, a waterproof shoe with solid traction, such as the Salomon X Ultra 3 GTX, is a must; just understand that you may have to trade in some amount of breathability if you want to keep water out. If you're more of a fair-weather hiker or plan to do a lot of running, something lightweight and breathable, such as the Merrell Siren Edge, is a better bet. And if you're prone to foot sweat and want to keep your shoes from smelling, opt for something with ethylene-vinyl acetate (EVA) insoles, which are designed to prevent odor-causing bacteria from growing.
How Should My Hiking Shoes Fit?
Fit should be your number-one priority when it comes to buying hiking shoes, and it's never a bad idea to go into a brick-and-mortar shop to have an associate help you out, even if you plan to buy online later. Bring the socks you plan to hike in, as even a slight variation in sock thickness can make a huge difference. You'll then want to stand up straight in your shoes and make sure that the sides feel snug, but not tight, and that you have enough room in the toe box to wiggle your feet. Take a walk around and check for any pinching or rubbing. The ankle/heel area should feel snug and not move around when you walk. If you plan to do a lot of long hikes or trail running, remember that your feet will likely swell. It's common to size up to take that swelling into account.
Are There Hiking Shoes for Wide Feet? What About Narrow Ones?
While most hiking shoes are designed for feet of average widths, those with wide or narrow feet need not despair. Many of the major hiking shoe producers make multiple versions of their most popular shoes. For example, the Dunham Cloud Waterproof, is available in narrow through extra-wide sizing options. Some boots are available in narrow, medium, and wide sizing, such as the Lowa Renegade GTX Mid. And if you have particularly narrow feet and still can't find the right fit, you can always outfit your shoes with orthotic support hiking insoles or check out hiking shoes in kids' sizes.
What Kind of Socks Should I Wear With Hiking Shoes?
The height of your hiking socks is an important consideration. While fashion-conscious hikers may be drawn to itty-bitty no-show socks, they leave parts of your feet and ankles exposed to your shoes, which leads to friction and blisters. Micro socks, sometimes called ankle socks, usually hit just above the ankle bone and are a good compromise if you're wearing low-cut hiking shoes and don't want a lot of sock to show. If you plan to do a lot of winter hiking (or bushwhacking through brambles), higher socks are naturally a better idea. No matter what time of year you hike, you're best off using moisture-wicking socks, which will keep your feet dry and prevent odor and discomfort. Most moisture-wicking socks are made with a blend of wool and synthetic materials, from the lightweight, warm weather-friendly Darn Tough Hiker socks to AIvada's 80% Merino Wool Hiking Socks, which have a higher wool-to-nylon ratio to keep your feet warm on cold days.
How Should I Lace Up My Hiking Shoes?
Most avid hikers lace their boots up in a crisscross formation, making sure that the pull of the laces is snug enough to keep feet from moving around in the shoe, but not so tight that it cuts off circulation. If you're prone to intense foot swelling, you may want to leave a little space toward the toe box (or even start your laces on the second eyelet up from the toe). In the same vein, if there's any area of your foot where you need to relieve a bit of pressure, simply skip a row of eyelets. If the backs of your ankles are narrow and you get a lot of slippage as a result, tying a heel lock knot at the top of your shoes will help keep them snug. Most hiking shoes, particularly those designed for trail running, have second eyelets at the top intended just for the heel lock knot. Simply lace your shoes as normal and then thread the laces through the second holes to make a loop. Then cross your laces over the tongue of your shoe and into the opposite loop and tie as normal. If all that sounds too complicated, an easy solution is to pick up a set of Lock Laces, elastic shoelaces with lock grips that provide balanced support across your feet.
How Can I Clean My Hiking Shoes?
Hiking shoes are supposed to get dirty, but they don't need to stay that way. If you live in a wet climate where your shoes are prone to soggy conditions, you may even want to invest in a handy shoe dryer. Some hiking (and cleaning) fanatics buy special shoe-cleaning brushes (but in a pinch, a toothbrush or nail brush will do the trick) along with a bottle of shoe cleaner. And whatever you do, don't soak your shoes or put them in the washing machine, as this will ruin the shape. Make sure you remove any memory foam insoles before cleaning (unless you want to feel like you're walking on soggy sponges during your next hike).
How Do I Deal With Blisters?
Few things will ruin your enthusiasm for hiking faster than a mid-hike blister. The best way to deal with blisters is to avoid them altogether by investing in well-fitting hiking shoes and high-quality socks, and slowly breaking your shoes in before going on a long hike. If there's part of your shoe that tends to rub or pinch, slap on some moleskin or blister prevention tape before you hit the trail. And pack some special blister cushion bandages (just in case) in your hiking bag to treat any unexpected blisters on the spot and on the trail.
THE 5 BEST HIKING SHOES FOR WOMEN
1. The Ariat Terrain
Great for long hikes, the Ariat Terrain resembles a traditional hiking boot, with a high-top design for extra ankle support combined with the suppleness of a normal shoe. It comes in three colors (black, mahogany with maroon detailing, and light brown with multicolored Southwestern-inspired accents) and is available in standard and large widths. Features include built-in moisture-wicking sock liners to keep bacteria at bay, along with gel cushions to help prevent overuse and impact injuries.
2. The Keen Voyageur
The Keen Voyageur is a great all-around hiking shoe made from a mix of mesh and water-resistant leather. It's definitely one of the lighter weight options on this list. It's designed to keep your feet cool on hot summer days without compromising on traction—the soles are big and grippy and these shoes feature Keen's signature toe casing (a lifesaver for those prone to stubbing their toes). Although Voyageurs only come in one width, their roomy toe boxes make them a good choice for people with wider feet. Like all Keen shoes, the Voyageurs come with a removable metatomical footbed, an insole that offers extra big toe support.
3. La Sportiva Synthesis Mid GTX
Although La Sportiva is more known for their climbing shoes than for hiking gear, they make some great shoes for use out on the trail. The Synthesis Mid GTX is one great example. It features a good amount of support and traction, without being too heavy or compromising on flexibility. Instead of traditional shoelaces, they feature thermoplastic polyurethane (TPU) harnesses, which means you never have to worry about laces coming untied. These hiking boots are particularly good for rainy climates, since Gore-Tex exteriors keep water out and slanted lugs on the soles make it easy to stop short without slipping.
4. Merrell Siren Edge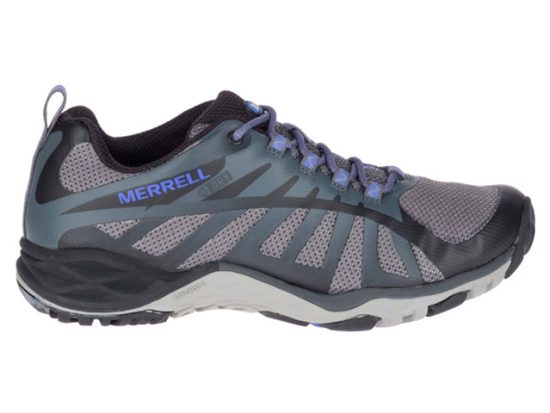 One of the most popular trail shoes out there, the Merrell Siren Edge is a good lightweight (just over one pound for the pair), low-cut trail shoe that's equally good for long hikes and trail running. The Siren Edge is prettier than a lot of hiking shoes (or even running shoes, for that matter) and come in a variety of colors. Features include shock-absorbing heel cushions and contoured EVA footbeds. However, the Siren Edge's star feature is its grippy Vibram outsoles, which makes them useful on even precariously slippery terrain. They're also a good value for money, at a lower price point than many similar shoes.
5. Salomon Speedcross 4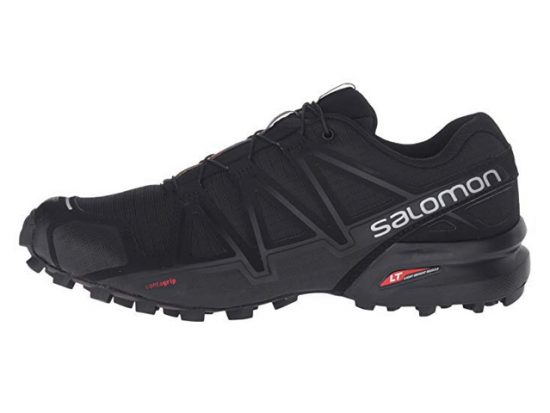 Designed as a trail running shoe but equally useful for those who prefer to move at a slower pace, the Salomon Speedcross 4 is a solid, supportive shoe that comes in a variety of toned-down colors and in both medium and wide versions. The outsoles offer good grip, with a borderline cleat-like lug pattern that makes them great for mud or soft terrain. Odor-fighting EVA insoles can easily be removed for cleaning. These shoes also come equipped with Salomon's signature Quicklace system, which features elasticized cage lacing that can be easily tightened for optimal fit.
THE 5 BEST HIKING SHOES FOR MEN
1. Dunham Cloud Waterproof
If you have exceptionally large and/or wide feet, you're probably well aware of how hard it can be to find shoes in your size at all, much less hiking shoes that you can wear for miles without worrying about pinching or blisters. That's where the Dunham Cloud Waterproof comes in. It's available in narrow, regular, wide, and extra-wide (4E) models and runs all the way up to size 18. This shoe-meets-boot hybrid features waterproof leather uppers, a grippy rubber outsole with a 1.25-inch heel, and a removable EVA/memory foam footbed for extra stability. It's also available in a low version for those who don't need as much ankle support.
2. Keen Rarghee III
The latest iteration of Keen's ever-popular Targhee, this lightweight hiking shoe strikes a great balance between lightness and durability. They're made from waterproofed leather and feature high-traction rubber outsoles with high-grip lugs and extra protection around the toes. Targhees give plenty of support to hikers with high arches, using the company's signature metatomical footbeds to help support the big toe. These shoes area also treated with Cleansport NXT, an antimicrobial technology used to keep stench to a minimum. For those who want a bit more support around the ankle, KEEN also makes a mid-height boot version of this shoe.
3. Merrell Moab 2 Ventilator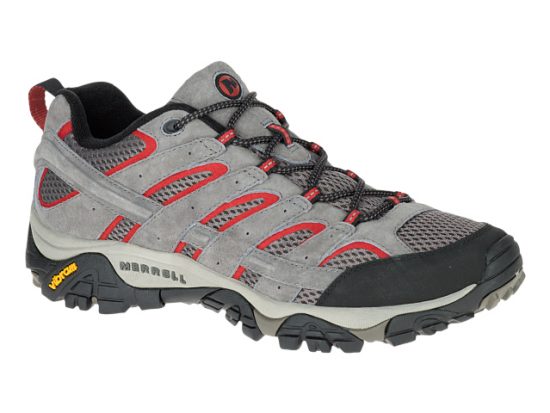 Great for hiking and running alike, the Moab 2 Ventilators are a stylish, lightweight shoe with stylish suede-and-mesh uppers, toe-protecting rubber caps, and cushioned heels for extra support. As the name suggests, these shoes are designed for breathability, making them good for summer hiking, and they're equipped with EVA midsoles to minimize stinky bacteria. And though these aren't waterproof, they Ventilators are great for navigating muddy or slippery terrain, owing to their Vibram outsoles with 5mm lugs that aid with grip.
4. Salomon X Ultra 3 GTX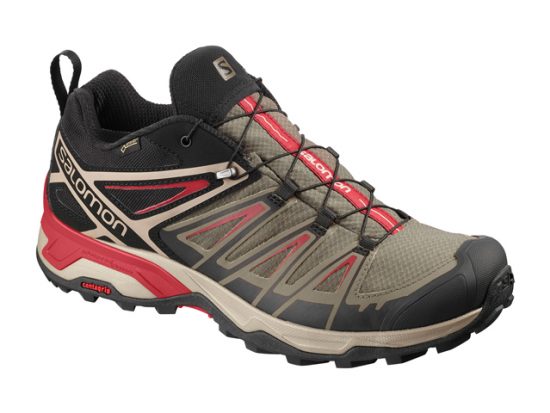 One of the more lightweight Salomon trail shoes, the X Ultra 3 GTX is a stable, stylish hiking shoe with removable insoles. They're sturdier than most trail running shoes, making them more suitable for hiking than long runs, and they feature Salomon's own Quicklace elastic webbed lacing system that makes them easy to slip on and off quickly (and eliminate the risk of your shoelaces coming untied on the trail). The interiors are built for support and comfort, with foam cushioning for extra oomph. Gore-Tex exteriors prevent water from seeping in.
5. Timberland White Ledge
If you're looking for the increased ankle support of a hiking boot with the lightness of a hiking shoe, the Timberland White Ledge is a good compromise. Each boot weighs in at just over a pound and features the traditional look of a hiking boot, with waterproof brown or black leather exteriors. The boots come up to around the middle of the ankle and have solid outsoles for navigating rough or slippery terrain, making them a good choice for trudging across shallow creeks. They also feature removable EVA footbeds for bacteria and odor protection.
Related Stories
All products have been hand-picked by our writers and editors. Items purchased through links may earn us a commission.