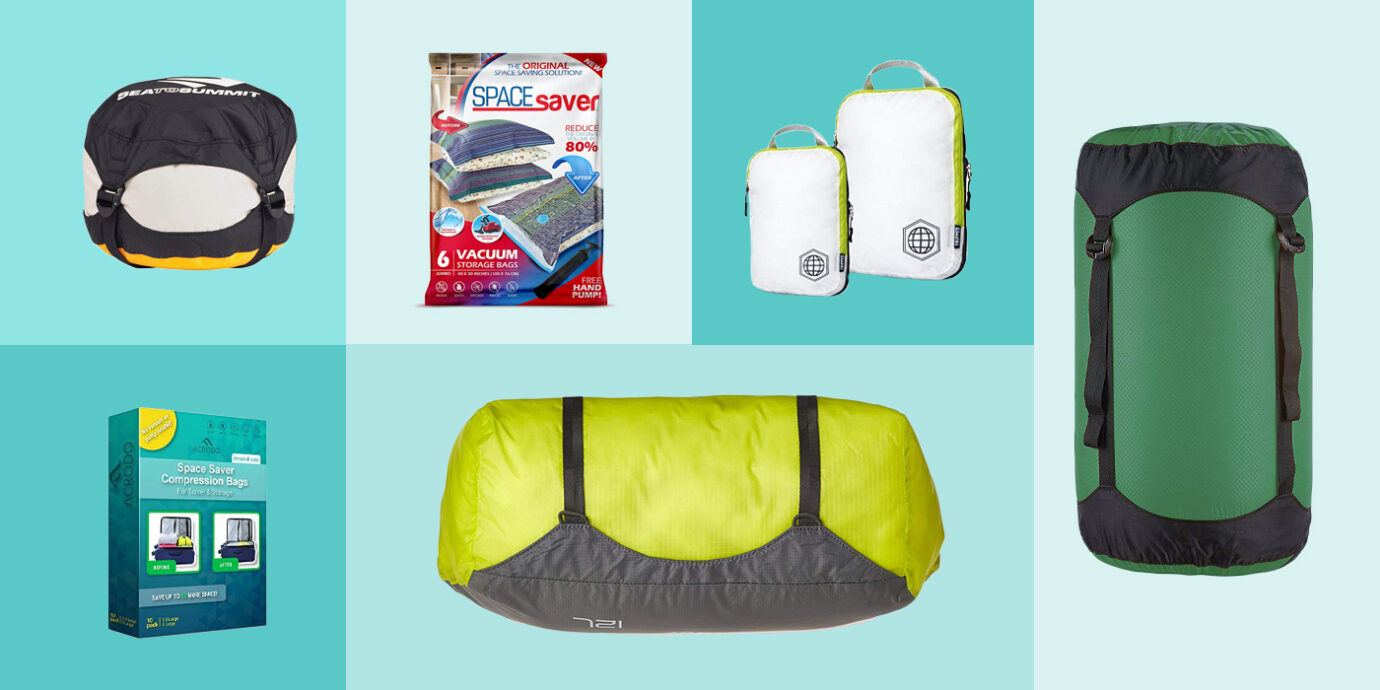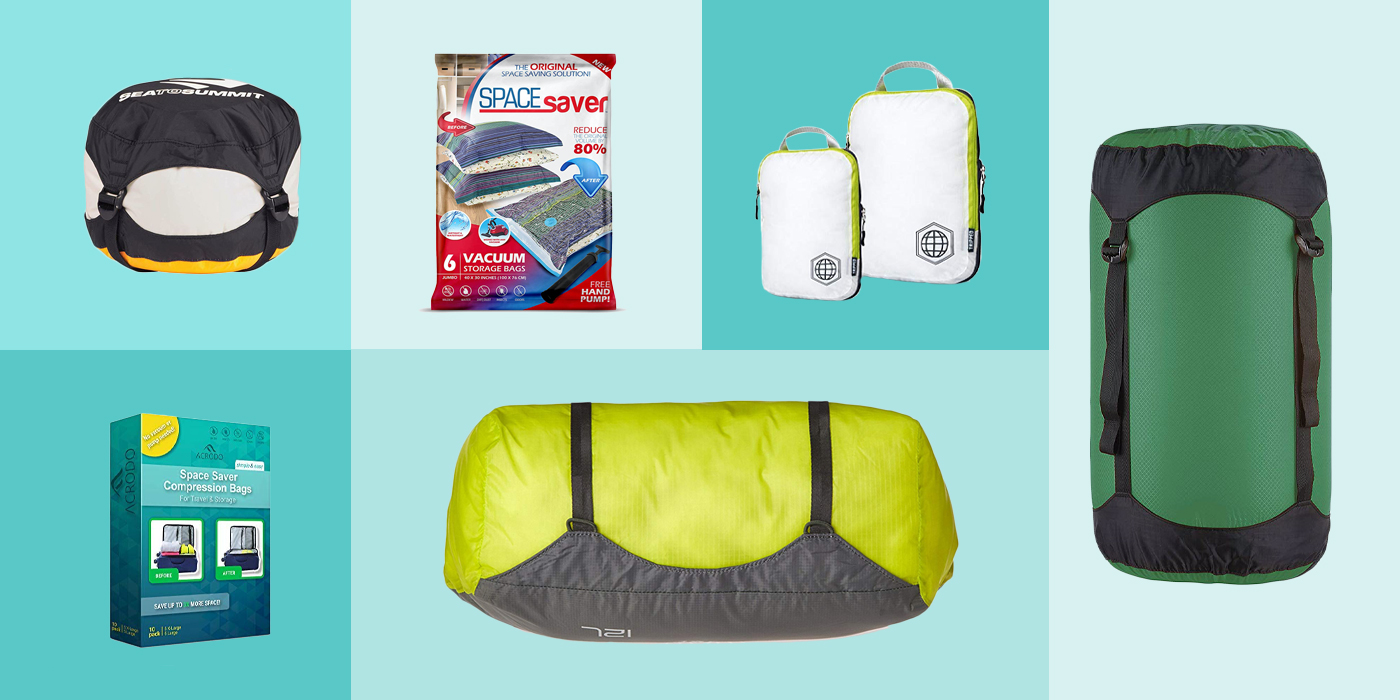 Shop
The Best Compression Bags of 2020 and How to Use Them
If you've ever gone overboard with the souvenirs or wanted to pack just one more outfit for a getaway, waving a magic wand and willing extra suitcase space into existence might've felt like the only fix. Luckily, there is an entire travel accessories category built around creating more packing leeway, and it doesn't have anything to do with sorcery. Compression bags and sacks are designed to reduce the bulk of clothing and other compressible items by squeezing out excess air and volume. Poof!: that pile of stuff you want to pack is all of a sudden way more manageable. Now you have room for the snow globes, back-up ensembles, and other things that simply cannot be left behind. Magic!
How to Use Compression Bags
Compression bags fall into four general buckets. There are zip-top plastic bags, dry bags (designed for outdoor activities), basic drawstring sacks, and nylon bags with compression buckles. The first type—the thick zip-close plastic bags—work by either rolling the packed bag so that the remaining air escapes through a one-way valve or by using a vacuum or pump to remove trapped air. Next up, we have compression dry bags, aka stuff sacks. These feature waterproof seams and zippers, plus compression buckles. Buckles that go around the entire bag are more effective than roll-down tops with a buckle, as the extra material ends up using precious cargo space. The most basic of compression bags, the drawstring sack, is great for sleeping bags, but does not provide the best compression for clothes. And finally, there are nylon bags with compression buckles—one of the best options for packing clothes. Their typically square or rectangle shape is best for accommodating clothing, and their buckles effectively prune space and make your load more manageable.
What Is a Compression Bag Used For?
Compression bags are used to slash the size and bulk of larger items, such as clothing or sleeping bags. By removing extra air and constricting items to the smallest amount of space possible, compression bags allow you to fit more things into your luggage. Compression bags are great for organization and space-saving, but they're tricky to open in a hurry (so don't store a rain jacket in one).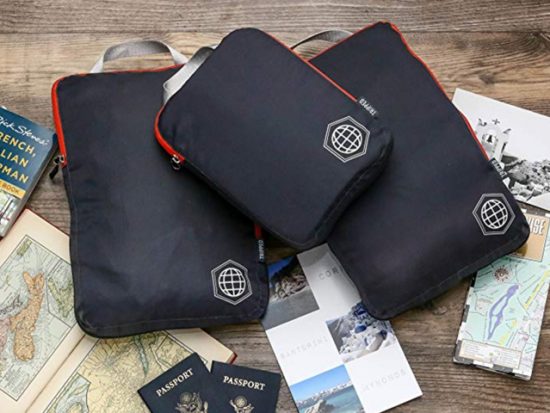 What Sort of Items Are They Used For?
Sweaters, puffy jackets, and other hefty items made from flexible fabrics are ideal candidates for the compression-bag treatment. Compression bags will make no difference for structured objects, like jewelry, shoes, electronics, books. But if you're wanting to sneak in additional warm layers for a ski trip or simply get away with a few "just in case" options, confining your wardrobe via compression bags is the way to do it.
Do They Really Save Space?
Yes, compression bags really, truly save space. The larger the item, the larger the potential space payoff. Think of compression bags and sacks as packing tools that can shrink unwieldy space-hoggers to a fraction of their size, depending on the material. Even compressing itty items like swimsuits, travel dresses, shorts, and blouses is beneficial—it creates more negative space for bringing extra stuff or stashing vacation purchases. Just remember that compression bags save space, but don't cut weight.
How Do They Work?
Roll or fold clothes to be as small or flat as possible.
Place the clothing inside the compression bag, leaving enough room to securely fasten it shut.
Using the particular compression method—be it a vacuum, valve, drawstring, or series of straps—tighten the bag. This pushes out excess air from within the bag until it cannot be made any smaller.
Double-check that the bag or sack is sealed well, then set aside to pack into a suitcase, backpack, or travel bag.
Place the compressed, packed bags from largest to smallest at the bottom of a suitcase moving up, or from the back panel of a backpack moving forward.
Arrange any additional non-compressible items around the compressed bags to ensure they fit and are not damaged during travel.
The Best Compression Bags for Travel
The Best All-Around Compression Bag for Travel
Our across-the-board top pick, Osprey's StraightJacket Compression Sack is made from durable nylon and features heavy-stitched seams that protect against overpacking-induced tearing. The stuff sack's zipper runs the length of the back, so loading up and accessing clothes is a cinch. Water-resistant coating will keep contents dry, so as long as the bag isn't totally submerged.
The Best Compression Bag for Sleeping Bags

Rolling up and packing a slippery sleeping bag with a mind of its own: infuriating. Keep your camping-kindled Zen in tact by loosely rolling up and slipping your sleeping bag into ALPS Mountaineering's Compression Stuff Sack, whose four winged straps shield the bag from rips and distribute pressure to make cumbersome pieces (like sleeping bags) nice and compact.
The Best Compression Bag for Backpacking
Similar to most other dry compression bags, the waterproof Sea to Summit eVENT Compression Dry Sack has a buckle at the top (also known as a lid). What makes it stand out from the rest is its hood for the lid. After rolling down the top to push out excess air, it's buckled then fitted by a secondary lid. In short: the entire thing can be compressed a second time.
The Best Roll-Up Compression Bag
This 10-pack comes with five large (23 x 15.5 inches) and five extra-large (27.5 x 19.5 inches) thick plastic bags that don't require a vacuum to remove air and seal. Simply place inside and roll up the bag, squishing out all surplus air along the way. You're left with a shrunken air-tight and waterproof bag ready to slip into your luggage.
The Best Vacuum Travel Bags with Pump
These hard-core plastic bags by Spacesaver are intended for household items like pillows and comforters, but they're game-changers for travel, too. Between the travel-friendly hand pump (a blessing when you're packing for the return trip), the double-zip seal, and the triple-seal valve, every bit of air out gets sucked out and none gets back in.
The Best Small Compression Bag
Sea to Summit's ripstop fabric sacks come in a range of sizes, but the small comes in at just under nine inches in length, while the extra-small is about five and a half inches. Despite their small size, the lightweight sacks have four winged compression straps for security and evenly doled out pressure.
The Best Compression Cubes for Travel
All packing cubes are good for organizing contents, but not all are good for condensing. This set of packing cubes pulls double duty, providing order and compression for a tidy suitcase with less heft. Open the expansion pocket zipper, pack clothes, then zip the first zipper to close. Then, to remove air, press on the cube until it is flat as you zip the expanded pocket closed.
The Best Hanging Packing Cubes
Though it's not a true compression bag, Artostravel's waterproof hanging closet organizer does a lot to pull its weight on a trip. For starters, each of its compartments zips closed—a luxury not found on many hanging packing cubes. In addition to the two zippered compartments for clothes and toiletries, there is a third pocket that can be unzipped to expand and pack dirty clothes or shoes.
Our Favorite Items to Stuff in Compression Bags
Related Stories
All products have been hand-picked by our writers and editors. Items purchased through links may earn us a commission.