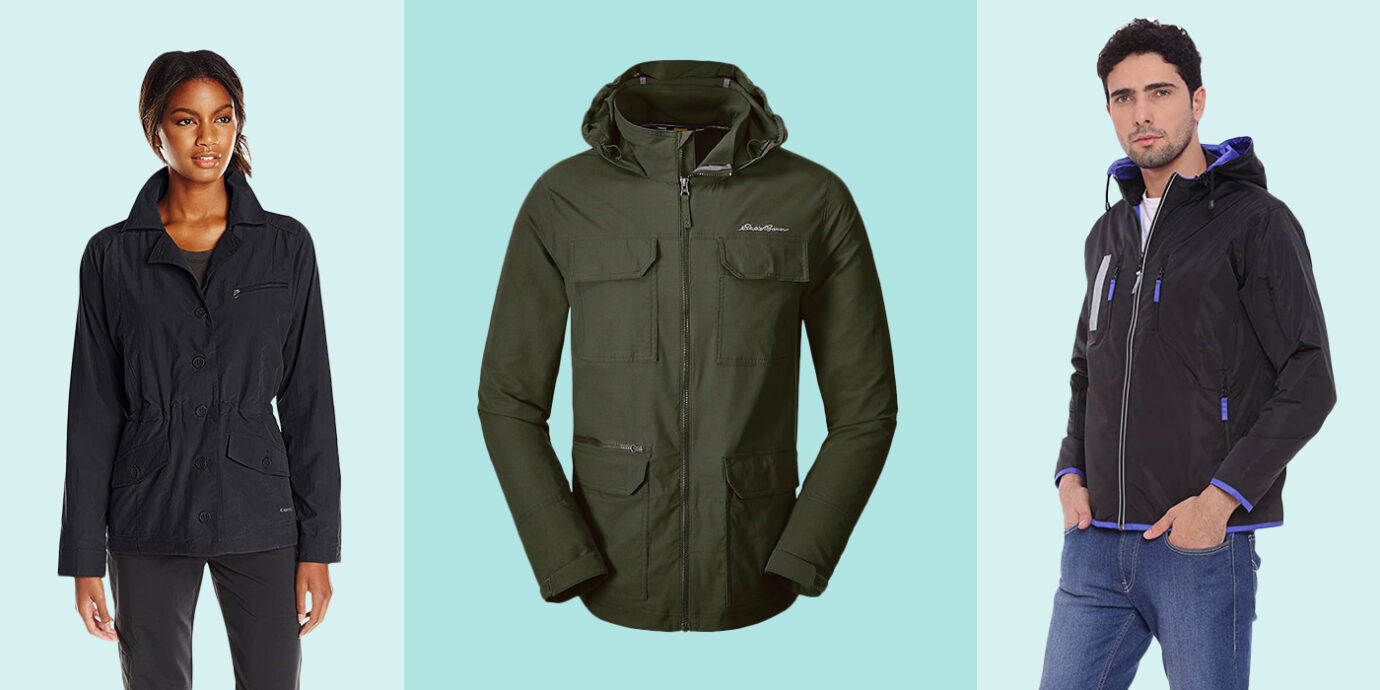 Shop
The Best Jackets With Hidden Pockets for Men and Women
Traveling can be a nightmare when you're trying to juggle a rolling bag, a backpack, a shoulder bag that keeps falling off because of said backpack, and who knows what else. (A duty-free shopping bag, perhaps?) Then you've got to haul it all from the airport to the hotel, then maybe to another hotel, then maybe on and off a tour bus. It's not exactly relaxing, and it's definitely not convenient. Well, here's an idea: haul your camera, keys, phone, magazine, books, and travel documents in a jacket instead.
These jackets are designed with multiple pockets to make your carry-on situation a breeze. Even if you're not interested in carrying all your stuff in your coat, these hidden pockets add extra security when you're traveling to a new country or big city. Rather than keeping your phone in your back pocket or dangling a purse around, secure it in a zippered internal pocket, away from people who might be looking for an easy theft. Ready to make the switch? These are the best jackets with hidden pockets.
Best Men's Jackets With Hidden Pockets
1
ScotteVest Jacket
The leader of the pack when it comes to carrying all your gear in pockets, ScotteVest has pockets for everything: your hands, your phone, your pens, your glasses, camera, tablet, ID…and even more pockets to spare. If you think that sounds like a lot of stuff, know that the jacket is specifically designed to evenly carry weight across your shoulders. Another useful bonus is that the sleeves of this jacket are removable, so if you get a sunny day on your travels, you can still bare arms without leaving your precious stuff behind. We hope you like neutrals, because this design only comes in black, blue and beige.
Pros: Tons of pockets, zip-off sleeves
Cons: The jacket runs a little wide; limited color selection
Material: Cotton (65%) and nylon (35%)
Number of pockets: 25
Shop Now
2
Versatyl Unisex Travel Jacket
This 18-pocket Versatyl Unisex jacket is great for every day to cover up in the wind or add an additional layer in the cold. The jacket is made with pouches specifically designed to carry a phone charger, secure headphones, warm your hands, and one of the pocket stores a tote bag that you can use when you're shopping (unless that shopping fits in one of those pockets…). The jacket also has retractable gloves in the sleeves and a removable hood. Even better, it's compact: the jacket can fold into itself, so it won't take up precious cargo space in your carry-on. It runs small, so reviewers suggest ordering at least one size larger than usual.
Pros: Wrinkle-free and water-resistant (but not waterproof); has its own satchel
Cons: Jacket runs small—read sizing instructions carefully
Material: Cotton and polyester
Number of pockets: 18
Shop Now
3
AyeGear V26 Vest with 26 Pockets
Technically this is a vest, not a jacket, but with 26 pockets we would be remiss not to add it to the list. A few features make this option stand out: two pockets have a touch-sensitive surface, so you can use your phone without taking it out (although we probably wouldn't try texting with it); it's waterproof and easy to layer; two layers of fabric make it extra-durable. The vest says it can be used as its own carry-on, and one reviewer put it to the test, stuffing an entire backpack's worth of gear in his vest before boarding a flight.
Pros: Waterproof
Cons: Not especially breathable, according to reviewers
Material: Unclear—but whatever it is, it's waterproof!
Number of pockets: 26
Shop Now
4
Eddie Bauer Atlas Stretch Hooded Jacket
Though it doesn't have nearly as many pockets as the first two, this water-repellent jacket from Eddie Bauer still does a great job with seven exterior pockets and one hidden interior pocket designed for travel documents. The hood can be stored by rolling it and securing it with a Velcro strap, and a hem cord helps seal it over the hips. Also excellent: it's machine washable (hallelujah!). It does fit slimmer than some of the other options on the list, but also has two-way stretch for comfort. If you like an athletic look, go for this one.
Pros: Slim fit, accurate sizing
Cons: Fewer pockets than some other options
Material: Nylon and spandex
Number of pockets: 8
Shop Now
5
ScotteVest T5 Sport Coat
Maybe the adventure-chic look isn't quite your style and you need something functional that can also be taken to a board room. Sound like you? Consider ScotteVest's T5 Sport Coat, which has 19 pockets for a camera, tablet (up to 12.9 inches), phone, four pens, and an RFID-blocking pocket (which can help prevent identity theft). Reviewers say it's a bit warmer than a hoodie, so great for moderate weather conditions or an air-conditioned office. Most people like the fit right out of the box, though it's also easy to tailor.
Pros: Sleek, functional, and spacious
Cons: Some reviewers complained that the shoulders and chest were too tight
Material: Polyester, rayon, and spandex
Number of pockets: 19
Shop Now
RELATED: 10 Best Sport Jackets for Any Occasion
Best Women's Jackets With Hidden Pockets
6
ScotteVest Pack Windbreaker
Another option from ScotteVest, this one is a windbreaker designed specifically for women (so a more flattering shape than the men's version) but still comes with 19 super-useful pockets—14 of which are hidden in the interior. Interior pockets include pouches for cameras, tablets, travel documents, glasses and IDs. Both water and stain resistant, the jacket is super-duper light (literally less than a pound!) Also nice: the hood folds into itself, and in addition to grey and navy, the jacket comes in red. Reviewers have said it's even eliminated the need for a purse, although it can get a little bulky when you've loaded it to the brim.
Pros: Folds into its own pocket, super lightweight
Cons: Reviewers say if you plan to layer or don't like a snug fit, size up
Material: Polyester
Number of pockets: 19
Shop Now
7
Bombax Women Travel Jacket 10 Pocket Bomber
This bomber-style jacket has some great travel features before we even get to the pockets bit. First, it has a detachable neck pillow that you can inflate on the go, built-in fingerless gloves and a zipper that doubles as a pen or stylus. As far as pockets, it's got the standard setup for a tablet and phone, but it's also got a stand-up drink pocket, so you can stash a beer or coffee when you need your hands free. And it's machine-washable, so it's easy to take care of on the go. It's a lot more stylish than the other picks, too (not that we're choosing favorites).
Pros: Stylish, with extra travel features
Cons: Both the jackets and the pockets themselves run small
Material: Cotton and polyester
Number of pockets: 10
Shop Now
8
Levi's Women's Lightweight Cotton Hooded Anorak Jacket
Four exterior pockets and two interior pockets make this the jacket with the smallest number of hidden storage spots on the list, but it's still more than enough to keep your carry-on weight down and to skip a bag while sightseeing. The hood can be snapped on and off and sleeves can be rolled for warmer weather. It's breathable but a nice layer on mild days (50 to 60 degrees Fahrenheit) according to reviewers. Most say that the fit is relaxed enough that you can fit another sweater underneath, too, if it's a little colder.
Pros: Soft, comfortable fabric; cinchable waste
Cons: Some reviewers think the shoulders fit a bit tight; not all colors are true to the pictures
Material: Cotton
Number of pockets: 6
Shop Now
RELATED: 10 Great Travel Jackets That Are Easy to Pack
9
ExOfficio Women's Round Trip Jacket
This zip-up jacket (the buttons are just for show) has an interior six-pocket system, including a designated phone pocket (which admittedly runs too small for Plus models of the iPhone) and a spot for a smaller iPad or tablet. The cinching waist helps to tailor the jacket to your exact size, and it's loose enough to fit a sweater underneath. The fabric is coated with a water-resistant finish, too, so you can take it out in light rain. If you've got shorter arms, beware that reviewers say the jacket's sleeves run long and aren't great for rolling, so you may need to visit a tailor.
Pros: Great internal organization, stylish
Cons: Mixed reviews about how well the jacket releases wrinkles, the sleeves run long, and reviewers say it attracts lint
Material: Nylon
Number of pockets: 10
Shop Now
10
ScotteVest Women's The Rhonda
Another winner from ScotteVest, this coat reaches down over the thighs for chillier days (though it's not waterproof, so have an umbrella handy…maybe in one of your many pockets!). The Rhonda has 20 pockets, a removable extendable key holder and a pocket that even functions as a bottle holder. Better yet, the coat doesn't look bulky unless you really overfill the pockets, so carrying your stuff won't ruin the silhouette. (One reviewer has taken to calling it her "gadget jacket.") The fabric is also super soft. You can stow the hood when you don't need it, it comes in three earth-toned colors to match your wardrobe, and sizes go up to 3XXL.
Pros: Soft, comfy, nice silhouette even when full
Cons: Not everyone thinks it fits true to size
Material: Polyester
Number of pockets: 18
Shop Now
Related Stories
All products have been hand-picked by our writers and editors. Items purchased through links may earn us a commission.