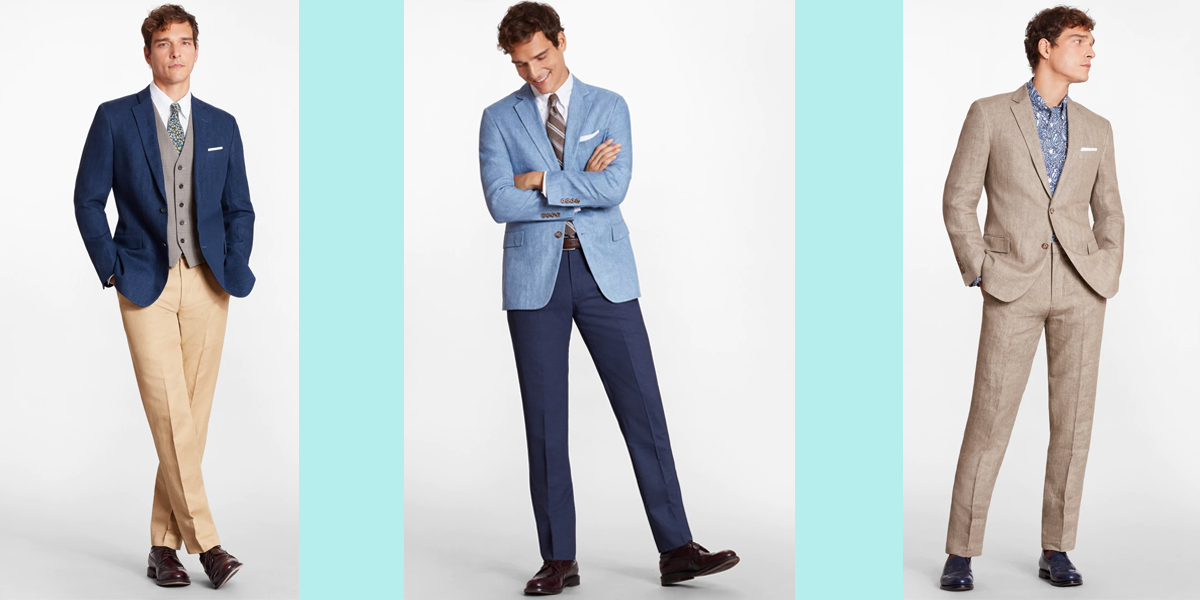 Menswear
10 Best Sport Jackets for Any Occasion
Sport jackets make a perfect companion for any situation that might require a bit more formality than what's typically expected, but doesn't require a full suit. The versatility of the piece alone (you can wear it with jeans or dress pants, a sweater and tie, and to events from a first date to a wedding) lends itself to having a permanent spot in your closet. Below, find 10 of our favorite sport coats, suited for whatever life throws at you.
Sport Jacket Versus Blazer Versus Suit Jacket: What's the difference?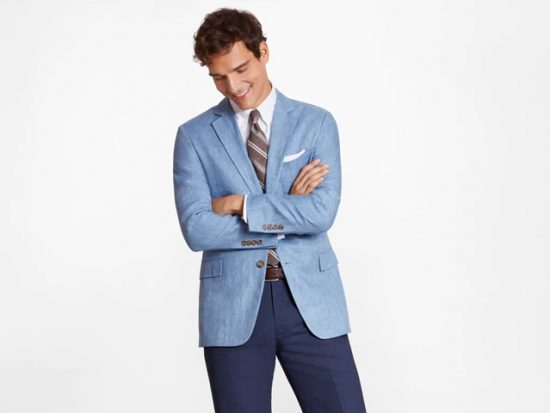 Compared to the array of seemingly endless fashion choices women have to contend with, menswear seems pretty simple. When it comes to men's formal fashion from the waist up, there are really only three items from which to choose: the suit coat, the blazer, and the sport coat. Despite their similar nature, there's a decided difference between each—and it's easy to keep track of what's what: A suit coat comes with your suit, a blazer is a separate, but still formal, jacket that often looks like a suit coat, and a sport coat is typically a more casual or looser fitting jacket that was popularized for sporting activities (i.e., shooting, which is why historically most sport coats were made of heavier fabrics to keep a man warm while he was huddled in a duck blind).
Sport Jackets For Every Season and Scenario
Best Sport Jacket to Wear with Jeans
Trim Fit Double Face Ponte Sport Coat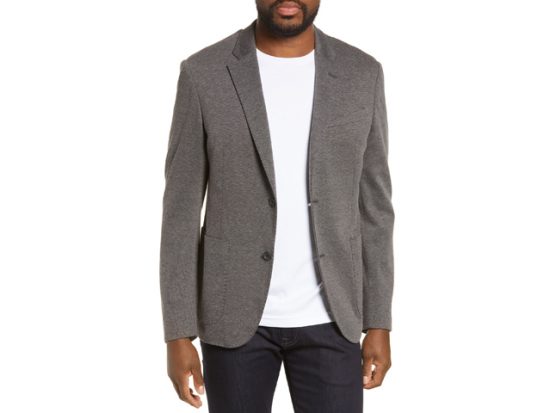 The unstructured look of this sport coat and the deep u-shaped pockets lends itself to a more casual look that goes perfectly with jeans. The coat comes in gray or blue, and we'd recommend pairing either hue with a dark wash pair of jeans to keep the overall look polished. Stretchy ponte fabric assures all-day comfort, from the boardroom to beyond.
Best Sport Jacket to Wear with Dress Pants
Haggar Slim Fit Sport Coat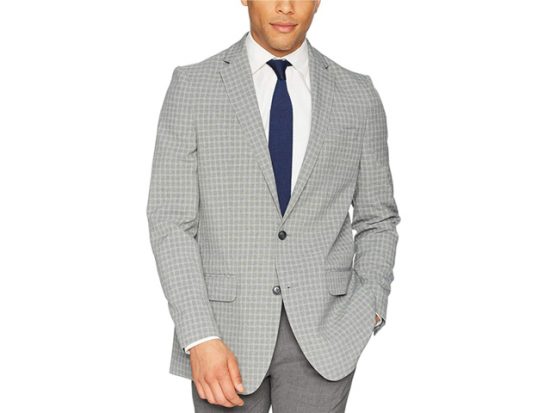 Most men have a standard pair of gray or navy dress pants. But what to wear on top? This sport jacket from Hagger fits right into that wheelhouse, and the subtle grid pattern helps to add a bit of panache. The slim fit and two side slits are universally flattering and the two closure buttons allows wearers to experiment with how much underneath shirt they want to show.
Best Sport Jacket to Wear in Summer
Brooks Brothers Regent Lit Linen Sport Coat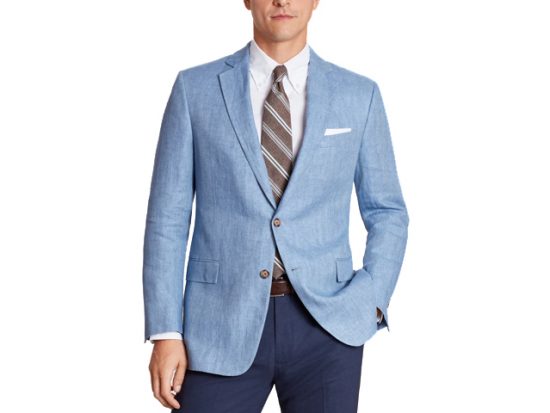 Linen is a super lightweight and breathable fabric that's a secret weapon for dealing with any situation (hello, July wedding invitations) that requires a sport coat in the middle of summer's heatwave temperatures. And while naysayers will point out that linen wrinkles easily, this regent fit Brooks Brothers sport jacket's trim fit with chest and sleeves cut slimmer to the body, should be your go-to companion for summertime dressing.
Best Sport Jacket to Wear in Fall
Modern Fit Windowpane Sport Coat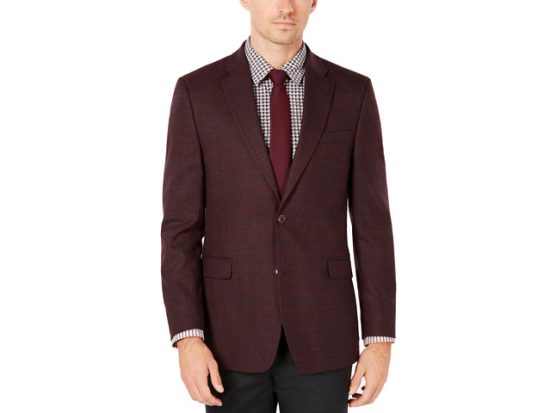 Autumn's temperature dips call for a wool-blend sport jacket, like this offering from Tommy Hilfiger that's in a fall-approved burgundy hue. The subtle windowpane pattern adds interest and the athletic fit is slightly roomier in the chest and waist. Bonus: this jacket is lined, meaning you won't have to find a lightweight outer coat to wear over the top.
Best Sport Jacket to Wear in Winter
Ralph Lauren Classic Fit Herringbone Wool Sport Coat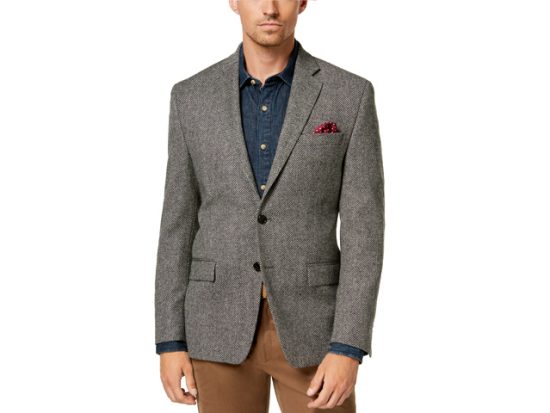 Sport coats were originally made from fabrics like wool and in patterns like herringbone, so this Ralph Lauren sport jacket pick is perhaps the most "traditional" selection. And with good reason: the wool provides warmth in the frigid winter and the herringbone pattern gives off decidedly stylish vibes. Add a cheerful pocket square in a bold hue to really heat up your look.
Best Sport Jacket to Wear in Spring
Collection Slub Weave Sport Coat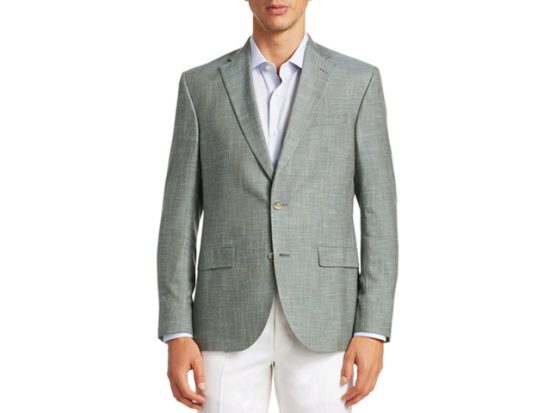 Moss is definitely an unconventional choice for a sport coat, but this subtle green sport jacket from the Saks in-house collection is definitely stylish (and won't get confused for a certain famed green golf jacket). We love the subtle—but knowing—nod to nature's yearly rebirth. This coat would look great everywhere from a spring wedding to Easter Sunday services.
Best Sport Jacket Under $100
Linen Cotton Slim Fit Sport Jacket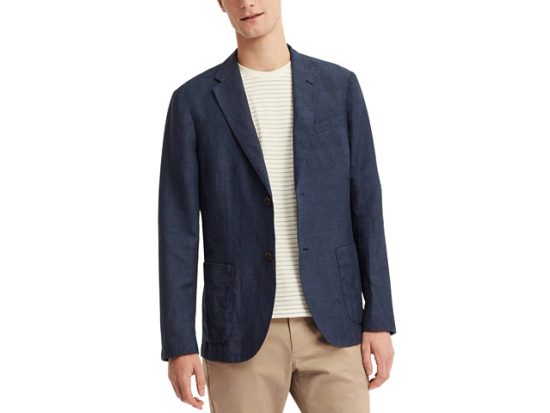 Formalwear can be a bit expensive to invest in, but you don't always have to pay a lot of money for a great jacket. This sport jacket from Uniqlo is the perfect solution for style on a budget. It doesn't skimp on construction (it's a cotton-linen blend with an Oxford weave) and it comes in flattering shades of navy blue, beige, or navy. Better yet, it's cheaper than a pair of Nikes. This is the sport jacket for a casual date you want to impress without looking like you tried too hard.
Best Solid Black Sport Jacket
Calvin Klein Textured Sport Coat

A solid black sport jacket should be a staple in any well-dressed man's closet. This Calvin Klein sport coat is just the ticket, thanks to the slight stretch of the material, notched lapel, and left chest welt pocket. This sport coat is sure to have you feeling—and looking—your absolute best on any number of special occasions from a job interview to an elegant destination wedding.
Best Patterned Sport Jacket
U.S. Polo Blue Paisley Sport Coat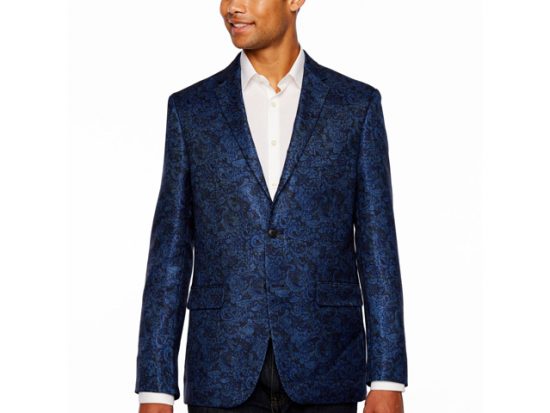 Some occasions call for a bit more. If you're invited somewhere artistic, like an art opening or a Broadway play, you may want to jazz up your look with a dash of color and pattern—that's where this blue paisley sport coat comes in. It's a fun and fashion forward choice that will definitely turn heads. Consider pairing it with black oxford shoes to dress it up or fresh white sneakers to keep it cool.
Best Colorful Sport Jacket
Nautica Bright Blue Jensen Sport Coat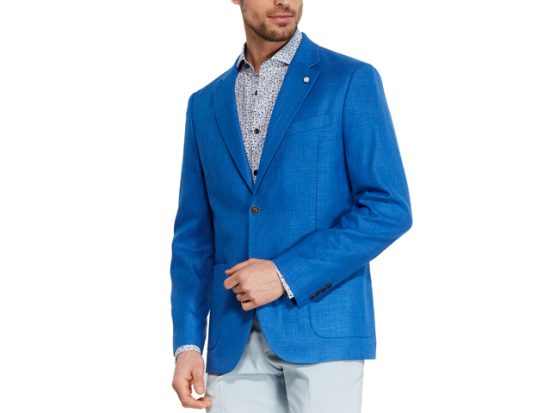 Without a doubt, this bright electric blue requires a certain level of confidence to pull off, but if you're looking for something that's sure to well…electrify your outfit, the Nautica sport jacket has your back. Feel free to pair it with an equally bold shirt (but go neutral with the pants or you'll veer into costume territory) if you're ready to heat check your overall fashion sense.
How to Properly Store a Sport Jacket
After you've decided on your sport jacket (or two) of choice, it's important to know how to best take care of it so it will look good for years to come. It's true that sport coats are designed to take more of a beating that your standard blazer or suit jacket, but you'll still want to take just as much care of it as you any other piece of formalwear. Once you're done wearing it, take it to the dry cleaner if it's stained or cloaked in cigarette smoke. You may be able to just take a lint roller to it and spot clean any minor spills. Hang it on a heavy duty wooden hanger in the closet, as wire hangers don't offer the right amount of support and can pull or stretch the fabric in unwanted ways. If you think you're not going to wear the jacket again for a while, place it in a breathable garment or suit bag to protect it from gathering dust.
How to Properly Pack A Sport Jacket for Travel
This wouldn't be What to Pack without a primer on the best way to pack your sport jacket for any on-the-go situations! Getting a sport coat travel-ready is a lot easier than you may think: Start by placing the coat down on a flat surface and then fold the left shoulder of the coat about halfway back. Then, take the right shoulder and turn it inside out, tucking the left into it so that the lining of the coat is facing out. From there, fold the jacket vertically in half and place it in your bag. Pro tip: If you hate the idea of folding a sport jacket, hang it in a handy dandy garment bag—and go.
Related Stories
All products have been hand-picked by our writers and editors. Items purchased through links may earn us a commission.