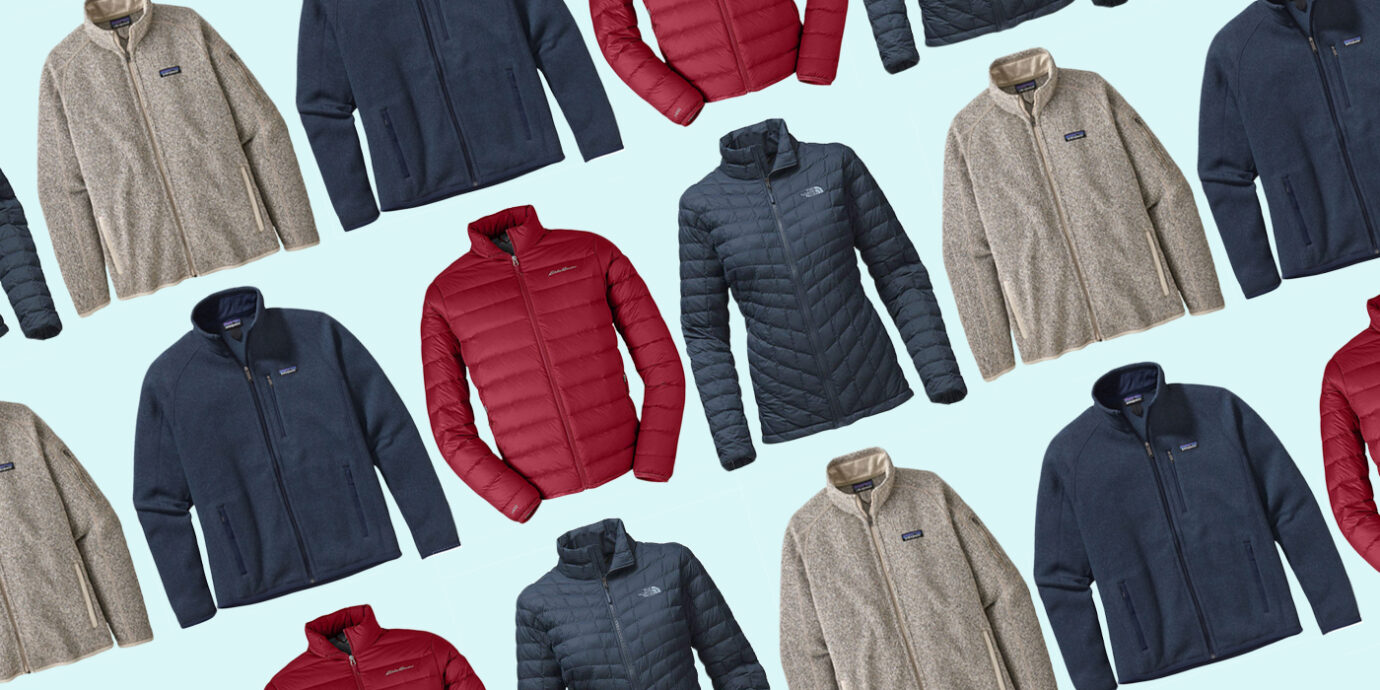 Shop
The Best Zip-Pocket Jackets for Men and Women
When it comes to outerwear, everybody's got their preferences. Some people love a hood, others insist on waterproof gear, and still others swear by their trusty denim jacket. Personally, we're team zip pockets. Why? They're the best way to carry valuables, especially while traveling. Most zip pockets lie flat without bulging, meaning you can transport your items safely and discreetly—with zero chance of anything falling out (no more nightmares about losing your passport). Whether you dig fleece or canvas—or need a one-style-suits-all jacket that you can take around the world—there's a zip-pocket option for you. These are the best of the bunch for men and women.
BEST MEN'S ZIP-POCKET JACKETS
1
Best Men's Zip-Pocket Fleece Jacket

Any good layering system needs a solid mid-layer. A fleece jacket is an excellent choice—it's breathable, dries quickly, and can even hold up to chilly temperatures on its own. This one has three zippered pockets (two at the waist, one at the chest), plus a flat-seamed design, so you don't get that Michelin Man look. But what makes this Patagonia option really stand out is that it's made from 90% recycled materials. (No surprise, given the company is leading the outdoors industry with its environmental focus.) In other words, this jacket will warm your core and your heart.
2
Best Men's Zip-Pocket Puffy Jacket

The stars have come out for this jacket—4.4 on Amazon, to be exact. People are wild about its lightweight feel and comfy warmth, even in blustery, below-freezing temps. Thanks to a humanely sourced down filling, it scrunches down for easy storage in a backpack or carry-on (no overhead space, no problem). A water-resistant coating deflects drizzle, a high-neck collar braces against the cold (there's also a hooded version, should you prefer), and two zip side pockets keep precious cargo safe.
Buy It Here
3
Best Men's Zip-Pocket Canvas Jacket

The Kuhl jacket looks like it was designed for a ranch-hand-meets-PNW-camper—in the best way. With zipped hand-warming pockets, a chest pocket, and an interior zipped pocket, it's basically the jacket equivalent of cargo pants, but way sleeker. The canvas material is made of 100% cotton, so it's durable as heck and you won't have to worry about snagging it on every tree branch.
Buy It Here
4
Best Men's Zip-Pocket Rain Jacket

Every closet needs at least one rain jacket, so you might as well get one you love. This Columbia choice comes in 15 colors and folds into its own pocket for easy storage (dream!). The waist-level pockets are zippered, and the inside is lined with mesh to create a barrier between you and the cold, cold rain. The bottom is also adjustable, so it's well suited to different body shapes. Perhaps most importantly, it really does keep the rain out. Several reviewers shared stories of wearing the jacket in a downpour and walking away dry as a desert.
Buy It Here
5
Best Men's Zip-Pocket Travel Jacket

Another puffy jacket, this one is made of water-resistant fabric and follows Responsible Down Standards. In other words, it's a wear-everywhere jacket you can feel good about buying. Heads up, frequent flyers: It also folds up into an excellent neck pillow, which sure as heck beats using valuable luggage space for something you'll only use on the plane. (Save that room for souvenirs!) In addition to zippered pockets in the front, the jacket has hidden pockets inside, and reviewers praise its warmth-to-weight ratio.
Buy It Here
BEST WOMEN'S ZIP-POCKET JACKETS
6
Best Women's Zip-Pocket Fleece Jacket

We already raved about the men's version of this jacket, and we're happy to say the woman's version is just as functional, just as eco-conscious, and also comes in really lovely (and cheekily named) colors like Light Balsamic (maroon) and Piki Green (evergreen). The jacket has similar zippered front pockets but moves the men's chest pocket to the upper arm—nice for storing a phone during a chilly run. Reviewers say it runs a bit small, so if you plan to layer, size up.
Buy It Here
7
Best Women's Zip-Pocket Puffy Jacket

This puffy jacket uses synthetic PrimaLoft, which stays warmer than down if it happens to get wet (though it probably won't, given the jacket is water- and wind-resistant). As one reviewer points out, many puff jackets can be quite noisy, but this one's surprisingly quiet—an added benefit if you're trying to be stealthy (or just don't want to wake your neighbor up while camping). It has two front zip pockets for your hands, as well as an internal zip pocket at the chest. Another perk: The North Face gear has a lifetime guarantee, so you know it's made to last.
Buy It Here
8
Best Women's Zip-Pocket Faux Leather Jacket

If style is just as important to you as warmth, this fitted faux leather jacket has a cool motorcycle-chic vibe. While most of the zippers are just decoration, the zipped pockets on the front are real, though not especially large. A (removable!) cotton hood and soft lining also adds a cozy touch. Reviewers say they love the jacket—it's warm enough even in freezing temperatures—but sizing can be a bit difficult, so read carefully to make sure your measurements are right. And look closely at your selection, as there are a few different designs listed on the same Amazon page.
Buy It Here
9
Best Women's Zip-Pocket Rain Jacket

If you're of the opinion that rain jackets can turn even the most curvaceous body into a formless blob, the Columbia Pardon My Trench will change your tune. This thigh-length raincoat cinches around the waist with a large sash and comes in eight different hues, from mood-brightening yellow to pretty peach. Reviewers love that it's cute enough to wear even when it's not raining and say it's roomy enough for multiple layers. Even better: Select colors are on sale for a budget-friendly $40.
Buy It Here
10
Best Women's Zip-Pocket Travel Jacket

Hate dragging a backpack or purse around with you on your travels? Great, because this jacket has, as one reviewer writes, "pockets galore." There are three zip pockets on the outside in addition to fold-over pockets. Although it's made of breathable cotton, it's also water- and wind-resistant, making it the "perfect jacket for changing weather," according to another reviewer. The nipped waist keeps it looking tailored whether you're wearing a bulky sweater or workout clothes.
Buy It Here
Related Stories
All products have been hand-picked by our writers and editors. Items purchased through links may earn us a commission.