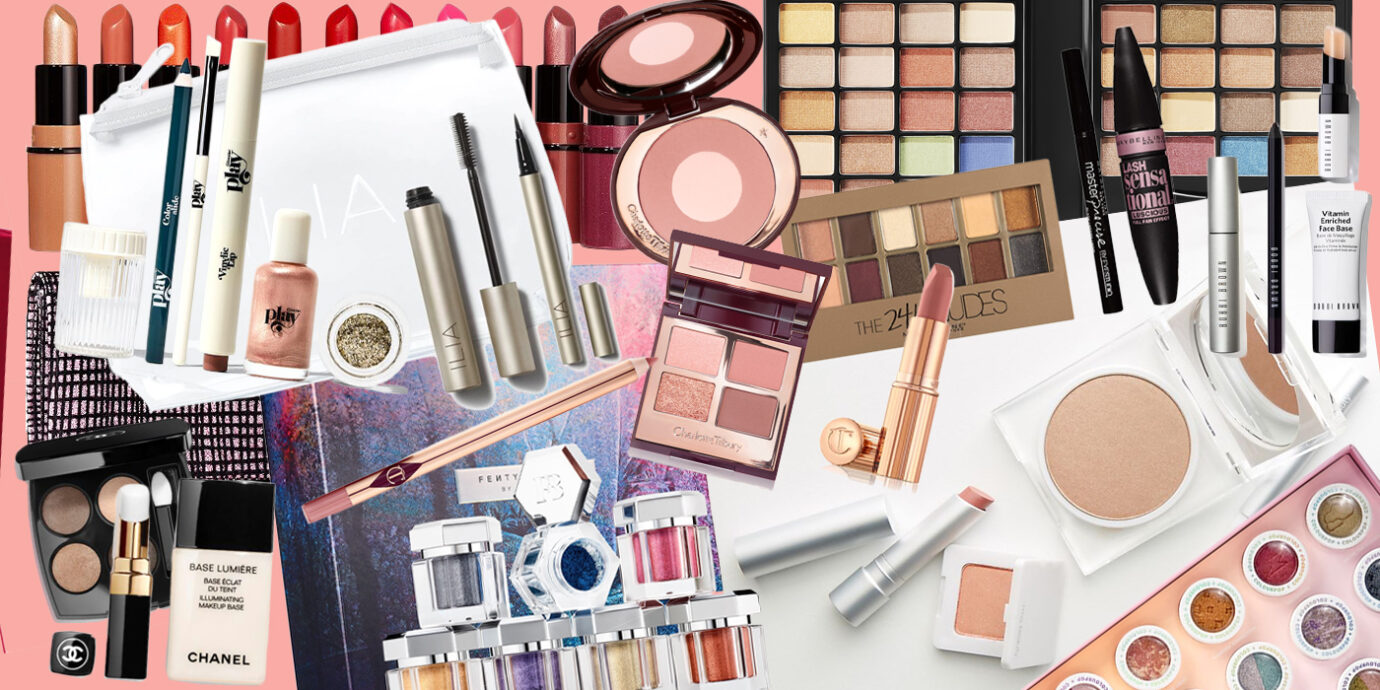 Shop
The Best Makeup Sets, From Glossier to MAC
There's only one thing better than the gift of makeup. It's the gift of even more makeup, all in one handy little set. And lucky for all of us, beauty companies are wrapping up their all best products into one package, tying them in pretty bows, and slashing prices on the whole shebang. We've sorted through all the beauty bundles on offer everywhere from Glossier and Sephora to Target and Amazon, weeding out the ones with filler items and finding the gems with best products for a steal. Whether you're shopping for a bestie or stuffing your own stocking, we've got the makeup sets that will keep that festive cheer going all year long.
1
Bobbi Brown Away We Glow Set
Bobbi Brown has the set of the season, packing six full-size products inside a slim (and very pretty) bag. At $100, it's less than a third of the price of what you'd normally pay for all the items, but it's more than just a great deal. With a priming moisturizer that can double as a light foundation, all the essentials for a smoky eye (including a brush!), a lip tint, and a highlighter with just the right rosy shimmer, this is the perfect gift for your on-the-go friend who wants to throw their whole face in one tiny bag.
Shop Now
2
ColourPop Super Shock Shadow Vault
ColourPop has released an exquisite collection of shadows for this year's holiday season, and it's the gift for any Gen Z'er in your life (or anyone else who wants to recreate the kaleidoscope eye looks of HBO's Euphoria). These vibrant formulas are pure fun, and can be used to make dramatic, freewheeling looks, thanks to pots full of five different "tie-dye" shadows and every glitter imaginable. This stuff stays on like glue and needs just a little to go a long way, so it can truly be the gift that just keeps on giving.
Shop Now
3
MAC Taste of Stardom Mini Lipstick
Got a pal who always sports a bold lip at cocktail hour…and always loses that tube of lipstick by dessert? Have we got a gift for them. MAC's lipsticks are iconic thanks to their velvety, long-lasting formula and incredible range of colors. Now's the chance to sample a whole bunch of those shades for less than $60. MAC's 13-piece set includes matte, frosted, and metallic finishes, as well as the cult-classic Ruby Woo. Along with being super cute, the mini sizes are great for divvying up if you want to give a bunch of co-workers or friends a small present.
Shop Now
4
Glossier The Playground
This customizable six-piece Glossier set would be a winner for no other reason than it lets buyers pick their preferred shades of lip, eye pencil, glitter gelee, and highlighter from a wide range of electric colors, allowing for individuality that you can't usually find in gift sets. But it's also a winner because the heavy pigments and long-lasting glitters here add just the right amount of razzle-dazzle to an ordinary makeup look. And who doesn't need a new sharpener??
Shop Now
5
Lancome Beauty Box Set
Lancome is straight up giving away the good stuff with this amazing beauty bundle, and we are here for it. Highlights of this stellar kit include Lancome's superior lash primer that will revolutionize the way you use mascara, a trio of creamy lipsticks, an eye makeup remover that's gentle but gets the job done, and travel-friendly versions of the company's excellent but pricey anti-aging creams. Best of all, it comes in a chic stand-up pouch that's excellent for travel or countertop organization.
Shop Now
6
Target Beauty Box Advent Calendar
Beauty advent calendars are a fun way to try out cult classics, discover new faves, and give the gift of travel-size beauty treats. This advent calendar from Target has goodies for every beauty need, from a full-size version of a natural deodorant that actually works, the eye cream that has snagged nearly 40% market share in Korea's ultra-competitive eye cream scene, and the cult favorite toner that users swear gives them a glow unlike any other. As a bonus, festive packaging makes this one super fun to open.
Shop Now
7
Charlotte Tilbury Pillow Talk Makeup Secrets
Larger-than-life makeup genius Charlotte Tilbury claims her Pillow Talk shade of pink lipstick has caused mania around the globe, and frankly, she's not wrong. It somehow manages to be weightless, creamy, and matte all at once, and the polished pink shade flatters all skin tones. Plus, it plumps. It's the kind of lip you can build a whole look around, which is exactly what becomes possible when you get it via this killer Charlotte Tilbury bundle. Enhance the lipstick with this velvety lip pencil, and then use the eye palette and two-toned blush to round out a perfectly fresh-faced look.
Shop Now
8
e.l.f. 48 Color Eyeshadow & Brush Holiday Set
For under $10, you can make 2020 the year of eye makeup with this crazy-affordable book of eye shadows (and yes, that price tag includes the brushes). Palettes are hot right now, and e.l.f. is a leader in eye shadow ones for everyone from makeup pros looking to expertly blend a wide range of colors to newbies looking to have fun experimenting with safe-for-work neutrals, festival-friendly vibrant blues, and everything in between. Reviewers note that this formula works best with an eye shadow primer, so throw in this NYX one to help these outstanding shades last even longer.
Shop Now
9
Chanel Catch the Light Makeup Set
The only thing better than the gift of Chanel? The gift of three Chanel products, plus an elegant red velvet pouch that will look stylish in the recipient's purse long after they've used these products down to the last drop—which will certainly happen with this trio. Chanel's Base Lumiere looks gorgeous on its own or mixed with foundation, BB cream, or face moisturizer, adding a hint of radiance that looks natural. The Les 4 Ombres eyeshadow palette provides four dusky neutrals for the smoky eye of your dreams, and the Rouge Coco Baume delivers serious hydration to winter-dry lips.
Shop Now
10
Fenty Beauty By Rihanna Avalanche All-Over Metallic Powder Set
Rihanna's signature makeup line made waves when it launched, mostly because it wasn't just another so-so celeb line. The products are the real deal: inclusive of a wide variety of skin tones, A quality, and all-around fun. Any item from her line would make a cool gift, but give this Fenty Beauty set to the friend who's looking to break out of a boring makeup rut and channel her inner superstar. These deep metallic pigments can be dusted over eyes as flirty shadow, swirled atop cheekbones, or used as the finishing touch that transforms a lipstick from dull matte to feisty smooch.
Shop Now
11
Maybelline New York NY Minute Mascara Smoky Eye Makeup Gift Set
Maybelline is the queen of drugstore mascara, serving up eyelashes as long and full as luxury brands for a fraction of the price. With Maybelline's holiday gift set, you can give (or get for yourself) the most luscious, amped-up of their mascara varieties, as well as 12 creamy eye shadows and a liquid liner that even the shakiest of hands can flick into an expert cat eye.
Shop Now
12
RMS Beauty Savannah Peach Collection
From the production of ingredients to the packaging, everything about RMS Beauty is sustainable, making the clean beauty brand's makeup set an ideal gift for a friend who wants both a healthier planet and a lovely glow (so, everyone?). Subtle luminosity is the name of the game here, and this trio delivers beautifully with a peachy highlighter, a rich coral lipstick, and a multi-tasking pencil that adds a bronze brightness anywhere you want it.
Shop Now
13
Ilia Bold Eye Duo
Take advantage of the holidays to get a rare deal on clean beauty innovator Ilia's bold eye duo. Even if you don't have a totally natural beauty routine, the eyes are a good place to start, since they tend to be more sensitive than other facial areas. Without not-so-clean ingredients, many natural mascaras and eyeliner tend to flake, smear, or last all of four minutes. Not with Ilia. The company has designed a classic liquid liner and lifting mascara that wake up eyes in the morning and keep them looking sultry all night long.
Shop Now
Related Stories
All products have been hand-picked by our writers and editors. Items purchased through links may earn us a commission.