Shop
The Best Packable Sun Hats That Won't Get Crushed in Your Suitcase
Finding a packable sun hat is a serious quest. It has to be foldable enough to stuff in a suitcase, yet resilient enough to bounce back into shape. It has to be cute enough for a selfie, yet practical enough to provide sun protection. And it should be inexpensive enough that you still have moolah left over for poolside drinks and other vacation splurges. Tall order, right? Don't fret, we've done the legwork and scouted out the best options so you can move on to your quest for the perfect swimsuit.
1
Madewell Mesa Packable Straw Hat
"Straw hat" is basically shorthand for summer, but make it chic black, and suddenly you get two more seasons out of it—and for less than $40. Madewell's super-cute, softened take on a Panama shape is made out of straw for breathability and features a black band around the crown for a finishing touch. It comes in both small/medium and medium/large sizes so you can choose the size that fits best for you. And its straw isn't as delicate as you think: It can get mushed into your carry-on and bounce back up the moment you arrive at your destination.
$38 at Nordstrom
2
Kangol Bermuda Bucket Hat
The last time you wore a bucket hat might have been at summer camp, but these are back in a big way—and Kangol's version is definitely all grown up. The best thing about bucket hats? Unlike many other sun hats this a) actually stays on your head if there's a gust of wind and b) won't get knocked off if someone bumps into you poolside. Pair it with a flowery wrap dress and sneakers for a strong street-style vibe, or a one-piece bathing suit and some cutoffs to bring urban style to the shore.
$60 at Urban Outfitters
3
Asos Design Safari Hat
To look completely au courant, go with a safari hat—a slightly wider version of your fave bucket hat, but add a chin strap to make it capital-F fashion. This olive green goes with pretty much anything you could throw on with it, and frankly, if you go on a hike or do something active, the chin strap might actually be practical too. It's made out of canvas so it'll hold up to plenty of packing abuse. And at $23? It's the perfect price point to try on a trend.
$23 at Asos
4
Rag & Bone Packable Ballcap
Do you wish baseball caps weren't covered in loud colors and logos? If so, this one's for you. Woven-lattice-look panels keep air circulating on hot days while still looking stylish with summer dresses and T-shirts—and the neon-green backing underneath gives it a hint of street-style edge. Plus, the fabric collapses in for space-saving packing—and an elastic band keeps it snug on your head. Just make sure you measure your head's circumference to avoid disappointment since it only comes in one size, and that's 22 inches.
$125 at Shopbop
5
Pefeceve Foldable Sun Hat
Here's how you wear a hat and keep your topknot, too: This foldable, wraparound visor-style hat is basically your standard sun hat minus the top, meaning you can minimizing the dreaded hat hair or throw your hair in a pony or top knot without crushing it in the process (or having that odd bump in your hat). Not only does it close with a super-cute bow in the back that doubles as a size-adjustor, but it also has UPF 50+ protection built in. Feel free to try it out too—it's backed up by a 90-day warranty.
$12.99 at Amazon
6
Kule Buck Hat
The best thing about a nylon hat? It's packable as all get-out. You can scrunch it into a ball in your suitcase without a care. But this one goes one further by including a built-in zippered case to fold it into (check the lining on the underside of the crown). It could also be the most 2019 hat of the bunch, with super-colorful street style lifted directly from "fashion week" in London and Berlin. This is the piece that'll collect all the "likes" on your #vacaylife Instagram post.
$98 at Shopbop
7
Funky Junque Embroidered Beach Hat
Be honest, a good part of why you're buying a hat is for Instagram, right? For those photo ops, this is the hat you need. It's made for that infinity-poolside shot, with a glamourous broad brim, band around the crown, and cheeky slogan written in a jaunty cursive. Choose from sayings like "Out of Office," "Rosé All Day," "Hot Mama," "Ciao Bella," and "Do Not Disturb"—depending on the built-in caption you want to give your vacation pics. Customers also rave that it can fold down without losing shape, so you can bring it on trip after trip.
$19.99 at Amazon
8
Asos Design Fluffy Bucket Hat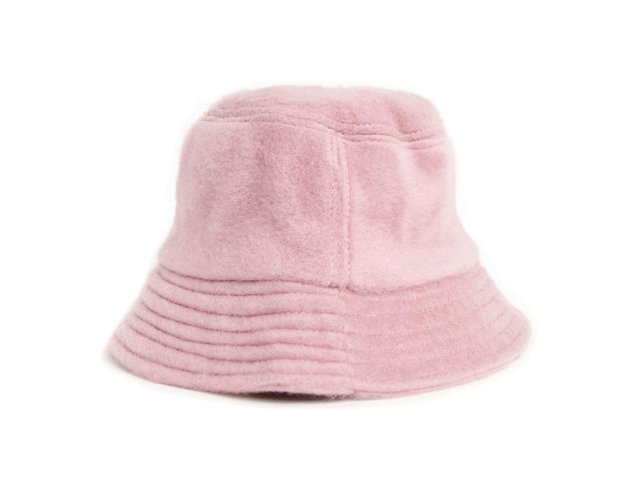 Get a head start on fall (and winter, and next spring...) with this fluffy take on this year's trendiest hat. The pastel pink means the hat works great for summer, especially your music festival outfits and sun dresses, and the texture of the fabric and the ribbed panels add the finishing touch. Plus, it's basically built-in coziness for fall once the temps start to drop and clothes get a little woolier. Go ahead and throw it in your suitcase without a thought. It'll pop back into its bucket silhouette no problem.
$23 at Asos
9
Pineapple&Star Sun Straw Fedora Hat
This five-star-rated packable hat ticks all the boxes: The silhouette is classic but stylish, the price is right, and it does a great job of folding up compactly but springing right back into shape. Although it looks great beachside, it can also get rugged for more intense hiking vacations, thanks to a detachable chin strap—but it'll keep you protected from the sun no matter the setting with a UPF 50+ rating. Plus, it's made for both men and women, so it's easily shareable among friends and couples. And it also comes backed with a lifetime warranty to boot.
$29.99 at Amazon
10
Adidas Originals Packable Cap
This O.G. unisex ball cap looks great with just about anything—without being quite as in-your-face as those with sports-team logos. And "packable" here doesn't just mean crush-proof: The ballcap actually folds down into a 4.3-inchy-by-5.1-inch-by-.8-inch square, complete with a zip design to keep it condensed and easy to stash. The secret is in the foam brim, which is both durable and resilient. Those trekking around (or just sweating it out in the heat) will appreciate that it's machine washable, too.
$29.99 at Urban Outfitters
11
Aqua Packable Sun Hat
If you want Old Hollywood glam with your sun protection, this hat is the perfect pick: With chic white stripes breaking up the black, the hat catches the eye without eclipsing the rest of your outfit. A five-inch brim brings the drama but doesn't get in the way, and it's got "Made in Italy" pedigree. Despite its strong shape, it's completely packable, and the easy-breathing material keeps your head cool and the air flowing even in punishing heat. In other words, you'll always be ready for your close-up.
$58.80 at Bloomingdale's
Related Stories
All products have been hand-picked by our writers and editors. Items purchased through links may earn us a commission.