Music Festivals
10 Fun and Flawless Music Festival Outfits for 2019
You're invited...to an insane weekend of partying with 200,000 of your nearest and dearest! That's right, music festival season is almost here and it kicks off with the most well-known and famous of them all: Coachella! That means six days of celebrity-studded desert backdrops, mind-blowing art installations, and back-to-back performances that leave you alive and invigorated. Whether you're kicking it at Coachella or checking out the lineup at the Firefly Festival, music festivals offer the perfect excuse for channeling your inner bohemian goddess to create the perfect mix of chic, comfortable, and—above all—Instagram-worthy looks. Read on to discover our top picks for fierce (and flawless) musical festival style.
What to Wear to Music Festivals
The Best Outfit to Rock 2019 Trends
This must-have outfit not only offers maximum comfort, but also allows you to tap into the year's top trends: neons, bike shorts, clear bags, and tiny cat-eye sunglasses. Oh, and bonus points for an on-trend oversized denim jacket that wards off cooler evening temps. Here's to looking and feeling good.

Neon Bike Shorts | Oversized Denim Jacket | Tiny Cat-Eye Sunglasses | Clear Crossbody Bag
The Best Outfit for Instagram Selfies
The keys to a great selfie? Natural light, a captivating background, and a killer outfit. Combining a boho maxi dress with a wide-brim hat ensures your look is on point. Shooting your photo at dusk with the festival's iconic Ferris wheel in view takes care of the rest. Pair with a flower crown (yep, they're officially on trend again) to complete your look. Say cheese!

Lace-Up Booties | Woven Straw Hat | Canteen Bag | Palm Maxi Dress
The Best Outfit for Festival Camping
Festival campsites call for clothes that look good and wear easy. Our picks: a chic and durable cotton jumpsuit, relaxed-fit raincoat (bonus points for being in 2019's fave color, yellow), and a protective bandana. Add your favorite shoes and you're all set to build a tent or rock out to Childish Gambino.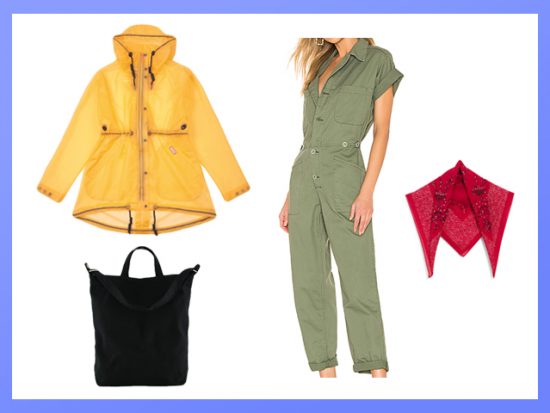 Oversized Raincoat | Bandana | Utility Jumpsuit | Duck Bag
The Best Outfit for Hotel Lounging
Bring on the poolside cocktails and guacamole! For the day (or days) when you want to trade the festival grounds for the hotel's pool, be sure to pack a complete and comfortable outfit. This striped swimsuit also looks great under a pair of cut-off shorts for double duty.

Pool Slides | Striped Swimsuit | Cat-Eye Sunnies | Coverup | Woven Pompom Tote
The Best Outfit for the VIP Tent
Chilling in the air-conditioned and orderly VIP Tent means you can indulge in the fun side of fashion without worrying about ruining your outfit or getting caught in the rain. A flowy two-piece set, sky-high clear heels, and bold earrings channel your best #ladyofleisure life. Glam it up just in case you get the opportunity for a celeb selfie.

Flowy Two-Piece | Clear Heeled Sandals | Statement Hoops | Acrylic Bag
The Best Outfit for Rainy Days
A transparent raincoat not only shows you're prepared, but it also shows off your outfit. Featuring a relaxed silhouette, this see-through raincoat from RAINS layers over every look for the perfect mix of fashion and function. Shorts are a better choice than pants (washing mud off bare skin is easier than denim), and you'll definitely need a waterproof cell case. Skip the umbrella, it'll be annoying to carry and irritate your fellow concertgoers.

Transparent Rain Coat | Rain Booties | Waterproof Cell Case | Oversized T-Shirt | High-Rise Mom Shorts
The Best Outfit for Guys
Tap into the spirit of a music festival by keeping things relaxed and easy. Pair a loose tank with white sneakers and drawstring shorts for a casual vibe that's still 100-percent style. Finish your look with sunglasses and a bandana tied low around the neck.

Pocket Tank | Sharp Shorts | Black Sneakers | Cross Body Bag
The Best Plus-Size Outfit
Snap pants, which you can adjust to show as much or as little leg as you want, are genius for fluctuating temperatures at music festivals. Complete the look with an off-shoulder black top, and a Panama hat that keeps the sun out of your eyes and looks cool—practical and stylish.

Side Stripe Snap Pants | Panama Hat | Off Shoulder Top
The Best Dresses
The beauty of a dress lies in how easy it makes things. Seriously, all you have to do is wear one item of clothing and you're good to go! (okay, two if you count shoes). These three picks are cute, comfy, and flattering for any body type.

Floral Sundress | Boho Midi Dress | Denim Shirt Dress
The Best Costume Ideas
In addition to listening to cutting-edge performances and meeting people from all over the globe, music festivals are the perfect opportunity to experience life—or at least fashion—on the wild side. Bring on the day-glo colors, head-to-toe sequins, and more tassels and fringe than you thought possible with these fun costume-y ideas.

Satin Fringe Shorts and Cami | Tassel Crochet Dress | Floral Jumpsuit | Rainbow Biker Shorts | Sphere Purse
5 Makeup and Hair Accessories to Complete the Musical Festival Look
Related Stories
All products have been hand-picked by our writers and editors. Items purchased through links may earn us a commission.