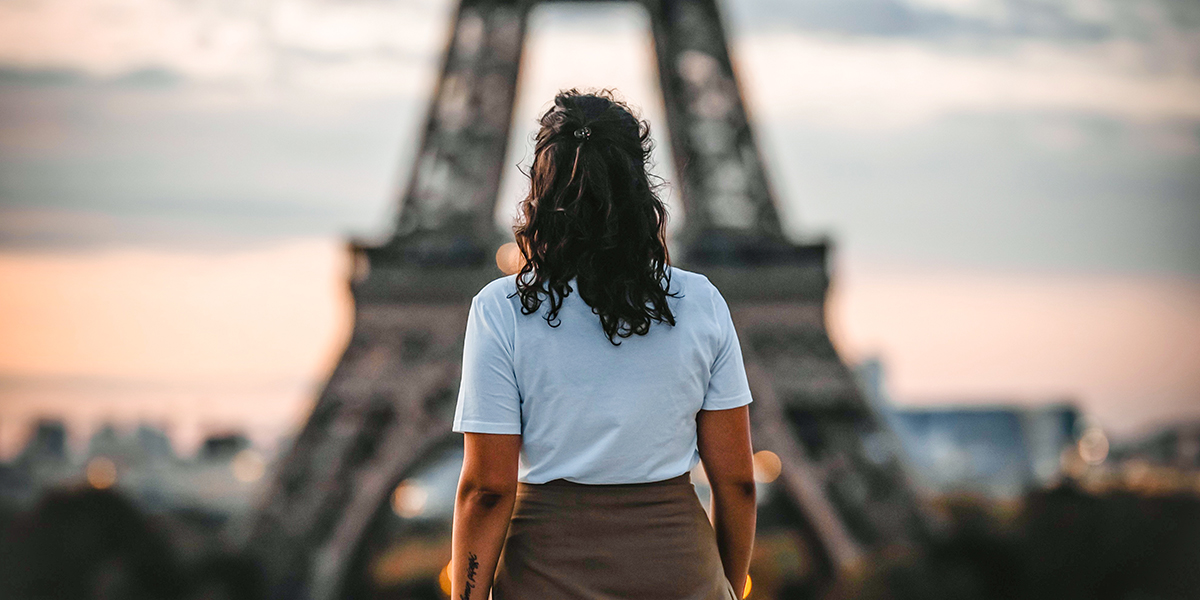 Shop
What to Wear in Paris: Outfits for Every Season
Veteran Paris packers turn to the same shortlist of seasonless, classic pieces regardless of when they travel to the City of Light. A Breton-striped t-shirt with jeans and ballet flats is a quintessential fallback. Have anything navy in your closet? Great! Throw it in your suitcase to pair with anything black—a combo Parisian ladies know how to rock. It's best to steer clear of too many accessories at the risk of looking fussy, but do go for items with fun, eye-catching details, like a flash of metallic or glitter. For a complete guide to Paris dressing 101, check out our picks for what to bring for every season, printemps through hiver.
What to Wear in Paris in the Spring
Paris' pulse quickens when spring arrives, and the energy is almost palpable. The moment dreary skies give way to sunshine, couples tuck away in corners of the Palais Royale and lie entwined on blankets in the Place des Vosges. Packs of teenagers smoke and goof off along the Canal Saint-Martin while families park strollers and picnic. Naturally, as all of Paris comes out to play, the flirty vibe is reflected in what people are wearing. Classic Breton-striped shirts are everywhere, as are swing skirts and worn-denim jeans and jackets. Current trends point to matching separates (even though the French detest anything too matchy-matchy), like this bleached denim skirt and jacket. For shoes, expect to see Converse, Adidas Stan Smiths, or colorful flats, like this lemon-yellow pair with a lightly pointy toe.
Perfect Spring Outfit for Paris
What to Wear in Paris in the Summer
Parisian women will wear off-the-shoulder tops and strappy dresses, plunging V-necks and lacy bras underneath white button-downs, and maybe show a flash of midriff—but that's it. Baring skin isn't overt, but rather suggestive to hint at the possibility of a more intimate peek. (Unless on a beach; that's a different story…) Dress for summer in a T-shirt and wide-leg pants paired with espadrilles, or a simple cotton dress with platform sandals or chunky athletic sneakers. Complete the ensemble with a sweet neck scarf (or wear it as a hair tie) and a roomy tote from beloved French brand A.P.C. Sport the look while strolling along the banks of the Seine with a cone of framboise sorbet from Berthillon in hand.
Perfect Summer Outfit for Paris
What to Wear in Paris in the Fall
After réntrée—the official end of summer and return to the city, school, and work—Parisians dress the part. That means blouses, blazers, trench coats, boots, and a practical but stylish bag. Looking smart is the goal, but that doesn't mean boring. Think: classic with French flair, plus a little bobo-chic (bobo is "bourgeois bohemian" in Paris lingo) thrown in the mix. Go for a pinstriped midi skirt paired with a cropped cotton sweater with chain detail to give the outfit a little edge and banish any hint of stuffiness. Complete the look with punk booties and accessorize with a tall structured tote and gauzy scarf to add texture.
Perfect Fall Outfit for Paris
What to Wear in Paris in the Winter
Winter in Paris is usually rainy and bone-chilling. So what do Parisians do when cabin fever strikes? They head to their local cafe, of course, for a croque madame and pot au chocolat. The scene calls for a polished, causal outfit. Jeans always work, but wide-leg pants have more presence (never a bad thing in the City of Light), and look great with a crisp white button-down accented by a feminine bow at the neck. While dad sneakers are all the rage these days, Adidas Stan Smiths are considered classic among Parisian women. Add a fun bag to the mix, like this camo crossbody studded with "love" and lightning pins from French cult-favorite brand Zadig & Voltaire, and throw a boxy plaid blazer over your shoulders to keep you warm when the cold rushes in the door.
Perfect Winter Outfit for Paris
And Don't Forget These Parisian Essentials
Related Stories