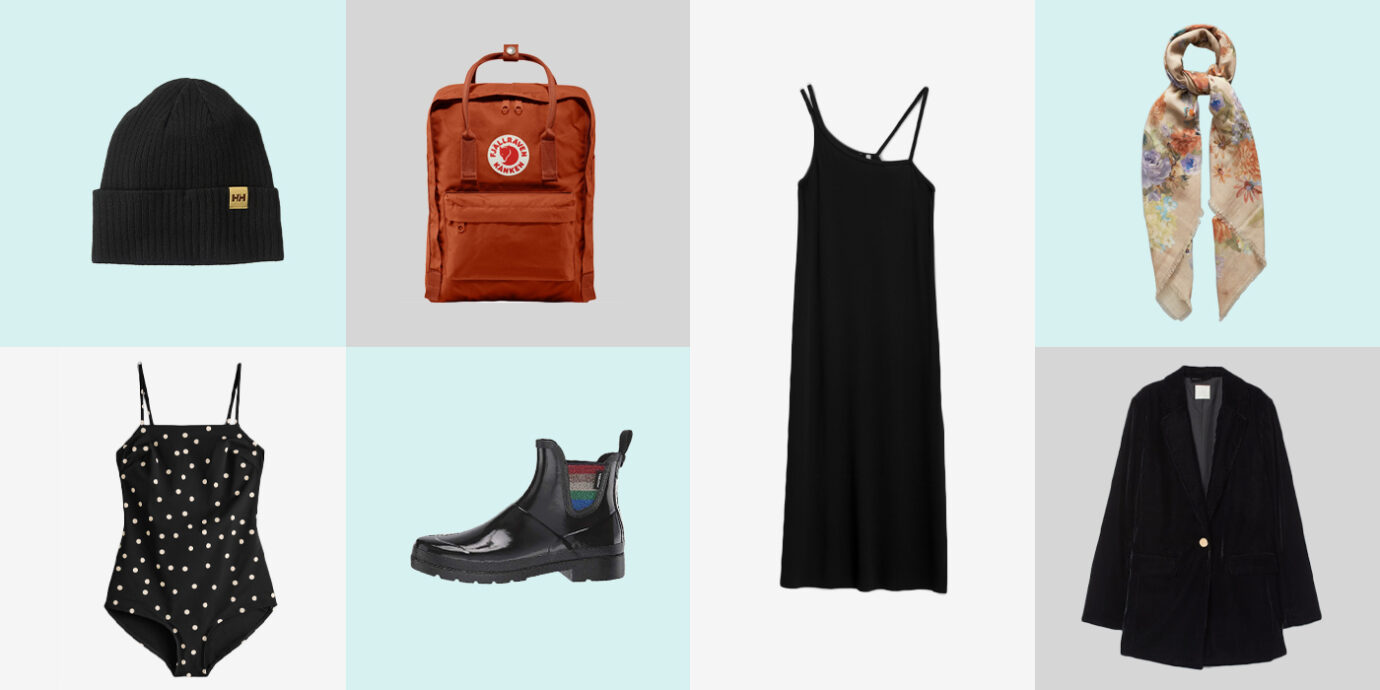 Shop
The Best Scandinavian Travel Brands
An intimate familiarity with chilly conditions mean Scandinavian brands pretty much have the market cornered on winter clothes—they won't let you down no matter how wooly or wild the weather gets. But, in seeking out the best Scandinavian brands for travel, we also dug deep for the clothes you'll want to wear once the jackets come off, and we found plenty of pieces that are cool in the non-weather sense of the word. Best of all, each of our picks shows an impressive dedication to sustainability. Whether through their products, operations, or materials, these brands care about their impact on the environment, a Scandinavian value everyone can get behind.
Fjällräven
Thanks to its logo, Fjällräven has become one of the most recognizable Scandinavian travel brands around. You can espy the curled up, winking red fox on shoulders, chests, backs, and bags seemingly everywhere you go. A dedication to sourcing sustainable materials like pesticide-free cotton and organic hemp for their bags and clothes shows Fjällräven's commitment to protecting the earth even as the company encourages you to get out there and explore it.
Our Fjällräven Pick: Kånken Water Resistant Backpack
Disappointed with available hiking packs, Swedish 14-year-old Åke Nordin grabbed his mother's sewing machine and set to work. And that's how the first Fjällräven backpack was born. Today, Fjällräven bags (and tents and jackets and pants and sleeping bags) work as well on a hike through the Himalayas as a stroll down Fifth Avenue. Not only does it come in a range of colors, the cute Kånken can transform from a knapsack to a tote bag.
Helly Hansen
Named for its Norwegian seafaring founder, Helly Hansen specializes in professional-grade winter wear. Indeed, the Norway-based company continues to solicit feedback on its gear from the folks who really and truly need it the most, among them professional mountain guides, alpine rescuers, and Olympic athletes. So you know that when you pull on an HH jacket, hat, or pair of boots, you'll be well-protected and 100% insulated from whatever Mother Nature sends your way.
Our Helly Hansen Pick: Business Beanie
No doubt you've heard the old adage about how you lose half your body heat through your head. Science doubts the truth of that exact percentage (sorry, Mom), but no one would dispute that a good hat like the Helly Hansen Business Beanie should form a cornerstone of your winter outfit. It packs a ton of fun, and warmth, into that rib knit. Plus, you can throw it in the washing machine.
Tretorn
Tretorn put luxury sneakers on the map. The Swedish tire manufacturer expanded to galoshes in the 1890s, and later released its uber-simple Nylite sneaker in 1964. That shoe rocketed to fame in the 1980s, when seemingly everyone from Björn Borg to the girl next door sported a pair of the minimalist sneakers. Tretorns even featured prominently in The Official Preppy Handbook. These days, people turn to Tretorn for solidly constructed and utterly fashion-forward shoes and boots.
Our Tretorn Pick: Lina2
Here's the ugly truth about rain boots: most of them are ugly. Not so the Lina2 by Tretorn. These boots will have you hoping for drizzle and wishing for flurries. A rainbow elastic panel helps you get the shoe on while offsetting the stylish, shiny black rubber outer layer. Even better, they fit true to size.
WeSC
WeSC stands for "We are the Superlative Conspiracy." Conspiracy is right. After its founding in Stockholm in 1999, the streetwear brand became popular through word of mouth, spreading from skateboarders and snowboarders to artists and musicians and beyond. A pervasive 'do your own thing' attitude runs through its aesthetic, which tends toward bold patterns and somewhat extreme sizing of its clothes, either very skinny or rather roomy.

Our WeSC Pick: Ane Leggings
If there's a more multipurpose travel item than leggings, we've yet to find it. You can wear them on the plane, use them to transform the look of a shirt or sweater, throw them on for a run or yoga class, or layer them under jeans for unexpectedly chilly climes when you're on the road. WeSC's are form-fitting—as leggings should be—but their potent pattern will jazz up your stems—and your travels.
Hestra
A great pair of gloves is a godsend, but the best clothes for your fingers feel God-made. Swedish brand Hestra got its start making gloves for lumberjacks, and the same commitment to marrying durability with comfort continues to be seen in the company's gloves, even as its offerings have expanded. Some gloves are made for formality, others for getting your hands dirty, but each and every one is individually cut and stitched by hand.
Our Hestra Pick: Ski Gloves
Having recently lost both gloves at the exact same time, we rushed home to order Hestra's Guide gloves ahead of the next nor'easter. Leather on the outside, wool on the inside, these bad boys are designed for mountaineering, which makes them ideal for wandering everywhere it's cold. The only thing that would make these gloves more perfect, in our humble opinion, would be "find my gloves" tech.
Acne Studios
Born out of an arts collective in 1996 in Stockholm, Acne Studios retains its edginess, even as it shows at Paris Fashion Week and opens stores around the globe. Speaking of brick-and-mortar, its stores, generally located in out-of-the-way neighborhoods, are more art gallery than retail space, all the better to showcase fashion-forward clothes and accessories (think baggy pinstripe suits and handbags that scream "Gloom and Glam"). And, for the record, Acne doesn't refer to a lamentable dermatological event but instead stands for "Ambition to Create Novel Expressions."
Our Acne Studios Pick: Peg High Waist Skinny Jeans
Casting about for their first item to design, Acne's founders settled on denim. After all, nearly everyone wears jeans. The first raw denim line was a huge hit, but the brand recently updated the look, feel, and materials of its jeans. The Peg High Waist Skinny Jeans capture two trends in one: an awesome high waist tapering into a stretchy, delightful slim fit.
Eton
Even while traveling, dressing is about more than protecting oneself from the elements. It's about putting on a personality and showing the world you are, or who you aspire to be. Taking its name from the elite British boarding school that educated Princes William and Harry as well as several prime ministers, the Swedish shirt maker Eton has come to represent exquisitely tailored shirts made from the finest materials. Collars are as crisp as upper lips are stiff.
Our Eton Pick: Flower Foulard Scarf
Depending on your individual tastes, you might find an Eton shirt to be the ideal item to stick in your suitcase. For our travel needs, though, we're opting for this sumptuous wool scarf, hand-painted and made in Italy. It beats a scratchy airline blanket any day, doubles as a pillow, and pulls together our monochromatic capsule wardrobe.
& Other Stories
& Other Stories takes its inspiration straight from the Swedish soul: its clothes are no-nonsense and down-to-earth, and, above all, they worship at the altar of minimalism. Although it sells entire ready-to-wear women's wardrobes (as well as accessories and beauty), this brand encourages buyers to stay true to themselves, as opposed to shopping a whole identifiable look.
Our & Other Stories Pick: Square Neck Swimsuit
If you're lucky enough to be traveling somewhere sunny, you'll want to pack swimwear from & Other Stories. We adore the way the polka dot print emphasizes one's silhouette by encouraging the eye to roam (in other words, both the pattern and the swimsuit's construction hide a multitude of sins). A square line and adjustable straps confirm that you can actually swim in this suit—if, that is, you get tired of sitting pretty by the pool. The same print is available in a two-piece, if that's more your speed.
Arket
Rhyming with "market," Arket seeks to be full-service: in addition to clothes for the whole family, Arket makes home goods, accessories, and luggage. But whether you're buying a bag or a basket, a plate or a pair of pajamas, a candle or a cashmere scarf, you'll get a sophisticated product meant to last beyond whatever trend is currently, well, trending.
Our Arket Pick: Soft Leather Ballerinas
Cinderella slipped on a shoe and changed her life. We can't promise exactly the same results via a pair of ARKET's ballerinas, but these shoes are pretty incredible. First, they're beautiful, made from shiny silver leather worked to suppleness in Italy. Second, clever use of elastic makes sure they retain their shape and stay on your feet, no easy feat when you're dancing the night away with Prince/ss Charming.
COS
COS is all about reinventing the classics. This Swedish brand, founded in 2007, couples form and function: everything not only looks amazing, it wears equally well. Shop for a hooded jacket, for example, and you'll have it for decades; buy a cashmere sweater, then consider which of your kids you'll be leaving it to. Note, however, that long-lasting isn't code here for "boring." COS is also known for its collaborations with art, food, architecture, and design innovators such as Dia Art Foundation and Studio Swine.
Our COS Pick: Frilled Shirt Dress
The LBD gets a Swedish upgrade. The frilled shirtdress by COS features an intriguing ruffle, but we particularly like the hidden pockets, designed for securing treasures or keeping your hands warm. Do up all the buttons for a casual look, or keep it loose and open for a fun, flirty feel. Just don't forget to pack it.
H&M
H&M probably needs no introduction. From loungewear to work wear, H&M offers something for everything you want to do and everywhere you want to go. . The Swedish brand struts designs off the catwalks and into your closets in approximately no time at all. The ginormous chain has promised to switch to only using sustainably produced or recycled materials by 2030, and to be climate-positive by 2040. Plus, you can drop off your worn clothes in stores to be recycled.
Our H&M Pick: Velvet Jacket
You can't go wrong with a velvet blazer like this one from H&M. Use it to liven up jeans, or toss it over a dress to complete your party look. This one is cut a little on the longer size, and can be worn closed with a single silver button. Add big silver hoops or chandeliers to up the fanciness factor.
Filippa K
Like so many fashion houses, Stockholm's Filippa K was founded by necessity: a woman sought staples that were both practical and chic, so she sat down with her then-husband at their kitchen table, sketched out her vision, and launched a powerhouse. The brand's clothes are the kind you reach for every day—elegant and polished with perhaps a hint of playfulness.
Our Filippa K Pick: Asymmetric Kaftan
We did a double take the first time we saw Filippa K's deceptively unpretentious, calf-length jersey dress. Like pretty much everything by the Scandinavian brand, the asymmetric kaftan is both feminine and becoming. Marketed as a beach-friendly cover-up, the form-fitting dress could totally work in any casual setting. Like, drinks in Stockholm perhaps?
Wood Wood
Wood Wood sells active fashion like t-shirts, hoodies, hats, footwear, and swimwear. Puffy coats and sweaters, too. These are clothes for the sporty, or those who aspire to sportiness, and for the young, or the young at heart. In recent years, the Danish company has taken its street-savvy style into collaborations with Barbour, Nike, and Adidas.
Our Wood Wood Pick: 25/7 Tee
Even non-runners will appreciate the 25/7 tee by Wood Wood. It's got a pattern inspired by map-making, which will encourage you to head out to explore. Moisture-wicking properties will ensure you stay dry no matter how far you roam—and help guarantee that you're not packing stinky smells alongside souvenirs, a definite plus when you're traveling.
Sandgrens
Sandgrens wooden clogs have been made by hand since the early 1900s in Sweden. Today, the brand is still churning out ultra-stylish wooden clogs and clog boots made by highly skilled clog masters. Each pair takes a solid 24 hours to be lovingly produced with natural materials. If you think clogs aren't for you, then you probably haven't put a lightweight and comfortable pair on your foot.
Our Sandgrens Pick: Wooden Clog Mules
It's no secret that we're obsessed with clogs for summer and winter, they're essentially the perfect travel shoe. Lightweight, goes with everything, and oh so Scandinavian chic. Plus, they're designed to last for years. This red pair of Sandgrens clogs is the perfect gateway pair to what's sure to become a clog obsession. Pro tip: you need to size up.
Related Stories
All products have been hand-picked by our writers and editors. Items purchased through links may earn us a commission.