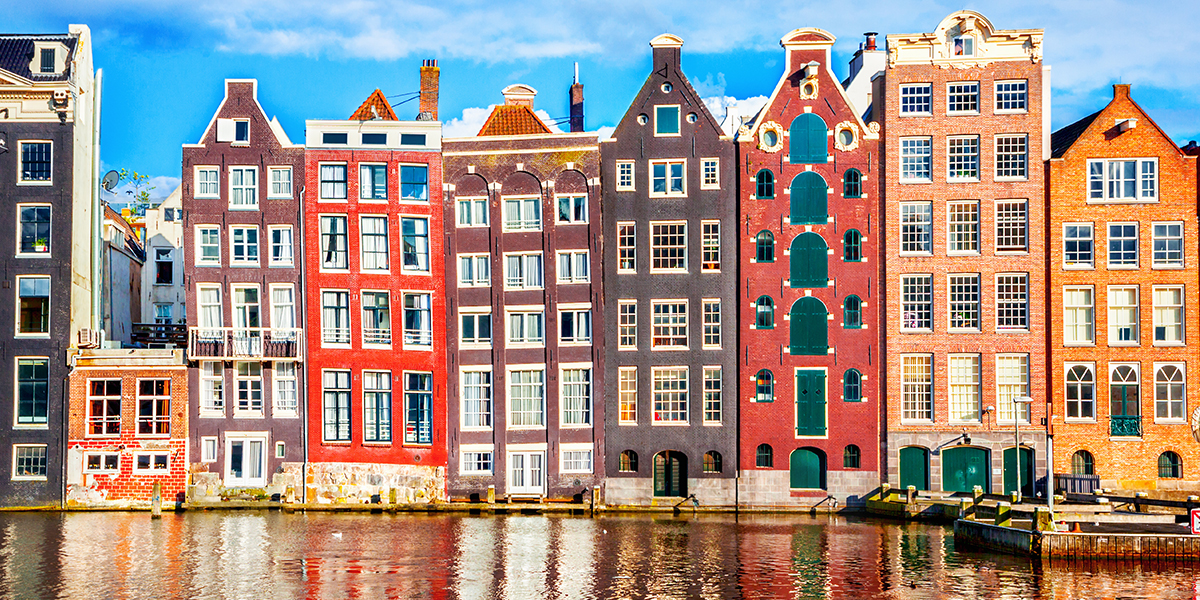 By Destination
The Ultimate Amsterdam Packing List
The Netherland's modern, yet historic, capital of Amsterdam is ripe for exploration. Priceless collections from Van Gogh, Rembrandt, and Vermeer coexist alongside coffee shops (legal marijuana dispensaries). Houseboats bob gently in a canal network 60 miles long. And the Red Light District piques curiosities with neon-lit bars and brothels. Culture vultures and history junkies will also enjoy the Rijksmuseum and Anne Frank House. While you can certainly walk or take public transportation to get around, do as the locals do and bike. Amsterdam is the world's most cycle-friendly city, so you'll join thousands of other cyclists on your exploratory route. Before you hop a train or plane bound for Amsterdam, read through our exhaustive packing guide. From the best luggage options to what to wear each season, you'll walk (or bike) away with a better understanding of what you'll need in Amsterdam.
THE LUGGAGE
When it comes to packing, it's all about the right bag for the right job. If you've been making do with a beat up old duffle or an ancient carry-on with a sticky wheel, you'll be amazed at how a new bag makes travel so effortless. Every smart traveler should have three key pieces of luggage: a weekender bag for quickie getaways, a carry-on suitcase for week-long trips, and a larger suitcase for longer stays or travelers that overdo it on souvenirs. (Guilty!) For a weekender, we're fans of the Away Everywhere bag. This little dynamo has separate pockets for your laptop, pens, reading materials, and phone, plus a waterproof umbrella compartment—genius when you visit a rainy destination. For a one-week trip, it's hard to beat Away's Carry-On—it changed the suitcase game with an ejectable battery for phone charging, smooth spinner wheels, and a lifetime warranty. And for any trips lasting two weeks or longer, go for the Travelpro Platinum Elite. There's a reason flight crews swear by this luggage brand. This checked bag has gliding spinner wheels, a telescoped handle, and two-inches of zippered expansion. Consider yourself packed.
THE PACKING GEAR
Every packing hurdle is made easier with this trio of travel gear. Got a hotel room or cruise ship cabin with little counter space? This hanging toiletry bag will give you elbow room at the sink plus provide dedicated pockets for all your creams, gels, and sprays. Hang it on the bathroom door or over the towel rack to keep everything upright, protected, and in place. If you have an issue with overpacking—who doesn't?—then packing cubes are a game-changer. This four-piece set will keep all your things, from underpants to electronics, organized and condensed, saving you precious suitcase space. And rather than depend on the freebie toiletries at the hotel (that harsh hotel soap will zap all the moisture from your skin), bring your own tried-and-true toiletries in these TSA-approved squeeze bottles.
THE IN-FLIGHT ESSENTIALS
Only travel amateurs get on a flight without bringing the essentials. A sleep mask not only blocks out cabin lights—it provides the privacy you need to get some Zs. The Trtl travel pillow is a travel editors' favorite for keeping your neck and head comfortable as you nod off. And Comrad compression socks' moisture-wicking technology keeps feet comfy and protects you from deep vein thrombosis. (Yikes!) Fly like a pro with these packing essentials.
AMSTERDAM OUTFIT INSPIRATION

Without a doubt, the Dutch know how to dress. While it's impossible to condense a city down to one style, Amsterdam generally follows the same Euro-chic dress code as many of its neighboring capitals. Locals favor quality denim, stylish sneakers, and chunky sweaters, but they also lean into edgier looks punctuated by leather boots, designer purses, and scarves. Some popular Dutch brands have infiltrated American cities, so if you need inspiration, you can look to Scotch & Soda, G-Star RAW, and Suitsupply. When considering outfits, just answer the question: Could I bike in this? If you need more direction, peek our picks below.

Women's Outfits
For info on these editor-selected items, click to visit the seller's site. Things you buy may earn us a commission.
Women's Outfits
For info on these editor-selected items, click to visit the seller's site. Things you buy may earn us a commission.
THE 3 PAIRS OF SHOES YOU'LL NEED FOR EXPLORING AMSTERDAM
When considering what shoes to pack for your trip remember that like most historic European cities, Amsterdam is a maze of largely cobblestone streets. That means you should forgo stilettos in favor of comfortable walking sneakers and sensible flats and boots. Ladies and gents alike should pack for three occasions: sightseeing (via bicycle), going out at night (maybe the Red Light District), and more cultured outings like museum-hopping. While one sharp shoe could likely take you through all three activities, we suggest sneakers, block heels, and flats for gals, and sporty sneakers, smart leather sneakers, and a chic Chelsea boot for men.

Women's Shoes
Men's Shoes
What to Pack for Amsterdam
Click items to view travel editor-approved options
THE ONE THING WTP EDITORS PUT IN OUR SUITCASE FOR AMSTERDAM
We love how easy it is to be active in Amsterdam. Navigating the picturesque tulip-and-canal-lined city on foot, bikes, and boats is part of the appeal—all year-round. But all that outdoor exercise means you have to come to Amsterdam prepared for occasional rain. The Rains rain jacket, made by a Scandinavian label, is equal parts chic and functional. It comes in an array of colors and lengths; we like the longer version for extra rain protection on a bike. Pop the jacket over a lightweight puffer for chilly days or wear it on its own in warmer rainy weather. Either way, the jacket is stylish enough to sport anywhere in the city. Don't forget to stop and smell the tulips, rain or shine. —WTP Editors
AMSTERDAM'S WEATHER AND SEASONS
Amsterdam has four clearly defined seasons, but all in all, the city's weather is pretty mild. Thanks to an oceanic climate, and the fact that the city is considered an urban heat island (a metropolitan area that's much warmer than surrounding rural areas due to a large population), summers are warm, but not too hot; and winters are slightly cold, but without much snow. Even nightfall is largely immune to temperature drops, with nights rarely clocking in below the low 20s. June to August is considered peak travel season; temperatures hover in the 70s and 80s, and days average 15 hours of sunlight. The main weather element travelers have to contend with—no matter the season they touch down in—is rain. Amsterdam's annual rainfall totals roughly 33 inches, just a few shy of Seattle's famous rainy numbers. Take a page out of the Dutch's lookbook by packing lots of layers, including waterproof outerwear and a travel umbrella. Read on for a month-by-month look at weather and precipitation, as well as our recommendations on what to pack for Amsterdam.
Note: Below is a packing forecast, not a traditional forecast. A packing forecast focuses on how cold it's likely to be in the early mornings and evenings based on historical data. We recommend using this together with a traditional forecast as you get closer to your departure date. This data comes from our friends at Weather Underground.
JANUARY
Plan for day temps between 28° F and 38° F
Temps will drop near 19° F at night and into the early mornings
Expect 0.03 inches of precipitation in January
What to Wear in Amsterdam in January: The first month of the year is generally the Netherland's coldest. That said, temps generally don't fall below the low 30s. To contend with wind and occasional rain, pack waterproof footwear and outerwear, a handful of sweaters, and gloves, hats, and scarfs.
FEBRUARY
Plan for day temps between 32° F and 34° F
Temps will drop near 26° F at night and into the early mornings
Expect 0.03 inches of precipitation in February
What to Wear in Amsterdam in February: Weather this month is much like January; prep for wind, fog, and nights that are much chillier than the rest of the day with a variety of layers including sweaters, long sleeve tees, and winter accessories. One positive: February is a super dry month, so you likely won't have to contend with rain.
MARCH
Plan for day temps between 23° F and 40° F
Temps will drop near 16° F at night and into the early mornings
Expect 0.04 inches of precipitation in March
What to Wear in Amsterdam in March: The weather is known to be a bit erratic in March. You could encounter brief but fierce showers or the year's first warm spell, so pack a lot of layers that can easily be added and subtracted as necessary.
APRIL
Plan for day temps between 41° F and 53° F
Temps will drop near 34°F at night and into the early mornings
Expect 0.03 inches of precipitation in April
What to Wear in Amsterdam in April: This month is a fantastic time to visit Amsterdam: temperatures rise to the 50s, crowds are delightfully thin as peak tourist season hasn't yet hit, and tulips are out in all their glory. Rain is pretty rare, but like March, the weather can be a little unpredictable, so pack layers (and stow them in an easy-to-carry backpack or tote) in preparation for an occasional cold bout.
MAY
Plan for day temps between 48° F and 61° F
Temps will drop near 39° F at night and into the early mornings
Expect 0.04 inches of precipitation in May
What to Wear in Amsterdam in May: If you favor off-season travel, you'll find Amsterdam in May is a real treat. Temperatures rise pleasantly into the 60s and you can get away with short sleeve tees, cropped jeans, and light coats.
JUNE
Plan for day temps between 54° F and 62° F
Temps will drop near 47° F at night and into the early mornings
Expect 0.01 inches of precipitation in June
What to Wear in Amsterdam in June: Come June, tourists descend on Amsterdam en masse, and for good reason: temperatures rise into the 60s and sunny blue skies are the norm. By now, you can pack midi skirts and light tops, just be sure to throw in a sweater or two for post-nightfall use.
JULY
Plan for day temps between 62° F and 70° F
Temps will drop near 50° F at night and into the early mornings
Expect 0.00 inches of precipitation in July
What to Wear in Amsterdam in July: Visits during Amsterdam's second warmest month call for lots of breathable cotton layers. Tanks, tees, linen pants, lightweight jeans, shorts, skirts, and sandals will all be able to contend with daytime temps in the 70s and up.
AUGUST
Plan for day temps between 55° F and 75° F
Temps will drop near 44° F at night and into the early mornings
Expect 0.05 inches of precipitation in August
What to Wear in Amsterdam in August: Weather-wise, August is the official hottest month in Amsterdam, but you'll still be fine with regular summer wear like tees, shorts, and dresses.
SEPTEMBER
Plan for day temps between 49° F and 59° F
Temps will drop near 39° F at night and into the early mornings
Expect 0.10 inches of precipitation in September
What to Wear in Amsterdam in September: Summer may be fleeting in Amsterdam, but the season's favorable weather still continues into September. While temperatures generally stay in the 50s and 60s, it's rain that throws a wrench in plans and outfits. Prepare for the month's average 10 days of precipitation with an umbrella and other waterproof accessories.
OCTOBER
Plan for day temps between 40° F and 54° F
Temps will drop near 36° F at night and into the early mornings
Expect 0.02 inches of precipitation in October
What to Wear in Amsterdam in October: With mild days in the 50s and 60s, autumn is an extremely pleasant time to visit Amsterdam. Pack a light coat for early morning and late night activities, and be sure to carry layers (a cardigan, shirt jacket, or thin scarf) while you're out and about.
NOVEMBER
Plan for day temps between 36° F and 44° F
Temps will drop near 28° F at night and into the early mornings
Expect 0.02 inches of precipitation in November
What to Wear in Amsterdam in November: November weather can be a bit gray; the month is quite rainy and short on daylight, but temperatures still don't drop much below the 30s, so it's not freezing by any means. Pack rain-appropriate options that can easily be layered and you'll have no problem being outside all day.
DECEMBER
Plan for day temps between 32° F and 43° F
Temps will drop near 28° F at night and into the early mornings
Expect 0.05 inches of precipitation in December
What to Wear in Amsterdam in December: If you were expecting polar conditions, think again. Amsterdam is surprisingly mild in December, with temperatures that generally hover in the mid 30s and 40s. That said, about half the days of the month see rain, so come prepared with a variety of waterproof shoes and outerwear.
FREQUENTLY ASKED QUESTIONS ABOUT PACKING FOR AMSTERDAM

I'm visiting Amsterdam in the summer, what should I wear sightseeing?
Amsterdam has a mild climate, which means summer temps rarely climb past the 80s. You'll be comfortable in typical summer wear, including lightweight pants, skirts, tees, dresses, breathable sneakers, and sandals. When packing, make sure whatever you bring is compatible for biking and walking. Leave behind shoes that are known to cause blisters and jeans that are just a smidge too tight. You'll thank us after a long day of pedaling.
What should I wear for a night out in Amsterdam?
Whether you're hitting the Red Light District (also known as De Wallen) or just visiting the bars, clubs, and music venues in neighborhoods like Rembrandtplein and Leidseplein, you'd do to follow a dressy casual code of attire. That means no trainers, caps, hoodies, or oversized bags. Women will do just fine with an LBD or jumpsuit, while men should go for button-ups, blazers, and black or grey chinos. Pro tip: If you're wandering through de Wallen ogling the neon-lit venues, do not take photos of any occupied windows (or photos at all). If you're caught, you could get your camera or phone confiscated.
If I'm going to be bicycling around Amsterdam, do I need to consider sportswear? Or can I get by with "regular" clothes? What do locals wear for this?
While two pedals are the preferred method of transportation in Amsterdam, locals just wear whatever their day calls for, be it a boardroom-appropriate pencil skirt or a casual pair of jeans that will blend into the coffee shop crowd. While you can definitely steer clear of too much workout wear, you'll also notice the Dutch largely don't wear helmets. While motorists pay close attention to cyclists here, you should definitely consider sporting one since you're not familiar with the roads.
FIVE FOOLPROOF OUTFITS FOR AMSTERDAM
1. WHAT TO WEAR ON A BIKE TOUR IN AMSTERDAM
Follow the locals' lead and ditch the yoga pants when it comes time for a bike ride around town. Instead of getting decked out in workout gear, the Dutch just wear whatever their day calls for, so you can totally pull off a casual-chic outfit with fashion sneaks, a midi coat, and a bold crossbody bag—plus jeans with a little stretch.
Think sporty—but not too sporty. In Amsterdam, Nikes and the like are quite popular, so pair your Air Max 90s with a simple cotton tee and slim fit jeans for a pulled together but exceedingly comfortable look.
2. WHAT TO WEAR AT THE MUSEUMS IN AMSTERDAM
Popular institutions like the Anne Frank House, Rijksmuseum, and Van Gogh Museum don't have hard and fast dress codes, but you'll find other museum-goers are dressed to impress. Join their ranks with a smart loafer, cropped pants, and a tucked in turtleneck.
Museums are a smart casual affair in Amsterdam, so you can't go wrong with black jeans, a quality crewneck sweatshirt, and desert boots. If it's chilly, throw a shirt jacket into the mix. A stylish watch keeps you looking good and on schedule.
3. WHAT TO WEAR AT THE COFFEE SHOPS IN AMSTERDAM
There's no real dress code for Amsterdam's coffee shops, but casual is the way to go. Emulate the Dutch's edgy-cool aesthetic with a faux leather moto jacket, booties, and skinny black jeans.
First thing's first: ditch any gimmicky pot leaf motif shirts and socks. Coffee shops (not to be confused with koffiehuizen—cafes that actually serve coffee) are legal and a part of everyday life here, so dress casually and you'll fit right in.
4. WHAT TO WEAR ON A CANAL CRUISE IN AMSTERDAM
Amsterdam canal cruises come in all shapes and sizes, but assuming you're going for an afternoon ride that's accompanied by a sit-down dinner, step things up a little in the outfit department. This midi shirtdress is polished, but comfy, and can easily be dressed up with a maxi coat and heeled leather booties.
A well-fit pair of dark jeans can take you through just about everything on your Amsterdam itinerary, but a canal dinner cruise is the perfect excuse to dress up. Opt for slim fit chinos, a fun button-up shirt, and some sharp oxford shoes.
5. WHAT TO WEAR FOR AMSTERDAM'S TULIPS AND FLOWER MARKET
Comfortable jeans, a chunky sweater, and a rainproof anorak will treat you well on any tulip-inspired outings. Just be sure to bring a tote—like the versatile Duck Bag from Baggu—for all of your flower market finds.
Headed out to Amsterdam's iconic tulip fields? It's probably best to leave your fresh white sneakers back at the hotel and go for a leather boot that won't pick up grass or soil stains. Other than that, you can wear whatever is most comfortable.
Related Stories