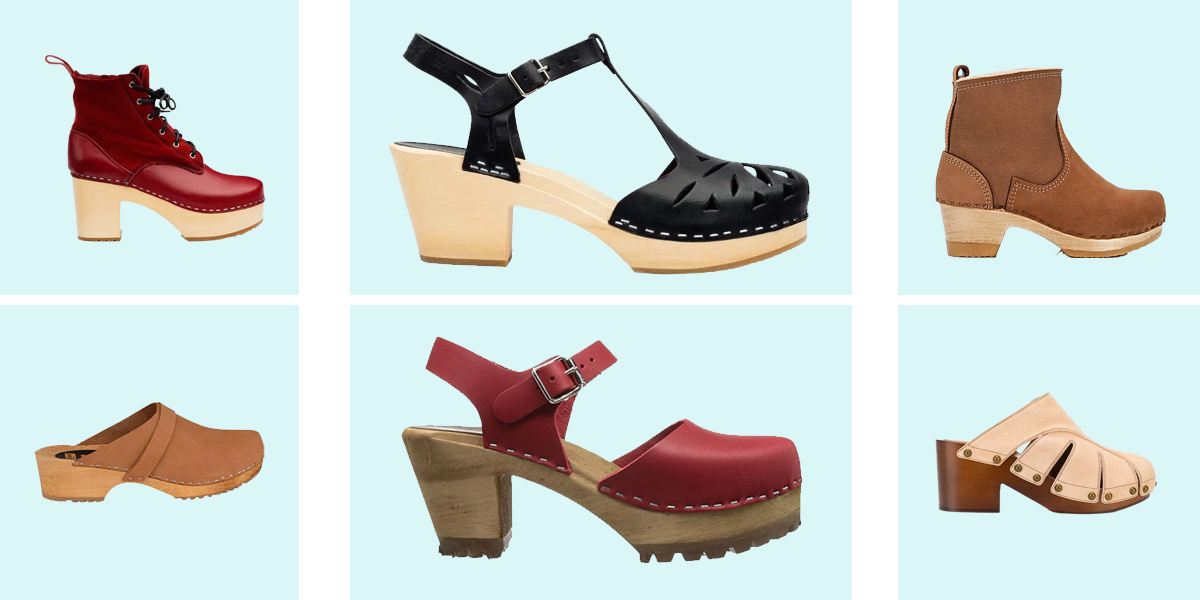 Shop
The 13 Pairs of Clogs We Want for Every Stylish Step of Every Trip
In case you haven't heard by now, clogs are back in a big way. The biggest question isn't, "Who would wear clogs?" It's, "Who isn't wearing clogs?" These wood-soled and chunky shoes have been spotted on the feet of fashionable women on chic vacations around the world. Clogs offer the ideal marriage of style and ease, and if you think they're unsexy or uncomfortable, you're in for a surprise. Clogs come in an endless array of styles, and can be worn in all seasons—making them the perfect vacation shoe. And let's talk (and talk and talk, seriously, we could go on forever) about how they're easy to walk in, weigh very little, and slip off without a problem at the airport. We've rounded up our 13 pairs of favorite clogs to take on every step of every trip. Get ready to join the cult of clog.
What to Look for in a Pair of Clogs
Lightweight, moldable wood bottoms keep clogs comfortable and easy to walk in.
Ankle straps or a closed heel ensure that your feet stay firmly in place if you want extra stability.
Genuine leather is ideal. If the leather feels stiff at first, it will eventually soften with wear.
Don't be afraid to pair clogs (especially closed-toe versions) with socks—it's chic.
What to Avoid in a Pair of Clogs
Many clog brands use European sizing, and the sizes are not always consistent. Some clog brands run large while others run small. Read what the brand says about sizing and check out any user reviews.
Don't immediately wear your clogs for an entire day. Wear them around the house first, and give them some time to break in.
Avoid soles that seem too rigid and unforgiving. While walking in clogs can take getting used to, some versions are more shock-absorbent than others.
1
The Best Clogs Overall
Whether you're new to the world of clogs or have already embraced the look, you're going to love the Lacy. Swedish Hasbeens was at the forefront of the high-fashion clog movement, and with this delightful pair of clog sandals, it's easy to see why. These clogs keep your feet secure, thanks to a buckle and closed toe, and can just as easily be worn with a pair of colorful tights as bare feet. The heel is manageable for walking while still providing some lift, and the silhouette and cutouts offer a truly charming dash of 40s-style retro chic. Get ready for clog compliments anywhere from Brooklyn to Berlin.
$209 at Swedish Hasbeens
2
Best Statement Fashion Clogs
Sure, the Dutch invented the clogs and the Swedes improved on them, but we'd argue the French company Chloé made clogs high fashion with their Quinty mules. Nude, faintly blush, beige leather (also available in black) paired with a three-inch mid-block wood heel gives major boho vibes. These bébés manage to be completely feminine without looking fussy, how French is that? If you're headed to Paris on a honeymoon or girls' trip, these are the clogs you need to trick tourists into asking you (obviously a well-dressed local) for directions to the Champ de Elysee. 
$385 at Farfetch
3
Best Wooden Clogs
You can't get more classic than this pair of Vollsjö clogs. The under $50 price is hard to beat, and the construction is traditional and high quality. The minimal design of this pair shows off the natural wood base. While there are a lot of fashion-forward clogs out there now, the Vollsjö's lack of embellishment sets it apart, giving a casual, easygoing vibe to any outfit. Reviews praise these clogs for both their low cost and their comfort (especially for those with wider feet), and while the classic clog construction may seem heavy, these are actually quite lightweight at just over one pound. We'd wear these with everything from a vintage band tee and bell bottoms to a flowy midi skirt and blouse. Slide these clogs on and you're good to go.
$46.99 at Amazon
4
Most Comfortable Clogs for Walking
Okay, we'll be honest: a lot of clogs designed for walking and orthopedics aren't exactly stylish—but over 700 five-star reviews on Zappos prove that these Danskos are all-stars. The Marcelle may not look super chic at first glance, but the '90s chunkiness and Mary Jane styling are actually surprisingly trendy right now. The Marcelle is beloved by those who work in industries that require constant standing and walking—we're looking at you nurses, masseuses, and chefs. The shoe has an ergonomic shape and is designed so that your heel lifts up and down as you walk. This takes the pressure off your feet, allowing you to walk for hours in a pair of shoes that go with anything. The husband-and-wife team who own Dansko operate an eco-friendly enterprise out of rural Pennsylvania, and claim their clogs are comfortable enough to walk across the continent of Europe.  
$124.95 at Zappos
5
The Best Summer Clogs

Summer festivals and Troentorp Bastad clogs go together like Coachella and Instagram. The crisscrossed leather straps on these clog sandals is perfect for summer, giving your feet some much-appreciated ventilation on a hot day. These gorgeous sandals look a bit like the lovechild of clogs and huaraches, thanks to the design of red braided leather combined with the light-wood base. Instead of traditional stitching, the leather is affixed to the wood base with small metal studs that add a fun bit of flash. Troentorp's anatomically shaped, arch supporting footbed was developed over 60 years ago (and refined since then) is tried and true. The two-inch heel will save your feet during long summer days and provide just the right amount of lift. And if you end up in the VIP tent, your feet will fit the stylish dress code. 
$98.95 at Shoes.com
6
Best Clog Boots
When you think of clogs, rugged boots might not be the first thing that comes to mind, but these high clog boots from the Danish brand Sanita are solid and reliable. The Puk is made from a pleasingly textured brown leather that's sure to look even better as it ages, and the simple, almost unisex shape is timeless. The boot tops can be folded down for a more versatile look that pairs just as well with skinny jeans as it does with a prairie skirt. The slip resistant soles offer much needed traction for icy conditions if you're sightseeing in the winter or headed out for après-ski hot cocoa. These clog boots are sure to keep your clog obsession going all winter long. 
$133.95 at Amazon
7
Best Shearling Clog Boots
How fabulous are these clog boots? Lace-up clogs are rare, and we love the bold wine red color and platform soles on this pair. These are truly statement making boots, with undeniable retro '70s-style appeal. And these boots aren't just cool, they're also cozy, thanks to the shearling lining. The laces both make a style statement and keep your feet thoroughly secure, and the loops on the back of the boot make them easy to pull on. While the style is called "Hippie," these boots could just as easily look super glam—especially if you order them in deep green, wine red, or black. They've got a definite downtown thing going on, and would look great with some black tights and a faux-fur coat in Chicago's chilly winters. 
$244 at Swedish Hasbeens
8
Best Clog Booties
If you want to try a more subtle take on the clog trend, the Maria clog bootie from the ever reliable and comfortable Dansko brand (see above for most comfortable clog) is your best bet. The ankle boot features a low two-inch heel and supportive synthetic soles. A side zipper ensures that getting them on and off is a cinch. The toe box is distinctly rounded, which gives the boot an old-school clog look and lets you can walk all over town without tired toes. Free of any embellishments, the boots (five available colors, all in nubuck) can be worn with any number of outfits, and the low profile looks particularly good with cropped jeans and midi dresses. If you're going on a family vacation where you need to chase your kids around, and look good doing it, order these clog booties. 
$169.95 at Amazon
9
Best Platform Clogs
Since 1976 (a high point in the clog's popularity), Swedish brand MIA has been making reliably cool clogs. The Abba clog sandal is an updated take on a classic silhouette of the era, featuring a street-smart lug outsole that adds unexpected flair in addition to making the shoes more durable. The platform tread helps keep your feet steady, balancing out the 3-inch heel. There's a selection of colors available, including a gorgeous deep wine hue. The sandal can look demure or—thanks to the platform and chunky sole—edgy, depending on how you style it. If the three-inch heel is too high for you, the MIA Anja is a similar option, but with a one-and-three-quarter-inch heel. Clearly, the Abba is one of MIA's bestsellers for a very fashionable reason. It's easy to picture wearing them while sipping cabernet and walking through the vineyards in Napa. 
$98.95 at Zappos
10
Best Shearling Clog Booties
When it comes to shearling clog booties, the ultra-hip brand No. 6 reigns supreme. In fact, the brand garnered much attention for being one of the brands leading the clog renaissance. Walking in almost any cosmopolitan city on a winter's day, you're bound to see some stylish women rocking the shearling-lined ankle boot. Think of these as the Ugg boot's chic, sophisticated older sister. The No. 6 pull-on boot is waterproof and handmade in the United States. On a cold day, when you can't be bothered to put together a fashionable ensemble, the shearling-lined ankle boot is there to warm you up and give you that certain je ne sais quoi. If you find yourself in New York City, be sure to visit the No. 6 shop in SoHo.
$390 at Barneys New York
11
Best High-Heel Clog Sandals for Women
The Alexis Cutout Platform is the kind of clog that turns fabulous disco dreams into reality. With a platform base and 4.25-inch heel, these are the clogs you wear when you really want to be noticed. The streamlined shape is bold and flattering, and black patent leather cut-outs make the clogs perfect for a big night out. The heel height and slip-on profile may be mildly intimidating but never fear: No. 6 calls them "our most comfortable platform clog to date." It isn't always easy to find clogs that combine glamour and comfort, which makes this stylish pair of clog the best in their category. The real question is whether you want to debut them in the clubs of Ibiza or Mykonos. 
$325 at Shopbop
12
Best Low-Heel Clog Sandals
If you want a cute low-heeled clog for everyday wear (maybe wandering around the Los Angeles Flower Market), look no further than Sandgrens, a Swedish brand that's been around for over 100 years and still makes each pair by hand using natural vegetable tanned leather in Sweden. These Saragasso clog sandals have a one-and-three-quarter inch heel and the slight V shape of the top of the toe box is flattering to the foot. The heels are low enough to make them a summer go-to, and after breaking them in (the company suggests wearing them around the house with socks for a few hours) they'll adapt to the shape of your feet and become a classic wardrobe staple that looks just as good with a floral sundress as a pair of jeans. You can even bike in these. Plus, they come in 13 different colors, including some particularly fun options like berry, purple ash, and gold.
$179 at Amazon
13
Best Closed-Toe Clogs
This closed-toe clog sandal pick offers a happy medium between sandals and shoes—exactly what you need in early autumn and late spring. With a two-inch heel and Mary Jane-like profile, the Dansko Sam is an ideal transitional clog. The lightweight shoes win rave reviews for being both comfy and cute. The style is simple enough to suit a variety of looks, and unlike some clogs, they don't have a breaking-in period. The DRI-LEX® wrapped footbed wicks away moisture to help keep your feet dry and free of odors. If you're nervous about jumping into the clog look, these are a particularly good option, given that the heels are wood grain print (rather than being made of real wood) and the shoe is available in six easy neutrals, including an all black version. It's easy to imagine these clogs in a European market, like in Barcelona's Mercado de La Boqueria. 
$119.95 at Zappos
Related Stories