Shop
The 14 Best Travel Holiday Gifts On Amazon Under $20
Holiday shopping doesn't have to be stressful. You want to find a thoughtful gift that's both useful and fun to receive, and you need it to be affordable and easy to find. Sound impossible? It's not! Some of the best travel holiday gifts are under $20 and available on Amazon. These are things that help travelers sleep, or keep them organized, or inspire them to remember their favorite moments from point A to point B and everywhere in between. If there's a traveler on your holiday gift list, then consider the best travel holiday gift ideas for under $20 on Amazon as our gift to you.
1
A margarita on the go
Thoughtfully Gifts, Cocktail Kit Travel Tin Gift Set
A margarita makes everything more fun, and we love how easy it is to mix one up on the fly with this to-go cocktail kit. It comes with a one-ounce margarita mixer, jigger, and bar spoon in a vacation-friendly tin. Just add tequila (easy enough to purchase a mini-bottle on a flight) and ice and you'll be in vacation mode in no time. This is the best "get the party started" travel gift for anyone headed to the beach.
Shop Now on Amazon
2
An eye mask for mid-air dozing
Alaska Bear Natural Silk Sleep Mask
Nearly 12,000 Amazon reviewers have weighed in on this silky sleep mask, raving that it "feels like a feather" and is "by far the most comfortable sleep mask I have used." The fabric is breathable enough for travelers with dry eyes to wear comfortably; the strap adjusts from 15.8 to 27.6 inches; and it suits back-, side-, and stomach-sleepers alike. In other words, the Alaska Bear mask probably beats whatever they're handing out on the plane. Pssst, it's available in 26 fun colors and patterns.
Shop Now on Amazon
3
A book to inspire them
National Geographic's 50 States, 5,000 Ideas
Who knew that Mobile, Alabama has a Mardi Gras that pre-dates New Orleans' famous fete, or that Tennessee has the world's longest yard sale. These are the atmospheric little details in this book of 5,000 ideas that'll get your wanderlust going in all 50 states. Readers can read about dude ranches and dinosaur trails, plus any number of other wonders—all reminders to get out there and explore America the Beautiful.
Shop Now on Amazon
4
A dainty jewelry organizer
Duomiila Small Travel Jewelry Box Organizer
File this cute jewelry organizer under, "your giftee wouldn't think to buy it for themselves, but now won't be able to travel without it." It's much easier (and secure) to transport necklaces, rings, and bracelets in a dedicated jewelry case with compartments and a zipper than the usual method of tossing baubles into Ziploc bags. Say goodbye to tangled necklaces and hello to organized glamour.
Shop Now on Amazon
5
A versatile power adapter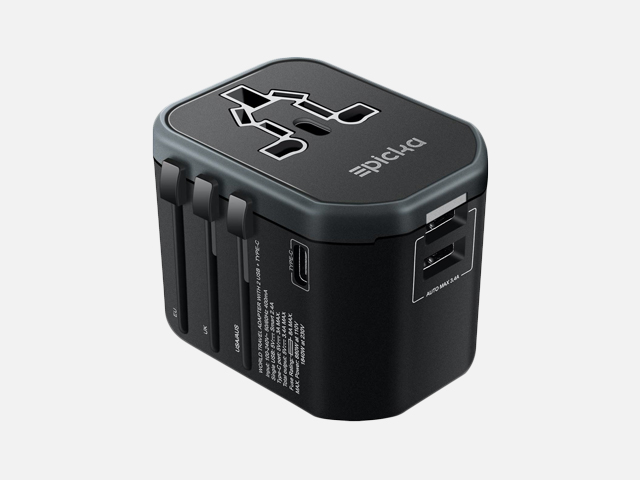 EPICKA All in One Worldwide International Universal Wall Charger
This under $20 Amazon gift is a no brainer for any first-time international traveler. The all-in-one worldwide adapter lets travelers plug in U.S. devices in more than 150 countries. Compact and packable, it features two USB ports, one USB Type C (for charging an iPad or iPhone), and one AC socket (for larger devices, like computers and electric razors), with a Max Power of 880W at 110Vac and 1840W at 230Vac. When they're stranded at the airport in one country while en route to another, they'll have you to thank for their charged laptop.
Shop Now on Amazon
6
A bottle of hand sanitizer that smells incredible
EO Hand Sanitizer Spray in Lavender
Sometimes when you're on the road, it's the little things that give you a boost. Yes, this is hand sanitizer, but it also smells like a field of lavender, a naturally soothing scent that you'll probably want to douse your hands in whether or not they're dirty. EO blends essential oils into its organic products—the brand is all about self care—and this two-pack lets your favorite traveler stash one in her carry-on and another in her luggage. After all, germs are everywhere.
Shop Now on Amazon
7
A fashionable travel wrap
If you've heard it once, you've heard it a million times: always travel with a wrap. It's the most practical, versatile, and downright cute item to have on hand for everything from staying warm in coach to jazzing up an otherwise simple travel wardrobe. This plaid option in gray and pink is our favorite pick for a holiday gift, but it comes in 24 other patterns and colors if you want more options—or more perfect gifts under $20.
Shop Now on Amazon
8
A pair of compression socks for a comfortable flight
Physix Gear Sport Compression Socks
Swollen feet and legs aren't necessarily a given after a long flight, so long as you take a few precautionary measures: water, walking, and compression socks, for example. These knee-high socks by Physix Gear Sport, a Miami-based health and fitness gear company, are made with a blend of fabrics that's antibacterial and includes Lycra for stretch and durability. Available in black with numerous heel-accent colorway options, they're Amazon's #1 best selling compression sock.
Shop Now on Amazon
9
A classic notebook for writing and sketching
Moleskine Two-Go Textile Notebook
The perfect size for tucking into a purse or daypack, this notebook by the brand often associated with Hemingway is simple yet effective. It features plain and ruled pages for jotting down notes or doodling and drawing (Van Gogh and Picasso were also Moleskin fans), and a hard cotton-canvas cover in classic or bright colors. The elastic closure band and slim storage folder are sweet finishing touches, and we're partial to the ivory-hued pages.
Shop Now on Amazon
10
A packable tote
Baggu Standard Reusable Shopping Bag
Baggu is the go-to brand for consistently cute and efficient bags, and the standard-size reusable shopping tote is ideal for travel. It folds up into a flat, five-inch square pouch and when expanded can hold up to 50 pounds—or about what fits into two or three plastic grocery bags. Whether perusing city markets, stocking up on groceries for a long-term Airbnb stay, or strolling to a park with a picnic lunch, this tote will come in handy. Plus, it's made of machine washable, 40% recycled ripstop nylon. Numerous colors and patterns are available, but we love this blush bougainvillea version.
Shop Now on Amazon
11
A wallet made for travelers
Zoppen Multi-purpose Rfid Blocking Travel Passport Wallet
A passport feels easier to lose track of when it's floating loose in a pocket or purse, not to mention the hassle of searching for it and only being able to find your wallet. Enter Zoppen's multi-purpose travel passport wallet, an all-in-one repository for important forms of ID as well as cash and credit cards. We love the separate boarding pass compartment (in addition to the passport pocket) and tri-fold design, and the long list of color options ranging from citrine to hazelnut make it easy to personalize this gift.
Shop Now on Amazon
12
A pampering travel toiletry kit
Burt's Bees Fabulous Minis Travel Set
Men and women of all ages will love unwrapping this pampering set of travel-sized toiletries from Burt's Bees, celebrated for using natural and gentle ingredients. It includes a cream cleanser, hydrating lotion, deep cleansing cream, milk and honey body lotion, coconut foot cream, and a shea butter hand repair cream. Each product is TSA-approved and works to combat the dry air found on planes. And at under $10, it's one of the best bang-for-your-buck beauty deals around.
Shop Now on Amazon
13
A colorful water bottle
Mira Stainless Steel Vacuum Insulated Water Bottle
Among the myriad of water bottles on the market, this option by Mira stands out for checking multiple boxes and costing less than $20. For starters, the vacuum insulation keeps drinks cold for 24 hours or hot for 12 hours. Next, the food-grade stainless steel construction is BPA-free and washes clean of flavors, so your water will always taste like water. We also love the sleek design and slim shape of the 17-ounce flask in particular, as well as the spill- and leak-proof features. One reviewer claims this is the best spill-proof bottle "by miles" compared with the many others she's tried.
Shop Now on Amazon
14
A pick-me-up for the post-travel slump
Returning home from a trip means the comfort of sleeping in your own bed and seeing your loved ones, but it can also be tough readjusting to everyday life. These Sereneflipity cards by San Francisco-based Chronicle Books are the brainchild of Cara Thomas, who realized the benefits of adventure while creating products for Fortune 100 companies. Each of the 30 colorful cards features a simple prompt under the theme of explore, connect, or spark, and suggested adventures range from buying coffee for the next person in line to seeking out an unusual healer, which we think sounds like a great way to beat the post-travel blues.
Shop Now on Amazon
More of Our Favorite Travel Gifts
Related Stories
All products have been hand-picked by our writers and editors. Items purchased through links may earn us a commission.