Shop
The Best Travel Pillows
A good travel pillow is a thing of beauty. Modest yet mighty, it has the power to introduce instant comfort, relief, and above all, sleep in your hour of need—whether that's the middle seat in a cross-country flight or the fourth hour a 22-hour trip to Delhi. Yet everyone has their own personal preference when it comes to travel pillows. Do you want one that's cooling or inflatable? Are you mad about memory foam? Or maybe you need something cheap as all get out. Whatever your preference, we've got you covered. Here are seven travel pillows we think are worth their stuffing.
1
Best Microbead Travel Pillow
Microbeads to the rescue! This pillow by Bucky, in sporty black and gray stripe patterns, contains thousands of tiny microbeads which mold and cradle to your head. But this multitasking travel gizmo can also be used to support your back, legs—anywhere that feels soothing while you're confined to a cramped airplane seat. Each pillow measures a mere 11 inches by three inches, so its easily packed away. 
$20 at eBags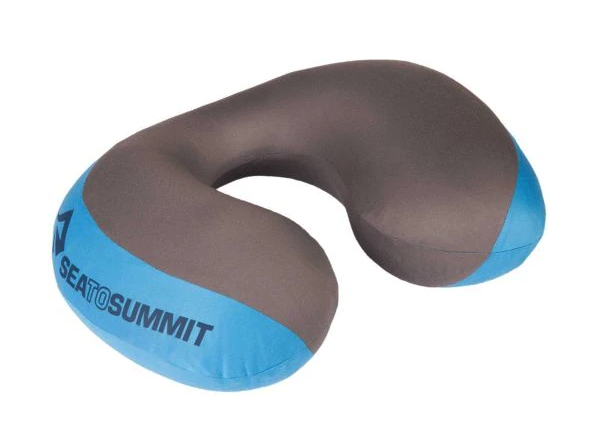 2
Best Inflatable Travel Pillow
Overpackers, this one is for you. This Sea to Summit pillow can be deflated through a and stored flat when not in use, making it a great option for those that are always short on luggage space. Lightweight and covered in cuddly soft-brushed fabric, this sizable pillow measures in a 15.3 inches by 11.4 inches with 4.3-inch depth, amply supporting your noggin. So, you can rest assured that no matter how bumpy the flight, at least your head will be cushioned. 
3
Best Memory Foam Travel Pillow
Can a travel pillow be cool? This memory foam model could make the case, thanks to its understated appearance and the hipster Herschel name (a brand that's beloved by Brooklyn commuters). Covered in the blackest of black Lycra spandex fabric, the pillow's memory foam gel provides the ultimate in comfort, whether you're snoozing en route to L.A. to catch Coachella or boarding a long-haul flight for a surfing spree in Goa. And hey, it's good to know you'll be selfie-ready when you snap a pic of yourself jetsetting for Instagram.
$30 at Nordstrom
4
Best Cooling Travel Pillow
If you're the type who gets overheated on the regular, the airplane cabin is a merciless environment of warm bodies and zero air ventilation. That's when you need the Cabeau Evolution Cool Pillow. Its jazzy design merges memory foam with cooling air-circulating vents and sweat-wicking fabric. Even the colors have a chill-factor, coming in glacier blue or calming purple and gray.
$60 at Bloomingdale's
5
Best Discreet Travel Pillow
Avoid the neck-brace look of other travel pillows with this model by Ostrich Go. A foam-filled faux turtleneck design can give the appearance of a plush wrapped scarf. The pillow fits easily around your neck, adapting to your proportions, while its stretch-fabric cover is removable for cleaning. There's one high side and one low side, for various sleeping positions, and it fastens around your neck with a handy Velcro closure.
$60 at Amazon
6
Best Budget Travel Pillow
Did your flight blow a 747-sized hole in your checking account? H&M's Patterned Travel Pillow can keep you comfy for under 10 bucks. With a flock of pink flamingos prancing across it, it's cute and cost-conscious. The polyester-filled interior has a removable jersey cover for cleaning, a concealed zipper and hanger loop at the top, and a snap fastener in the front. Basically, it has everything you need to hibernate in deep sleep for the entire flight.
$9 at H&M
7
Best Multi-Purpose Travel Pillow
The Huzi Infinity Pillow is named for its looping shape, but we'd argue it's also because there's endless ways to use it. Made from cuddly soft bamboo fabric and layered microfiber, this doodad can work as a neck pillow, back support, window pillow, tray-table pillow, eye mask, and noise-canceling pillow. Hypoallergenic and antibacterial, the flexible accessory can be twisted, wrapped and bundled every which way. And if you've got a long-haul flight, you'll appreciate being able to mix it up.
$40 at Amazon
Related Stories
All products have been hand-picked by our writers and editors. Items purchased through links may earn us a commission.