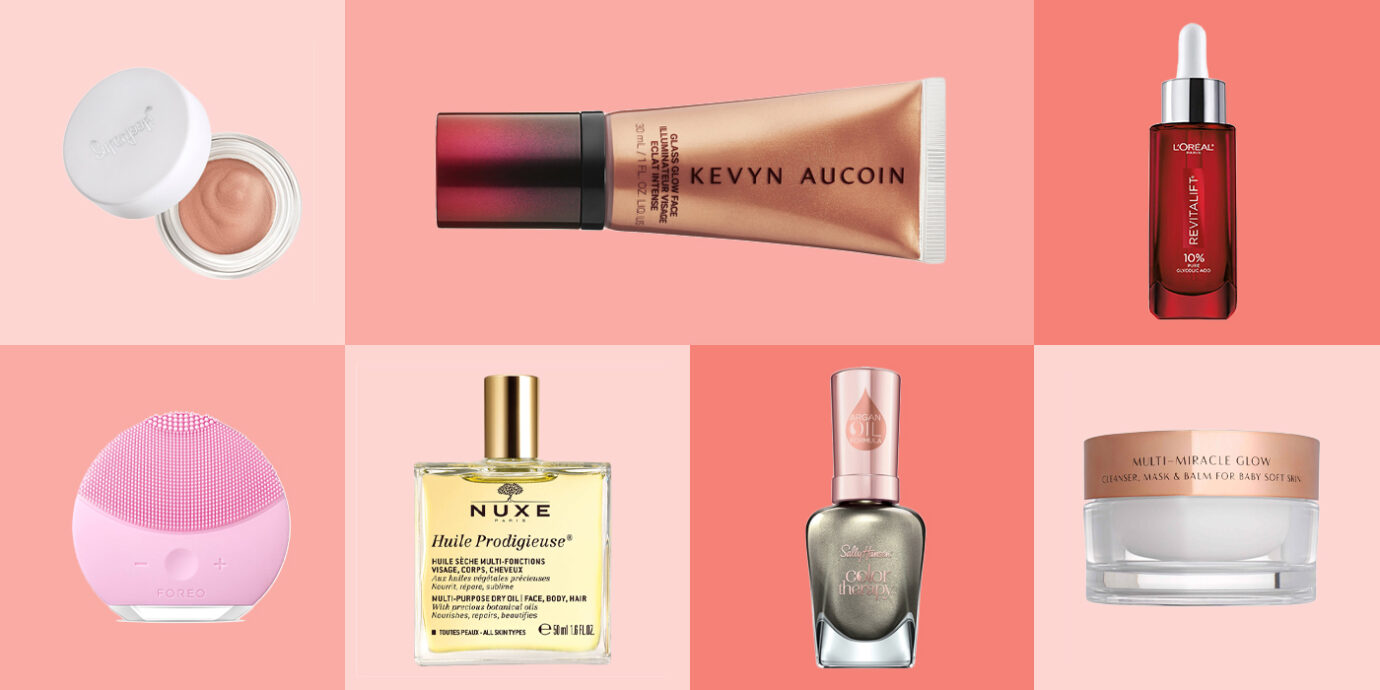 Shop
Best Bang-for-Your-Buck Two-In-One Beauty Products
We all wear many hats each day, so naturally we demand our beauty products to multitask just as hard as we do. The market is rife with these beauty busy bees, from lip-and-cheek tints to magical ointments with seemingly endless possibilities. They're excellent for saving room in your carry-on or just for knowing that you're getting your money's worth. Ready to sneak a little shopping in during your lunch hour like the multitasker that you are? Keep reading, because we've gathered the best of the two-in-one products right here. 
1
Tatcha The Pearl Tinted Eye Treatment
Tatcha has earned a reputation for beauty products actually worth their luxury price tags, and this concealer/eye treatment duo is no exception. Its pearly formula gives sleepy eyes instant pep, while also working long-term miracles with Tatcha's signature blend of green tea, rice, and algae to firm fine lines and protect against aging.
Shop Now
2
Supergoop! Shimmershade Illuminating Cream Eyeshadow SPF 30
You know how you can't get sunscreen near your eyes? And then you worry about the damage the sun must be doing to your lids? Quit stressing. Supergoop's swipeable eye shadows offers earthy neutral color, a buildable creamy texture, and SPF 30 protection. Choose a shade (or all four!) to screen your delicate lids with subtle shimmer.
Shop Now
3
Too Faced Hangover Rx 3 in 1 Replenishing Primer Setting Spray
Excellent for an on-the-go makeup bag, this triple-hitter starts as a primer, doubles as a setting spray, and triples as a rejuvenating mist. Reviewers note that the spray comes out quickly; hold it about a foot away from your face to keep it from getting too gloopy or runny.
Shop Now
4
Diptyque The Art of Body Care Revitalizing Shower Gel Hair & Body
Toss out your presumptions—shampoo/body wash two-in-ones aren't just for frat boys, and Diptyque isn't just for candles. Formulated with almond extract to add shine to hair and peppermint essence to enliven skin, this light and lively body/hair shower gel also delivers a complex bergamot scent that will make your bathroom smell as fragrant as the Italian countryside.
Shop Now
5
NUXE Huile Prodigieuse Multi-Purpose Dry Oil
Ever wonder what beauty products French women swear by? This multitasking dry oil for hair, face, and body is at the top of the list. With a dry finish, the vitamin E-rich oil delivers nutrients without feeling greasy or slick. Use it to drive shine to hair, hydrate a dry complexion, or heal damaged cuticles, dry scalp, or cracked elbows. Basically, just dab it anywhere that could use some velvety decadence.
Shop Now
6
Foreo Luna Mini 2 Facial Cleansing Brush
This tiny-but-mighty tool does the work of a cleansing balm, exfoliant, and anti-ager, all while giving you a rejuvenating little massage in the process. Customizable bristles gentle enough to use daily get gunk out of pores, and the pulses stimulate collagen to produce a fresh and healthy makeup-free glow.
Shop Now
7
Charlotte Tilbury Multi-Miracle Glow Cleanser, Mask, & Balm
The end result here is what matters: skin that's surprisingly soft and glowing. How you get there is up to you: you can use this luminosity booster as a cleansing balm to banish the day's dirt, as a morning mask to start your day as fresh as the proverbial daisy, or as a salve to drive moisture to heels, cuticles, or anywhere that needs it. Regardless of how it's used, Multi-Miracle Glow's rosehip, vitamin E, and antioxidants work overtime to pump you with nutrients and soften your skin like no other.
Shop Now
8
bareMinerals Complexion Rescue Tinted Hydrating Gel Cream SPF 30
In addition to packing in solid SPF protecion, this bareMinerals gel cream uses marine botanicals, electrolytes, and calcium to pump skin with replenishing hydration, but without the oiliness or tackiness of some moisturizing sunscreens. The lightweight formula contains a sun-kissed tint that evens out skin tone. It looks great on its own, but also works as a primer for more heavy coverage.
Shop Now
9
L'Oreal Paris Pure Glycolic Acid Face Serum
Wanna clear up your dark spots and brighten dull skin without spending a good chunk of a paycheck? This drugstore twofer from L'Oreal is for you. Glycolic acid goes to work on spots and fine lines, while also exfoliating pores to leave skin fresh and luminous. Soothing aloe makes makes this serum mild enough for everyday use.
Shop Now
10
RMS Beauty Lip2Cheek Smile
These little color pots from clean beauty leader RMS Beauty are perfect to keep in your car or travel bag. Use whenever you need a rosy dab of color and a quick hit of hydration to the cheeks or lips—their formulas are rich in moisturizing fortifiers like beeswax, seed butter, and argan oil.
Shop Now
11
Frances Prescott Tri-Spritz
Former makeup artist and facialist Frances Prescott designed her line with multitasking in mind. Her hydrating and anti-inflammatory spray locks in makeup while also hydrating and stimulating cellular repair. Importantly, the spritz uses algae from spring water to create a natural layer of defense between your skin and the pollution and grime of the outside world.
Shop Now
12
Kevyn Aucoin Glass Glow Face Liquid Highlighter
Highlighter shouldn't be limited to cheekbones. This rich, plant oil-based face gloss helps your whole face glow. Passion fruit and marula oils provide a rush of hydration and work to even skin tones. And don't feel limited to your face here; this lightweight gel looks fantastic dabbed on collarbones, arms, or anywhere else that could use a little liveliness.
Shop Now
13
Sally Hansen Color Therapy Nail Polish
Sally Hansen is a nail industry leader for its stunning array of shades and chip-resistant formula. The brand has boosted that formula for its Color Therapy line—a collection of polishes featuring a blend of argan, primrose, and acai oils that hydrate and strengthen nails behind the scenes while your mani looks flawless on the surface.
Shop Now
Related Stories
All products have been hand-picked by our writers and editors. Items purchased through links may earn us a commission.