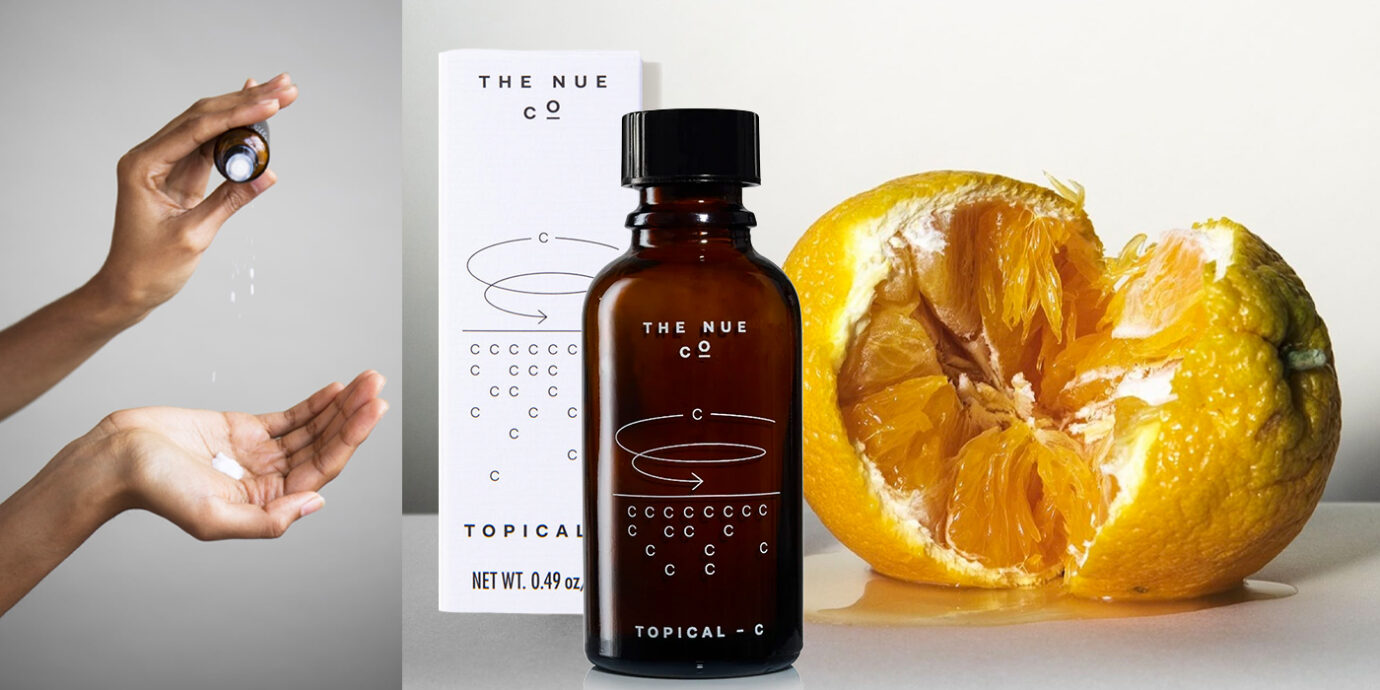 Worth the Hype
The Vitamin C Powder That Keeps My Skin Radiant and My Toiletry Bag Gunk-Free
Show of hands: Who here has unzipped their dopp kit to discover a favorite vitamin C serum has opened en route and left your toiletry bag a sticky, expensive mess. It's a heartbreaker. I've been burned by this scenario more than once, which is why I've turned to powdered beauty products that are TSA-friendly and generally spill-proof. This past year, a certain powdered vitamin C has helped me scoot through security with ease, maintain an orderly toiletry kit, and keep my complexion healthy and radiant on the road. Read on to see why this powdered dynamo is a game-changer. 
Even if you're not super *extra* when it comes to your skin-care routine, chances are good that you use a vitamin C serum. (And if you don't, consider it!) This science-backed ingredient is celebrated for its ability to put the kibosh on dullness, dark spots, UV damage, hyperpigmentation, acne scars, and fine lines—and that's just the beginning of its anti-aging wonders. As Joshua Zeichner MD, Director of Cosmetic and Clinical Research in Dermatology at Mount Sinai Hospital in NYC, puts it, vitamin C is a "potent antioxidant that neutralizes free-radical damage, interferes with production of abnormal pigment, and can help brighten dark spots."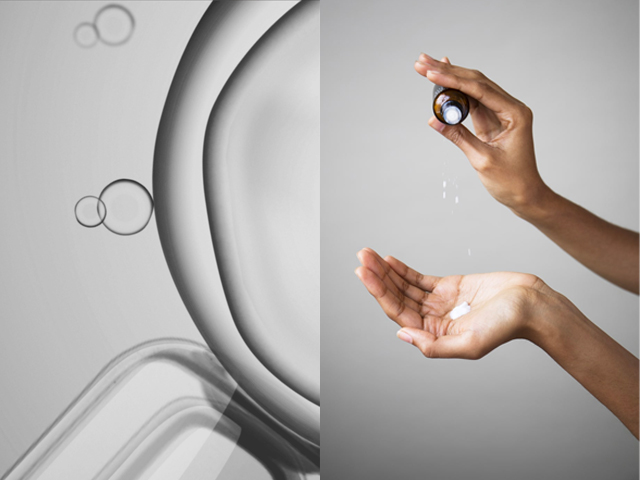 I've worn some version of vitamin C since my college days as a sales girl at The Body Shop, but I've always been nervous about packing it for trips. I thought the serum was too precious for the big, bright world beyond my medicine cabinet. Most come in glass bottles with a twist-off medicine dropper that could easily lead to leakage, plus its powerhouse ingredient is famously unstable, meaning that it disintegrates and loses efficacy when exposed to light and air. Nope, no trips for you, tiny sweet vial of vitamin C!
However, late last year, I found myself packing for nearly three weeks in Paris to review hotels (quite the gig!) and I couldn't bear the thought of going so long without my beauty MVP. Over the years, I've become increasingly obsessed with keeping my skin safe from free-radical damage and UVA/UVB radiation, which cause premature aging of the skin. Along with daily sunscreen and regular touch-ups, vitamin C is a big part of my skin-protection game plan. I've loved the convenience of other powdered beauty products on the road (favorites: Eco-Dent tooth powder, DHC face wash powder, Moondust powder shampoo) and clean wellness brand The Nue Co. had recently released its Topical-C, a dry vitamin C designed for mixing with the face cream, oil, or serum you already own—you can even mix it with water in a pinch. According to Zeichner, powdered vitamin C maintains potency longer and is "more stable in the presence of light and air" than its C serum counterparts, but he does advise that it should be applied as soon as it is mixed, when it is most active.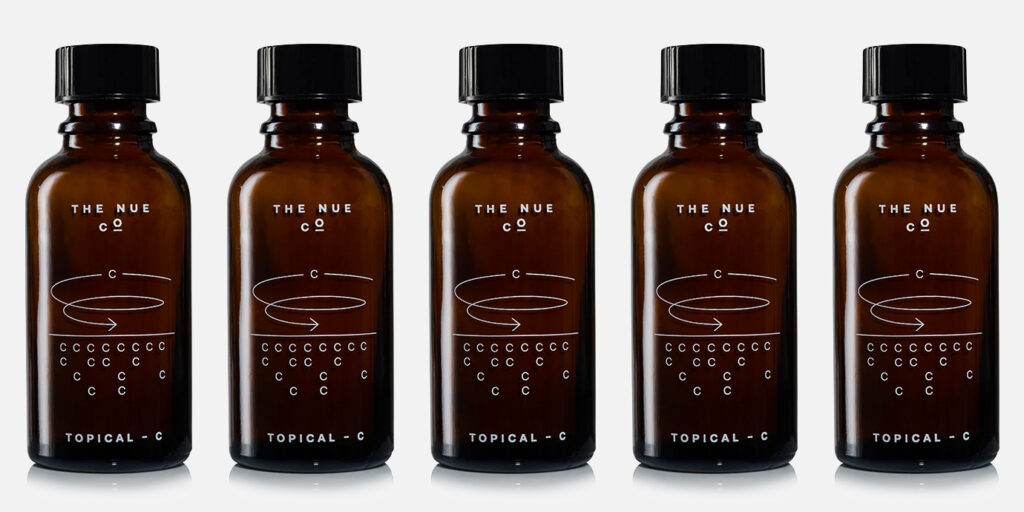 This pulverized vitamin C is stored in a small brown glass bottle with a tiny opening in the stopper to prevent any spillage if the cap comes off in transit. The first thing I noticed is that the fine powder has no color or discernible scent—a blessed relief for anyone all too acquainted with the off-putting smell of SkinCeuticals CE Ferulic and some other vitamin C serums. (Side note, SkinCeuticals' vitamin C serum is considered the gold standard, but the smell, which reviewers describe as "sardines" and "hot dog water," is a drawback.) Every morning before a full day of hotel visits, I'd tap two or three shakes into my palm along with my usual face serum or moisturizer; at night, I'd sprinkle some into my face oil. Toward the end of the trip when it was clear I hadn't rationed my toiletries properly, I simply mixed it with water or hotel-brand lotion. No matter the carrier, the powder dissipated instantly for quick and easy application. While some vitamin C products cause my sensitive skin to flare up, this gentle formula is tempered by anti-inflammatory oat kernel flour and soothing aloe, so my complexion stayed calm and happy.
Now, a word about the price. Seventy bucks for half an ounce is nothing to wave off—it's almost on par with SkinCeuticals' pricing ($166 for one ounce). But I will say that this stuff lasts—and stays fresh—longer than typical C serums. Using one dropper's worth of serum a day, I'll go through a bottle of Paula's Choice C15 Super Booster (0.67 ounce) or Timeless 20% C + E + Ferulic Acid Serum (one ounce) in six weeks. By comparison, my bottle of Topical-C held out in my toiletry bag throughout the three-week Paris trip last winter, eight weeks' of travel in 2019, and there's still nearly a third left. I may have had to leave my beautiful bottle of Ritz Paris champagne behind, but at least my travel vitamin C plan is in the bag.
TLDR: The Nue Co. Topical-C
Shelf-stable vitamin C in TSA-friendly powder form
Can be mixed with face moisturizer, serum, face oil, or even water
Gentle enough for daily use
Fragrance-free, natural, vegan, and cruelty-free
Ferulic acid (an antioxidant) helps stabilize volatile vitamin C
Vitamin C and ferulic acid boost collagen production and prevent sun damage, among other perks
Anti-inflammatory oat kernel flour and soothing aloe help prevent irritation
Twist-off cap and small opening prevent spillage
Widely available on Amazon, Nordstrom, Dermstore, Credo Beauty, Verishop, Violet Grey, and The Nue Co. website
More Vitamin C Skin Saviors
Related Stories
All products have been hand-picked by our writers and editors. Items purchased through links may earn us a commission.