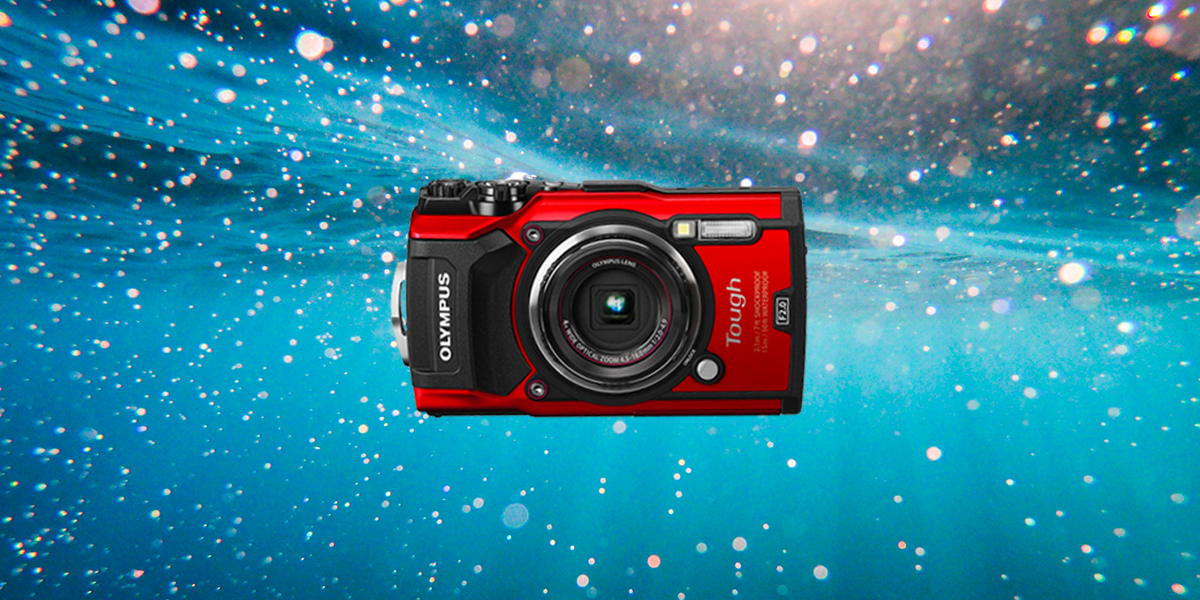 Shop
The 9 Best Waterproof Cameras to Take Incredible Shots
We're lucky to live in a time where waterproof cameras are plentiful and image quality has never been better, whether you're taking surfing action shots or just need a camera that can hold up to a downpour. Yes, even some smartphones can take crisp underwater shots. (In fact, there's a smartphone on this list.) But all the cameras here go above and beyond whatever you have in your pocket at the moment. These are the best waterproof cameras available right now. Bonus: They take solid shots in the sunshine, too.
THE RUNDOWN ON WATERPROOF CAMERAS
What Should I Look for in a Waterproof Camera?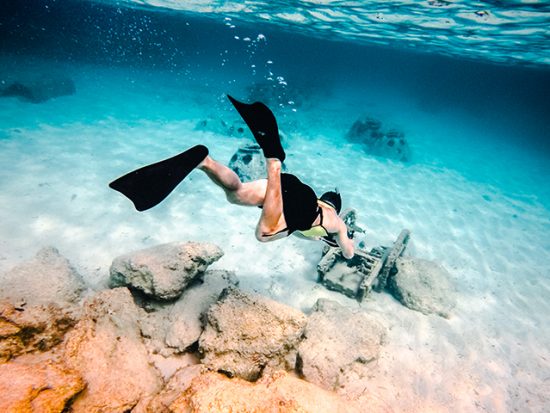 Essentially, look at the specs that correspond to how you'll use your camera— are you trying to shoot 4K video? That's a spec you'll want. Are you a diver? Look for cameras that match the depths you tend to hit. Got a habit of dropping your stuff? Find for a camera that's OK with a little tough love.
Pros will gravitate toward cameras that have interchangeable lenses and manual camera settings. However, these cameras bump up the price significantly, and they aren't waterproof on their own—they require a separate, often similarly expensive underwater camera housing. That price can count out the beginner or hobbyist. And with the improvements in digital cameras, unless you're planning on putting your photos on a billboard, you likely won't need the quality professionals seek anyway.
What About Underwater Camera Housing?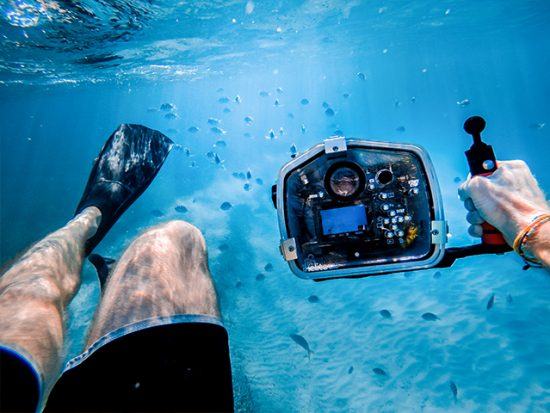 If you've already got a camera or smartphone that you love, underwater camera housing is an option for many models. Essentially, this is a waterproof shell that tightly hugs your camera. There are several brands that make these cases, and they range from waterproof cellphone cases to point-and-shoot covers to cases that will fit with a high-end DSLR or mirrorless camera. You'll want to check the specs to make sure the case is compatible with your camera and the depths you're expecting to dive. You get what you pay for here, too—often, housing for the nicest cameras are going to cost you a chunk of dough.
THE BEST WATERPROOF CAMERAS
1
GoPro Hero7
Pros: Option to livestream, good image stabilization
Cons: Heats up when filming in 4K
Sensor: 6.17 mm x 4.63 mm
Lens: n/a
Megapixels: 12
Video Resolution: 4K
Water resistant down to 33 feet, the GoPro has become shorthand for 'adventure camera' for good reason—it's relatively simple to use and takes super solid photos when you're on the move. The Hero7 has improved image stabilization (an excellent upgrade, since underwater filming can be shaky, to say the least) and can now livestream your trips. As with most cameras, video recording really eats into battery life—the GoPro Hero7 lasts about 45 minutes when filming in the highest resolution.
Shop Now
2
Nikon W300
Pros: Durable as heck, easy to use
Cons: Not the greatest in low-light situations, no full-manual option
Sensor: 1/2.3 inch
Lens: 24-120mm
Megapixels: 16
Video Resolution: 4K
Looking for a heavy-duty camera that can put up with some abuse? This pick can hold up to stunts from kids, or just a butter-fingered adult. In addition to being waterproof down to 100 feet, the Nikon Coolpix W300 can operate in temperatures below freezing, be dropped from more than seven feet in the air, and gritty sand and dust won't be able to get inside. There are also all kinds of fancy navigation and tracking features, like a GPS, compass, altimeter, and depth gauge.
Shop Now
3
Samsung Galaxy S10+ Plus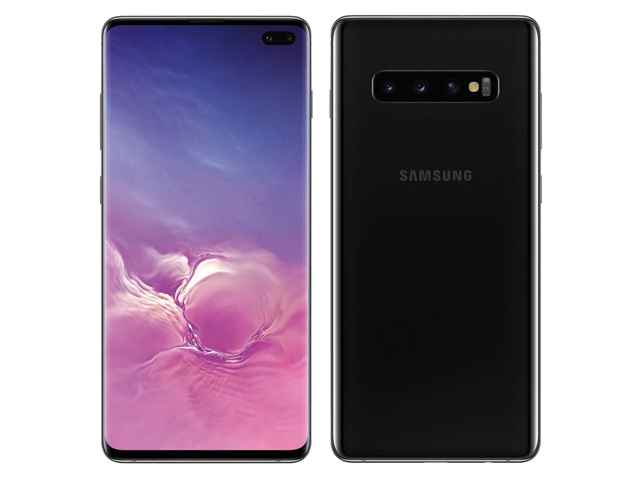 Pros: Not only a killer waterproof camera, it's also, y'know, a smartphone
Cons: Not as great as other smartphone cameras in low lighting
Sensor: Unclear–larger than previous versions
Lens: Multiple built-in
Megapixels: 10-16
Video Resolution: 4K
If you're not planning on doing deep-sea diving, you may not need a new camera at all—a new smartphone could cover it. The Samsung Galaxy S10+ will be operational down to 4.9 feet for as long as 30 minutes (which is also good insurance should you ever dunk your phone into a toilet bowl). Plus, it's not just one camera. There are actually five separate lenses on this baby, including telephoto, wide-angle and ultra-wide on the backside, and a dual camera on the selfie side that lets you play with depth of field and other effects.
Shop Now
4
Olympus TG-5 Waterproof Camera
Pros: Great image quality, kind of indestructible
Cons: Expensive for a point-and-shoot
Sensor: 1/2.3-inch
Lens: 25-100mm
Megapixels: 12
Video Resolution: 4K
Another nearly indestructible option. You can drop this camera from 7 feet, drag it to the bottom of a 50-foot lake, sprinkle it with sand, all while it tells you your GPS coordinates and current temperature. You can even hit this camera with 220 pounds of force and you won't be able to crush it. (That's at least the strength of accidentally sitting on it, right?) Meanwhile, you'll get 4K video, low-light photography, and the ability to add accessories like a waterproof light diffuser or extended zoom.
Shop Now
5
Fujifilm FinePix XP130
Pros: Inexpensive, versatile
Cons: Video quality isn't the best on the market
Sensor: 16M BSI-CMOS
Lens: 28-140mm
Megapixels: 16.4
Video Resolution: 1080p
Waterproof down to 65 feet, this camera can also be set up to take a shot remotely—great for those of us that don't travel with a designated photographer. It also holds up to falls, dust, and frigid temperatures. Send yourself your photos through Bluetooth and keep track of where you've been with geotagging. Another cool feature: Burst mode, which functions just like it does on your phone–so you can get a flurry of action shots and pick the best of the bunch. At $149, it's a good option that doesn't totally break the bank.
Shop Now
6
Campark ACT74 Action Camera
Pros: Similar to GoPro, but less expensive
Cons: Fisheye style isn't for everyone
Sensor: 1/2.88 inches
Lens: 170°HD adjustable wide-angle fisheye lens
Megapixels: 16
Video Resolution: 4K
People are obsessed with this camera because it's a decent rival to a GoPro, but it's significantly more affordable. At $49.99, it's the cheapest option on this list. If you love fun features on Instagram, you'll have a blast with this camera. Time-lapse, loop recording, and slow-motion features give you plenty of options when recording, and it's easy to share your creations to your phone with Wi-Fi. The Campark is waterproof to 98 feet when you use the included waterproof case, and this package comes with additional accessories to secure it to a helmet, wrist, or bike while you're on the go.
Shop Now
7
Panasonic Lumix
Pros: Easy to use, durable
Cons: Image quality isn't excellent, but fine for social media
Sensor: 13.0 x 17.3 mm
Lens: 25-100mm
Megapixels: 16
Video Resolution: 1280 x 720p
Named one of the best waterproof cameras by TechRadar, this pick can be described as the Nikon's cheaper, slightly less rugged sibling. Waterproof to 26 feet (up to 60 minutes), droppable from five feet, and able to withstand both debris and freezing temps, it's still a super solid choice for a more budget-friendly $99.99. It also comes with a handy 220MB of internal storage, in case you want to take the shot of a lifetime and accidentally forgot your memory card in your computer. This would be great for a pool or beach day. Bonus: It's small enough to fit in your pocket so you can leave the bulky camera bag at home.
Shop Now
8
Olympus TG-Tracker
Pros: Has its own 60-lumen light
Cons: Heavier than other popular options
Sensor: 1/2.3 inch
Lens: 13.9mm
Megapixels: 8.3
Video Resolution: 4K
Recommended by CameraLabs, this is one of the quirkier underwater cameras, mimicking an old-school camcorder in miniature—like if a camcorder were GoPro-sized. Take this tough, crush-proof camera to depths of 100 feet and illuminate the darkness with a 60-lumen light. The screen of this camera can be flipped out for comfortable filming. Large buttons on its top edge make for easy control underwater, but this is best for people who are interested primarily in video—you can't take still images while filming.
Shop Now
9
GoPro Fusion
Pros: 360 filming and underwater filming
Cons: Needs two SD cards to use, big files require big processing power
Sensor: 1/2.3″
Lens: 360
Megapixels: Spherical 18
Video Resolution: Spherical 5.2K30/3K60
If you're a serious hobbyist or verging on pro with the computer processing to back it up, the Fusion is a solid option to break into 360 and virtual reality filming. Digital Camera World named it one of the best GoPros of the year. While not as hardy as other models—it can only reach a depth of 16 feet—it's plenty flexible for a snorkeling trip or a dunk in the lake. The biggest downside is that the file sizes aren't nearly as user-friendly as other GoPro models, so you'll need a real hefty computer to stitch your clips together. More casual videographers are better off waiting for future models.
Shop Now
Related Stories
All products have been hand-picked by our writers and editors. Items purchased through links may earn us a commission.