Shop
The Best Travel Tripods for Once-in-a-Lifetime Shots
A good tripod often means the difference between a photo that collects all the "likes" and one that gets an "unfollow." While they're not as flashy as Instagram filters, tripods are the unsung heroes of great photography. Using a tripod allows you to shoot at a lower ISO, which cuts down on the photo's grain (also called "noise"), resulting in clearer, crisper pics. But there are as many types of tripods as there are cameras, and which one is perfect for you depends on what types of scenes or subjects you're hoping to capture, as well as what type of camera you're using. Read on for everything you need to know about the best travel tripods for once-in-a-lifetime shots.
THE RUNDOWN ON TRIPODS

What are tripods used for?
A bubbling Aperol spritz. Shooting stars streaking across an inky sky. A smiling face showing off a sparkly ring by candlelight. What do these shots have in common? A tripod! A tripod keeps your camera steady in low light, wind, or other challenging conditions, including close-ups, which require a very sure hand. It helps you compose panoramic or HDR (high dynamic range) shots, and lets you prepare for photos that require a lot of patience and excellent timing, such as catching a kitten mid-yawn. You can also use a tripod with a self-timer so you can get a proper, pro shot versus an arm's-length selfie. Like a lens or a filter, a tripod is a tool that can dramatically improve your photography.
What to look for in a travel tripod?
Size matters when it comes to tripods. The larger the tripod, the better it will be at steadying your camera in any circumstance—but the less likely it will be to fold up and fit into your carry-on. Along with height, weight, collapsibility, portability, and sturdiness, you'll need to factor in cost. It might be worth investing in an expensive model, which can accommodate many types of cameras, or you might find that a cheaper version best suits your needs. Finally, you need to consider what kind of camera you're using; heavier cameras will require a tripod with a larger load capacity, whereas a smartphone can attach to a tripod that fits in your pocket.
How do I choose a tripod that's the right one for me?
Deciding among tripods comes down to figuring out your personal whats, hows, wheres, and whens. What types of photos do you want—and how, when, and where will you be taking them? If your feed is full of food, you might opt for a small, unobtrusive tripod that you can quickly put up and take down before your dish gets cold. If, however, you want to shoot video and photos on the go, you'll need a lightweight tripod that extends to different heights. What kind of gear do you use? Do you primarily use your phone, or do you have a DSLR with multiple lenses? All of the above? Some tripods can accommodate multiple types of cameras, but others can't handle that kind of switching—and you don't want to be lugging around a huge tripod when you could get by with a lighter one.
THE BEST TRAVEL TRIPODS
1
Best Lightweight Tripod
Manfrotto Compact Action Smart 61
Weight: 2.60 pounds
Material: Aluminum
Maximum extended height: 61 inches
Minimum extended height: 17.3 inches
Folded (retracted) length: 17.8 inches
Head / mount type: Pistol grip
Load Capacity: 3.3 pounds
Campers, if you're already schlepping your tent, your sleeping bag, and your food somewhere, you won't want to add to your load by toting too much tripod. After all, it's called backpacking, not backbreaking. Enter the Manfrotto Compact Action Smart. Two characteristics make this aluminum tripod a great choice for backpackers, or for anyone who wants a lot of tripod for not a lot of bulk: at fewer than three pounds, it weighs around the same as a pair of hiking shoes. This Manfrotto is also versatile enough to accommodate most cameras, camcorders, and smartphones.
$64.88 at B&H
2
Best Budget Travel Tripod
Sunpak TravelSmart 50' Tripod
Weight: 1.10 pounds
Material: Aluminum
Maximum extended height: 50 inches
Minimum extended height: 17 inches
Folded (retracted) length: 16.5 inches
Head / mount type: Pan
Load Capacity: 4.4 pounds
Our pick for the best budget tripod comes from the same manufacturer as our pick for the best tripod under $100. (See below.) Sunpak's got the market cornered for quality tripods that don't cost a ton. The TravelSmart doesn't come with oodles of frills. What it does do, however, is the most important thing a tripod can do—keep your camera balanced and stable. You'll want to double-check your camera body's weight plus any lens, however, since some set-ups and accessories are heftier than others. Braces anchor the legs against the central column for extra support.
3
Best Travel Tripod for Video
Manfrotto MVKBFRTC-LIVEUS Befree Live Carbon Fiber Video Tripod Kit with Fluid Head
Weight: 3.04 pounds
Material: Carbon fiber
Maximum extended height: 59.06 inches
Minimum extended height: 16.14 inches
Folded (retracted) length: 16.14 inches
Head / mount type: Ball head
Load Capacity: 8.8 pounds
Shaky, handheld videos are so last century. To prevent any kind of wonky effect, you'll want your camera to smoothly pan. We recommend opting for a tripod with a movable head to keep your shots steady. The Manfrotto Befree's tracking arm enables you to shoot the action across a full 360 degrees while simultaneously keeping the actual camera stable. It also features a leveling apparatus so you can double-check that the camera is squared off even when the ground is not. You'll be panning and tilting like your name is Coppola in no time.
$300.73 at Amazon
4
Best Travel Tripod for Phone
JOBY GripTight ONE GP Stand
Weight: 2.5 ounces
Material: Stainless steel, plastic
Maximum extended height: 5.91 inches
Minimum extended height: 2 inches
Folded (retracted) length: 5.91 inches
Head / mount type: Ball head
Load Capacity: 11.5 ounces
The JOBY GripTight ONE GP Stand offers portability, flexibility, durability, and rotatability—a word we made up to convey the fact that the tripod rotates 90 degrees. Why is that a big deal? Well, having a head that rotates means you won't need to readjust the rubber grippers every time you want to review a shot; instead you can flip your phone, decide to keep or delete, and then keep going. Speaking of phones, this tripod works with iPhones and Androids, and you won't even need to remove the case in order to attach phone to mount. The legs can be wrapped or extended into the traditional pyramidal shape.
$27.49 at Target
5
Best Travel Tripod Under $200
Vanguard Camera Tripod Alta Pro 263AGHWeight: 5.84 pounds
Material: Aluminum
Maximum extended height: 68.5 inches
Minimum extended height: 56.1 inches
Folded (retracted) length: 28.5 inches
Head / mount type: Pistol grip
Load Capacity: 15.4 pounds
There's a reason the Vanguard Alta Pro has the word "pro" in its name: This tripod offers a huge range of features that allow you to capture pretty much any shot you can imagine. OK, so you might need to brush up on your geometry, but you can adjust the legs at different angles independently from one another, a total advantage when you're working on uneven terrain. Flip locks keep everything where you want them while allowing for easy adjustments. And then there's the rotating center column mount, which further extends the tripod's yogini-like range.
$169.99 at Target
6
Best Travel Tripod Under $100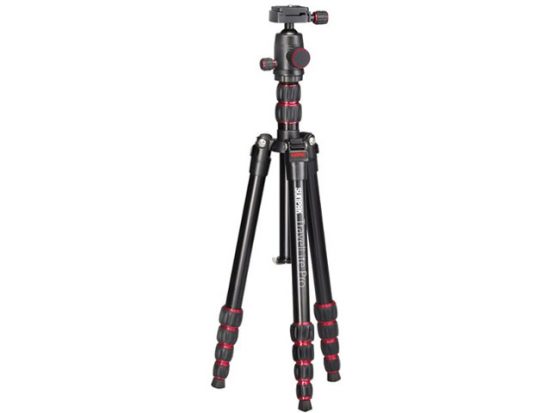 Sunpak TravelLite Pro Reverse Folding 63" Tripod Black
Weight: 2.75 pounds
Material: Aluminum
Maximum extended height: 63 inches
Minimum extended height: 14.3 inches
Folded (retracted) length: 14.3 inches
Head / mount type: Ball head
Load Capacity: 6.6 pounds
Here's a photo-taking heartbreaker: Your lighting is perfection, your framing ideal. Just when you go to capture your dream subject with your expensive gear, your tripod collapses—ruining your shot and possibly damaging your camera. Specifically designed for travelers, the Sunpak TravelLite Pro Reverse Folding 63" Tripod gets points for being both heavy (as in duty) and light (as in weight). It holds most full-frame cameras, so no worries about wobbliness, and it won't drag you down as you climb, scale, or hike to your location. No, seriously. The Sunpak can tuck right into a backpack or messenger bag.
7
Best Waterproof Travel Tripod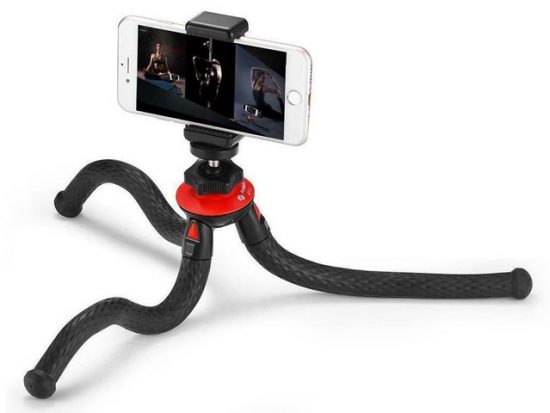 Fotopro UFO2 Tripod Kit
Weight: 8.01 ounces
Material: Silicon
Maximum extended height: 11.02 inches
Minimum extended height: n/a
Folded (retracted) length: 11.02 inches
Head / mount type: Ball head
Load Capacity: 1.76 pounds
Swimming with a full-size tripod requires at least some degree of dexterity and athleticism. If you're looking for a more manageable option, try the Fotopro UFO2 Tripod Kit. You'll have oodles of fun manipulating the "octopus tentacle" legs of this adjustable mini tripod into whatever shape you need. And this tripod works with both phones and cameras—you'll want to make sure those are waterproof too, of course, before diving in. Oh, and one more thing: the Fotopro tripod comes with a Bluetooth remote shutter, so you can photograph yourself frolicking among the waves.
$22.95 at Amazon
8
Best Travel Tripod for Mirrorless Cameras
MeFOTO BackPacker Classic
Weight: 2.60 pounds
Material: Aluminum
Maximum extended height: 51.60 inches
Minimum extended height: 16.50 inches
Folded (retracted) length: 12.20 inches
Head / mount type: Ball head
Load Capacity: 8.80 pounds
As you might guess from their name, mirrorless cameras don't have a reflex mirror, so they are lighter than the typical mirror-outfitted DSLRs. As always, you'll want to check that the tripod you love can support your full camera kit (lens and body) before buying this option. The MeFOTO BackPacker Travel Tripod weighs almost nothing, folds up to the length of your arm, and features independently locking legs. And, unlike the other tripods on our list, it comes in your choice of color, including orange and blue.
$89.98 at Amazon
9
Best Splurge Travel Tripod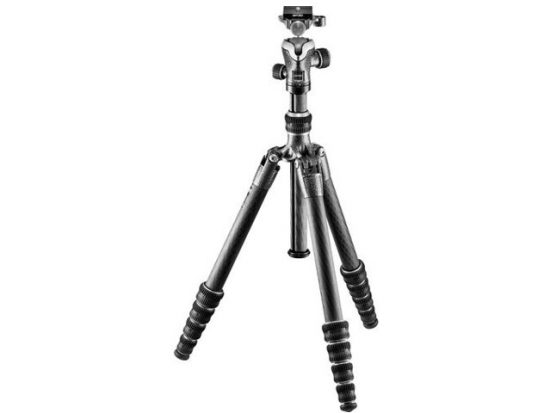 Gitzo Lightweight Series 1 Traveler Carbon Fiber Tripod with Center Ball Head, Silver & Black (GK1555T-82TQDUS)
Weight: 3.17 pounds
Material: Carbon fiber
Maximum extended height: 54.33 inches
Minimum Extended Height: 7.87 inches
Folded Length: 13.98 inches
Load capacity: 22.05 pounds
Head / mount type: Ball head
Truly superlative, the Gitzo Lightweight Series 1 Traveler Tripod is worth every penny (and, to be honest, it costs a lot of pennies). It's made for the serious travel photographer who needs a tripod that can withstand a lot while going more or less everywhere. Gitzo invented a super-cool folding system that shrinks this tripod down to about 14 inches—no mean feat for a tripod that extends more than four-and-a-half feet. While the cost might make you want to enrobe the tripod in its own vacuum-sealed, gold-plated protective case, it's made of sturdy stuff, namely, the kind of stuff engineers use to build spacecrafts.
$989.88 at Amazon
PACKING TRIPS FOR YOUR TRIPOD

Tip 1: Test Out Your Tripod Before Traveling
Before you head out on your travels, you'll want to check your gear, including cleaning, charging, and, most importantly, practicing with whatever you're taking. You don't want to be fumbling or futzing with a strange tripod while dealing with all the other unfamiliar stuff and unknowns that come with traveling. So spend some time getting to know your tripod before you go off on your dream trip. This way, you'll spend more time snapping and less time fiddling once you're there.
Tip 2: Determine Your Shot Wishlist
Writing a shot list lets you figure out exactly how to get the shots you want. It also helps you figure out how you'll be using your tripod, which, in turn, helps ensure you bring the right tripod along. A little research about your destination goes a long, long way. Will you be on uneven terrain, rocky ground, or cobblestone streets? Will you be getting wet? Will you have time to set everything up, or will you be photographing or vlogging on the go? Will you be hiking with your tripod or otherwise lugging it around, or can you stick it in the back of an Uber?
Tip 3: When Flying, Consider Your Carry-On
According to its latest guidelines, the TSA lets you bring your tripod packed inside your carry-on or in your checked bag. In some cases, you might also be able to attach your tripod to the outside of your carry-on, but this really depends on the security agent. He/she may ask you to pack the tripod away, rather than letting it dangle. So if you opt to carry or attach your tripod separately, make sure there's enough room for it in your carry-on just to be safe.
Related Stories
All products have been hand-picked by our writers and editors. Items purchased through links may earn us a commission.