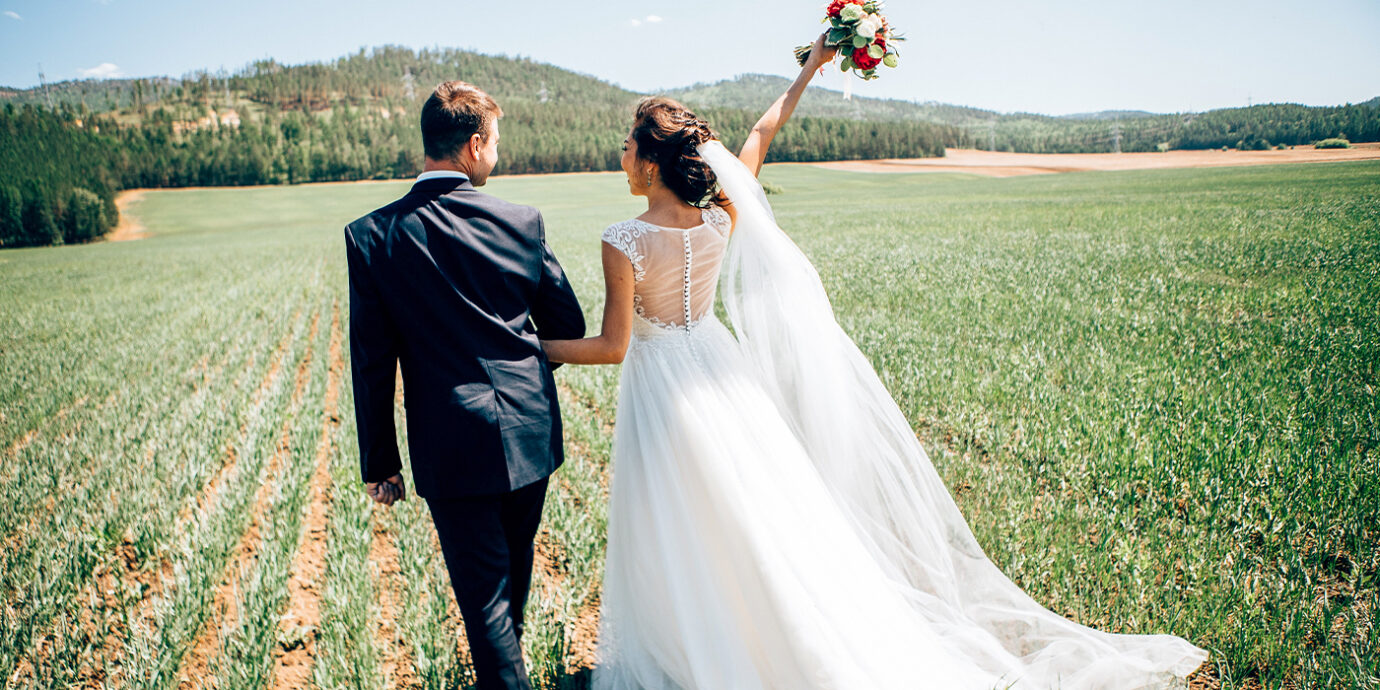 Shop
The 10 Best Wedding Registries for Travel Lovers
If you and your partner have already played house for a few years, it's likely that you're all set in the KitchenAid, Instant Pot, and Dyson department. Rather than register for a long list of household items you really don't need, why not give your wedding guests the option to contribute to your honeymoon fund or buy you some new travel accessories? Whether you're looking for a matching luggage set, experiential gifts (think tickets to the Colosseum or a snorkeling excursion at the Great Barrier Reef), or cold hard cash to throw towards your post-wedding adventures, the following registries will treat you well.
1
Zola

Zola is one of the most well-known wedding registries around—and for good reason. The company offers a curated selection of goods from just about every brand imaginable. In the travel space, there's BRIC's, Samsonite, Backcountry, and The North Face, just to name a few. Better yet, your gift-givers can also purchase experiences (scuba diving, wine tasting, food tours), chip in to your honeymoon fund, or buy you a Hotels.com or Airbnb gift card. If it were us, we'd ask for the latter, along with airfare to and from your destination (you can currently register for gift cards from Southwest or Delta).
See Zola
2
Amazon

Are you an avid Amazon shopper? Then you probably already know why the world's largest online retailer excels at wedding registries. Sign up for a registry with Amazon and you and your wedding guests will enjoy ultra-fast (and free) shipping, easy, no-questions-asked returns, a discount (up to 20%) on brand name items, special financing options, and bonus gifts with the purchase of particular products. If you need a little inspo when adding to your list, you can peruse by category, hobby, or brand. One thing we'd certainly add to our Amazon registry? Bose QuietComfort headphones for our pre- and post-honeymoon flights.
See Amazon
3
Target

Target is another top option for those with travel on the brain. Believe it or not, the brand offers a universal registry—which means you can add items from other websites, too. Not only can you register for honeymoon-friendly items like Swissgear suitcases and destination-appropriate clothing, but the retailer has also partnered with Honeyfund to offer digital gift cards to popular travel, dining, and entertainment companies like Hotels.com, Princess Cruises, and Uber. Once your big day has come and gone, Target also offers a 15% discount on all remaining registry items. We'd definitely use the site's group gifting option to go all in on an iPhone 11 Pro so we can put the triple camera to use on upcoming adventures.
See Target
4
Bloomingdale's

Bloomingdale's' wedding registry offers luxury gear and exclusive travel perks. If you're looking for a one-stop shop where you can simultaneously register for a new Tumi, Briggs & Riley, or Rimowa luggage set, and plan your Bora Bora honeymoon, this is it. Bloomingdale's has even partnered with The Travel Siblings to offer custom itineraries for you and your boo. Essentially, when you book your honeymoon through The Travel Siblings on Bloomingdale's, you can pick your destination/resort, set your budget, and then leave the rest to them. What you'll get in return is a fine-tuned itinerary and loads of perks, like free excursions and upgrades. While breathtaking destinations are a dime a dozen, we'd have to go with a safari through Botswana's Okavango Delta and Chobe National Park.
See Bloomingdale's
RELATED: The Best Packing Tips and Tricks for Couples Traveling Together
5
Bed, Bath, and Beyond

Bed, Bath, and Beyond's wedding registry is the gift that just keeps giving. If you're expecting a product-only registry, think again. BBB's option allows for cash contributions to a honeymoon fund as well as non-traditional experiential gifts—like hot air balloon rides in Temecula and sunset cruises around Maui—via their partnership with VEBO. The benefits don't stop there, either. You'll get a $100 reward when you register, a 20% off discount on all unbought items, and a gift on your first anniversary. In case you need a little inspiration to get your list going, the Geoffrey Beene Marble 2-Piece Spinner Set would definitely make a great starting point.
See Bed, Bath, and Beyond
6
Best Buy

If you're already the proud owner of an Away suitcase and your collection of travel accessories is stacked, why not use your registry to upgrade your electronics? When better to get a new DSLR or smartphone-controlled drone than right before your honeymoon? If it were our wedding gift list, we'd be adding the Dyson Airwrap Complete Styler for dreamy honeymoon hair, obviously, and an iPad Mini for airport entertainment.
7
Honeyfund

Already stocked with Le Creuset cookware and Brooklinen bedding? Honeyfund is just the registry for you. Rather than receiving a bunch of gifts you really don't have space for, you can have your wedding guests contribute cash toward your dream honeymoon—be it a South African safari or a cruise through Finland's fjords. If your guests would rather give you an experience, they can also purchase gift cards for everything from dining and excursions to spa treatments and entertainment. Register for a gift card to Hotels.com and then you can use your cash—which is instantly deposited to your bank or PayPal account—for fun stuff like a new vacation wardrobe.
See Honeyfund
RELATED: What to Pack For A Romantic Getaway
8
MyRegistry

If you're looking to register primarily for travel goodies but you could use a few new kitchen gadgets, too, MyRegistry is a stellar option. The universal registry is a one-stop shop with more than 600 retail partners like Anthropologie, Target, REI, and Patagonia. If you're in the midst of planning a dream honeymoon, you can also create a cash fund where guests can chip in to cover your post-wedding getaway. Once you know where you're headed, you can register for on-the-ground experiences, too, be it a day trip to Machu Picchu or a champagne lunch at the Eiffel Tower.
See MyRegistry
9
Neiman Marcus

Your wedding is the perfect time to ask for high-end items you wouldn't normally buy yourself. For this, consider Neiman Marcus. While the luxury department store certainly has a variety of home goods, you'll also find an assortment of elevated travel gear, from Frye's authentic leather weekender to Sofia Cashmere's airplane-friendly throw. We'd add a few Diptyque candles to the mix for post-trip use. With lovely fig, lavender, and oud scents (among many, many others), you can certainly find one that reminds you of your honeymoon locale.
See Neiman Marcus
10
Blueprint

Blueprint is another all-in-one platform where you can register for honeymoon and travel essentials like Calpak luggage, round-trip Delta airfare, or a new Nikon DSLR camera as well as experiential gifts like a Flytographer vacation shoot or a couples' aromatherapy treatment. Like others on our list, you can also set up a cash registry on the side, so that friends and family can contribute to your time away. While Blueprint has plenty of enticing options, we'd definitely try our luck registering for a four-night stay in a luxury hotel (don't worry—you can enable group gifting so no single person has to drop $1,400).
See Blueprint
Related Stories
All products have been hand-picked by our writers and editors. Items purchased through links may earn us a commission.