Shop
Birchbox Subscription Review: The Ultimate Beauty Box for Makeup, Hair, and Skincare Travel Samples
The best part of beauty is experimenting with new products. A fresh lipstick, new dry shampoo, or Instagram-worthy gold sheet mask can be just the thing (or things) to perk up your look and mood. But we've all paid too much for a trend that just wasn't right. That's where Birchbox steps in. This beauty subscription service sends members six curated and individually customized beauty samples of high quality makeup, nail care, skin care, and hair care products every month. Try the products at home, or on vacation, and if you love something, there are incentives and deals to order full-size bottles. Didn't fall in love this month? No biggie, another box will arrive in 30 days with more magical beauty goodies. Read on for our unbiased and honest Birchbox review, featuring two months of Birchbox boxes.
Birchbox Review: What Are the Pros and Cons of Birchbox?
Birchbox Pros
Fun, affordable way to receive a monthly box of six curated travel-sized beauty products
Huge range of high-end and indie brands
Sign-on incentives usually include a free, full-size beauty product
Full-size products are easily bought—often at a discount
Gender-free, Birchbox Grooming boxes are also available
Earn loyalty points by shopping and reviewing products
Easy and free to cancel if you get tired of the month-to-month subscription service
Ability to choose a sample, customized box, or swap for a full-size product—starting with your second box
Sample sizes are easy to pack and TSA-friendly—ideal for travel!
Convenient way to stay current on beauty trends
Birchbox boxes for sale in select Walgreens and Duane Reades
Birchbox Cons
Price went up from $10 to $15 for a monthly box in 2019
Occasional complaints about similar products in consecutive boxes
Some criticism that Birchbox doesn't truly customize its boxes
Six-month and yearly subscriptions don't allow for early cancellations
Some of the customized boxes sell out early
Frequently Asked Questions About Birchbox
What Is Birchbox and How Does It Work?
If you're looking to sign up with Birchbox, the process unfolds in a few straightforward steps.
Step one: Fill Out Your Profile. Filling out your profile is key, and it's pretty quick. Before Birchbox sends you a customized box, they want to know your coloring, beauty preferences, and style. The questionnaire is multiple choice, it takes about five minutes to fill out, and won't stress you out.
Step two: Choose Your Subscription. Currently, Birchbox offers a monthly subscription (which you can cancel anytime) or a six-month and 12-month option (which cannot be canceled). The longer lasting subscriptions are slightly cheaper.
Step three: Receive Your Box. Whoop! Beauty day! Your first box should arrive about 10 days after you've ordered it. You'll also receive your sign-on incentive beauty gift with the first box.
Step four: Try It All Out. Try everything on, take it on vacation, wear it on a date! Do you! If you fall in love with a face mask or find the perfect shade of red lipstick, it's easy to order the full-size product in your Birchbox account. You'll also earn loyalty points for discounts on products and free shipping incentives.
Step five: Review Your Products. Once you've decided what you love, like, and loathe, let Birchbox know! Review each product so Birchbox can learn about your preferences and send you more customized options. Essentially, write your own Birchbox review.
Step six: Lather, Rinse, Repeat. Next month, you'll get an email with a sneak peek of what's in your box and the option to choose one of your samples, an entire curated box, or a full-size beauty product, from a curated list. Fun! Keep the beauty coming!
What Comes in a Birchbox Monthly Box?
It's different every month, and that's what's so great about Birchbox. Based on your initial preferences (and eventually your reviews and feedback), Birchbox sends you six samples. Starting with your second box, you get the option to pick one sample from a curated list, too. You can expect an assortment of nail care, skin care, makeup, fragrances, and hair care. Brands are all ultra high-end and range from Davines and Dr. Jart to MAC and Benefit. Indie products and exclusive brands (that only partner with Birchbox) are also repped, but everything is thoroughly vetted before it goes in your box, so you can be sure you're only getting the good stuff. You might also get beauty tools, like a mini Beauty Blender or Invisibobble hair ties. Here's a full list of brands that Birchbox partners with. To see exactly what goodies we got for our Birchbox review in July and August, keep reading.

Birchbox Pricing: How Much Is Birchbox?
Birchbox offers three different subscription models and prices. For our Birchbox review, we chose the monthly subscription at $15 a month—which can be canceled at any point before your next box is shipped, and keeps coming until the end of time if you don't cancel. To save some money, the six-month subscription box costs $14 a month and is a six-month commitment (read: no cancelations). The best deal is the 12-month plan for $13 a month, but you must commit to a whole year of beauty products (sounds heavenly, to be honest). Each subscription is billed monthly. Make sure you use one of Birchbox's promo codes when you sign up. The promo codes are right there at the bottom of the Birchbox homepage. These codes change regularly and can include a discount on the cost of a box or a free full-size beauty gift. For our Birchbox review, we got to choose between 20% off the cost of our first box, a pair of Bombas socks ($12 value), or a full-size Benefit Badgal Bang! Volumizing Mascara ($25 value). We signed up for the monthly subscription and chose the mascara as a gift. Exciting! Birchbox review pro tip: The promo code won't be automatically applied, and you might forget about it by the time you finish taking the beauty questionnaire and filling in your shipping information. There isn't a special promo code prompt, so be sure to remember to fill in the promo code before you submit your credit card info.
Is There a Sign-Up Fee for Birchbox?
Nope! It doesn't cost anything to sign-up for Birchbox, other than the cost of the monthly box itself. The only other cost is if you decide to order a full-size beauty product you sampled in your box. Some of the full-size items incur a shipping fee, but watch for incentives and deals in your inbox that often include free shipping. Aces loyalty members get free shipping, too. Read about the company's loyalty program below in our Birchbox review.
Will the Birchbox Box Fit in My Mailbox?
Yep! The Birchbox boxes come inside a cardboard box that's designed to fit in a standard mailbox. It's usually delivered by USPS and you'll get a tracking number after your box has shipped, so you can follow its journey from the warehouse to your bathroom vanity.
Does Birchbox Have a Loyalty Program?
You betcha. Essentially, there are two tiers: general shoppers and Aces. Every time you order a Birchbox, shop full-size products, or gift someone with a subscription you're on your way to becoming an Ace. Once you reach $300, you're there. What do you get? First, your monthly Birchbox goes down to $10. Then, you get free two-day shipping on orders over $100 and free shipping on all orders at any price. Another perk is early access to picking your sample—ensuring you get the one you want. Aces also have access to priority customer service and get special incentives and surprises throughout the year.
Can I Order Men's Toiletries and Grooming Products From Birchbox?
Yes! Birchbox Men originally launched in 2012 but it was changed to the non-gender binary Birchbox Grooming in 2017. Birchbox smartly realized that men, women, and non-gender conforming folks can all use the same products, and there's no need to be so limiting with a gender qualifier. Yay! Birchbox Grooming subscription service focuses on grooming products. You won't get makeup, but you will get shower toiletries, shaving stuff, and skin care. Love it!
Does Birchbox Have Brick and Mortar Stores?
Birchbox shut down its flagship store in SoHo when it teamed up with Walgreens. About a dozen Walgreens and Duane Reades in the United States have a Birchbox counter in-store, called Bring Your Own Birchbox. To check it out, we stopped by the Duane Reade on Spring Street in New York. The beauty section featured a large, eye catching Birchbox display with about 15 huge canisters filled with individual products. The idea was that you could sniff, spray, and sample anything on display—then fill a Birchbox with your five favorites for $15. The available products were completely different than what was delivered in our monthly box. Highlights included Klorane dry shampoo and Coola Classic Primer SPF 30. While the concept was fun, it wasn't the best shopping experience. Some of the tester products were missing or—in the case of the Deep Sleep Pillow Spray—completely empty. There wasn't a beauty rep working in the area so we couldn't ask anyone if buying a single Birchbox in-store automatically signed you up for a subscription. It would be fun to fill up a sample box and grab one of the displayed Birchbox gift cards for a thoughtful present. But we'll stick to the superior online Birchbox shopping experience.
What Happens Once the Birchbox Box Is Delivered?
You tear it open and run to the nearest mirror/sink to give everything a try! Or, truthfully, you take a picture of the colorful box and post it on Instagram! Or, you set it all aside and wait for your next vacation to crack open your new lip glosses and sheet masks! In essence, it's up to you and a personal choice on how you want to play with and experience your curated beauty samples. Eventually, though—before your next box ships, you'll want to log back into your Birchbox account to review your products. That way, Birchbox gets feedback on what you like and don't like for the next box. One thing to note, there's no return process. You keep everything, even the duds, since they're just samples. You can also purchase a full-size tube of the sample mascara that you discovered perfectly lengthens your lashes.
How Often Do I Get a Birchbox?
Every month! If you choose the monthly subscription, you'll be charged $15 each month and sent a box until you cancel the membership. Six- and 12-month plans are also available for a slight discount ($14 and $13, respectively)—but you can't cancel. When the monthly limit is up, these subscriptions automatically renew. Birchbox boxes ship by the 10th of each month. Birchbox Grooming and Grooming Plus Subscriptions ship by the 25th. If you're getting your very first Birchbox, your box will ship within 10 business dates of your initial order date.
Can I Change How Often I Get a Birchbox?
You can't change how often you get a Birchbox; they come every 30 days. But if you need a beauty box fix before your next delivery, you can shop all of the beauty products on Birchbox's website, and check out their Discovery Kits. These are essentially curated boxes with themes like The 5-Minute Makeup Kit ($28 for an $84 value) or The Travel Hair Kit ($35 for a $110 value). How genius is that? P.S. The Discovery Kits make adorable gifts.
Will I Know What's in My Birchbox?
You won't know what's in your first Birchbox. But you will get a sneak-peek email before your second box arrives, which shows what's headed your way. You also get the opportunity (with a time limit) to choose one of your samples, select a curated box, or swap out your entire box for one full-size beauty item of Birchbox's choosing.
For our second box, we chose a sample of ModelCo Lip Plumper Hydra Lip Therapy from the lineup of three sample options. There was also a watermelon sheet mask (which ended up being included in our box anyway).
Another option was to pick our box from a selection of three curated choices, with each of the samples shown and described. But past reviewers have complained that the box they wanted wasn't in stock when it came time to pick. (Aces loyalty members get first dibs on picking boxes).
In September 2019, Birchbox launched the added choice of trading in your entire box for a full-size beauty product of Birchbox's choosing. That month, the item was a Tarte H20 lip gloss. Choosing a sample is fun, but it did feel more like an incentive to sign into our account (and possibly shop) than to really make a big difference in our Birchbox samples.
What If I Don't Like Something? Will Birchbox Give Me My Money Back?
Birchbox works hard to ensure members are receiving high quality products from trustworthy brands. That being said, sometimes you'll get something in your box that just isn't your cup of tea. But Birchbox won't refund you if you don't like a sample. Focus on the other things you do like and maybe gift that not-quite-right highlighter to a friend. Be sure to rate and review the item in your profile so Birchbox can learn your preferences over time and send you the perfect samples. If something arrives damaged (it happens) let Birchbox know, and they'll likely issue you a credit or loyalty program points.
How Do You Cancel Birchbox?
Okay, if you're sure you're ready to quit, don't fret. It's pretty easy to quit if you have the month-to-month subscription, just log into your account settings and click on "cancel my account." If you signed up for a six- or 12-month subscription, you can't cancel until that time limit is up—but be sure you turn off auto-renew before you're automatically subscribed again. Read how we quit for the Birchbox review below.
Can You Re-Join Birchbox After You Quit?
For sure! However, you won't be eligible for new customer incentives (like the full-size gift), and you'll lose the Loyalty Program Points you accrued before you quit. On the plus side, Birchbox does save your sample history and beauty profile.
How Do I Gift Someone with Birchbox?
Aren't you sweet? You want to gift us with Birchbox? Kidding, kidding. You can gift a 3-, 6-, or 12-month Beauty or Grooming Subscription by purchasing a Gift Subscription Gift Card online. Your lucky recipient can redeem their gift card and start receiving boxes after they complete their own Birchbox profile and input their address details to initiate Birchbox shipments. Your beauty karma will immediately go up for being so generous.
Our Birchbox Review for Travel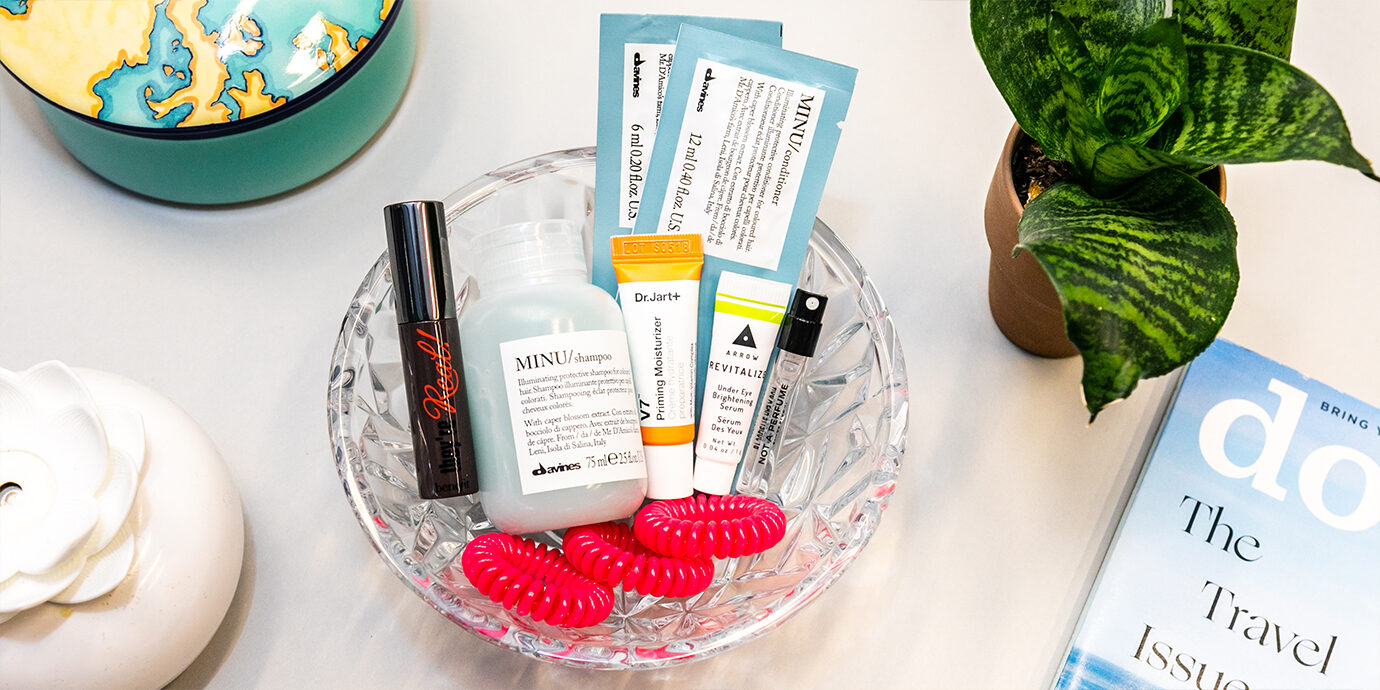 How We Signed up for Birchbox
The height of summer felt like a great excuse to refresh our skin and hair routines. Birchbox to the rescue! The goal was to test out what kind of products Birchbox would send, and see if it was a smart hack for having a constant rotation of travel-size beauty and skin care mailed to us every month—just in time for trips to Portland, Europe, and Chicago. We filled out the beauty questionnaire, chose the monthly subscription option, and waited about 10 days for our very first box. Reader, we were hooked.
What We Received in Our Birchbox Boxes for July and August of 2019
July's Birchbox Box

The July box was a complete surprise. Unlike future months, there's no "sneak peek" email or option to choose one of your samples from a curated list with your very first Birchbox. We really had no idea what was coming in the mail, but it felt like Christmas in July when the citrus-print box arrived to the office with six beauty samples inside. Here's what we got.
Davines Minu Shampoo and Packets of Minu Conditioner and Hair Serum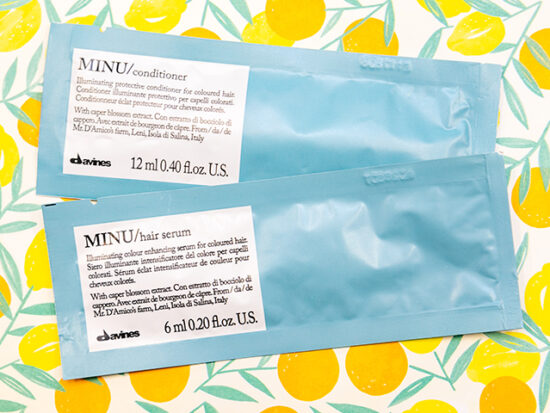 Davines is a fan favorite! The Italian shampoo brand is safe to use on colored treated hair and was just what we needed after months of sun, chlorine, and heat on our tresses. The accompanying packets of conditioner and hair serum were a nice touch, but they seemed a bit skimpy compared to the generous two ounces of shampoo.
Invisibobble Power Hair Ties: Pack of Three

It feels like every time a friend stays in our apartment, they leave with most of our Invisibobbles. So it was a treat to get three more in July's box! These little guys seriously hold a ponytail in place without any annoying hair dents—saggy ponytails begone!
Dr. Jart+ V7™ Priming Moisturizer

Slathering on moisturizer and primer is a two-step process that gets repetitive. Dr. Jart to the rescue. This hybrid product feels like a rich moisturizer but acts like a primer by filling in pores and fine lines. We were seriously happy with this time and space-saving product.
Arrow Revitalize Undereye Brightening Serum

Long-time dark circle sufferers know, there's really nothing you can do about purple shadows other than to moisturize and conceal. This serum is on the concealer end of the spectrum, with a paste-like consistency to cover dark circles.
Benefit They're Real! Lengthening Mascara Mini

We were surprised to receive a Benefit mascara in the July box, since we selected a full-size tube of Benefit BadGal mascara as our incentive sign-up gift. Still, this formula is a fan favorite for a reason and a nice addition to our travel makeup kit. Note that it's a bit of a pain to wash off even though it's not technically waterproof.
Juliette Has a Gun Perfume

Juliette Has a Gun is a pricey and nice smelling perfume line, and we're fans! But this tiny trial size felt like something we could get for free at any Sephora or perfume counter. We did say on our beauty questionnaire that we were A-okay with fragrance samples, but this size felt cheap.
Shop Juliette Has a Gun at Birchbox
August's Birchbox Box

For August, we got a sneak peak (via email) at what was coming and were given the opportunity to choose one of our six samples from a curated list. If we hadn't chosen anything, Birchbox would have selected on our behalf. Still, it was a pretty fun email to get during the weekday and it incentivized us to get back on the Birchbox website and review our past box.
ModelCo LIP PLUMPER Hydra Lip Therapy

Major '90s vibes ahead. If you remember Lip Venom, you'll appreciate the tingly feeling of Lip Plumper. Though our pout wasn't injection-sized after using, it did look pretty and full. One caveat? Apply too much and you might get a numbing sensation in your mouth—eep!
Oribe Grandiose Hair Plumping Mousse

Score! Oribe is a major luxury brand and this mousse brought our hair to new heights. It's hard to pack full-size hair products on vacations—and most don't decant well, so a two-ounce can of Oribe was a definite win.
Living Proof Perfect Hair Day (PhD) 5-in-1 Styling Treatment

Living Proof's 5-in-1 styling treatment got passed around. It was a miss with the first editor who tried it, but the second editor was happy to take it off her hands and the results of smooth and frizz-free hair without any weight or build up. We constantly travel with their dry shampoo, so were excited to add a second product from the line to our toiletry kit.
Love of Color Liquid Shimmer Shadow

The word shimmer made us nervous, but this is a very subtle and pretty product. It's blendable, almost sheer, and didn't start to crease until after a full day's wear. We're definitely going to check out the other shades once we use this sample up.
Shop Love of Color at Birchbox
Pūrlisse Watermelon Energizing Sheet Mask

It's summer, and we're obsessed with all things watermelon. This mask smells fruity and left our face feeling soft and fresh.
Lise Watier Waterproof Eyeliner

Though the eye pencil looks brown, it's more of a deep purple color that almost looks black on the eyelids. Easy to apply and looks pretty—we're happy!
How We Canceled Our Birchbox Membership
We did not want to end our membership but had to for the sake of making this Birchbox review complete—we had to test their cancelation policy. Canceling was as simple as logging into Birchbox, clicking on "account settings," and hitting the cancel link. A secondary box popped up asking why we wanted to cancel, with a list of possible reasons. We chose, "financial" and that was that. No gimmicks, no sales pitches, no begging us to stay. Thankfully, it was as easy to sign up again—which we did for the September box.
Finally: Is Birchbox Worth It?

In a word: Yes! Receiving six high-quality beauty samples every month in the mail for $15 is so worth it. It's like having a beauty birthday every month. Any beauty fan can appreciate the introduction to new brands and products. If something just really isn't for you, you probably have a friend who'd be happy to take it off your hands. Our makeup bag is fat and happy.
Related Stories
All products have been hand-picked by our writers and editors. Items purchased through links may earn us a commission.