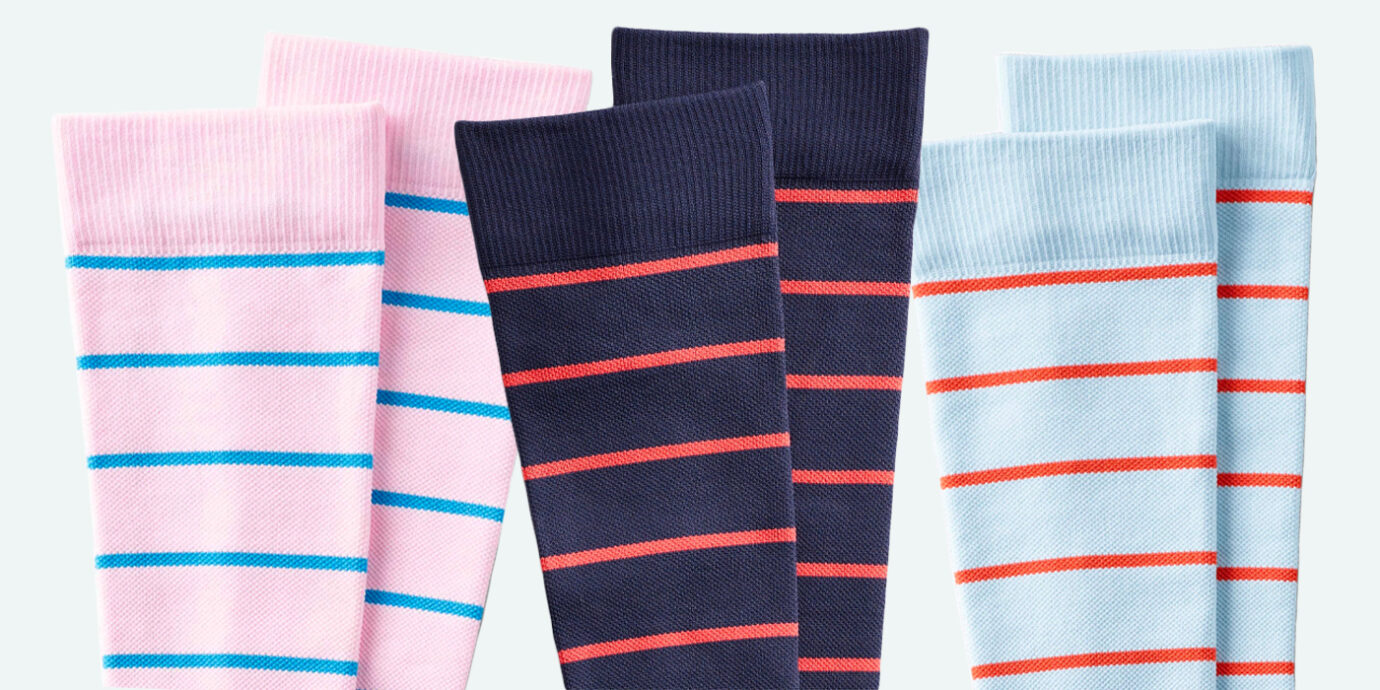 Shop
The Life-Changing Socks I Wear On Every Flight
This used to be me on a flight: feet throbbing, calves crying, lower back fusing into one solid unit. Air travel is hard on a body—hours of inactivity can lead to stiffness, soreness, swelling, or even blood clots (yikes). To counter these airborne discomforts, heed these tips: 1. Drink tons of water, 2. Do laps up and down the aisle (sorry, seatmate!), and 3. Wear compression socks. If that last one has you scratching your head, read on and prepare for your new life as a compression-sock convert.
For the uninitiated, compression socks are no-slip, skintight socks that are big with athletes and anyone with circulation issues. Their super-snug fit applies gentle to firm pressure on lower legs and feet, thus boosting the circulation of blood and oxygen. Improved blood flow = less bloating, stiffness, aches, and pain. But even fully aware of the benefits, I hesitant to take the leap myself, as most options out there were ugly, expensive, or both. So when Comrad launched in 2017, disrupting the category with cute options that weren't hideous, it was all the nudge I needed to *dip my toe* into the world of compression socks at last. The brand's sleek unisex styles—ombre, stripes, solids, and more, all in on-trend colors—were just so much nicer compared to the look of their compression-sock brethren, which feel geriatric or aggressively sporty.
I went all in and opted for a pack of three. As a compression sock newbie, I was surprised by just how tight the socks felt the first time I put them on. Think: 10 seconds to wiggle into each sock, instead of one or two. Right away, I liked how the socks were totally opaque without a hint of white elastic peeping through. And I loved the way they felt, as if I had the bionic legs of a superhero. I was instantly propped up, supported, equipped with an anti-gravity effect lifting me up and away! But it wasn't distracting—after a few minutes of wear, I stopped noticing the constriction completely. Comrad's compression is gradient, so the socks are tighter by the ankle than they are by the knee. (Don't worry, the socks have terry fabric at the tip so your toes don't feel crushed.) When I wore them to work under my booties and skinny jeans, they stayed perfectly put all day under my pants, remained breathable, and kept my blood moving instead of pooling at my feet. No slippage, no sweatage, no under-the-desk leg pain!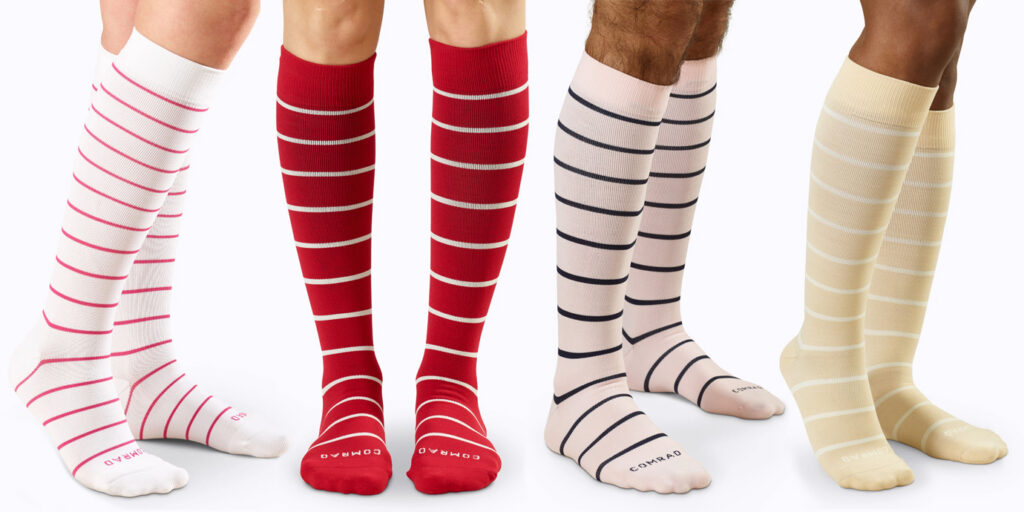 Made from a nylon/spandex blend woven with antimicrobial silver threads, Comrad socks wick away moisture and fight off odor and bacteria. This antibacterial technology means you can wear them multiple times between washes (big travel perk!). But the real benefit is the leg-hugging fit that helps prevent a sluggish blood flow—a blessing during long stretches of standing or sitting. Which brings me back to Comrads for air travel. My list of bodily grievances on flights? The swollen feet and puffy calves? They're non-existent if I'm sporting Comrad (and I always am).
I've now worn the socks on more flights than I can possibly prattle off, though one Comrad-clad trip in particular gets an honorable mention: Last summer, I made my way from the cruise port in Seward, Alaska to my apartment in Brooklyn—with a multi-hour bus ride, two squashed coach flights, and a long cab ride in between. The journey exceeded 24 hours in all, and not once did my feet ache, my calves swell, or the socks feel hot, annoying, or itchy. (I can't give the socks all the credit: regular walks around the cabin and lots of water are part of the magic formula, too!) Maybe one day I'll score one of those fully horizontal First Class plane beds, but until then, Comrad socks are my secret weapon for flying without pain or discomfort.
TLDR: Comrad Compression Socks Review
Chic compression socks in a variety of cool colors and classic prints
Moderate-to-firm compression improves blood flow and reduces leg pain
Sweat-wicking fabric is threaded with antimicrobial silver that kills odor and bacteria
Antimicrobial technology lets you wear them multiple times between washes—perfect for travel
Breathable; pressure is barely noticeable after a few minutes of wear
Suitable for everyday wear (especially in the fall and winter), the office, and the airplane
Machine-washable (spare them the dryer, though)
Available on Comrad's website and Amazon Prime, where they've earned 4.5 stars from shoppers
Related Stories
All products have been hand-picked by our writers and editors. Items purchased through links may earn us a commission.