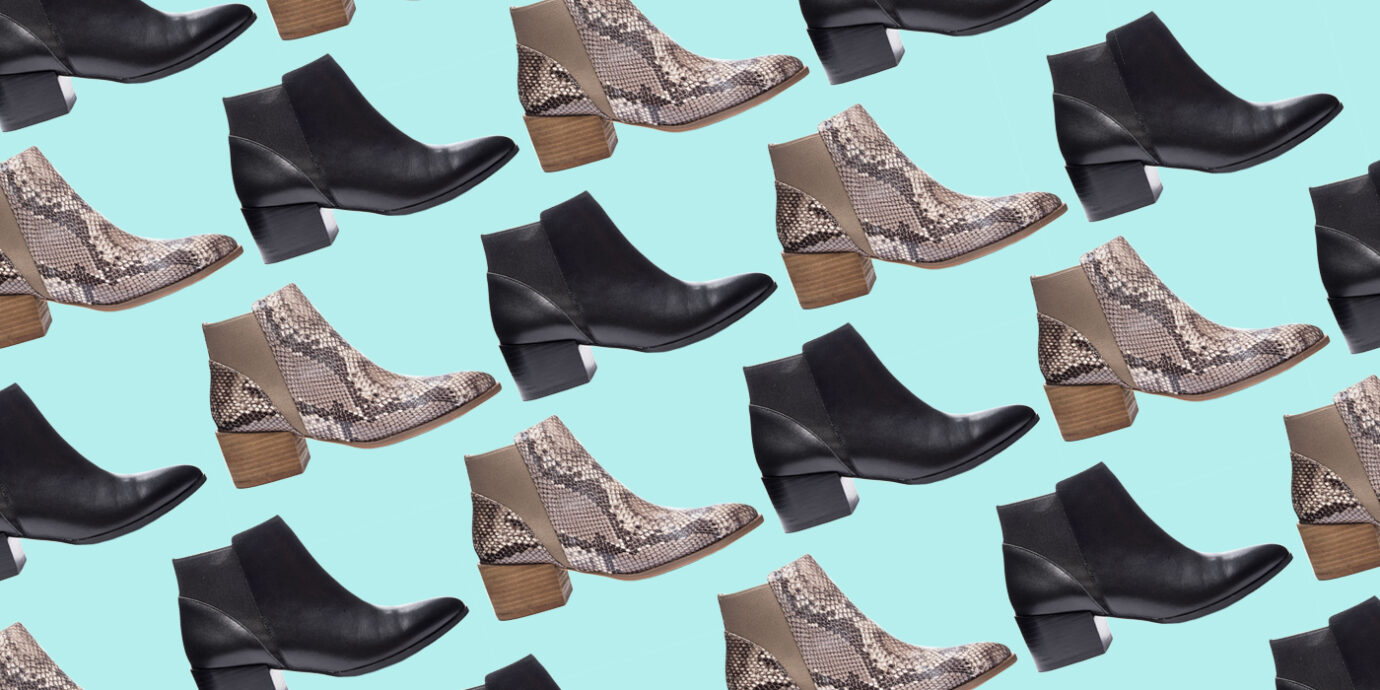 Worth the Hype
From Brooklyn to Barcelona: The Under-$100 Booties Perfect for Work, Travel, and Nights Out
I ask a lot of my ankle boots. They must offer support, but also look amazing with everything from high-rise jeans and a chunky sweater to a wrap maxi dress and gold hoops. They can't gobble up all my suitcase space or weigh me down on the road. And I'd rather they not make my credit card cry. Despite the abundance of cute-looking booties out there, very few meet every requirement. Please allow me to pipe up with a recommendation, the rare cute, comfy bootie that packs well, goes with everything, and costs less than $100: the Finn Bootie by Chinese Laundry. 
Like the next woman, ankle boots are my footwear of choice for a good chunk of the year. I tend to gravitate towards Chelsea-style booties, which pull on easily and work with just about any outfit I come up with. Chelseas are appropriate for most (non-extreme) weather conditions and occasions. However, I can admit that sometimes they read a little clunky and utilitarian rather than stylish. And with their heavy rubber soles built for traction, they're definitely not my favorite shoes to travel with. That's why I love Chinese Laundry's Finn bootie—it's a sleek Chelsea with a slightly higher heel and pointier toe than usual, one that weighs several ounces less than many of its competitors. And best of all, it's under $100. (And sometimes well under.)
Of course, for this price, you're not getting features like waterproof leather, memory-foam footbeds, or a durable rubber outsole that can handle icy sidewalks like they're nothing. These aren't handmade from the finest of materials in a family-run factory in Lombardy. Neither Hadid sister has been spotted wearing them in Paris (yet). But the price is just right for an on-trend and versatile bootie that comes in a big range of colors and prints, like leopard print, mod white, and classic black. Plus, the Finns weigh in at 13 ounces a piece—several ounces less than other popular Chelseas (similar versions by Marc Fisher and Sam Edelman weigh close to a pound or more each). Travelers know that precious ounces matter when packing for vacation. With the Finn, I had found a perfect, lightweight, dress-up-or-down travel bootie. And the price was right.
I ordered the Finns in snakeskin in the height of summer, knowing full well that eventually my strappy sandals would give way to ankle booties. Now that I've had them for a full six months and have worn them through two New York seasons, I'm here to report that they live up to the hype. I've worn them with skinny black pants and turtlenecks, with crop jeans and fitted tees, and with wrap dresses that hit at the shin. I've worn them to work, birthday parties, and live shows in Brooklyn—racking up compliments at each stop. I've texted friends the link to buy, and gushed about them to inquiring strangers whose faces light up when I tell them the price. I'd like to think I played a crucial part in convincing a coworker to buy them in smooth white (then tried not to die of jealousy when she soon paired them with overalls and a sweater—swoon!) I brought them all the way to Brazil, not realizing that it October in Rio isn't exactly bootie weather. (Maybe it's never bootie weather in Rio?) No matter. They didn't eat up suitcase space or weigh me down, so I wasn't mad about bringing them for no reason. The Finns did come in great service on a November trip to Barcelona, where I wore them for nights of bar-hopping in El Raval. For hard-core all-day sightseeing, I'd add cushy insoles into the mix for more support than the Finns alone provide.
Even though they're not hand-stitched by an artisan shoemaker, I know firsthand the quality is perfectly solid. Mine have withstood six months of regular wear (and I'm hard on shoes) without any breakage, scuffs, or visible wear and tear. There are no cracks or signs of flaking on the snakeskin upper—even on the pointy toe, notoriously troublesome turf for scuffs. All in all, they're impressively supportive and sturdy, without feeling rigid. When I first wore them last summer, they needed no break-in time. If you're looking for water-resistance, a heavy-duty sole that can handle rough terrain, and years-and-years longevity, go for Chelseas by Cole Haan, Blundstone, or La Canadienne. If you just want an on-trend, solid-quality bootie that packs easily, doesn't cost a ton, and goes with just about everything in your closet, consider the Finns. (They're an especially great pick if you want to experiment with the leopard or snakeskin trend.) While penning this love letter, I noticed that the price gods at Amazon decreed the black booties in size 7 a mere $47.97. I've maybe never hit "add to cart" so fast.
TLDR: The Chinese Laundry Finn Bootie Review
Stylish Chelsea-style boots with a pointed toe and two-inch heel
Affordable at under $100 (I've seen certain colors on sale as low as $48)
Looks good with jeans, pants, skirts, and dresses—can be dressed up or down
Easy pull-on style with elastic side panels
Lighter than many similar styles, at 13 ounces per shoe (great for travel)
Good dupe for the Marc Fisher Yale bootie, at (at least) half the price
Colors and prints include black leather, mod white, leopard print, and snakeskin
Widely available on Amazon, Zappos, and Nordstrom (all with free shipping), as well as Chinese Laundry's website
Certain colors available on Amazon Prime and Amazon Prime Wardrobe (which allows you to try them on for free before you buy)
Related Stories
All products have been hand-picked by our writers and editors. Items purchased through links may earn us a commission.