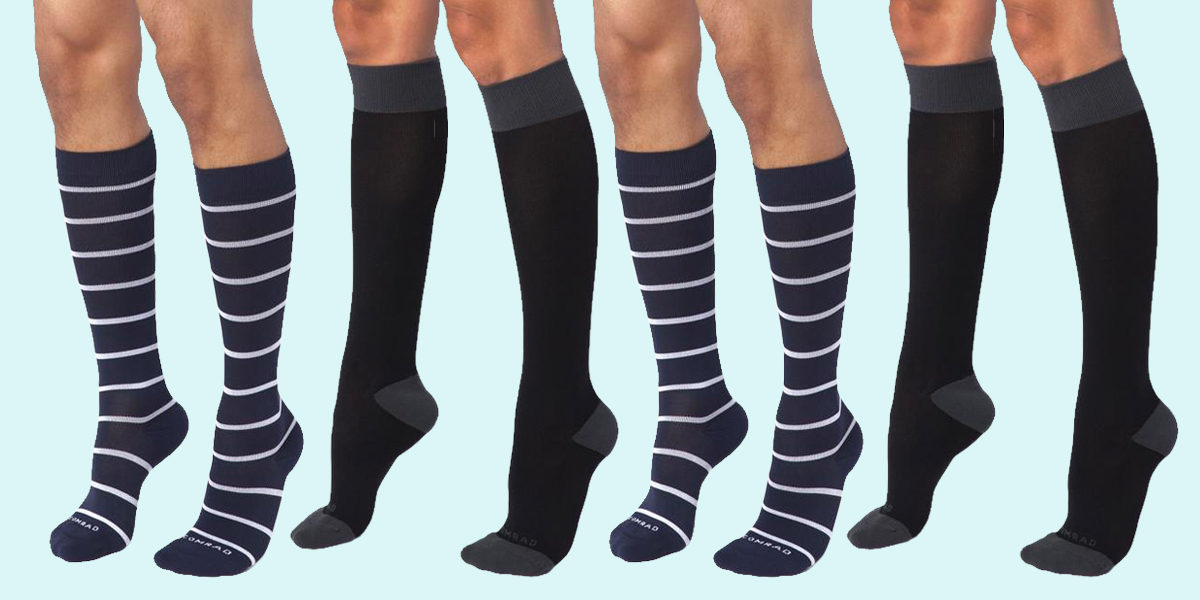 Shop
The 9 Best Pairs of Compression Socks for Travel
When you're trapped in the middle of a center row in the middle of a long-haul flight, compression socks can be the only thing between you and a case of deep vein thrombosis. Too dramatic? Maybe. But it's reassuring to know that when it's not easy to get up and stretch as much as you'd like, you're covered in other ways. Compression socks for flying are a literal lifesaver. They're designed to assist the venous flow that pumps blood from the feet back to the heart, enhancing circulation. Compression socks not only contribute to preventing medical ailments like deep vein thrombosis, but come with the added bonus of staving off that end of the day, heavy legged feeling that travelers know only too well. We've rounded up the best of the best compression socks for travel so you can say goodbye to the perils of tired travel feet and put your best foot forward wherever you go.
1
Best Overall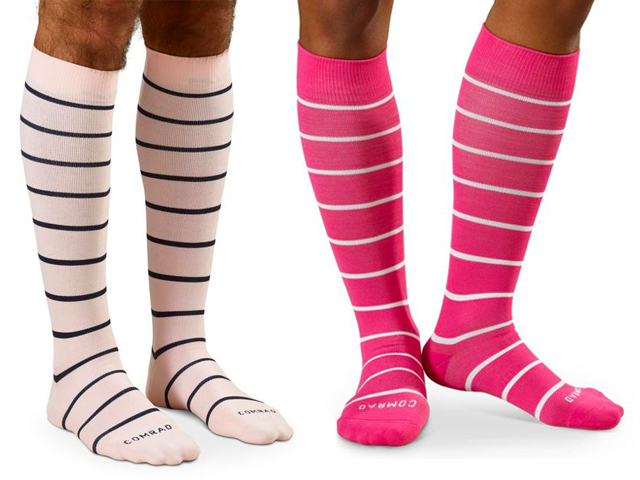 Comrad launched in 2017 and completely revolutionized compression socks. If you're shopping for a high quality pair of socks, Comrad's are made with silver-infused fabric to minimize odor, wick away sweat, and kill bacteria. Oh, and they're cute! Patterns come in pink stripes, white and black ombre, and parachute prints—with seasonal prints rotating throughout the year. The one caveat? You should hang dry them to protect the fabric.
Shop Now
RELATED: The Life-Changing Socks I Wear On Every Flight
2
Best For Luxury
Luxury in the compression sock market means buying from a storied company with 120 years of history in legwear and a dedication to utilizing the finest materials and handcrafted quality. Whether you can justify paying upwards of $50 on a single pair of socks comes down to the value you assign to quality, which you'll no doubt find in Falke's Energizing knee high socks. Chic and stylish, they're the perfect subtle compression sock to pair with a business suit or jeans.
Shop Now
3
Best For Air Travel
The majority of compression socks offer support and improved circulation for flight but we're inclined to favor these Wanderlust premium socks for air travel thanks to their high cotton content. That means while they do the job they're supposed to (they have true medical grade guaranteed compression) they also offer the kind of cozy on the toes comfort you want when you kick off your shoes on a plane.
Shop Now
4
Best For Budget
Sometimes the only answer to one of life's most mysterious phenomena of putting both socks in the washer only for only one to come out the other side—is to spend less and buy more. Compressions socks can be pricy, so this Amazon best-selling budget option by Actinput is an affordable way to stock up on compression stockings for travel. Sold in sets of eight for $18.99, the over the calf black socks are a durable choice that hold up well over a day's walking thanks to the elastane content. Oh, and they're also super light, so you can pack a week's worth, no problem.
Shop Now
5
Best Fun Patterns
Fashion starts from the feet up, so think of A-Swift's compression socks as a fun way to run wild with your personal style—in this case while staying comfortable, supported, and compressed! There are plenty of brands that offer a range of colors and patterns to add a pop of sartorial elegance to their medical benefits, but few are brighter than A-Swift's collection of whimsical designs. The over the calf, knee-high structure means all the more room for loud patterns with everything from argyle to stripes and rocket ships to polka dots lighting up the anti-fungal, anti-odor breathable fabric. If you can't go wild with your sock game on vacation, when can you?
Shop Now
6
Best Natural Fabrics
Compression socks are generally woven from a majority manmade fabrics but if an abundance of spandex feels a little too '80s dancercise for you, there is a natural option. Sockwell's Circulator (for men and women) blends 63 percent bamboo and merino wool with nylon and just a touch of spandex to produce a best-in-class breathable compression sock that won't leave your ankles and feet drowning in sweat. And the slight heathered effect of the fabric looks luxe.
Shop Now
7
Best For Working Out
Working out on the road is a must for many travelers. Whether it's putting in the miles in the hotel gym or pounding the sidewalk of a new city, you'll want to pack some running specific compression socks. Made in Italy, Vitalsox offer an array of features that appeal to a runner's needs, from light padding through the heel and toe to arch supports for extra stability. And bonus, Vitalsox are washed in a natural softener before packaging to avoid that chemical odor that sometimes comes with compression socks.
Shop Now
8
Best for Cold Weather
When you venture to colder climates, whether that be the Andean foothills or a New York City winter, these CEP ankle compression socks are ideal for keeping toes toasty with their perfectly balanced combination of thermoregulating merino wool and polyamide fibers. The CEP socks combat blisters and friction—after all, they were designed for trail runners. Plus, they fit neatly in everyday shoes and offer plenty of heat for the feet.
Shop Now
9
Best Pre- and Post-Pregnancy
Belly Bandit's compression socks are a prime product from a brand with pre- and post-pregnancy comfort and care at its heart. Whether on a babymoon or a trip to introduce a new infant to family and friends, women need a compression sock for travel that takes care of the general feet and leg aches and swelling that occur pre- and post pregnancy. Oh, and for the fashion conscious, reviews of Belly Bandit's Compression Socks praise them for their heathered style with a ribbon stripe, while, you know, doing the important job of taking care of uncomfortable swelling.
Shop Now
Related Stories
All products have been hand-picked by our writers and editors. Items purchased through links may earn us a commission.