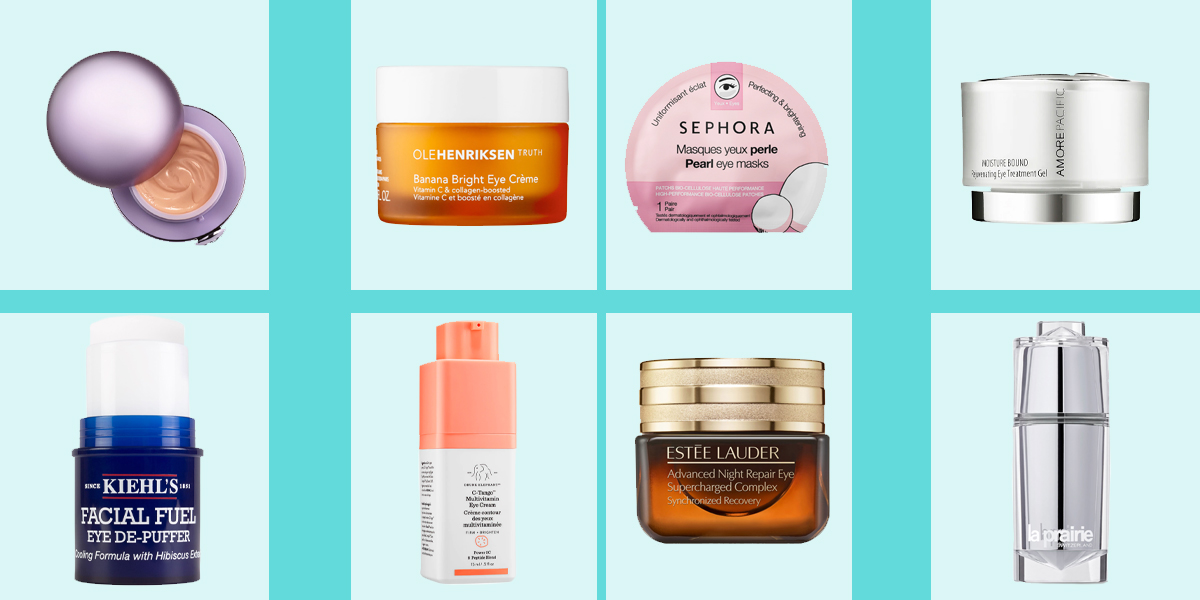 Shop
The Best Eye Cream for Every Budget
We love a good bag, just not under our eyes. Even the best travel itinerary can leave you looking like you didn't get enough sleep. Dark eye circles, puffiness, and undereye bags are all telltale signs of a travel day (or night). While we can't promise to fix all the rigors of a red-eye flight and drying plane air with one small tube, the best eye creams brighten, de-puff, and moisturize the delicate eye area to leave you looking well-rested—even if you flew coach. We rounded up some of the best eye creams for every need and budget. Using one is like buying eight hours of sleep, and that's priceless.
Best Eye Creams for Dark Circles, Undereye Bags, and Puffiness
Budget Pick: Kiehl's Facial Fuel Eye De-Puffer
Like a cool compress for tired eyes, this Kiehl's de-puffing eye cream in stick form feels calming and energizing when you slide it over your eye area. Hibiscus tea and caffeine in the formula work together to send swollen eyes packing. Lightweight moisturizing ingredients, including honey, smooth delicate eye skin. The flower extract rhodiola fight back against dark circles. The travel-friendly size is easy to stash in a carry-on bag and the price is an absolute steal for the quality.
Mid-Range Pick: Dr. Brandt Needles No More No More Baggage
Using a special blend of moisturizing peptides and a tightening, film-forming technology derived from algae, this moderately priced eye cream makes sure the only baggage on your trip is waiting for you at the luggage carousel. Users swear they can actually feel it tightening the skin under their eyes…some say they don't even need undereye concealer after using this product—let alone fillers.
Splurge Pick: La Prairie Cellular Eye Essence Platinum Rare Rejuvenating Eye Serum
For those who aren't here to mess around with small measures, or for those who have struggled with undereye problems for a lifetime, it might be time to bring out the big guns. La Prairie's luxe eye cream is a potent miracle worker. The formula uses the brand's proprietary platinum peptide delivered in a cooling dropper to help smooth wrinkles and target darkness around the eyes for softer, younger-looking skin. Be prepared for friends to think you had an eye lift.
Best Rollerball Eye Product for Puffy Eyes
Budget Pick: Garnier SkinActive Clearly Brighter Anti-Puff Eye Roller
Rollerball applicators are ideal for travel. They don't leak and usually come in TSA-approved sizes. If you're eye-ballin' on a budget, go for Garnier. The cooling metal rollerball gets a boost from mint to give overnight puffiness a chill pill, while depuffing hero ingredient caffeine works to drain away swelling for a smoothed effect that will last all day. Vitamin C adds antioxidant benefits to help ward off free radical damage (unavoidable on flights) and to brighten dark circles over time.
Mid-Range Pick: Origins No Puffery Cooling Roll-On For Puffy Eyes
While hydration might seem like the enemy of puffy eyes, a cool dose of moisture like the kind in this aloe-rich Origins' eye cream simultaneously tames swelling and fights crepey skin. Combined with the cool metal rollerball and bloat-beating caffeine, this eye treatment will put the old "cool cucumbers on your eyes" trick to shame. And since this is Origins we're talking about, the ingredient list is free of parabens.
Splurge Pick: Clinique A

ll About Eyes Serum De-Puffing Eye Massage
Do your eyes need a wakeup call? Reach for Clinique's eye serum, with a slew of potent, skin-loving antioxidants including grape seed, hops, and tangerine extracts. These join forces with pomegranate juice and caffeine for a nice boost. Combined with the gentle massaging action and cooling power of the rollerball tip, signs of sleepiness and bloat practically disappear within minutes of using this convenient eye serum.
Best Brightening Eye Mask
Budget Pick: Sephora Collection Pearl Eye Mask
When it comes to waking up your face fast (and on the cheap), eye masks are the way to go, and Sephora's house brand eye masks provide major bang for your buck. Packed with white pearls, these convenient patches take down puffiness in the eye area and infuse skin with a youthful dewy glow in five minutes flat. The impulse purchase price point will likely turn these eye masks into a carry-on staple you pack again and again.
Mid-Range Pick: Skyn Iceland

Hydro Cool Firming Eye Gels
Icelanders know a thing or two about cooling. And even though Skyn Iceland eye gels aren't stored in the fridge, they feel cool to the touch—and eyes. Peptides and brightening botanical extracts, like Arctic cloudberry oil, combat puffy and tired eyes instantly. It's the next best thing to a restorative Reykjavik trip and dip in the Blue Lagoon.
Splurge Pick: Chanel Le Lift Firming Anti-Wrinkle Flash Eye Revitalizer
For those times you've got to have bright, smooth, wide-awake eyes right this minute (think: your destination wedding) this two-step eye mask has you covered. You start with an intense, roll-on eye serum filled with Chanel's patented smoothing ingredient Le Lift, and dark circle fighting vitamins. Once the serum is on, top with the moisturizing hydrogel patches to help the serum absorb. You'll see results in a snap.
Best Brightening Eye Cream with Vitamin C
Budget Pick: Ole Henriksen Banana Bright Eye Crème
Vitamin C sits at the top of every dermatologist's favorite skin brightener list, and for good reason: between its antioxidant properties and its ability to boost cell turnover, the vitamin is brilliant at making eyes look more brilliant. Ole Henriksen's eye cream basically broke the internet; it was sold out in stores and online for months. The tropically-named cream ups the brightening ante even more with a peachy tint (named for the yellowish banana-colored powder makeup artists use to cover dark circles) that negates the purple in your undereye circles.
Mid-Range Pick: La Roche-Posay Redermic C Eyes Anti-Wrinkle Eye Cream
Formulated with a mix of potent vitamin C and intensely moisturizing hyaluronic acid, this French eye cream plumps (not puffs) undereyes, making dark circles less visible and fine lines subtler. It also has a velvety, primer-like effect that plays well under makeup. Crow's feet, begone!
Splurge Pick: Drunk Elephant C-Tango Multivitamin Eye Cream
With five different forms of vitamin C, along with smoothing peptides, ceramides, and soothing cucumber extract, this potent eye cream isn't playing around when it comes to making undereyes look brighter, smoother, and more glowing. The Drunk Elephant line has a cult following, and its products usually take up a portion of Sephora's Best Seller List.
Best Tinted Brightening Eye Cream
Budget Pick: Origins GinZing Refreshing Eye Cream To Brighten & Depuff On-The-Go
A soft peachy tint with light reflecting particles make the green tea and caffeine infused Origins eye cream an instant eye brightener. The effect neutralizes the cool tones of dark circles and subtly bounces light off of shadow spots under the eyes. The only thing better is a nap.
Mid-Range Pick: Clinique Even Better Eyes Dark Circle Corrector
A moisturizing formula and cool metal tip work in tandem to smooth and depuff the eye area with massaging action. The sheer taupe tint gives just enough coverage to wake up your eyes when the term "red-eye flight" is becoming a little too literal. Fake a good night's sleep (or at least a first class nap) with this Clinique eye cream.
Splurge Pick: Tatcha The Pearl Tinted Eye Illuminating Treatment
Available in three nude shades, this moisturizing eye cream uses pearl and silk extracts to smooth and reflect light, hyaluronic acid to hydrate, and an antioxidant superfood complex. Eyes not only look better in the short term, but dark circles also begin to diminish over time. We'd pay anything for those kinds of results, and this splurge pick still won't break the bank.
Best Retinol Eye Cream
Budget Pick: RoC Retinol Correxion Eye Cream
Thinning skin, a natural side effect of aging, is one of the major culprits behind baggy eyes with dark circles, which is why combating eye woes with the anti-aging powerhouse of retinol is such a good idea. This drugstore eye cream favorite by RoC uses the anti-ager to boost collagen and make skin more resilient at a fraction of what luxury eye cream costs.
Mid-Range Pick: StriVectin Advanced Retinol Eye Cream
Those with sensitive undereyes will appreciate this mix of powerful (but potentially skin-irritating) retinol with Strivectin's patented NIA-114 technology, which is designed to help strengthen skin's natural lipid barrier, making it less prone to sensitivity. And don't we all feel a bit sensitive while flying? Eye creams.
Splurge Pick: Kate Somerville +Retinol Firming Eye Cream
A combination true retinol and a plant derived retinoid (ingredients in the same family as retinol with similar effect which are generally known for causing less irritation) work to smooth fine lines, firm skin, and make dark circles less pronounced in this luxurious, gold-tipped eye cream by Kate Somerville. The gold details look luxe, and this eye cream has undergone clinical trials to prove its results.
Best Brightening Eye Gel
Budget Pick: Neutrogena Hydro Boost Hyaluronic Acid Gel Eye Cream
Dehydrated eyes can make dark circles stand out even worse. For a major jolt of eye brightening hydration, this fan-favorite gel uses hyaluronic acid, a humectant that can pull moisture from the air and hold up to 1000 times its weight in water, to give your thirsty skin the drink it needs. Pro tip: spritz the area around (not in!) your eyes with rose water before applying this eye cream, to give the hyaluronic molecules moisture to cling to.
Mid-Range Pick: Estee Lauder Advanced Night Repair Eye Supercharged Complex Synchronized Recovery
An offshoot of Estee Lauder's best-selling Advanced Night Repair line, this gel-based eye cream uses hyaluronic acid, antioxidants, and a special proprietary complex to help repair skin, making it stronger, firmer, and brighter, without the weight of heavy hydrators. If you want something lightweight and lasting, this is your eye cream.
Splurge Pick: Amorepacific Rejuvenating Eye Treatment Gel
This silky gel-based eye cream relies on bamboo sap, beta-glucan, and a special hydrating complex to give skin a mega-dose of moisture and then lock it in so the eye area looks lifted and glowing. The formula also absorbs fast and completely so you don't have to worry about residue pilling under your makeup and looking cakey. #notcute
Best Brightening Eye Cream with Sunscreen
Budget Pick: Dermadoctor DD Eye Dermatologically Defining Eye Radiance Cream SPF 30
Sun exposure not only damages and weakens the skin under the eye, it can also make dark circles more pronounced. Ugh! To avoid the sting of regular sunscreens, look for an eye cream version specifically formulated for use around the eye area, like this budget-friendly hydrating eye cream with an eye-friendly mineral-based SPF 30.
Mid-Range Pick: SkinCeuticals Physical Eye UV Defense SPF 50
Headed somewhere sunny? Pack extra protection against damaging UV rays with this opthamologist tested sunscreen that uses ceramides to prevent fine lines, plus it has a specially formulated SPF 50 mineral sunscreen designed not to smear or smudge into your eye. This is a 2-for-1eye cream kind of deal.
Splurge Pick: Dermalogica

Total Eye Care SPF15
This eye cream offers the whole shebang when it comes to undereye care. Lactic acid smooths skin to help conquer fine lines, meadowsweet fights puffiness, sodium PCA moisturizes, light reflecting particles add instant brightness, and titanium dioxide-based mineral sunscreen wards off sun damage. Use this around your eyes, and people might think you skipped your flight entirely.
Related Stories
All products have been hand-picked by our writers and editors. Items purchased through links may earn us a commission.