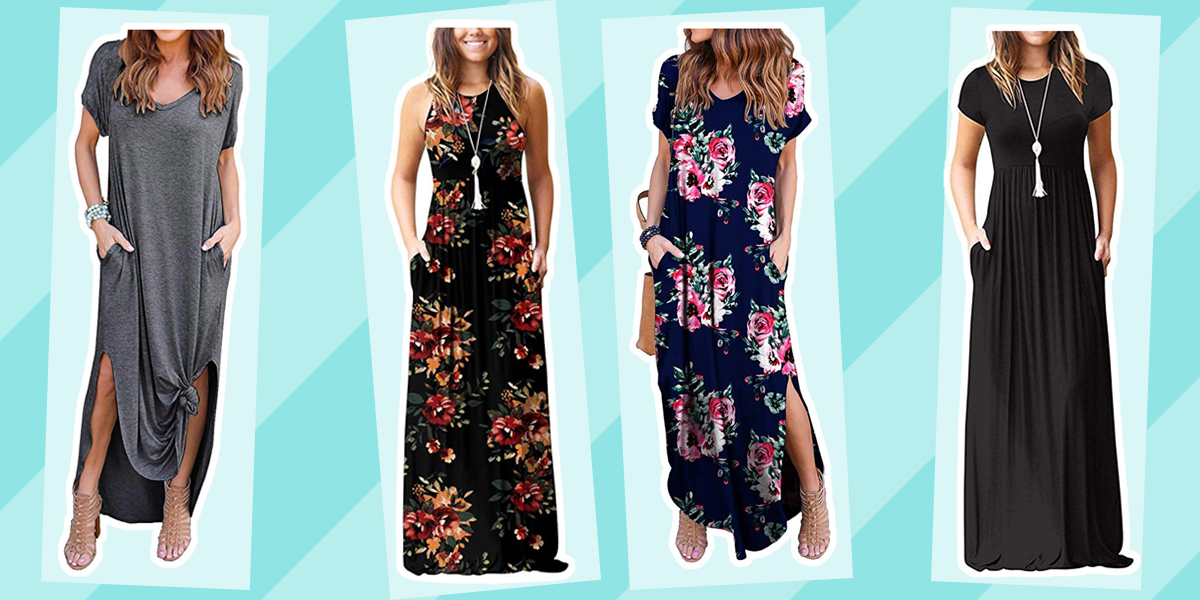 Shop
We Wore Amazon's Top Rated Travel Dress in Three Destinations
If you've heard this packing advice once, you've heard it a million times: pack versatile clothing that can be dressed up or down. Okay, but like what should you look for exactly? Along with versatility, travel dresses should have three straightforward requirements: 1. Comfortable. 2. Affordable. 3. Pockets. Amazon's best-selling Grecerelle maxi dress fits the bill and has over 3,000 rave reviews from honeymooners, beach lovers, moms, and fashionistas alike. It sounded like the travel dress of our packing dreams, but was it too good to be true? To find out, we ordered the Grecerelle maxi dress in the navy blue version with long sleeves, and test drove it on trips to Aruba, Palm Springs, and the Dominican Republic. The perfect travel dress doesn't exist definitely exists. Read on for our Grecerelle maxi dress review, and then order one for your next perfectly packed trip.
Pros of the Grecerelle Maxi Dress
Available in three styles and up to 29 different colors and prints—from basic to bold
Long-sleeve, short-sleeve, and sleeveless versions
Ultra affordable, prices start at $17 and go up to $24
Diverse sizing from XS to XXL, with a flattering neckline and nipped waist
Super-soft fabric holds up to multiple washings
Versatile, can be worn as a beach cover-up or paired with heels for dinner
It has pockets—need we say more?
Cons of the Grecerelle Maxi Dress
Slight, unpleasant chemical smell straight out of the bag (the odor was gone after one wash)
Not available in midi-length
Some wearers don't like the placement of the pockets for their body types
Grecerelle Maxi Dress Style Overview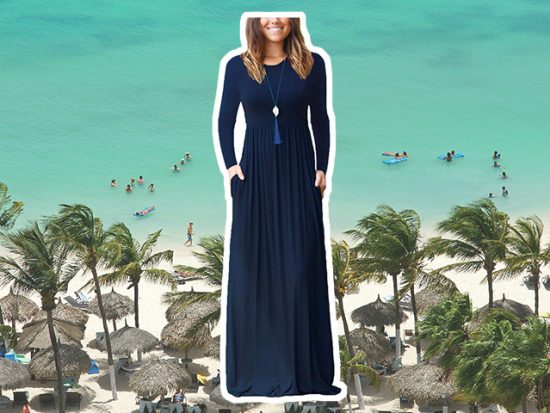 Maxi dresses are the fashion workhorse of a vacation wardrobe. And the Grecerelle version does quadruple duty. We first wore it on a flight from frigid New York City to balmy Aruba. The dress was comfortable enough for an airplane nap, and the length of the sleeves and skirt (paired with sneakers, a scarf, and a denim jacket) kept things warm enough for the ride to the airport and flight. On arrival in the Caribbean, a quick shoe switch to sandals and rolled up sleeves kept things cool enough for the airport shuttle and hotel arrival. For sunset drinks, we again rolled up the sleeves and added layered necklaces and heels for a more formal, but totally beachy, look.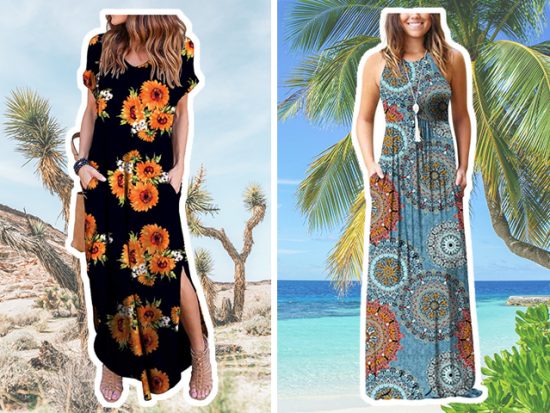 The Grecerelle passed the test, and we packed it for a desert trip to Palm Springs and another beach trip to Punta Cana. The material is made from a combination of rayon and spandex, so it's soft to the touch and stretchy enough to accommodate all kinds of curves. In fact, the dress is favored by pregnant women who need to accommodate a growing belly. It's currently available in three different styles and up to 29 different colors and prints, from bright white to bohemian patterns. The racerback version would be perfect as a cover-up at the beach. The split maxi version has a bit more polish, ideal for urban destinations. Some wearers knot the front of the skirt to show a little more leg. Other wearers have complained that the pocket placement adds unwanted attention and bulk to their hips. If you're not already sold based on practicality and versatility, the price should push you over the edge. Styles start at $16.99 and max out at $23.80.
Where to Buy The Grecerelle Maxi Dress
Grecerelle is available exclusively on Amazon, though used dresses occasionally pop up on Poshmark; the prices are similar to buying a new dress. Grecerelle has thousands of five-star reviews from a wide variety of wearers. Our dress was shipped within two days on Amazon Prime.
Which Grecerelle Maxi Dress Should I Get?
For Petites


Maxi dresses get a bad rap for being too voluminous and long for petite body frames. The Grecerelle split maxi dress is the exception to the rule. Thanks to flattering double side slits, a slightly open neck, and partially open back, this dress fits well on smaller frames. The short-sleeved version features a rolled sleeve. You can knot the front of the dress if you want to show more leg—or show off a rockin' pair of sandals.
For Beach Vacations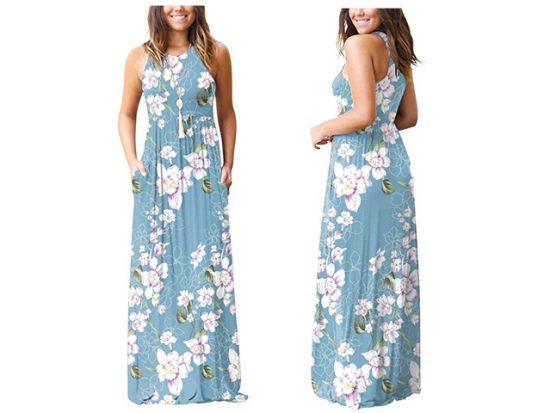 The best Grecerelle maxi dress for the beach is the sleeveless racerback version. You have to wear something over your swimming suit, so make it this versatile maxi. It exudes casual beach cool, especially in a bohemian sunburst print or bold white. A tied bikini string peeking out of the top is just about the only accessory you need, and pockets provide space to stash a room key or phone.
For Urban Destinations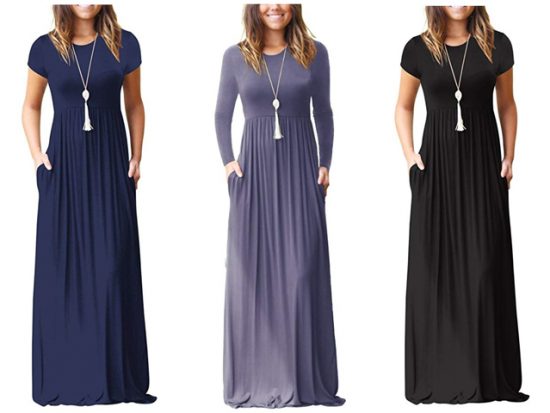 Headed to an urban destination? Then reach for the Grecerelle long-sleeved (or short-sleeved, if the weather calls for it) maxi dress. The round neck collar is flattering and the higher cut back looks sophisticated. The soft and stretchy material stays comfortable for a full day of sightseeing. We like it in a bold solid color, which can be mixed and matched with all of the jackets, shoes, and purses in your suitcase.
Which Accessories Should I Style with the Grecerelle Maxi Dress?
For info on these editor-selected items, click to visit the seller's site. Things you buy may earn us a commission.
Related Stories
All products have been hand-picked by our writers and editors. Items purchased through links may earn us a commission.