Shoes
The 10 Best Shoes for Every Trip According to Travel Editors
Packing for the trip of a lifetime should start—literally—from the feet up. On a quest to find the best travel shoes, we went straight to some of the smartest and most experienced travelers in the world—the editors across the SmarterTravel Network. These travel pros have collectively visited hundreds (if not thousands) of countries, cities, and ports. Apart from barefoot walks on the beach, they've seen the whole world wearing every shoe imaginable, so they know a thing or two about comfort, style, and versatility when it comes to footwear. Read on for their 10 go-to shoe recommendations and then do yourself a favor and order two pairs.
1
Skechers Pure Sneakers
"I'm on the road a lot, so it's important to me to be able to get in a workout even if I can't get to a gym. That means a solid pair of running shoes that's easily packable is a must. I adore the minimal design of Skechers Pure sneakers from the line's GoRun series. They're ultralight and super flexible, so they can fit into any suitcase or carry-on without adding bulk or weight. These shoes are more than just flashy kicks: Thanks to a partnership with Olympic marathoner Meb Keflezighi, Skechers has really upped its running shoe game. My Skechers Pure shoes have run miles along the Danube and Rhine rivers in Europe, done laps on cruise ships in the Caribbean and Mediterranean, and tackled trails in the Cascade Mountains. If I can only pack one pair of shoes, these are the ones that will end up in my suitcase." —Colleen McDaniel, Editor in Chief at Cruise Critic 
$80 at Zappos
2
Scarpa Hydrogen Hike GTX Boots
"I've worn Scarpa's Hydrogen Hike GTX boots for literally hundreds of miles. They've tackled trails from Bhutan to the summits of New England's highest mountains without ever giving me blisters or causing foot fatigue." —Caroline Morse Teel, Senior Editor at Smarter Travel 
$135.99 at Zappos
3
Teva Original Universal Sandals
"I bought these all-white Original Tevas last year, and I'm completely obsessed with them. They're casual enough for athletic wear, but when I want to dress them up, I pair them with white denim for a monochromatic sporty-chic look. So far, I've brought them with me on trips to Hungary, Croatia, Italy, and Germany, all of which involved tons of walking. They held up super well on an hours-long hike around Plitviče Lakes National Park—I definitely hit well above my 10,000 steps that day, and they were comfy the whole time." —Jackie Homan, Editorial Assistant at Jetsetter
$50 at Zappos
4
UGG Classic Mini Waterproof Boots
"To some, Ugg boots are the most basic footwear. To others—me and every celeb from Selena Gomez to Rihanna—Uggs are the most comfortable and cozy boots for an early morning or late-night flight. Without Uggs, I'm never warm enough on an airplane; their sheepskin lining keeps me toasty. And they hold up off the plane, too: Uggs upgraded their soles with the Arctic grip Vibram for better traction on icy surfaces and made their suede waterproof. I've depended on my Mini Ugg boots everywhere from the frozen tundra of Wisconsin to outdoor après-ski cocktails in Vail to coffee runs in Hollywood (Angelenos tend to wear Uggs on all but the hottest days, probably because the super soft boots feel incredible after a painful night in stilettos). Basic or not, Uggs are the travel boots for me." —Megan Wood, Editor at What to Pack
$179.95 at Zappos
5
Frye Nora Zip Short Boots
"I've worn Frye Nora Zip Short boots in practically every big city—NYC, Los Angeles, Paris, London. These booties are my go-to urban shoe because they're super stylish and can easily go from day to night. They've got a Western-style cowboy thing going on, and they're surprisingly comfortable thanks to the supple Italian leather." —Clara Sedlak, Executive Editor at Jetsetter
$297.95 at Zappos
6
Crocs At Work Graphic Flats
"Surprise! These flats are stealthy Crocs made of plastic. (EVA if you wanna get fancy with it.) They're perfect as rainy-day footwear; if you plop your foot straight into a puddle, no problem. These shoes can dry off with a paper towel. They're so much easier to pack than rain boots or Wellingtons, and unlike boots, you can rock them on a perfectly sunny day without looking like a weirdo, so you won't waste that suitcase space if the forecast changes from a week of downpours to blue skies, 24/7. I've worn these trusty flats through the rainy season of Thailand, the icy drizzles of Norway, and the permanent sogginess that is London. They always look presentable, which is more than I can say for my hair when it rains." —Maria Teresa Hart, Executive Editor at What to Pack 
$31.99 at Zappos
7
New Balance Numeric AM210 Sneakers
"I'm headed to Austin this summer to visit a friend for a weekend of outdoor activities, live music, and plenty of food trucks. I usually try to pack one pair of shoes for a trip and these New Balance Numeric AM210 sneakers are it. They feature a Fresh Foam footbed for comfort, a breathable interior that will be perfect for the hot Texas days, and will go with everything I pack." —David Hattan, Photo Editor at Jetsetter 
$69.95 at Zappos
8
Michael Kors Carlyn Wedges
After a long day of walking around and sightseeing in comfy sneakers, I like to slip into something a little dressier in the evening. These Michael Kors peep-toe wedges provide the perfect amount of support, thanks to an ankle strap and cushy silhouette (no aching arches!), while also elevating my overall look—by 4.5 inches, to be more precise. The wedges serve as the perfect plus-one for breezy dresses or linen pants, they're great for casual dinners, beachside bar nights (you won't sink into the sand), or even more dressed-up affairs. Sure, they might take up suitcase space, but they're the only dressy shoes you need to pack. I wore them every single night on a recent trip to Mexico. —Alisha Prakash, Senior Editor at Oyster
$77 at Zappos
9
SeaVees 12/64 Huntington Middie Slip-On Sneakers
"The SeaVees 2/64 Huntington Middie slip-on sneakers caught my eye because they look urban and beachy in equal parts. Their thick white soles remind me of skater shoes, and the high tongue makes them a more walking-friendly alternative to booties. Best of all, they're easy to pull on and off—helpful when you're dealing with TSA security checks. I bought these specifically for a two-week trip to Japan earlier this year. I wore them all over the ancient temple complex of Koyasan, the deer park of Nara, and the streets of Tokyo. My Health app tells me that on average I clocked 10 miles a day on that trip, and every single step was in these SeaVees." —Anne Bauso, Editor at What to Pack 
$97.99 at Zappos
10
Nike Roshe One Sneakers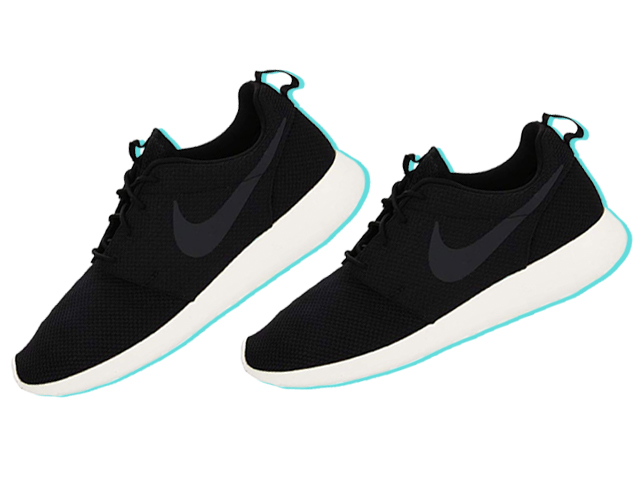 "My black Nike Roshe Ones are my go-to travel shoe. They're light, easy to clean, breathable, and can be compressed pretty easily if you need to stow them in your carry-on or luggage. While they aren't waterproof—and the soles can be slippery on wet cobblestone sidewalks—they do dry quickly. I've had a pair on my feet for every trip I've taken since 2014, including Rome." —Kyle Valenta, Executive Editor at Oyster
$56.25 at Zappos
Related Stories
All products have been hand-picked by our writers and editors. Items purchased through links may earn us a commission.