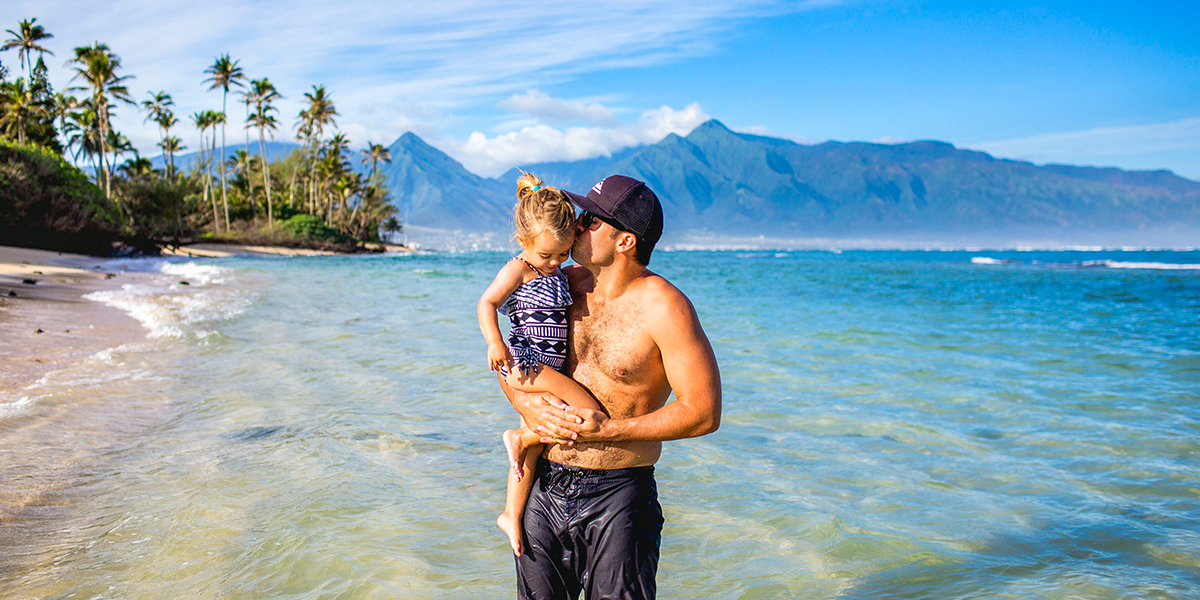 Shop
The Best Sun Protective Clothing for Keeping Your Family's Skin Safe
We get it, thinking about sun protection isn't the most fun part of planning a vacation. But whether you're roaming the street of Paris, exploring New Zealand's epic landscapes, or sipping rum swizzles in Bermuda, it's vital to protect your skin. The sad fact is that skin cancer is the most common type of cancer in the United States. Many of us swipe on sunscreen, use SPF-infused makeup, and don a hat and shades when heading outdoors, but we rarely think about our clothes as a tool in our sun protection routine. This may come as a surprise, but some clothes are actually designed to protect your skin from the sun's harmful rays. Can that be true? How does sun protective clothing work? We get to the bottom (and matching tops) of sun protective clothing for women, men, and kids, below, so you can brush up on the basics and get back to your regularly scheduled vacation program of enjoying yourself—while staying safe in your new sun protective clothing.
What is UPF? How Does It Differ From SPF?
Sun protection is sun protection, right? Not quite. While SPF and UPF are pretty similar, they measure two different things. A sun protection factor (a.k.a. SPF) only pertains to sunscreens and cosmetics, measuring how long someone can stay in the sun until their skin begins to burn. Another thing to know is that SPF only measures your lotions and potions' ability to protect your skin from UVB rays, which burn the superficial layer of your skin. An ultraviolet protection factor (or UPF) measures how much of the sun's ultraviolet rays can penetrate a fabric. For example, if a shirt has a UPF rating of 50, it will only let 1/50 of the rays to reach your skin. And unlike SPF, UPF measures both UVB and UVA, the latter penetrating deep into the thickest layer of the skin.
Does Sun Protective Clothing Really Work?
Some people will tell you UPF-blocking clothes are more effective than sunscreen. Let's face it: We all forget to reapply every 90 minutes or successfully apply sunscreen to every inch of your body—and forget about consistent coverage on a squirming toddler. Sun-protective clothing is not a gimmick. While you should still apply sunscreen and wear a hat, UPF clothing does its job. One thing to understand, however, is that technically every piece of clothing features some UPF. Take your trusty white T-shirt, for example. It may not be advertised as sun-protective clothing, but most of the stuff already in your closet has a UPF of 8. That being said, there are still some factors that differentiate your typical threads from UPF-blocking clothes. Pieces with a tighter weave make it more difficult for the sun to penetrate the fabric. Some UPF-friendly clothing is woven with zinc and titanium to help reflect UV rays altogether.
Does UPF Wash Out of Clothing?
Don't expect sun-protective clothing to last forever. You see, the threads can stretch overtime, loosening the once tightly woven fibers and giving the rays more access to your skin. Alternatively, some pieces are treated with chemicals and dyes to help boost its UPF rating; however, those finishes can wash out overtime. So what can you do to care for your sun-protective clothing and make it last longer? Right this way…
4 Tips for Caring for Your Sun Protective Clothing
Wash UPF-blocking clothes after each wear—cold water on a gentle cycle is best. On vacation and don't have access to a washing machine? Rinse your clothes in cold water.
Instead of wringing out your clothes or putting them in a dryer, lay them out to dry in direct sunlight.
Do not—we repeat, do not—store your sun-protective clothing if they're damp. Trust us, waiting until your pieces are totally dry is worth it.
No irons and no bleach.
The Best Sun Protective Clothing for Women
1
Best Sun Protective Shirt for Women
Available in 11 pretty colors, this versatile sun protective shirt from Vapor Apparel can be worn just about anywhere, from casual hikes, to chilly beach days, to checking out a new city's tourist attractions. And, with an "Amazon's Choice" badge and over 1,000 positive reviews on the site, it's a consistent crowd-pleaser, too.
$19.95 at Amazon
2
Best Sun Protective Pants for Women
You should never have to sacrifice comfort or style to protect your skin, which is why we're huge fans of Coolibar's casual Weekend Pants. An elevated take on sweatpants, these slim-fit joggers will become your go-to pants for long flights and outdoor yoga sessions alike.
$75 at Amazon
3
Best Sun Protective Dress for Women
Lilly Pulitzer is beloved for garden-pretty prints and dresses, so we were thrilled to see they're getting into the sun-protection clothing game. This elongated tunic-style dress covers most of your body, so you won't have to worry about obsessively applying sunscreen. You'll be sure to turn heads on your next tropical vacation or pool party, thanks to its cheery, colorful print and unforgettable boho vibes.
$198 at Lilly Pilutzer
4
Best Sun Protective Swim Shirt for Women
If you're into surfing or snorkeling, you're probably already familiar with the benefits of a rashguard. They offer full arm and torso protection from the elements (cold water, rough surfboards, and sun) but the Attraco's swim shirt ups the protection ante with a UPF 50. It also has a zippered front, so you can take it off and show off your bikini whenever you please. 
$16.99 at Amazon
5
Best Sun Protective Swimsuit for Women
If you're looking for all-day in-the-water sun protection, skip the rashguard and go straight for a long-sleeved one-piece swimsuit with UPF 50. Mott50 has a flattering swimsuit option in 18 fun and cheery prints and colors ranging from chili peppers to bright white. It's also moisture wicking (so it dries fast) and has thumbholes to keep the sleeves in place during active water sports activities, like wakeboarding. 
$71.65 at Amazon
6
Best Sun Protective Hat for Women
A chic, yet sun-protective, hat is the perfect finishing touch to any outfit. This style from Mott50 is called a fishing hat, but we can picture it everywhere from the garden to a pontoon boat. The has has a UPF rating of 50, plus the sweet bow offers some serious retro vibes. Bonus: the extra wide brim further protects from the sun's rays.  
$78 at Amazon
The Best Sun Protective Clothing for Men
7
Best Sun Protective Shirt for Men
At first glance, Columbia's Low Drag Offshore looks like any other sporty button-down shirt. But look again—it has hidden ventilation in the shoulders and a UPF rating of 40. Antimicrobial treatment protects it from bacterial growth. Whether you wear it fly fishing in the Bighorn River or camping in Yosemite, one thing's for sure: This shirt will look (and smell) just as good long after the sun sets.
$55 at Columbia
8
Best Sun Protective Pants for Men
They say that two is better than one—and sun-protective clothing is no exception. These Silver Ridge Convertible Pants (available in eight solid colors) from Columbia can easily be converted via a hidden zipper into shorts, making them a must-have for any adventure where the weather wildly fluctuates from cold to warm to hot and then back to cold again. They're made from durable nylon ripstop with advanced wicking fabric and UPF 50. Oh, and did we mention they have over 300 five-star reviews? *Adds to cart*
9
Best Sun Protective Swim Shirt for Men
Sure, most people think of long-sleeves when they hear "swim shirt," but this shorter style is the perfect thing to throw during a hot day (or a boardwalk bike ride) on the beach. This option from Kanu looks good thanks to sharp-looking contrast panels at the sides (choose from 13 bold colors). And, as Amazon's best-selling sun-protective swim shirt, it gets the job done with a UPF 50 rating.
$16.12 at Amazon
10
Best Sun Protective Swim Trunks for Men
Consider Kana's Barracuda Swim Trunks as the Goldilocks of swim shorts: Available in sizes from small to 4X, they fit just right for most guys. And at a whopping 43 prints and colors, even the pickiest guy can find a swimsuit he likes. As a bonus, they hit just below the middle of the knee for extra sun coverage, along with the UPF 50 rating. 
$9.99 to $24.99 at Amazon
11
Best Sun Protective Hat for Men
Columbia's Bora Bora II Booney hat checks off all the boxes that make most dermatologists happy. Derms recommend investing in a hat with a three-inch brim to protect the scalp and face. The Bora Bora also features an Omni-Wick sweatband and mesh venting to let your head breathe and pull moisture away from the skin—keeping the wearer cool. The adjustable drawcord and toggle at the back allow for a customized fit. If that's not enough to seal the deal, the flexible construction makes it ideal for packing in your carry-on. 
$30 at Columbia
The Best Sun Protective Clothing for Kids
12
Pick for Babies and Toddlers
Sunscreen for babies and toddlers can be controversial, as it's best to keep sensitive baby skin out of the sun completely (most doctors advise against sunscreen on children younger than 6 months). So keep your little ones out of the sun and in this adorable sunsuit from SwimZip. It offers maximum coverage, and the sweet miniature pineapples, jellyfish, or shark pattern will tug at your heartstrings. A full body zipper makes beachside diaper changes easy. 
$39.99 at Amazon
13
Pick for Girls
You'll still need sunscreen as a back up, but this cute two-piece swimsuit from Kanu will give you some extra sun protection piece piece of mind as your tot's splashing around in the kiddie pool. It's available in sizes 2T to 14, and is fully lined. The 17 pool-ready patterns range from flamingos to flowers. If your kid is a water baby, be sure to buy two suits, so one is always dry and ready to go. 
$12.74 to $21.99 at Amazon
14
Pick for Boys
Of course, the beach and pool aren't the only place your kids need sun protection. Available in black and white—with a fun Hawaii island print, Quicksilver's Kona short-sleeved shirt is a great choice for field trips and days spent on the playground.  
$27 at Quicksilver
Related Stories
All products have been hand-picked by our writers and editors. Items purchased through links may earn us a commission.