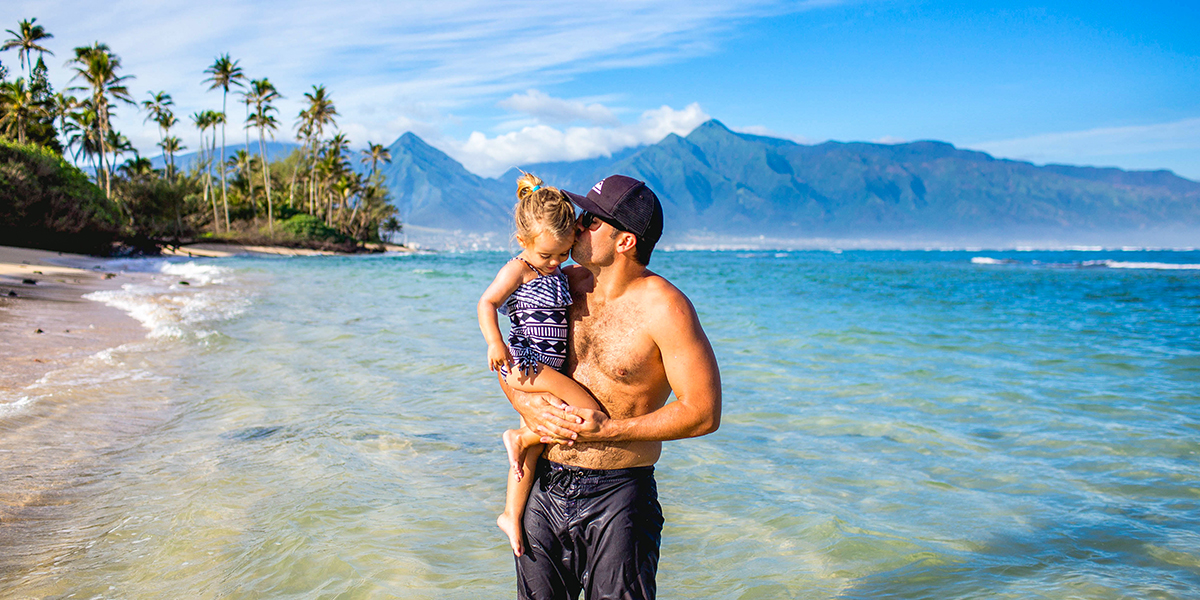 Shop
The Best Sun Protective Clothing for Keeping Your Family's Skin Safe
We get it, thinking about sun protection isn't the most fun part of planning a vacation. But whether you're roaming the street of Paris, exploring New Zealand's epic landscapes, or sipping rum swizzles in Bermuda, it's vital to protect your skin. The sad fact is that skin cancer is the most common type of cancer in the United States. Many of us swipe on sunscreen, use SPF-infused makeup, and don a hat and shades when heading outdoors, but we rarely think about our clothes as a tool in our sun protection routine. This may come as a surprise, but some clothes are actually designed to protect your skin from the sun's harmful rays. Can that be true? How does sun protective clothing work? We get to the bottom (and matching tops) of sun protective clothing for women, men, and kids, below, so you can brush up on the basics and get back to your regularly scheduled vacation program of enjoying yourself—while staying safe in your new sun protective clothing.
What is UPF? How Does It Differ From SPF?
Sun protection is sun protection, right? Not quite. While SPF and UPF are pretty similar, they measure two different things. A sun protection factor (a.k.a. SPF) only pertains to sunscreens and cosmetics, measuring how long someone can stay in the sun until their skin begins to burn. Another thing to know is that SPF only measures your lotions and potions' ability to protect your skin from UVB rays, which burn the superficial layer of your skin. An ultraviolet protection factor (or UPF) measures how much of the sun's ultraviolet rays can penetrate a fabric. For example, if a shirt has a UPF rating of 50, it will only let 1/50 of the rays to reach your skin. And unlike SPF, UPF measures both UVB and UVA, the latter penetrating deep into the thickest layer of the skin.
Does Sun Protective Clothing Really Work?
Some people will tell you UPF-blocking clothes are more effective than sunscreen. Let's face it: We all forget to reapply every 90 minutes or successfully apply sunscreen to every inch of your body—and forget about consistent coverage on a squirming toddler. Sun-protective clothing is not a gimmick. While you should still apply sunscreen and wear a hat, UPF clothing does its job. One thing to understand, however, is that technically every piece of clothing features some UPF. Take your trusty white T-shirt, for example. It may not be advertised as sun-protective clothing, but most of the stuff already in your closet has a UPF of 8. That being said, there are still some factors that differentiate your typical threads from UPF-blocking clothes. Pieces with a tighter weave make it more difficult for the sun to penetrate the fabric. Some UPF-friendly clothing is woven with zinc and titanium to help reflect UV rays altogether.
Does UPF Wash Out of Clothing?
Don't expect sun-protective clothing to last forever. You see, the threads can stretch overtime, loosening the once tightly woven fibers and giving the rays more access to your skin. Alternatively, some pieces are treated with chemicals and dyes to help boost its UPF rating; however, those finishes can wash out overtime. So what can you do to care for your sun-protective clothing and make it last longer? Right this way…
4 Tips for Caring for Your Sun Protective Clothing
Wash UPF-blocking clothes after each wear—cold water on a gentle cycle is best. On vacation and don't have access to a washing machine? Rinse your clothes in cold water.
Instead of wringing out your clothes or putting them in a dryer, lay them out to dry in direct sunlight.
Do not—we repeat, do not—store your sun-protective clothing if they're damp. Trust us, waiting until your pieces are totally dry is worth it.
No irons and no bleach.
The Best Sun Protective Clothing for Women
The Best Sun Protective Clothing for Men
The Best Sun Protective Clothing for Kids
Related Stories