Shop
My Under-$6 Secret Weapon for Sleeping Soundly on Any Flight—Even in the Middle Seat
When I fly, I want to sleep. Not even the siren songs of my e-reader and the in-flight entertainment system can distract me from stealing as much coach-seat shuteye as possible. Let's unpack the sleep arsenal that I pack for Every. Single. Flight. My sleep kit contains: a Slip sleep mask, foam earplugs, an inflatable travel pillow, and—most importantly for the dreaded middle seat assignment—a tea bag. Traditional Medicinals Organic Nighty Night Valerian Extra Tea, to be exact. 
I've taken both prescription Ambien and homeopathic Bach's Rescue Sleep Liquid Melts to induce sleep on flights. Like I said, I'm a firm believer that the best way to enjoy a flight is to be sound asleep. But Ambien can have side effects (hello, sleepwalking) and it can really knock you out cold for multiple hours. I once took it before takeoff in Buenos Aires and didn't wake up until the plane landed 11 hours later in JFK—that's too "out cold" for me as a single female traveler. Sleep melts and melatonin are nice for feeling relaxed and calm, and they can also help with any in-flight anxiety, but I found they don't get me over the edge (or block out a noisy seatmate with pointy elbows) for a quality REM cycle. That's what I love about Traditional Medicinals Valerian Tea. It helps me sleep, but not so deeply that I'm essentially in a coma sitting up.
There are A LOT of competing sleep-inducing teas on the market, but here's why Traditional Medicinals Valerian Tea is worth the hype. I ask the flight attendant for a cup of hot water, steep the tea for 10 minutes, and I'm sound asleep about 30 minutes later. What's the secret sleep ingredient? Valerian. This native Asian and European herb is sometimes referred to as "nature's Valium." Research has shown that valerenic acid works to prevent the breakdown of GABA (chemical messengers) in the brain, resulting in feelings of tranquility and calm. This is pretty much the same way anti-anxiety medications, like Xanax, work. Valerian root also contains the antioxidants hesperidin and linarin, which are shown to have sedative properties—ie, they help you relax and go to sleep. Which is exactly what I need to do after fighting airport traffic to get through airport security, and then milling around the crowded sensory overload that is most airports and airplanes.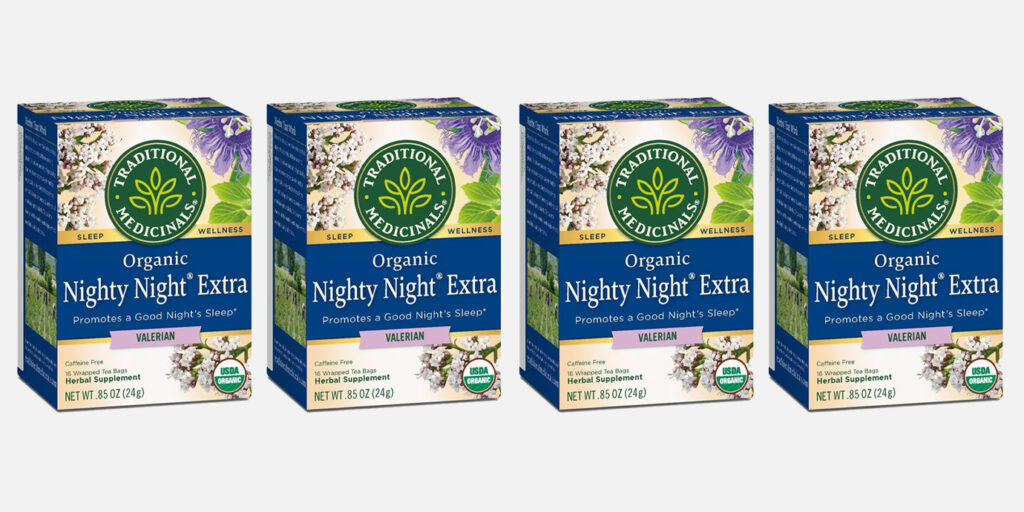 Even the shortest flights can suffer from delays and cancelations. I've found myself re-routed overnight in Washington D.C. on what I thought would be a quick 90-minute flight to Cincinnati. So I don't go to the airport (or even a hotel—sleep-preventing thin walls and saggy mattresses are real) without my portable sleep kit, complete with at least two Traditional Medicinals Valerian Tea tea bags.
There's one downside to my favorite sleepy tea. It has a slightly funky smell while it steeps. Don't worry, it tastes pleasantly like lemon balm and peppermint leaf (adding a drizzle of honey doesn't hurt). Obviously, it's also caffeine free. Please note that I'm neither a doctor, nor a scientist, and valerian can impact each individual differently. It's best to talk to your doctor and then brew a cup at home for a trial run in your own bedroom before you down a cup up in the air.
TLDR: The Traditional Medicinals Organic Nighty Night Valerian Extra Tea Review
Affordably priced, usually at 16 teabags for under $6
Helps you fall asleep and stay asleep (but won't knock you out cold)
No prescription required
Easy to carry for travel
Pleasant and mellow taste
Related Stories
Other Easy Ways to Get Some Sleep
All products have been hand-picked by our writers and editors. Items purchased through links may earn us a commission.