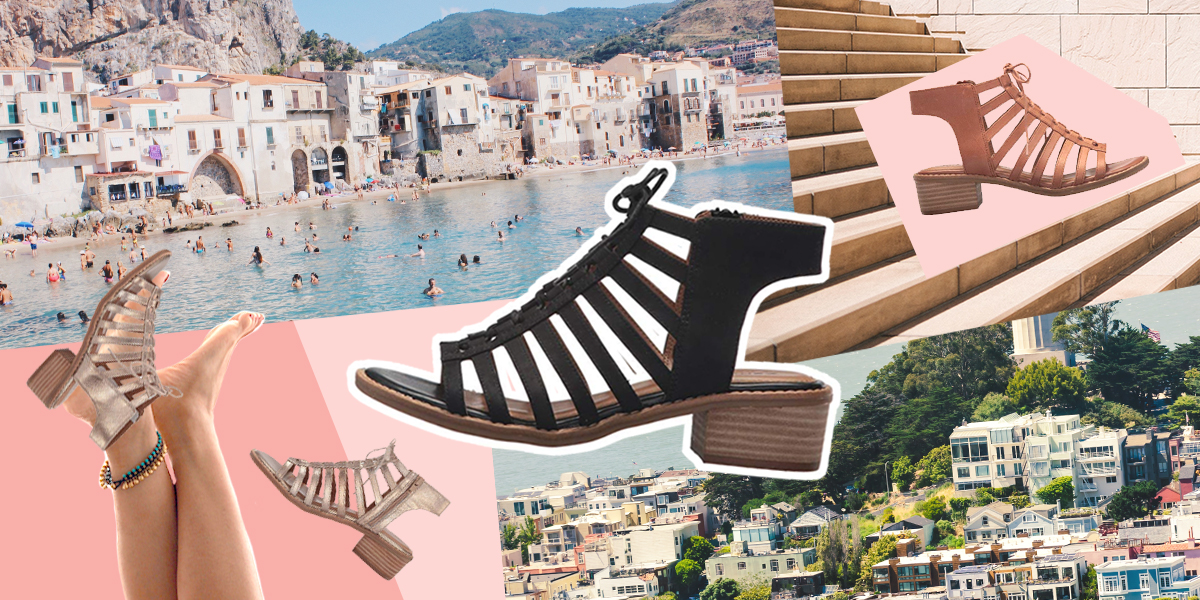 Worth the Hype
The Stylish and Supportive Sandal That Can Handle San Francisco, Sicily, and Everywhere In Between
Until very recently, if someone tried to tell me about summer sandals that were cute and comfortable—like actually cute and actually comfortable—I would have smiled, nodded, and not believed them. I'd brush off the rec as pure myth. But now I know such a shoe exists. A sturdy, strappy, day-or-night sandal that can handle challenging terrain and look good—even glam—doing it. Say hello to the Blossom sandal by Comfortiva, aka my Holy Grail of summer footwear.
I'll be honest, my summer-shoe M.O. for the past few years is this: Buy some sandals around Memorial Day, toss them out after Labor Day. I hate doing it, but my sandals are usually worn down to grubby slabs by September. I've bought the same pair of Spanish slide-ons from the same Brooklyn boutique the past three years running, thinking of them as little more than disposable flip-flops. This year, I was determined to up my game in the sandals department. I set out with a mission to find sandals that can hold up for several seasons, if not years. My wishlist: They needed to be cute, well-made, and able to survive my upcoming trips to San Francisco and Sicily, two infamously steep destinations. A turning point on my quest was What to Pack's very own packing guide to Nashville, which put the Blossom sandals by Comfortiva on my radar.
Their stacked block heel, substantial ankle strap, and lattice-like lace design promised a personalized fit. Could it be that the Blossom was the elusive travel shoe I was seeking? One that's supportive yet stylish? One that could go straight from walking tours to dressing up for dinner?
I placed my order on Zappos just a few days before leaving for a long weekend in San Francisco, a notoriously hilly city. When they arrived, they went straight from the box to my suitcase. The first time I put them on was for an all-afternoon walking tour of North Beach—a bold move, and potentially a very bad decision. But the Blossoms were brilliant; I marched all over the high ground of San Francisco's Chinatown and North Beach neighborhoods with zero rubbing, swelling, or discomfort. No emergency bandaids were called into action. The stairway leading up to the balcony at historic Vesuvio Cafe and the killer incline of Romolo Place were entirely doable. In my gladiator-style laces, solid ankle strap, and grippy treads, I was invincible! And the pillowy footbeds gave just the right amount of give. (The foamy insoles contoured to the shape of my feet within a few wears.) My quads were pumping battery acid but my arches and heels were happy as could be. After exploring SF by Blossom-clad foot all day, I wore them to the hipster-packed opening party of Hotel Emblem and fancy dinners at Ayala and Trestle at night, all in pure comfort.
After three days in San Francisco came a bigger test: a 10-day trip to Sicily. The Mediterranean island is basically one big mountain, and going there means navigating major hills, old stairs, and bumpy cobblestone streets. Excellent walking shoes are nonnegotiable, and because this is Italy, where presentation matters a lot, they need to look good, too. This is where the Blossoms really shined. I ended up wearing them eight days out of ten. Those eight days saw nonstop walking over rough terrain at a high elevation. In Taormina, I hiked from the stunning public gardens up to the ancient Greek Theatre, perched high over the Ionian Sea. I roamed all over the Baroque hilltop town of Noto (taking a quick double-scoop gelato break at Caffe Sicilia, naturally), and climbed the 142 steps of Caltagirone, a famous ceramics town. I logged a 30,000-step day in Palermo (something of a personal best) and strolled the lungomare (beachside promenade) in pretty Cefalù. All in my Comfortivas. For those eight action-packed days on the mountainous island, they were crazy-comfy, and their design felt breathable even in that Mediterranean heat. And not to brag, but I'm pretty sure I fit right in with the appearance-conscious locals; the Blossoms kept me from looking like a tourist. They also paired really well with my entire suitcase of Sicily outfits: wide-leg jumpsuits, maxi dresses, and cropped palazzo pants and fitted tees. I was living my fantasy as a Fancy Lady Who Vacations in Mediterranean Places. And even after a week and a half of hard wear, the sandals came home looking as fresh as they did when I first opened the box from Zappos.
RELATED: The Pair of Winter Boots I've Worn (and Loved!) for 10 Years
No more will I be packing multiple styles of shoes for my warm-weather trips. Since they pull double-duty as a sightseeing shoe and a going-out shoe, they've become my tried-and-true steady—a major perk with baggage restrictions getting ever sterner. My new goal? Get a pair in every color.
Too Long, Didn't Read: Comfortiva Blossom Sandal
Durable strappy gladiator sandals that feel completely secure, sturdy, and supportive
Day-to-night versatility: Appropriate for the office, cocktail parties and fancy dinners out, or daytime wear—even multi-hour walking tours
Hidden ankle zips for easy on/off
Memory Foam footbeds feel pleasant and plush, even after 10,000-plus step travel days
One-and-a-half-inch block heel aligns feet perfectly
Stay secure even when walking up and down hills; no slipping or sliding
Open design is resistant to sweat and odor
Chic alternative to flip-flops and more stable than slide sandals with no ankle support or traction
Comes in a range of great neutrals: black, metallic bronze and gold, walnut, sage, gray-blue, and a ballet-slipper cream color
Excellent value and worth the investment: These will stick around for years
Shop the Blossoms by Comfortiva
Related Stories