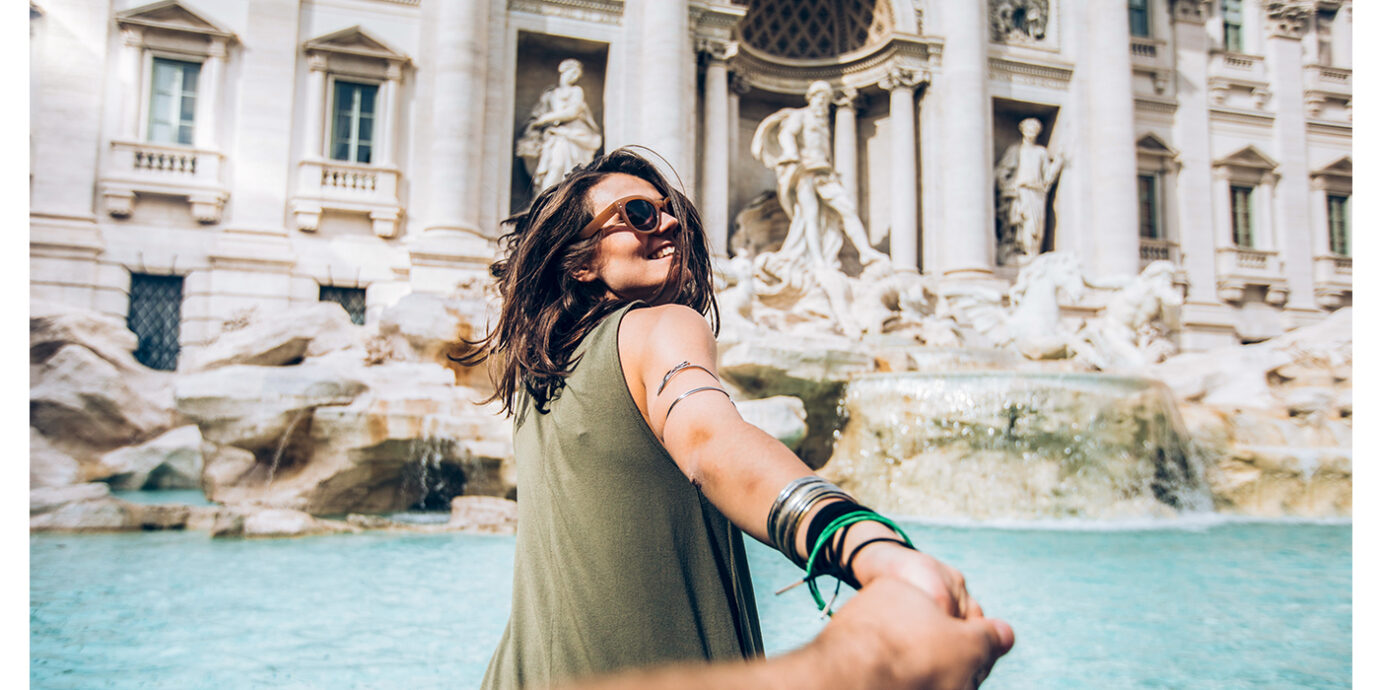 By Destination
The Ultimate Rome/Vatican City Packing List
The Eternal City needs little introduction. Neither does its fashion sense—Italians have a pretty established rep when it comes to dressing stylishly. But that doesn't mean you need to pack designer duds to look the part in Rome. Quite the opposite. Unlike its snootier cousin Milan, Italy's capital is all about balancing form and comfort, rather than looking like you're headed to a runway show. So choose functional (but still cool) footwear—you'll do lots of walking over sampietrini (the black basalt stones paving the streets of the city center)—and clothes that are chic but in a "I just threw this on" kind of way, and can carry you from the Colosseum to the chilly catacombs to aperitivo in the historic and trendy Trastevere. Add a couple of more modest pieces for visiting the Vatican and the city's gazillion churches, and a pair of elasticized pants to tackle all the pizza and gelato coming your way, and you're good to go.
Your suitcase packing checklist
Click items to view travel editor-approved options
THE PERFECT LUGGAGE
To start your Roman holiday right, finding the perfect bag is your first step. For a long weekend, nothing beats the roomy Twill Weekender by Everlane. The 100% water-resistant bag comes in four chic colorways and has a bunch of great features, like a smart exterior slip pocket for your passport and phone, plus a metal feet base to stand extra beatings. Also, it fits inside any overhead compartment. If you're planning a weeklong immersion into ancient ruins and majestic basilicas, try the Herschel Supply Co. Trade Carry On. Sturdy thanks to its polycarbonate exterior and easy to roll around with multi-directional muted wheels, the bag has the added bonus of looking pretty sharp. You can take it onboard or check it in—excellent for flying into Rome light and departing with all the souvenirs you want. Going for more than a week? Consider this spinner by Samsonite. Lightweight (but surprisingly tough) and with an ergonomic pull handle, this baby will stand out at the baggage claim with its poppy exterior. Its expandable interior is just as appealing, with plenty of pockets to keep your belongings neatly organized.
THE THREE PAIRS OF SHOES YOU'LL NEED FOR EXPLORING ROME
A trip to Rome entails mostly two things: lots of great food and lots of walking to a) digest said food and b) explore the maze-like city. The bottom line: bring comfortable shoes. Sneakers are the smartest choice for climbing the steps of St. Peter's Basilica or strolling through the Roman Forum. Ladies should pick a pair that pairs well with dresses, like old-school Keds, while guys could try sleeker versions, like the Treads by Everlane, to look a little more put together and not like they're coming from a workout. For the museums—Galleria Borghese or the Sistine Chapel, for instance—elevate your outfit with slightly more polished options; we love this woven Kenneth Cole slide for her, Aldo's modern take on the dress shoe for him. Come aperitivo time, sharp and svelte is the shoe code to follow. Blondo's Villa and Clarks' Atticus Limit casual boots nail the requirement.
Women's Shoes
Men's Shoes
STYLE FOR ROME/VATICAN CITY
Romans don't take themselves too seriously—they like style that's personal and not so trends-driven. More often than not, they shop at local boutiques over big department stores. They're also outside a lot: the city's stunning backdrops—from Trevi Fountain to Piazza Navona—and the fact the weather is generally sunny and never too cold (though it can get pretty hot in summer!) inspire people to be out and about, sitting on church steps to chat, or taking leisurely strolls by their postcard-perfect landmarks. Wardrobe-wise, that means boho-chic, relaxed garbs over prissy ones, and outfits versatile enough to pop into a 15th-century cathedral on the way to the post office, then sit along the banks of the Tiber with an Aperol Spritz. Often, it's all about the accessories: a statement necklace or a pair of gold hoops, a nice watch or a big pair of sunnies, no matter the season. To blend in, embrace that same laid-back vibe, and avoid any big logo or flashy fashion items. The idea is to look effortlessly simple and chic.
FIVE FOOLPROOF OUTFITS FOR ROME/VATICAN CITY
1. WHAT TO WEAR FOR SIGHTSEEING IN ROME
Rome's list of monuments and stunning architecture could easily keep you busy for a month. The center is often described as an open-air museum, and rightly so—it's packed with awe-inspiring sites, like the Pantheon, Basilica di Santa Maria Maggiore, Palatine Hill, Castel Sant'Angelo, Piazza Navona, and Piazza di Spagna (and that list is literally just scratching the surface). And then there's the Vatican. The city-state, which lies at the heart of the capital, draws equal amounts of devotees and history enthusiasts, who come to marvel at St. Peter's Basilica and the frescoes and sculptures of the Vatican Museums. Given you'll be often dipping in and out of sacred sites, a little cover-up is recommended, as are cushy shoes and breathable outfits with a couple of layers.
Women's Sightseeing Outfit for Rome
Men's Sightseeing Outfit for Rome
2. WHAT TO WEAR TO TRASTEVERE
Rome's most happening neighborhood, Trastevere is a constantly evolving creative enclave. Don't expect clubs or swanky buildings: the area looks more like a small, century-old Italian village right in the heart of the city, with narrow pebbled alleyways, charmingly old buildings, and artisanal shops that've been around for generations. Romans come here to eat at cheap trattorias and while away the evening at the many hip craft breweries and sleek cocktail bars that have opened in recent years—and so should you. Just remember: the vibe is bohemian, so embrace your artsier side and opt for clashing prints and a pair of attention-grabbing shoes.
Women's Trastevere Outfit
3. WHAT TO WEAR TO THE VATICAN
It might be the world's smallest sovereign state, but the Vatican sure boasts some of Italy's greatest architectural wonders—the epic St. Peter's Square and the domed St. Peter's Basilica. You don't have to be a believer to be awestruck by them—just like you don't have to be an art history buff to be bowled over by the masterpieces of the Vatican Museums, an unparalleled art collection that includes the Sistine Chapel and its Michelangelo-decorated frescoes such as the stunning "The Last Judgement." A ticket will also allow you access to the Vatican Gardens and Vatican Necropolis, which lies under St. Peter's Basilica, meaning you're likely to spend a whole day exploring both indoors and out. (Pro tip: go for a guided tour.) Being a holy site, the dress code is quite strict: no low cut or sleeveless clothing, shorts, miniskirts, or hats, so opt for demure outfits that can carry you through galleries, crypts, and paved gardens, like a breezy jumpsuit or cotton chinos with a lightweight jacket.
4. WHAT TO WEAR SHOPPING IN ROME
A little shopping spree should definitely be on your Rome itinerary, so make sure to reserve an afternoon and dress sensibly to minimize fitting room time—think a comfy frock and slip-on sneakers, shorts and a simple tee, plus a roomy enough bag to throw your new purchases in to. Don shades, too, and pretend you're a celebrity as you walk down Via Condotti, a historical street that's home to some of the world's biggest maisons and has been serving moneyed Romans and tourists for decades. If it's something more mainstream you're after, then Via del Corso (super close) is your place: here you'll find lots of affordable favorites, from The Gap to Mango. Looking for a one-stop shopping destination? The ultra-sophisticated luxury department store La Rinascente offers just that, plus an excellent food hall for fueling up. Insider's tip: head to its basement once you're done shopping and visit the ancient aqueduct that was discovered during its recent renovations.
Women's Shopping Outfit for Rome
Men's Shopping Outfit for Rome
5. WHAT TO WEAR TO DINNER IN ROME
From Anthony Bourdain-endorsed osterie dishing out homemade pasta and local Roman specialties to low-key pizzerias and chicer establishments, Rome will spoil you with its excess of mouthwatering food choices. Any trip should include dinner at one of the city's 23 Michelin-star restaurants, like La Pergola or Il Pagliaccio—both offer an elevated take on Italian gastronomy not found anywhere else in the world. Your food tour might also include a night at Pierluigi, an iconic rooftop spot that serves some of the best seafood dishes in town. The dress code to follow here is 'comfy chic'—we love this fitted dress with a casually thrown on shrug, and pair of linen pants and a sharp shirt.
Women's Dinner Outfit for Rome
Men's Dinner Outfit for Rome
THE *ONE THING* WTP EDITORS ALWAYS PACK FOR ROME
Rome enjoys a typical Mediterranean climate: hot, dry summers; mild winters; and year-round sunshine. When said sunshine inches towards blazing hot (June through September), a refillable water bottle is your best friend. We love this bright, eco-friendly water bottle by Squireme, made from almost impossible-to-break borosilicate glass and covered with a biodegradable silicone sleeve. Fill it with cold, clean drinking water from the more than 2,500 public fountains throughout Rome (thank you, ancient Roman Empire, for your nice aqueduct systems!), or get your caffeine fix with a piping-hot caffe lungo (Italian-style espresso drink with hot water) before wandering the tangled streets of Rome's centro storico.—WTP Editors
ROME'S WEATHER AND SEASONS
Rome is blessed with semi-temperate weather for a good part of the year. Winters are never freezing—though Romans like to bundle up in furry coats and down jackets the minute the thermometer hits the low 60s—and both spring and fall usually deliver glorious sunny days and big blue skies that make visiting the city a true delight. Summer is the only time sightseeing might not feel so nice: temperatures can easily rise up to 100 degrees, and the sun can get scorching hot in the middle of the day—which is why you should make sure you have a refillable water bottle with you as you meander through Trajan's Market or the Ara Pacis. As a rule of thumb, avoid packing giant sweaters for the 'colder' months and too many jackets for the hot season, and go for layers instead. You'll be fine with a lightweight coat and some scarves and hats when it's chillier outside (especially given that you'll be constantly walking) and won't need more than a shawl or linen blazer from May to August.
Note: This data comes from our friends at Weather.com. We recommend using this together with a traditional forecast as you get closer to your departure date.
JANUARY
Plan for day temps between 35 and 54
Expect 3 inches of precipitation
What to Wear in Rome in January: January is potentially the coldest month to visit Rome, though 35-degree days are rare (it hardly ever snows) and the sun generally keeps things warm. Bring a midweight coat, a woolly hat, and gloves to keep you toasty, plus lots of layerable separates. Also, don't forget good walking shoes.
Women's Recommendations: Quilted anorak, patterned tights, warm hat
Men's Recommendations: Short parka, ribbed beanie, leather gloves
FEBRUARY
Plan for day temps between 37 and 57
Expect 3 inches of precipitation
What to Wear in Rome in February: Days are a little cold but bearable in February, so pack warm but easy-to-remove pieces, like chunky cardigans and snugly scarves, plus sturdy boots to face off the odd rainy day.
Women's Recommendations: Cashmere sweater, blanket scarf, travel umbrella
Men's Recommendations: Rain jacket, crewneck sweater, chukka boots
MARCH
Plan for day temps between 40 and 61
Expect 2.7 inches of precipitation
What to Wear in Rome in March: March ushers the beginning of spring, with sunnier days and rising temperatures, though evenings still require a little cover-up. Plan to pack light sweaters, chinos, dresses, and comfortable loafers or sneakers.
Women's Recommendations: Sweater tunic, leather slip-ons, sunglasses
Men's Recommendations: Waterproof bomber, hoodie, sunglasses
APRIL
Plan for day temps between 45 and 67
Expect 2.7 inches of precipitation
What to Wear in Rome in April: Temperatures are on the up, so brace yourself for sunny strolls to the Pantheon and lots of ice cream breaks in between churches (and the occasional downpour: an umbrella is highly recommended). Pack shades, breezy separates and sneakers, a refillable water bottle, and stretchy pants to make room for that gelato.
Women's Recommendations: Utility jumpsuit, umbrella, insulated water bottle
Men's Recommendations: Cropped pants, hexagonal sunglasses, slip-on espadrilles
MAY
Plan for day temps between 51 and 75
Expect 0.5 inches of precipitation
What to Wear in Rome in May: Light tees, cute dresses, a straw hat, and shorts should be on your packing list for May. Days are getting increasingly warmer, alfresco dining is a thing pretty much anywhere you'll go, and evenings are just the right amount of warm.
Women's Recommendations: Floral maxi dress, jean jacket, kerchief scarf
Men's Recommendations: Pocket tee, chino shorts, safari hat
JUNE
Plan for day temps between 43 and 82
Expect 1.9 inches of precipitation
What to Wear in Rome in June: Things are starting to get hotter, so make sure to pack lots of breezy outfits and breathable shoes, plus a water bottle and sunnies. Go for garb that works both for picnics at Circo Massimo or Villa Borghese and rooftop dining—think stylish but laid-back. June can also bring some rain, so a light raincoat is a smart idea, as are quick-dry sandals.
Women's Recommendations: Cork sandals, bucket hat, water bottle
Men's Recommendations: Chinos, water bottle, aviators
JULY
Plan for day temps between 62 and 88
Expect 0.9 inches of precipitation
What to Wear in Rome in July: With the heat soaring and the sun glaring, July competes with August for hottest month of the year. This is the time of year when Romans tend to go on vacation, and you should try to hit the nearby beaches of Ostia to get a little respite, too. Pack light—linen shorts, tees, dresses, and sandals. You won't want to wear much anyway.
Women's Recommendations: Maxi dress, sandals, cat-eye sunglasses
Men's Recommendations: Shorts, graphic tee, sport sandals
AUGUST
Plan for day temps between 62 and 88
Expect 1.4 inches of precipitation
What to Wear in Rome in August: Rome's hottest month, August brings hot days and nights, so making sure to stay hydrated is super important. On the clothes front, flowy dresses, featherweight tees, and sweat-absorbent fabrics are all you really need. Don't forget shades and a water bottle.
Women's Recommendations: Minidress, bandana, insulated water bottle
Men's Recommendations: Sweat-wicking shorts, baseball cap, leather flip-flops
SEPTEMBER
Plan for day temps between 58 and 82
Expect 3 inches of precipitation
What to Wear in Rome in September: September is 'back to school' month in Rome, but it's still hot enough to feel like summer. Days are getting shorter and slightly cooler in the evenings, so bring a thin jacket and shoes that can handle the occasional downpour.
Women's Recommendations: Ventilated sneakers, kimono, linen wrap skirt
Men's Recommendations: Short-sleeve button-down, travel umbrella, backpack
OCTOBER
Plan for day temps between 50 and 73
Expect 4.2 inches of precipitation
What to Wear in Rome in October: Rain is common in October, though temps stay mild and the sun still comes in and out of the clouds for most of the day. Raincoats are your friends this month, as are clothes that are easy to dry off.
Women's Recommendations: Trench coat, ankle jeans, hip pack
Men's Recommendations: Polo, khaki joggers, sneakers
NOVEMBER
Plan for day temps between 43 and 62
Expect 4.7 inches of precipitation
What to Wear in Rome in November: Rome's rainiest month, November can bring some evening chills and dipping temps, so you should be thinking of packing warm separates and smart rain gear. Pro tip: the city's historic churches offer awe-inspiring refuges from any drizzle.
Women's Recommendations: Waterproof booties, rain jacket, handbag raincoat
Men's Recommendations: Field coat, cotton-cashmere sweater, waterproof boots
DECEMBER
Plan for day temps between 37 and 55
Expect 3.6 inches of precipitation
What to Wear in Rome in December: Contrary to what you might think, December isn't a bad time to visit Rome. The capital still gets plenty of sun, rain isn't too frequent, and if you bundle up right, the chilly weather isn't too painful to bear. Plus streets are slightly less packed with other travelers. Just embrace the cold right with insulated coats, big scarves, and knitted sweaters.
Women's Recommendations: Faux-fur aviator jacket, blanket scarf, snakeskin booties
Men's Recommendations: Quilted parka, crewneck sweater, ribbed beanie
FREQUENTLY ASKED QUESTIONS ABOUT ROME/VATICAN CITY
What is the dress code for Vatican City?
The Vatican's dress code is the same of most religious sites and churches across Italy, just enforced a little more strictly. The minimum requirement is for men and women to cover their knees and shoulders. That means long sleeves and pants and long skirts or dresses with a shawl. Just make sure to layer up, and you'll be good to go.
What are the best things to do in Rome in three days?
Where to begin! If you only have a long weekend, make sure to spend your first day strolling through the remnants of ancient Rome. Start early at the Colosseum—the Colosseum subway stop will leave you right in front of the majestic stadium. Then walk through the Roman Forum and up the Palatine Hill to get a breathtaking view of the crumbling ruins below you. From there, head towards Largo di Torre Argentina, a square with four Roman Republican temples; the remains of Pompey's Theatre is a short walk away. The Pantheon is only a few minutes from there, and you should make sure to check it out before you stop for your first gelato, then shop your way through Via del Corso and Via Condotti. Reach the Spanish Steps and end the day at a rooftop restaurant. Day two should be spent at the Vatican—and that's all you'll be doing, really, at least until the evening. Pop by Castel Sant'Angelo then make your way to Trastevere, to take a break from all the holiness and revel in more earthly pleasures—a cocktail, spaghetti carbonara, some indie shops. Ready for day three? Go to the Roman Catacombs, walk down the Appian Way (it's pedestrianized) and visit Circo Massimo, or opt for a tour of Rome's baroque architecture: Piazza Navona, Villa Borghese, Trevi Fountain, Church of the Gesu, and Sant'Andrea del Quirinale.
What are the best things to do in Rome at night?
Aperitivo is the best way to kick off your Roman evening. Take a seat at any of the city's low-key bars, order an Aperol Spritz and munch on the olives, chips, and light snacks that come free with your drink (what's not to love). Dinner at a local trattoria or pizzeria should be next on your list, followed by a glass of wine in a shabby-chic enoteca (ask the staff to recommend something bottled locally). Stroll alongside the Tiber on the Lungotevere, perhaps mingling with the locals before heading back to your hotel for some well-deserved sleep.
What are some tips for visiting the Trevi Fountain?
Built in the mid-18th century, Trevi Fountain is a masterpiece of baroque architecture, and one of Rome's most iconic landmarks. For that reason, it is also one of its most visited and photographed. Your best bet to enjoy it without the rest of the world trying to snap selfies next to you is to head there really early in the morning, just when the city is waking up. There's no one spot that excels over the others to take a good picture—the grandeur of the fountain and its semi-circular shape look stunning on camera from any angle. Before you leave, don't forget to stand with your back to the fountain and toss a coin over your left shoulder: according to tradition, that means you'll return to the Eternal City once again in your lifetime. And that's not all: tossing two coins means you'll return and fall in love, and tossing three coins means you'll return, find love, and marry. Wondering where all the money goes once it's been thrown in? Since 2006, the Roman Catholic charity Caritas has been sorting and collecting it to help the poor and homeless.
Related Stories